28 Incredible Lob Haircuts You Have to See
Blonde Lob Haircut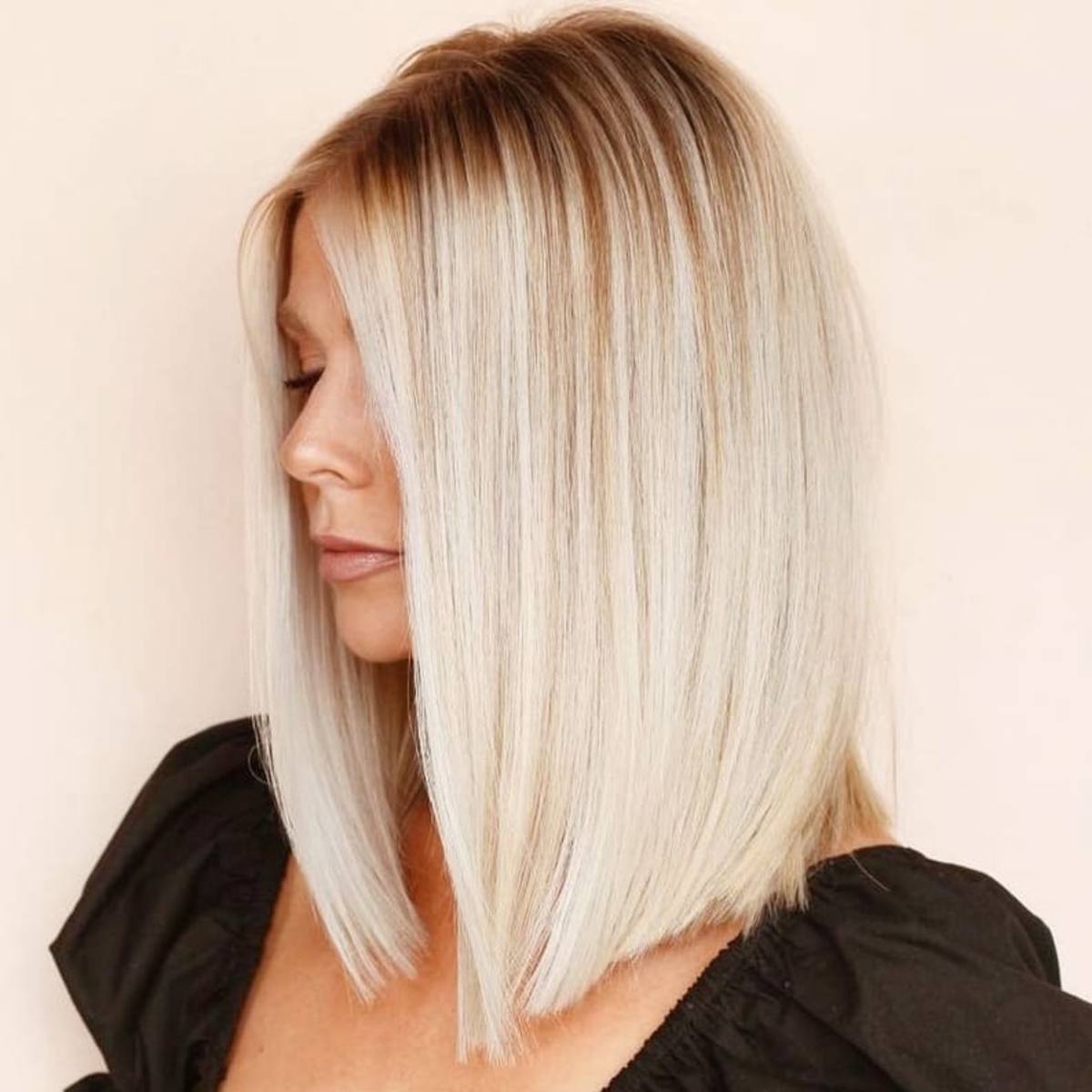 @mane_ivy
The blonde base and lowlights add that glamorous aura to this straight lob. Simply style straightened with a flat iron for a quick everyday get-up!
Long Bob with an Undercut
@ricardomaiabsb
A long bob with an undercut can help remove weight from thicker hair types. Removing the nape area's hair allows shorter styles to tie up the hair, avoiding some annoying hairline strands that fall out. It's also a great tool to lighten heavier hair and be easily disguised when wearing it down. It's super versatile and a great way to change your look from day to night!
Textured Long Bob
@janeirysbeauty
Lobs are the perfect choice for an easy transition style to a shorter cut. It also offers endless ways to style your hair everyday – from textured waves to a simple sleek ponytail.
Medium Length Lob
@emilycooper_hair
Go simple and chic with this cute mid part lob that goes down to your collarbones. Style with thick waves and a curtain fringe for an added sexy vibe.
Shorter Lob
@emilycooper_hair
Pair these piecey tousled waves with cool blonde highlights for a multidimensional look. This is definitely a style that will allow you to shake your hair and let them down in the wind without worrying!
Long Bob For Fine Hair
@toriannefran
Ultra soft and light – these are what you'll get with this short lob hair cut that works for fine hair. The blonde ombre allows you to have an easy low upkeep grow out and a bonus dimension.
Purple Wavy Lob Cut
@jillianrae_hair
Paint your layered waves with this standout fashion color. The cut is so impressive with the volume on top and the thin ends that make it so lightweight.
Lob Cut With Side Bangs
@hairshaftralph
This lob cut with side bangs is pure glamour – with those warm shades of highlights and that perfectly placed side-swept bangs. This whole look works best on any face shape.
Pink Beachy Lob Haircut
@toriannefran
Try this super cute unicorn beachy hair with babylights and you'll be picture perfect at any angle! If you have already lightened hair then this will be an easy style to recreate for sure.
Long Bob With Layers
@rafaelbertolucci1
This jaw-dropping wavy blonde long lob couldn't be any better without those soft layers and dark roots. A mesmerizing and brightening look especially for fair skins and blue to green eyes.
Chin-Length Lob
@hairshaftralph
If you have a round face, you'd definitely want to recreate this cut and style for the striking effect it has! Some pastel highlights and subtle side bangs on a bob cut would make this more stylish.
Angled Lob Cut
@nicolefusco.yeghair
Nothing beats a simple but major look transformation like this that anyone can get by getting an angled lob cut. Style it with some cream and create waves for more movement!
Blunt Lob Cut
@selenajeanhair
Neat straight scissor cuts always look edgy on anyone and can bring your most beautiful bone structure and facial features out. Dark roots and a balayage on a medium lob like hers would do the works of creating depth and dimension.
Long Bob For Thick Hair
@livedinhair
A fashionable ombre would do you good if you want to get a lob for thick luscious hair. Add some layers too if you wanna get some weight off your hair.
Long Bob with a Deep Side Part
@beautyby_jocelynrae
This lob hairstyle with a deep side part is a modern, textured, and undone look created by licensed cosmetologist Jocelyn Rae Buckley of Wildomar, CA. "The loveliest thing is the dramatic yet wearable angle in the cut. The soft textured layers which give the hair movement and shape," she adds.
If you're wondering whether or not your your have the correct hair texture for a long bob, Buckley says, "this haircut is fairly easily maintained for women with fine to medium hair, naturally straight or wavy. I wouldn't recommend this look for women with coarse, curly hair. I would also recommend that they be willing to put in the time to style it in some way and keep up on routine haircuts."
Longer Bob For a Round Face
@peachiehair
This longer bob for a round face is a blunt, textured bob, created by stylist Jenna Pitocco of New York, NY.
When it comes to styling a longer bob, Jenna advises "let it air dry because the texture allows for a wavier look."
A bob/lob is awesome for women who don't want to fuss with their hair, but also perfect for those who enjoy styling their hair daily. The texture throughout the cut allows for a piecey, beachy look. As far as face shape goes, what needs to be adjusted in this cut is mostly the length it's cut to.
"There are so many products you could choose for this," she adds. "Using a simple salt spray (I love Wella's Ocean Spritz) will allow for added texture and wave. Once dry, using a dry spray wax, like Evo's She-Bang-a-Bang, adds a holding element without feeling like there's a net of hairspray."
Shoulder Length Lob with Braids
@hairandbeautybyjen
This shoulder length lob with braids was created by salon owner and hairstylist Jen Lindley of Lake Placid, FL. "This is a fun, short to medium length lob with lots of texture and no angle (even though it appears to be longer in the front)," Jenna explains.
When it comes to hair texture, Lindley recommends "this lob haircut and style is for women with medium to thick hair so that a lot of texturizing can be done throughout the cut."
"I achieved the wave pattern with a 1 1/2 inch curling iron, but be sure to leave the ends out when curling which helps to get the messy and more beachy kind of curl. I use texturizing powder in the braid to give it grip while I pull it apart. And last I use a texturizing spray on the waves to give them separation and help them last all day," she adds.
Naturally Curly Hair on a Lob
@claytonhawkins
Bring out the beauty of naturally curly hair on a lob. The volume-giving texture only gets elevated at this length. Don't be afraid to shake your curls at the root for added oomph to your lob.
Long Bob with Highlights
@vdahair
A long bob with highlights works great on medium density and straight types of locks. LA-based stylist Veronica Abram created this chic haircut for inspiration.
Long bob haircuts suit women of any age with any face shape, says Abram. "They're so versatile that you can wear it straight or wavy," she adds.
When styling fine tresses, Abram suggests using a texturizing or thickening spray. "These create more volume, and the hair will look fuller," she explains.
Inverted Lob Cut
@omiezee
This drastic inverted long bob was created by hairstylist Omar Ahmed of Phoenixville, PA. "I love that it's stacked in the back but is still long in the front. Also, how it just barely clears the shoulders with a drastic sleek angular long bob, makes it stand out from other haircuts," says Ahmed.
You can either style long bobs straight and sleek with a slight bevel at the bottom. You can style it to look more undone with a bed head type of look, or you can curl or wave it.
If you are considering this cut, Omar advises you to think about upkeep and styling depending on the texture and wave pattern, if any, of your hair. "You will need a heat protectant spray and if you want volume, a volumizing mousse or spray. I also used a powder based hairspray for a light airy finish," adds Ahmed.
In Omar's opinion, "this lob cut works for all faces shapes since it is still fairly long in the front. All in all, this cut needs a bit of TLC when styling, so if you're one to throw some product in and air dry, this may not be the cut for you."
Blunt Lob on Blonde Hair
@brittdeshair
This blunt lob look was cut by master hairstylist Brittany Des Rosiers of San Antonio, TX. "I love that this look can be super professional and still be pulled up in a pony on those lazy weekends. It's a timeless look with a bit of a modern twist," she adds.
When deciding on this blunt cut lob, Brittany says "keep in mind is that this one-length lob requires styling. This is not a wash-and-go look. It can be worn many ways, but styling is a must."
Asymmetrical Lob
@ocorteperfeitoo
Rock an asymmetrical lob for an edgy twist to modern lob hairstyles. The side parting works best for asymmetry. If you chop and change your parting, then this may alter the style somewhat. The style is easy to maintain and means you can spread out your hair salon visits.
Black to Silver Ombre Textured Lob
@sarahdoeshair360
This textured lob with a black to silver ombre was created by Sarah Brooks, an independent stylist in Longview, WA.
Sarah believes, "there's something about the collarbone length that looks stunning on every neck/jawline and doesn't make anyone's face look too round."
"If you have fine or medium textured hair, use a salt spray for texture in the crown. It helps to add volume and makes the curls look airy and effortless. If your hair already has plenty of volume and texture, you can always spray salt spray directly onto the waves after curling to break them up and make them look perfectly undone," she adds.
Sarah goes onto say, "don't be afraid of texture clays, the kind that comes in a hockey-puck type package. They aren't just for men. In fact, so many of my female clients use texture clays and pastes on their ends to achieve that second-day perfect look!"
"Some people look best with it at the collarbone and others are stunning with a mid-neck chop! If you have a long neck, think about going shorter! This collarbone lob isn't as high maintenance as its predecessor, the stacked A-line lob. When cut right for the hair type, it grows out rather nicely. I often see clients back every 8-10 weeks depending on their growth," she explains.
Longer Bob for Choppy Hair
@erickinvisible
Hairstylist Erickson Arrunategui of New York, NY created this longer bob for choppy hair. "It's a textured slightly A-lined long razor lob. It's effortless, cropped but not too short, textured, interesting, and versatile," he explains.
One of the key things Erickson tells his clients is "to keep the ends straighter. Straighter ends give it a more modern look, and also make the haircut appear more square. This will help balance rounder face shapes which, are normally afraid to go for short hair."
Ash Blonde Lob
@quinn_antonio
This ash blonde lob was created by hairstylist Quinn Saucedo of New York, NY.
"This lob haircut is all about simplicity. I've done this various cut on curly to wavy haired clients as well. I'm really having fun playing with my clients' natural texture rather than layering the hair to create more movement in the overall look and feel," states Saucedo.
Quinn also says, "whether diffusing or keeping it straight, you will have 2 different looks – sleek and modern or tousled and textured."
Lob for Long Hair
@chanellesmamalife
Choose a lob for long hair for some ultimate sleek vibes. Long tresses can drag our features down, so opting for lob haircuts can balance the hair-to-face ratio without a dramatic chop. Try a length that's longer through the front for a modern feel.
Lob with Long Layers and Bangs
@melchijah
It's time to change up your look this spring! Switch it up from dull to shaggy with this enticing blonde babylights coloring.
Perfect Lob for Thin Hair
@newlarcsalon
A perfect lob for thin hair is low-maintenance and gives hair the illusion of fullness. This stunning neck-length cut is created by stylist Aaryan Tonk of Manipur, IN. "The technique for this cut is elevated with all diagonal sectioning," he describes.
When asked about its benefits, Tonk mentions that a lob doesn't need much styling everyday. It also requires less upkeep. "Trim it every two months, and you're all set," he adds.