28 Most Flattering Bob Haircuts for Round Faces
Stunning Shoulder Length Bob for Round Faces with Side Part
@hannah.at.virtue
Here's a stunning shoulder-length bob that makes a classic and trendsetting hairstyle! It's the best lob for round face shapes. It draws attention away from the symmetry and fullness of the face. To avoid flat, straight-looking locks, pair it with curls and a side part for instant volume and that popular bob look.
Sleek Blonde Bob Haircut for Round Face
@salonavana
A remarkable blonde bob haircut for any season for round faces! Start with a deep side part and add some highlights and lowlights onto straight hair for a dimensional result.
Loveliest Textured Chin-Length Bob Cut with Waves and Curls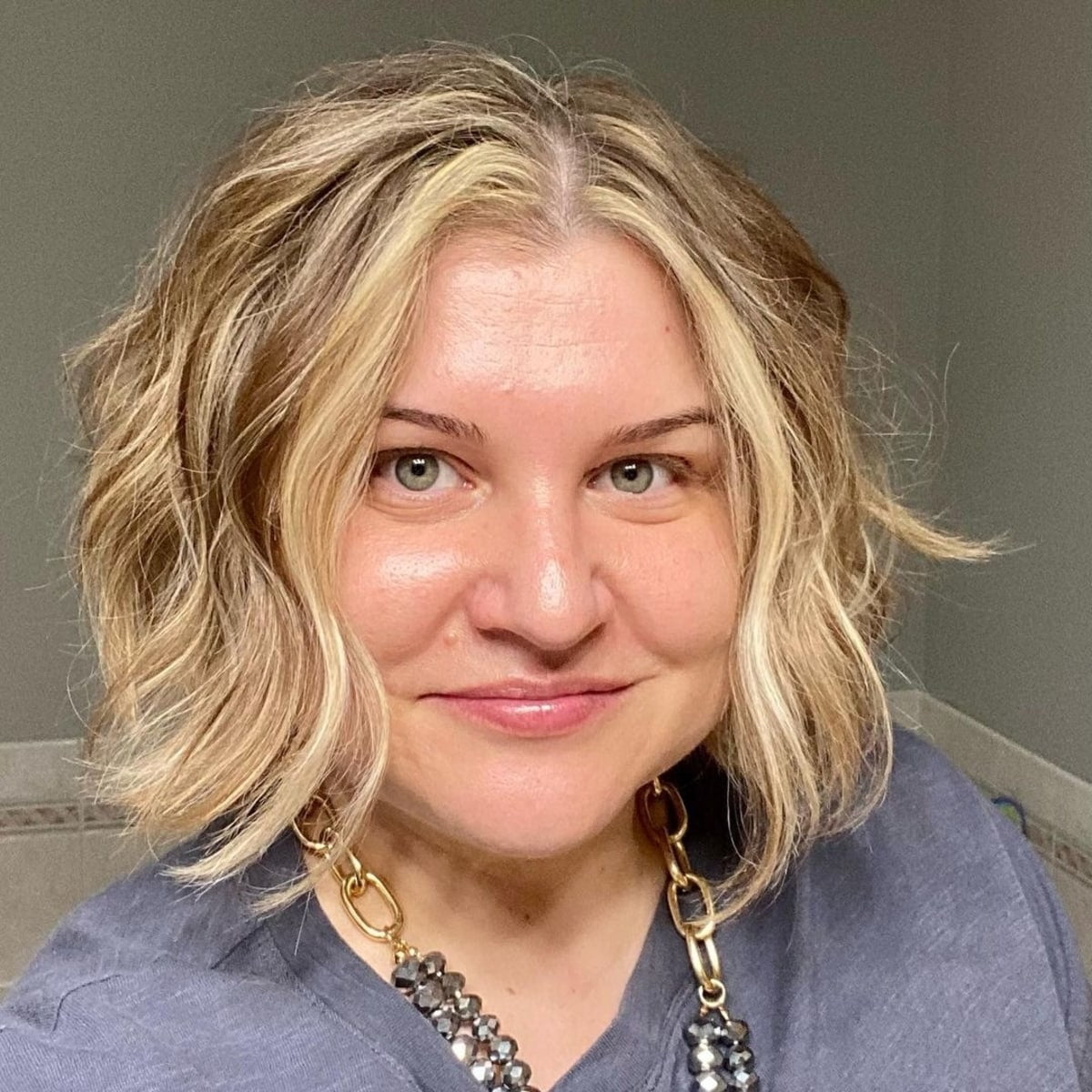 @beauty_withsabina
Ladies with round faces will want a haircut with longer layers and less volume. Which is why a textured, chin-length bob haircut styled with subtle waves and curls, is a lovely style.
Dreamy Espresso Brown with Caramel Highlights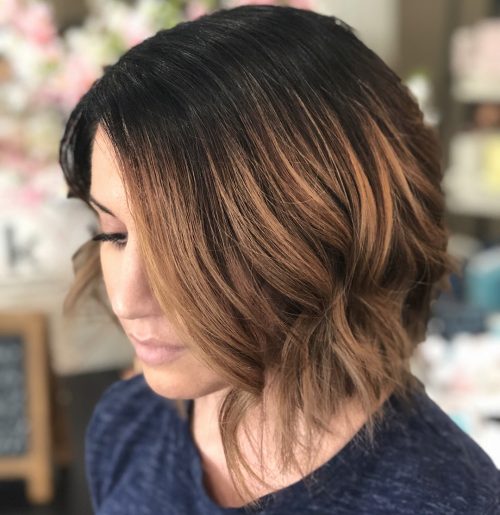 @lindsaybellavi
This bob for thick hair was created by stylist Lindsay Lomas of Plymouth, MI. "The haircut gives the face more attention because it isn't hidden by a ton of hair. This haircut is ideal for women with a round face because it enhances the shape," she states.
The best thing to consider for bobs for round faces is the hair type you have and how much time you spend styling your hair every day. Lomas says that women with super curly hair might not want this haircut because styling would be a must to achieve the style.
"A woman with super thick hair also may dislike this haircut because it tends to look triangular in most cases. Also, contrary to belief, short hair usually takes more styling time to make it look like the short haircuts that you see," she adds.
Beautiful Mid Length Angled Bob Shag
@frangipanihairstudio
A beautiful mid length angled bob shag cut creates sharp angles and is ideal for women with a round face. The angles in a bob haircut help elongate a round face. Shaggy layers create lovely movement and texture.
Marvelous Inverted Bob for Round Faces
@therougesalonandspa_
A marvelous inverted bob for round faces is the perfect cut if you want to elongate your face. You may opt to style your inverted bob cut, straightened or slightly curved.
A Fantastic Neck Length A-Line Bob for Round Faces
@ladyeastrock
Veronica Irene, a barber and stylist in New Haven, CT created this short, textured, slightly asymmetrical A-line bob for round faces.
If you're considering this side-parted bob haircut for round face, Irene says to make sure that you don't mind your hair being in your face. "Also, you may not be able to pull it back as easily as you used to. That being said, if those things don't bother you then go for it," she adds.
To style this haircut, Irene suggests using My Amazing Blowdry Secret's Quick Dry Shake n Spray and Joico's Power Whip mousse in damp hair. "Then perform a voluminous but straight blow-dry."
Remember, with a short bob for round face, if you are a lower maintenance woman who doesn't style their hair much, this cut may not be for you.
Short Bob for Wavy Hair and Round Face
@headmade_helsinki
The perfect bob for wavy hair and round face shape is here! The movement and the length, where it grazes the neck, gives hair a fuller style. Added side bangs give a flattering angle to a round face.
When styling, make sure to start curling the strands away from the face. Then alternate the direction of the curls forward and backward all throughout. Shake out the hair after curling for a finish that seems natural.
Medium Bob for Thin Hair and Round Face
@_hairbyme_g
This medium bob for thin hair and round face is a classic yet modern hairstyle. It was created by hairdresser Gianna Vera of Healdsburg, CA.
"The bob haircut with a middle part is a chic, iconic cut that keeps a heavy, blunt feel through the ends of the hair," says Vera. "Plus, it's cut above the shoulders to draw focus to the face."
Vera believes this bob hairstyle for a round face is very trendy and quite easy to maintain as long as you're willing to cut several inches off to have the blunt bob effect!
Dirty Blonde Short Angled Bob for a Round-Shaped Face
@nikitenko_elen_
A dirty blonde short angled bob for round shape face is super slimming and will boost finer hair types. A blonde bob is always a head-turner, but having an angled length flowing over the jawline contours the sides of the face. Adding some graduation through the back will give a fuller look to the hair making this bob haircut great for fine hair with a round face shape.
Chic Dark Chocolate Brown Layered Bob for a Round Face
@ashley.nicolexox
Aveda hair artist Ashley Hillgrube of Warrington, PA created this layered bob for a round face.
"This haircut features texture that was created through the layers. It adds a soft element to the hair and can be styled as if it was natural. Overall, the texture of this haircut takes this classic bob to the next level," she explains.
Hillgrube thinks this haircut best suits women with fine to medium textured hair and density from thin to medium. "With certain variations, this bob with layers suits round face shapes. This haircut is ideal for women on the go during the day, but who want a trendy stylish vibe at night," she adds.
Slightly A-Lined Lob for Round Faces
@mainpointsalon
Try a slight a-line lob touching just below the collarbone if you need to balance out a round face appearance and make the face look thinner. To create a straight sleek bob for round faces, use Aveda Smooth Infusion styling products. It's a heat protectant and smoothing cream all-in-one and very effective on a long bob cut for round face shapes.
Long Bob for a Round Face with Sun-Kissed Highlights
@hairby_cindy
This long bob for a round face with sun-kissed highlights is subtle and natural. The color and cut was created by Cindy S Magarin, a hairstylist in Suwanee, GA.
"If you're looking for more of a natural and low maintenance haircut that still has dimension, this shoulder length hair is the way to go," says Magarin.
If you have naturally wavy hair, she suggests you try adding a salt mist to the hair for some texture and a little hold. "A great hair product is the BLEND sea salt spray by Keune. What's great about this product is that you can still use a 1 1/4-inch curling iron to add loose curls for a more put together bob for round face," she adds.
Professional Side Parted Asymmetrical Bob For Round Face
@hairbymarissaeliz
This long asymmetrical bob for a round face was created by hairstylist Marissa Hodge of Pensacola, FL.
"Shorter cuts also can make you look older and more mature," says Hodge. "What's great about this long bob for round faces is that when paired with the blonde babylights and balayage, it still keeps you young and vibrant. This bob cut for chubby faces is so versatile and fun to have at any age."
Hodge also believes a blunt bob can be great for women with fine hair because it will look as if the hair is thicker and full of body. "A textured bob can be utilized for thicker hair adding layers for dimension and taking out some weight so the hair isn't so heavy or fluffy on the ends. Consider an asymmetrical bob that's long (lob) with enough length to be able to pull back into a low pony, if desired," she adds.
Medium Length Bob with Middle Part and Wavy Style
@hairbyamberjoy
This medium length bob is ideal for women with round faces. This particular cut was created by stylist and salon owner Amber Joy Rogan of Winnipeg, MB.
"This particular wavy bob haircut can be customized for any woman," claims Rogan. "The key factor is to look at where your collarbone sits. If you want a true lob feel, design your cut to sit at your personal collarbone."
"For some, this means the lob will look shorter, or longer, but embrace it and rock it! Medium length bobs always work best parted in middle and worn either smooth or textured with a wave," she adds.
Attractive Long Bob for Fine Hair and Round Faces
@maqandmane
Even hair and make-up specialist Rachel Biestman of Augusta, GA created this long bob for fine hair and round faces.
"Although this round face bob is average in length in the front, the back is quite a bit shorter," explains Biestman. "When going for this cut, go to a trusted stylist as too much of a stack can look dated. What it has is piecey, beveled layering. Take the word 'stack' out of your vocabulary when asking for this cut!"
To style a bob or face-slimming haircuts for round faces, Biestman suggests using a texturizing spray such as Davines More Inside Dry Texturizer to infuse movement into the finished style.
Customizable Dark Red Graduated Bob with Glasses
@kaitlynslight
This graduated bob haircut is a classic and was executed using Vidal Sassoon ABCs of haircutting by stylist Kaitlyn Slight. "Before beginning the cut, the preferred length was determined in order to able to pull back the pieces in the front to perform day-to-day activities," explains Slight.
She adds, "the progression of a slight graduation in the back that angles forward to a longer length in the front creates a soft yet pronounced line."
For women with curly hair wanting to try a shorter style, Slight says to try working with the length to determine what would look great when you had time to straighten and smooth the look, as well as wear it with your natural texture.
To help soften roundness and distract from the excess length in the face, Slight says to add a fringe. "Cutting asymmetry in the front length can aid in obscuring any roundness in your natural face shape by shifting attention to the strong lines."
Cute and Trendy Curly Bob for Women with Round Faces
@maggiepcurls
It turns out cute, kind of flirty, and is definitely fabulous! This trendy curly bob makes a great asset to partner your round face. The shoulder-length cut plus those defined curls even give your hairstyle a nice shape. When preppin', use a volume gel and lift foam for this curled bob hairstyle to have a bouncy and gravity-defying finish.
Razor Cut Bronde Bob for Fine Hair
@erickinvisible
What a classy jaw-length, razor cut bob for fine hair! It doesn't only add texture to your bronde tresses but also defines your cheekbone and adds an illusion of a sharper jawline in a chic way.
Hairstylist Erickson Arrunategui of New York, NY created this shattered bob for fine hair and round faces. "It's short and has a lot of weight removal. It's a cross between a bob and a grown-out pixie cut," he explains.
He goes on to say, "this bob cut works for women with fine to medium hair, but that have a lot of it. It's a good way to add texture and shape to the hair to give it a little interest. It's also great for women who want to go short but don't want a classic shape."
Sleek Bob with Side Bangs for Round Faces
@theclairestylist
If you have straight, fine tresses pair a neck-length sleek bob with side bangs for round faces. The result? It'll be a simple yet stunning hairstyle that you can wear on a daily basis. This short bob for round faces is easy and quick to style, perfect for ladies with a busy lifestyle. With the chocolate brown balayage, growing out a chop like this will never bother you.
The Classic Blunt Bob for a Round Face
@studio7ss
The blunt bob makes a trendy neck-length chop that's here to stay forever! With a textured layering to add movement to a dark mane, it's the ideal look to complement a face with a rounded shape. It's indeed one of the flattering hairstyles worth trying!
Shaggy Lob for a Round Face and Thick Hair
@emmadiamondhair
More shape and body will give your hairstyle a funky vibe. Medium-length shaggy layered bob with bangs for a round face like this one is sure to match your cheerfulness. Your natural copper hair will also brighten up the roundness of your face.
Hairstylist Emma Diamond of Glasgow, UK created this '70s inspired soft shag hairstyle, colored with a deep, rich copper. "That vibrant hue is sure to create an ideal and chic layered hairstyle for round face shapes," she explains.
Style-wise, Diamond says to apply a salt spray on wet hair. Her favorite is Eleven Australia Sea Salt Texture Spray. "Comb through with a wide-toothed comb to ensure it's even from root to tip. Then, do either air drying (if the time and weather allow for it) or softly dry with a diffuser," she adds.
Totally Textured Bob for a Round Face Shape
@chrisjones_hair
This totally textured bob with eye-skimming bangs speaks for itself. A bit longer blunt bangs make a chic and trendy addition to the cut, allowing the hair to frame a round face gracefully. Adding more angles to the cut customizes it for women wanting to accent or hide features. When you have layered, blonde hair, the texture is key to accentuate the hair color and the overall style. The hue is pretty low-maintenance if paired with dark roots.
Messy Choppy Bob with Bangs and Layers for Round Faces
@brittanyfrancohair
Opt for extra texture to complement your round face. This messy, choppy bob with bangs for round face shapes is the kind of medium cut, perfect for your dark tresses. Such a middle-parted fringe can also emphasize a unique eye color. The flow in this bob with choppy layers is unpredictable, making it look bouncy and lively.
Round Bob with Side Swept Bangs
@gabcraftandtheory
This gorgeous round bob with side-swept bangs will enhance your cheeky face, for sure! If you're blessed with thin locks, this bob with side part is a great option to achieve volume. In case you have smooth and thick hair, achieve more texture by going for a razor cut technique. Make this side swept bob simple yet striking by keeping your locks dark and neck-length.
Beachy Babe Bob Hairstyle for Thin Hair and Rounded Face
@aperky
This long beachy babe bob for thin hair looks so soft on round face shape. The beach-inspired waves are a super simple, yet a stylish way to rock a bob. If you have fine to medium hair with a few natural waves or curls, this textured lob is perfect for you! When styling, the sea salt spray enhances the texture.
This beachy bob for thin hair is modern with effortless lived-in dimension. It was cut by salon owner and stylist Amanda Perkins of Wesley Chapel, FL.
"The perimeter is kept blunt and texture was added for movement. The technique used to do this was a razored visible layering technique. Style it out with a super loose wave using a 1 1/4 curling iron and dragging the ends," she explains.
"Shorter hair typically requires more styling effort, so we always want to keep that in mind," adds Perkins. "This style would look great both curled/waved as well as straight. It's a more modern, un-done version of a classic bob and with a touch more length."
Chin-Length Bob with Bangs for Chubby Faces
@airs_chair
An oh-so-flattering cute blonde straight chin length bob to try on round face shapes! Keep it chin-length for a fresh and low maintenance haircare. Feel free to turn it into a white blonde bob to match neutral skin tone.
Angled Bob for Straight Hair and Round Face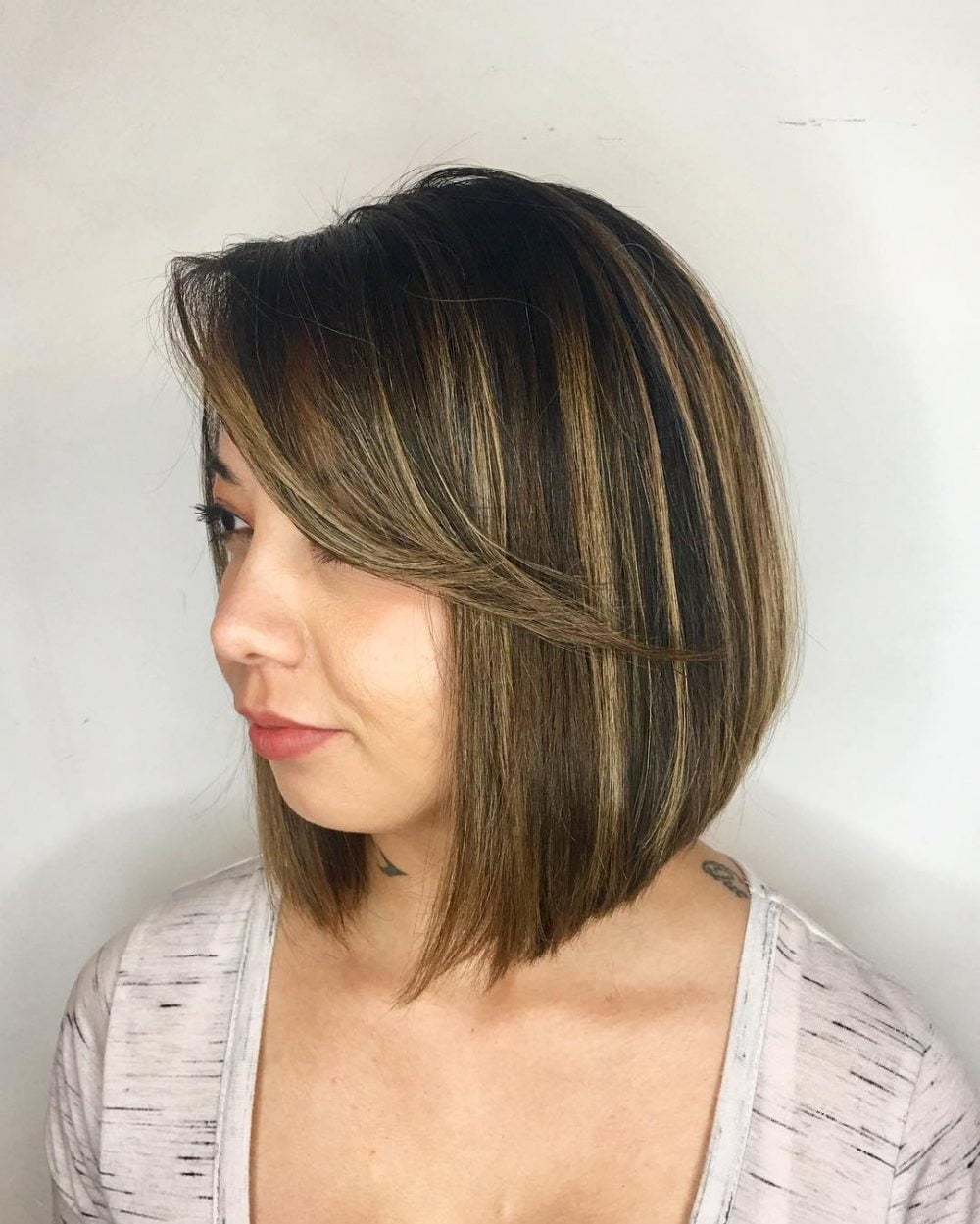 @ellarosehairboutique
A great angled bob for straight hair must be flawless-looking! The natural texture of the locks plays a crucial part in working on such a sleek style. A length that grazes the neck makes it one of the best bob haircuts for women with round faces. When styling, use a flat iron to enhance its sleekness. Iron the ends towards the neck to not make this super sleek bob cut look so blunt.