39 Inverted Bob Haircuts Trending Right Now
Curly Inverted Bob Haircuts with Bangs
@chrissyhuttonhair
"A curly inverted bob with bangs with some graduation is a modern twist in a classic Sassoon haircut called the shake," according to its stylist Chrissy Hutton of London, UK.
This curly bob with layers and a fringe features a "shag style at the front as the fringe connects with the layers and length," says Hutton.
Hutton recommends enhancing your natural hair texture by using Aveda Light Elements Defining Whip on wet hair. "Then, defuse the hair with a Ghd hairdryer and diffuser," she adds.
Short Inverted Bronde Bob Haircuts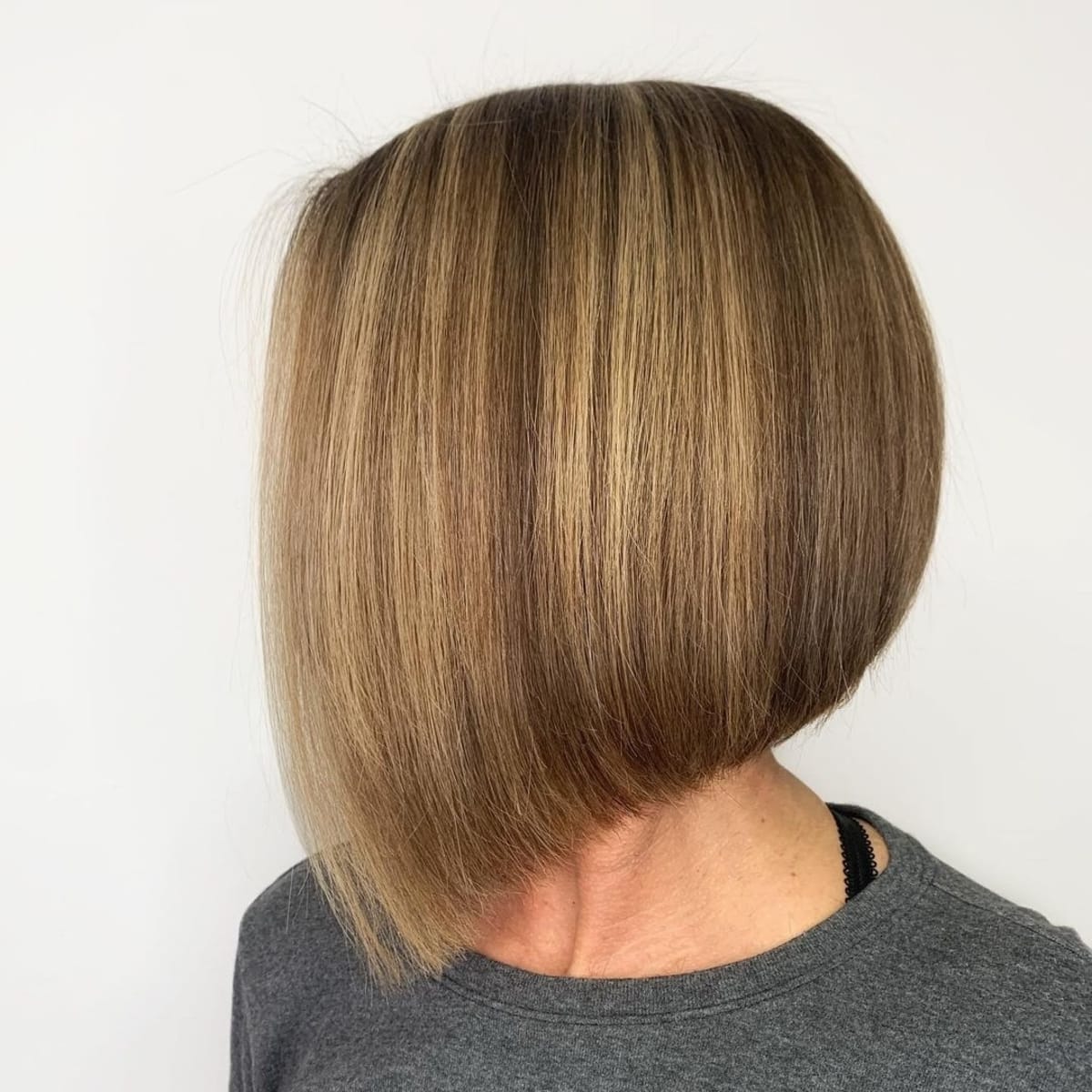 @judithdoeshair
A short inverted bronde bob features a precisely cut short back with longer face-framing pieces. Stacked back layers create a more curved haircut. Add in bronde hair coloring, which consists of dark and light tones, to create a gorgeous dimension.
The Slightly Inverted Bob Haircuts
@gulevich.vladimir
The slightly inverted bob is ideal for creating a bulk, rounded shape at the back of the head. It makes a great go-to look for ladies with thin, fine locks.
Inverted Lob with Bangs
@allthathair2903
An inverted lob with bangs can look both cute and sexy. It works wonders on thin, fine hair. The choppy ends plus the textured style make a great match, creating this stunning wispy inverted bob. The wispy fringe can accentuate alluring eyes.
Inverted Bob with Side Swept Bangs
@hairartistrybycrystalene
This inverted bob with side-swept bangs carries out a sweet, flattering hairstyle. By side parting the hair, most ladies can nail this look! It demands less maintenance and manipulation if the hair has a fine, straight texture. This neck-length cut has layers that are subtle. Now, opt for this bob when wanting a long rounded bob haircuts.
A Very Short Inverted Stacked Bob
@lenina_yin
A very short inverted bob is low-maintenance and easy to style. Add some texture, and any woman who pulls it off is ready to go! This haircut is perfect for tresses that need root volume. The rounded shape adds a livelier feel to the locks.
The Popular Messy Inverted Bob for Wavy Hair
@teagancousins.hair
When a messy inverted bob pairs with waves and dimension, it radiates a lived-in vibe! The neck-length bobs are in, and they look great with a warm blonde color. Jazz the hair up with beachy waves to form a messy style, and they'll boost the color's texture. If you're considering this look, keep in mind that it demands more effort to style it.
The Dramatic Inverted Bob
@acappellahairdesign
The dramatic inverted bob isn't dramatic enough without the sharp, angled perimeter. Ladies with straight locks can enjoy this chop. Such a hair type can turn this cut neater and much more flawless-looking. It may not be hard to grow out, but it needs regular trims, too!
The Funky Inverted Bob With Black Dip Dye
@jackmead_stylist
The funky inverted bob is something that's trendy and fun to wear! This straight, jaw-length hair appears chic with an icy blonde hue plus the black dip dye. And, it isn't that funky without a surprise. Try a hidden undercut to help the locks feel weightless.
Extreme Inverted Bob
@lara_stelmashuk
This extreme inverted bob results in a drastic makeover, so it's not for the faint of heart. The stacked layers at the back look dramatic, creating a voluminous shape. This haircut allows longer strands at the front. Wear it is like embodying Victoria Beckham when she wore her classic, famous bob cut.
Textured Inverted Bob
@demetriusschool_eng
What this textured inverted bob does is let the hair have that illusion of density. This inverted cut for brunettes works on both thick and thin tresses. It features a length that touches the neck area and a rounder shape. It also has layers that can remove bulk from thick hair.
Inverted Pixie Bob
@demetriusschool_eng
An inverted pixie bob comes up with a back profile that looks hot and high-fashion. With a slight piece-y definition, it brings out an elegance that's beyond compare. This haircut is for ladies with thick tresses. The density is what makes it easier to manipulate.
Inverted Bob with Fringe
@_theconfidencefactory_
Here's an inverted bob with fringe, offering a classic and youthful-looking finish! This chop brings out an illusion of a sharper jawline. Its length gives fine hair a full-bodied result. Ladies with straight hair, don't miss it.
Inverted Bob Cut with Purple Ombre
@locksbylauryn
An inverted bob cut with purple ombre is for ladies who want a wash-and-go cut. California-based stylist Lauryn Lee did this chop, combining texture with an A-line perimeter.
Lee notes how low-maintenance its color is. "It'll grow out softer against natural roots and the purple will fade into blonde," she points out.
As for styling, Lee advises that because of its length, the haircut should air dry nicely, too.
Long Inverted Bob with Layers for Straight Hair with Ash Blonde Balayage
Jillian Ferguson / Instagram
This is a precisely cut long inverted bob with layers with an ash blonde balayage. The deep side part, those sharp lines, and flawless angle give this lob haircut more depth and dimension. An inverted lob with blonde highlights doesn't require much upkeep.
Light Blonde Inverted Bob Haircut
Sheridan Holyoak / Instagram
Go classic with this simple and feminine short bob haircut for straight hair. The best inverted bob hairstyles for women over 50 are youthful and easy to maintain. This inverted blonde bob is ideal for any hair type and texture that needs dimension.
Modern Blonde Inverted Lob for Women Over 40
Demetrius Hairdressing School / Instagram
A long bob pairs perfectly with a platinum blonde hair color.
You can go with a natural and beautiful look while still having a trendy haircut! This may be a side-parted inverted bob, but long bobs like this are pretty diverse.
You can put them up, part them down the middle, or wear them with an asymmetrical bob feel. They're one of the easiest trend cuts around.
Modern Inverted Bob for Fine Hair
Stefano Perfetto / Instagram
A very textured bob for fine hair creates more volume on an inverted cut. Texture and wavy hair are key to making fine hair appear dense and balanced.
Do you have fine hair? Then you've gotta see these flattering bobs for fine hair.
Super Short Inverted Bob Haircut
Christen Fountain / Instagram
An inverted bob haircut is for any woman who's ready for a big chop. But, it's not like a pixie bob haircut. Instead, it's an edgy and versatile twist on an A-line bob. To wear this bob haircut either sleek or airy and voluminous, add texture to your tresses.
If you're considering any sort of short haircut that is above the shoulders, you'll want to consider the maintenance and its hair care.
This is the best inverted hairstyle for women with oval and heart-shaped faces.
Trendy Inverted Angled Bob with Bangs for Women Over 50
Sharon / Instagram
This is a flattering inverted cut bob for women over 50. If you currently have long hair and considering getting a short hair cut and color that's trending, this is it! You can show off the smoothness of this amazing color by simply getting an angled lob and a full fringe. Just ask your stylist for a swing bob, and you'll be good to go!
Stacked Inverted Bob with Highlights
Jasmine Houck / Instagram
"The key to an inverted stacked bob is to add lots of layers to create texture. This will create a soft, full and sleek look," says stylist Jasmine Houck of Charlotte, NC.
Houck states that there are so many variations of the inverted bob, from classic to extreme. "It's all about working with your stylist to find the lovely bob that is right for you. For instance, it can be a great inverted bob for thick hair as it removes weight while keeping its fullness. The stacked style works for textures from straight to curly, too," she explains.
To style this bob, Houck uses volumizing products along with a lightweight smoothing product. "Use a round brush to create lift at the base. Keep the ends straight because this creates that soft, yet edgy look," she adds.
Stacked Inverted Bob with Layers
Julie Holbrook / Instagram
Pair this gorgeous stacked bob hairstyle with a balayage so that the stacking really stands out. The graduation from the back to the front makes this stacked hairstyle edgy. This graduated bob perfectly showcases the smoothness and shine of the vivid color.
Balayage Messy Inverted Long Bob with Layers
Jenny Molito / Instagram
Layering the ends of a shoulder length inverted long bob will allow more texture and volume. Plus, it creates a modern messy bob. This is a much-updated version of a classic angled bob.
Inverted Undercut Bob for Straight Hair
Chloé Brown / Instagram
An inverted bob with an undercut and pops of grey is for women who want to demonstrate security, without losing femininity.
The best thing about this haircut is the full-bodied bob shape. Adding little layers with important graduation gives a strong look with the sensation of lightness. It is a more rock and decisive reinterpretation of the original bob cut.
To style this short hairstyle, apply a hold product and proceed with a very slow hairdryer drying. When your hair is almost completely dry, use a hairbrush and accompany the hair in the desired direction.
In the case of thin or frizzy hair, a good styling product is essential for an optimal result.
Asymmetrical Inverted Bob
Lisa Dubay / Instagram
Talk about a low maintenance, uneven bob! This popular asymmetrical inverted bob haircut is one of the best looks for women in their 20's and 30's. It's a straightforward reverse bob haircut that's really impressive!
Like this bob? Check out these beautiful long inverted bobs.
Jaw Length Inverted Bob for Women Over 60
Becky Lovell / Instagram
Glamorous jaw-length inverted bob hairstyles are what's trending right now for women over 60. Try styling in beach waves with a side part for an even younger and fresher look. With more tapered and feathered layers, it can also look flattering and classy.
Short Inverted Bob for Older Women
Holli Plog / Instagram
Short inverted bob haircuts are modern and chic. For this chin-length bob cut, it was shaved in back a bit and then textured the top for hair to have a smoother blend.
You should understand that it's a shorter haircut and will need much more maintenance.
Shorter bobs will need to be done every six weeks in order to maintain their shape. Also with popular bob hairstyles, the hair cannot be tied back, so you should be ready to keep your hair open all the time.
This angled inverted bob style is perfect for all facial features, except for someone with a very small face circumference. This is because the angles of a geometric bob will cover the sides of the face and jaws. Doing so will make the face appear even smaller.
Edgy Inverted Bob with Bangs
Krysta Wimer / Instagram
Pair an inverted bob with bangs with a fall-inspired hair color for a fun and funky look.
To style your bob, all you need to do is a rough dry and add a little texture spray.
If you have very fine, straight hair, the added texture in the bob allows your tresses to fall and move how you want without excessive styling.
If you have very thick, coarse, or curly hair, you will want to rock the modern inverted bob styles differently. You may struggle more in the morning, spending extra time styling to achieve the same effect as someone with fine, straight hair. This bob with bangs will help you avoid the inevitable shag that the grow-out process entails.
Love this style? Here are more inverted bob with bangs for you to check out!
Textured Neck Length Layered Inverted Bob Cut
Melissa Zimmerman / Instagram
This is a great example of modern layered inverted bob cuts women love so much.
This neck length inverted bob is a popular choice that looks amazing with both a smoother and straighter style, as well as a curlier or more textured style.
If you're considering this wonderful bob, remember that this is a high maintenance hairstyle. To keep it looking fantastic, you'll need to style your hair daily. You'll also want to maintain regular trims to keep the shape of the cut. This is definitely not an ideal style if you're a "wash and wear" woman.
Classy Inverted Bob Back View
Nacir Cabelos / Instagram
If you're looking for a classy inverted A-line bob, then this is it. The sharp clean lines on this back view are striking. It's a smooth and simple brown bob cut yet it still has an edge to it.
Almost all bob hairstyles can be styled curly or straight. However, it can take some work to smooth it if you have curly hair. So keep in mind you may have to spend a little more time smoothing it out in the mornings!
This inverted style is great for round face shapes because it helps elongate the face. If you have a longer face shape you may want to stray away from the inverted bob hairstyle and opt for a classic chin-length bob instead.
Inverted Short Layered Bob with Side Bangs
Elisabeth Leão / Instagram
A layered inverted bob with side bangs and layers works really well with a petite bone structure and thick locks.
This layered haircut is an excellent bob for all hair types. However, for ladies with fine hair, the short layers on an inverted bob will give you more volume.
An inverted bob cut is low maintenance. To maintain the freshness of the cut and color, visit your salon every 4-6 weeks!
Razor Cut Wavy Inverted Bob for Natural Brown Locks
Emily Hillen / Instagram
This wavy bob haircut was done using a feather razor to layer the hair. Ask your stylist to first create a full outline of a blunt bob and then go into the interior of the cut and do some shattered layers. Consider adding some nice side bangs to this bob to complete the style.
This is the perfect type of bob hairstyle for women who love to stand out. Wear it natural or styled out and curled. It's taking two classic styles, the blunt bob, and the stacked bob, and putting a modern spin on them to create the eye-catching inverted blunt bob.
Inverted Ear-Length Bob Haircut
Mila Kryshchykhina / Instagram
This stylish bob is tapered and inverted for women who want to look edgy, yet want a low maintenance hairstyle at the same time. This below the ear length and fringe ideally match soft, angled faces on this black bob haircut. Boost movement of a tapered inverted bob cut like this by creating some curls.
Layered Inverted Bob for a Round Face
Alison Richards / Instagram
This is a rooted, vanilla shaggy inverted bob. An inverted layered bob combined with a blonde hair color goes great when styled straight and sleek. It also can be jazzed up with a few curls/waves using products.
To style this layered inverted cut, use a flattening iron. Use a wide-toothed comb to produce that edgy, textured look of a shaggy bob.
Try Kendra's dry texture spray #6, Kendra's shine spray, followed by Kendra's volume hairspray #25 to hold that exceptional look of a long layered inverted bob.
Shaggy Shoulder Length Inverted Bob
Carolynn Judd / Instagram
The shaggy shoulder-length bob is one of the most requested haircuts right now.
The best part about inverted cuts is that they can add volume to the crown area and back. This will give the illusion of a longer front. Take this 'in-between' bob, for example.
Inverted bobs for naturally curly hair should be cut longer than your desired length. This is because when dried and curled, an inverted curly lob will be shorter. The same rules apply for women with more coarse and thicker hair, too. Soft layering through the back will help add volume and texture, as well.
Curly Inverted Bob for Thick Hair
Mallory Musson / Instagram
This fabulous curly bob for curly hair is perfect if you have tight natural curls. The model in the photo has an A-line cut that is soft and feminine. The front layers of this medium inverted hairstyle give it the perfect amount of volume if you have dark, thick hair.
Auburn Medium Inverted Bob Haircut for Women Over 40
Ashley Beeck / Instagram
A popular medium inverted bob hairstyle will have a bit of texture through the bottom. Adding a warm red hair color all over this a-line bob is perfect for the fall or winter season.
If you're a woman whose go-to hairstyle is a ponytail, this casual bob is not for you.
If you have naturally straight hair then this medium length inverted bob haircut will look great.
Choppy Inverted Bob for Thin Hair and Wispy Bangs
Rachel Lott / Instagram
This choppy inverted bob with bangs and layers is the perfect hair cut for women with thin hair. It was created by owner and stylist Rachel Lott of Queensbury, NY.
"This razor cut and subtly choppy bob haircut is textured and airy with wispy bangs. It has weight removal that allows for volume at the root and movement in the interior. Plus, the bangs are left long enough for you to create a feathered bob style if desired," explains Lott.
Lott recommends keeping the length of the razored bob above the base of the neck and shoulders. "Once the hair breaks the shoulder, the shape of the bob appears to change completely. The length of the face and neck themselves will also play a role in tailoring the cut to best suit you," she states.
Overall this is a versatile choppy inverted bob that can be air-dried with a salt spray. The spray will play up the hair's natural texture. It can also be blown out smooth using oil or cream for a more polished feel.
To complement straighter hair, Lott suggests a thickening spray. "This will provide some lift at the root. Next, add a light texturizing hairspray to shake up the finished style!"
How to Style an Inverted Bob
Add a volumizing product to your wet hair.
Blow-dry with a heat protectant spray.
Using a flat iron as a wand, curl each section of your hair, holding for a few seconds.
Apply a light-hold hairspray.