Found: 17 Short Wavy Bob Haircuts You Have to See
The Angled Bob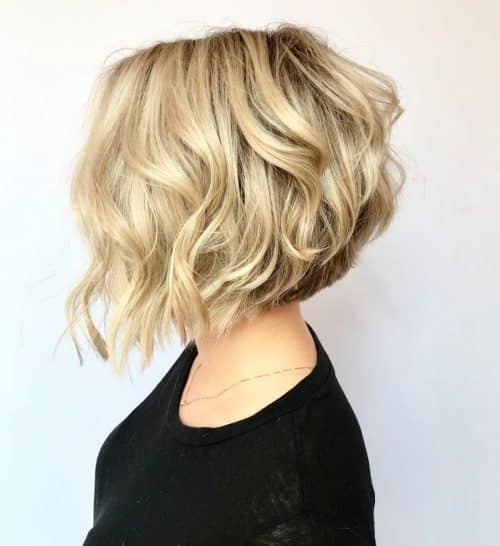 @abbymaristylist
This short, angled wavy bob is stacked beautifully with blonde highlights. Stylist Abby also did an amazing job creating this blonde balayage using Redken Flashlift with bonder Glaze. For styling these gorgeous beach waves, she used the Babyliss 1″ curling iron.
The Choppy Bob
@shelby_lynn_hair
The uneven and choppy, short wavy bob cut doesn't look misplaced, rather, it's a rebellious vibe on your supposed normal shoulder-length hair. Love this look? Check out more amazing short choppy bobs.
A Short Wavy Bob with Bangs
@moniqueb_mangorva
A blunt cut for your bangs is fittingly contrasted by a short shaggy cut to your tips. A short wavy bob with bangs is best for women with round faces because it adds a more square frame around your face.
Wavy Bob with Fringe
@_hairwitch_
The chocolate to golden brown balayage ombre is gorgeous with waves and a curtain fringe. If you're looking for super cute short wavy bob hair, this is the new look you've been wanting. The hair color is perfect for those with fair skin while the fringe is for those looking to accentuate their eyes.
A-Line Bob
@julieramirezhair_
This is a beautiful short A-line bob cut. Short wavy bobs are popular when styled into loose waves that give is a stylishly messy appearance. Or, if you have naturally curly hair, try using a straightening iron the night before. The next morning, add some light product or wet your hair, scrunch it up and let it naturally dry.
Blonde Wavy Bob
@hairby3rin
If you're a blonde and want a short wavy bob haircut then this hairstyle and color is a great place to start. The dynamic combo of the A-line cut and short beach waves offers a refreshing and modern look. This is even more fantastic if you have blonde hair and dread of rich, and vibrant hair.
Graduated Bob
@reflectionshairandbeauty
Longer layers are found as you go to the top, giving you this wonderful graduated bob. The key to the best short wavy bob haircuts is to give the cut a rounder shape. This help keeps its natural form as the hair grows out.
Sew In Bob for Black Hair
@lovelaycreations
Q&A with style creator, Sunni B Lovelay
Licensed Hair Care Specialist @ Lovelay Creations in Maryland, VI
How would you describe this look?
This brown sew-in wavy bob is a multi-purpose hairstyle. A short wavy bob hairstyle can be worn in any professional setting and also perfect for a night out.
I recommend having freshly trimmed ends (long layers if possible) and consistent treatments to allow longevity for this style. Also, having the right amount of heat protectant will bless the hair!
Any advice for someone considering it?
Know your hair and remember your lifestyle! The worst thing we can do is run and get a hairstyle we like but it isn't for us.
If you have extremely straight hair and can't hold a curl, it may be better for you to consider getting a roller set or possibly a curly perm instead. Another example is, if your hair hasn't been properly trained. By trained I mean treated and/or styled on a consistent basis, then it will be easy for the hair to revert back to its natural form. Also, if you're one to work out often, this could be a no-no without properly pinning it up. Nevertheless, this style is amazing!
With that in mind, this style is ideal for women who get styled regularly and can maintain the look. To style his, give a moisture steam treatment followed with a medium heat round brush blow-dry and a dusting of a trim. Use a combination of thermal sprays and heated tools to finish the look. Occasionally, a small mist of shine spray can be applied.
Messy Wavy Layered Bob
@bobsbydutchgirl
Q&A with style creator, Angela De Zwart
Hair Stylist @ Fish Hair Salon in Victoria, BC.
---
How would you describe this look?
A textured, short and wavy bob has the right combination of messy, sexy, and the hairstyle doesn't look overly done. I love that just like a long bob, this short haircut can be easily refreshed in the morning with a little texture spray and the flick of a flat iron. It's also still long enough to put into a short updo for those fun night outs.
Any advice for someone considering it?
I love this short hairstyle on any face shape that needs a little softness around their face. For styling at home, use a light mousse or salt spray, blow-dry in a finished with wax and shine spray or dry texture spray.
Short wavy bob hairstyles are perfect for women on the go or active women, as it looks best when tousled.
Shaggy, Stacked and Wavy Hairstyle
@kittyvarco_mod
Q&A with style creator, Kathleen Varco
Salon Owner / Hair Stylist @ Lakoet Salon in Jersey City, NJ
---
How would you describe this look?
This shaggy, wavy and stacked bob haircut on short hair is the easiest to maintain. There is literally no work involved because the shape is built in such a way that you don't have to think about how to style. It's definitely one of my favorite cuts because it looks great any day at any time on every occasion.
When getting a bob for short wavy hair, ask your stylist to use the natural roundness of your head to create volume through the whole cut. Doing this will result in an organic yet timelessness feel.
Any advice for someone considering it?
This bob haircut looks great on all hair types, however, the most important part about maintaining this look would be finding the right product for your hair type. Because the shape is built in styling, it is very easy to manage.
Wavy Inverted Bob
@Vicsin_styles_dizzi
Q&A with style creator, Victoria Dunn
Hair Stylist @ Illusion Unlimited Salons in Strongsville, OH
---
How would you describe this look?
Adding wavy curls to a short, wavy inverted bob cut will show off the dimension in the color while adding some sass to a classic cut.
(Like this cut? See more short inverted bobs here).
Any advice for someone considering it?
This short bob cut for wavy hair is great for women who like to have a versatile style because it also looks great straightened. Because of the length that is kept in the front, it has the ability to flatter almost all face shapes.
You can style this with a flat iron. Heat protectant is a must when working with flat irons and curling irons. Once the curls are set, a light-hold hair spray should be applied to help hold the curls but still have movement.
A Very Short Bob
@p21joy
Q&A with style creator, Joy Ahlman
Hair Stylist @ Planet 21 Salon in Charlotte, NC
---
How would you describe this look?
With a very short wavy bob, you can have healthy hair that has a bit of length to still play with. This bob is a great go-to style when you want shorter hair without getting a pixie and has some natural body or texture in their hair!
Any advice for someone considering it?
Short bobs for wavy hair are great for women with those natural bends and waves in their hair. Weight can be taken out under the occipital bone to keep the back from poofing out where the hair is most dense, so it works for thick hair as well.
This look can be an easy, fresh style for the wash-and-go gals, using a texturizing lotion for dimension and control.
For styling this wavy bob, I recommend using Oribe Matte Waves then partially dried or diffused. A wand or flat iron can easily give you that effortlessly wavy look if your hair doesn't cooperate.
This cut works for most face shapes. Round faces may want to leave more length in the front to elongate the look.
Cute Curly Wavy Bob for Over 40
@themaneartist
Q&A with style creator, Victoria Harley
Hair Stylist / Colorist @ Hair by Victoria in Tampa, FL
---
How would you describe this look?
A bob for wavy, short hair is perfect for women over 40 because it's very versatile can be easily curled or smoothed out.
It's a classic bob and fringe with a modern twist – an effortless style that requires a quick fluff of the curl, smoothing of the fringe, and you're ready for the day ahead!
Any advice for someone considering it?
There's a variation of this short haircut that can be suited for different hair types. Fuller hair can go for a forward fringe, a curtain bangs for finer hair and a side part fringe for versatile styling.
For styling this wavy bob, use a smoothing iron with a comb or blow dryer and a paddle brus. Use in a C formation starting at the root and pulling down towards the ends. Adding a heat protectant is ideal for daily refreshes without damaging the shorter pieces.
If you want this as a short curly bob with no direct heat, twirling a few pieces in front and allowing to dry will set the side bangs in place.
If you're a more active woman, then learning simple twists, braids, or even owning a few hairpin and headbands will allow for a quick sweep of hair off the face.
Flattering for Women Over 50
@thecreativehairdresser
Q&A with style creator, Kayla Whitley
Hairstylist @ Sleek Salon & Spa in Chesapeake, VA
---
How would you describe this look?
A short bob on wavy hair is flattering for women over 50 because it can be styled in so many ways. You can air-dry and finger curl, blow it out straight, or curl it with a curling iron. It's a really trendy hybrid look!
Any advice for someone considering it?
Any woman can wear this wavy hairstyle with minor adjustments made for facial anatomy.
To style this, use a root lifter and a 12-hour humidity defense to keep the look from becoming frizzy in a humid climate. Most likely, a woman with minimal experience will be able to style this look in about 30 mins blow-drying and curling included.
Pixie Bob with an Undercut
@bombshell.hair.styling
Q&A with style creator, Carmen Middleton
Journeyman Red Seal Hairstylist / Salon Owner / Keune Educator @ Bombshell Hairstyling in Alberta, CA
---
How would you describe this look?
An undercut pixie bob on wavy short hair looks amazing when adding a caramel balayage color. The color gives it a subtle to dramatic change, depending on what the desired lightness is on the ends.
(See more beautiful short balayage hairstyles here).
This is a versatile haircut that you can style waved, straight, pinned up, parted to either side or combed forward or back.
Any advice for someone considering it?
Undercut pixie bobs on wavy hair are great for women with thick or coarse hair, because it gets rid of excess bulk and still looks full.
If you have medium to fine hair, this cut can work for you too. People generally have more hair in the nape versus the sides and top.
To style this pixie bob, I recommend you use Keune Care Vital Nutrition Thermal Cream and Keune Care Keratin Smooth Smoothing serum to blow-dry, then wave with a flat iron, and use Keune Blend Sea Salt Spray to finish.
If you have finer hair, I'd recommend using volumizing products like Keune Style Blowout Gelee or Keune Style Thickening Cream to blow dry and Keune Style Sea Salt Mist to finish.
Undercut bobs are very versatile for almost any face shape, as you can go extremely short on top or keep it longer to mid-neck in length. Your undercut can just be in the nape area, or nape and above ears, or just a side shave. It has endless combinations of lengths and styles.
The Blunt Bob
@juniorestevamhair
This is a super chic look. Cutting the ends straight gives an edgy look, helpful for people with a rounder jawline and chubbier cheeks. For those with a more defined bone structure, you can still enjoy this marvelous blunt, short wavy bob if you add some soft waves to the style.
Q&A with style creator, Júnior Estevam
Hair Creator @ Studio Sacha Bourget in Paraná, BR
---
How would you describe this look?
A blunt, short wavy bob will add lightness and texture.
This urban cut was created using a cutting technique that meets the need of each hair type and style, because nowadays it is not only about cutting hair but also delivering style and texture.
Any advice for someone considering it?
For women wanting short haircuts with a blunt cut, you'll want to use appropriate products for your hair type. It's just as all creations of colors and cuts are made taking into consideration the psychological profile of each client's physical. Thus, you have a final result that describes what exactly each client is living in their current state of life.
Asymmetrical Bob
@jonathanhairmagician
Q&A with style creator, Jonathan Steward
Hair Stylist @ Muse Salon & Spa in Johns Creek, GA
---
How would you describe this look?
A chin-length, texturized asymmetrical bob cut for short wavy hair will accentuating the jawline as well as elongate your face shape.
Medium textured hair is ideal to style with soft waves to create volume and to give a more lived-in textured look.
Adding a blonde balayage accentuates both angles purposely. One side is to highlight the jawline and the other side is to create an illusion of more hair to draw your eyes downward.
Any advice for someone considering it?
With this take on the asymmetrical bob, think of texturizing weight out more than heavy layering. I find fine to medium texture more ideal to create soft texture curls with rather than thick to coarse hair that I find will create bigger structured curls.
To style this, Materialist made by Kerastase is an awesome thickening spray gel you can spray into your hands for great distribution before your blowout for added texture and grip. Finishing it off with a 1 1/2-inch curling iron just polishes the look.
The best part about short, wavy bobs is that with the right textured hair you can go days with a dry shampoo, and it will still look great.