18 Stunning Naturally Curly Hairstyles for Prom You'll Love
Peekaboo Fishtail Braid
@katie__gonzales_glam
Give off a summery warm vibe with this stunning half up fishtail braid! Those pretty waves will make you feel like a princess just waiting to be crowned on prom!
Cute Curls for Medium Length Hair
@talmoshko_taltalim
Q&A with style creator, Tal Moshkovits
Bridal Hairstylist @ Taltalim Hairstyle in Palmachim, Israel
How would you describe this look?
My client asked me to do her hair naturally by keeping her beautiful curls loose but also fancy. This look is my favorite for curly girls who want to look special without changing their natural hair.
Any advice for someone considering it?
First, you should choose a hairstylist who knows how to deal with curls.
Start with wet hair. Wash it and brush it while showering. Don't use a towel to dry the hair, as it brakes the curls. Apply some mousse (I use the Silhouette Mousse Super Hold By Schwarzkopf). Start squeezing from the edges up to your head without touching your scalp. Blow-dry your hair with a diffuser, then flip your head over and squeeze it with the diffuser. When your hair is totally dry, use a 19 mm curling iron and curl the naughty curls (I use NG Digital Ceramic Curling Iron).
Now you can keep your curls wildly or you can take a strand from the front and pin it with some headpiece. You can also braid it up and wear some flowers.
Apply some hair spray to make sure the curls will stay stunning the whole evening. My favorite is Schwarzkopf Professional Silhouette Super Hold Hairspray.
Lovely Down Do for Long Hair
@yochevedgross
Q&A with style creator, Yocheved Gross
Freelance Hairdresser in Brooklyn, NY
---
How would you describe this look?
The best thing about this look is that I used her natural curls and just enhanced them. I find it to be such pity when someone has natural curls and they don't maximize the beauty of it. Instead, they either gel it down or blow dry straight then go over it with a curling iron which creates a more artificial look.
This bride's trademark is her hair. There was no way she was going to do anything different with her hair for the biggest day of her life, so when it came to wedding day I used some Matrix products to create her full natural curly yet more polished bridal look.
Any advice for someone considering it?
If your curls are your personality, I highly recommend you work with them instead of changing the gift you were given.
Braid-Accented Curls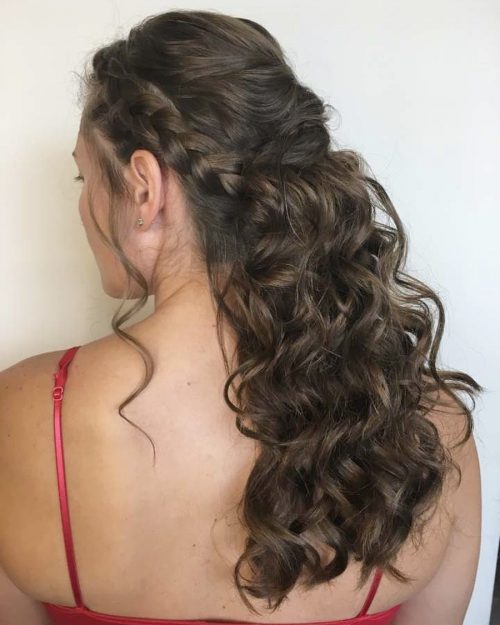 @tasha.scissorhands
Q&A with style creator, Tasha
Stylist @ Eric Fisher Salon in Wichita, KS
---
How would you describe this look?
Simple and organic.
Any advice for someone considering it?
You should have medium to thick hair. The products I used were dry shampoo and a thermal protectant hairspray.
Easy going, simple, organically beautiful styles like this are my favorite because the clients that want this normally reflect all of those characteristics.
Modern Curls
@betsyreyeshair
Q&A with style creator, Betsy Reyes
Hairstylist / Co-Founder of @BetsyElisaBeauty in New York, NY
---
How would you describe this look?
I call this style, "curly chic!" I love that this is an updo specifically for natural curls. I often utilize Living Proof Prime Style Extender for a style like this, and it works amazingly well on all natural curls. Makeup is done by Elisa Tallerico (@elisatallerico).
Any advice for someone considering it?
If you don't have these natural curls like Amy Miyako (@aymeyaks), you can use a very small curling iron to achieve the look. Try a 3/8 inch or 1/2 inch barrel for the best results. Hot tools are my favorite, and they can help you attain this look! I think these curls are a gorgeous choice for an event as big as prom or your wedding day & clients who want an elegant, yet chic style on their wedding day should consider this look.
Textured Messy Updo
@heatherpsoras
Q&A with style creator, Heather Psoras
Professional Artist & Co-owner @ Meraki Studio in Richboro, PA
---
How would you describe this look?
This a textured updo. It happens to be one of my favorite formal styles! What I love about this look is that it is meant to enhance the natural beauty of curly hair, working with the texture, rather than against it. It can also be achieved on straight hair, by first creating a natural looking s-wave for texture with the use of a wand or curling iron. You really can't go wrong with this style. It never looks overdone or underdone, so it's always a win!
Any advice for someone considering it?
For curly hair clients considering this look, I recommend that you have your curl prepped for your stylist, meaning that it is clean, dry and you are wearing it down so your stylist can see your natural wave pattern.
Ponytails and buns disturb the natural flow of curls and waves and would work against this look.
Be sure to apply a curl product after cleansing and either air-dry or gently diffuse with a blow dryer. A favorite curl enhancing product of mine is Bouncy & Tender by L'Oreal Professionnel. It's part cream and part gel, giving textured hair a perfect combo for frizz-free definition. My go-to hairspray for any updo is Extreme Lacquer, also by L'Oreal Professionnel. It allows me to freely shape the hair by hand and then use pins to lock it into place. The hold never lets me down and I feel confident that my styles will make it through an eventful night! Every curl has its own personality, so give it some love and let it lead the way!
Effortlessly Beautiful & Super Versatile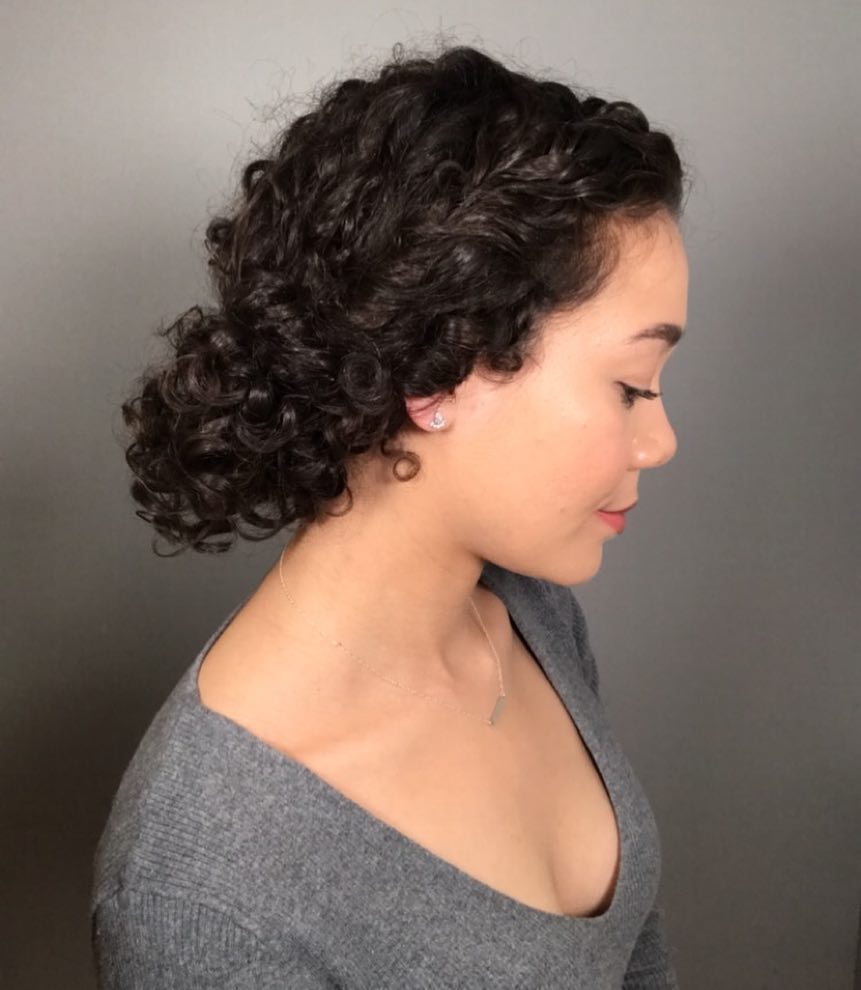 @cheyhair
Q&A with style creator, Cheyenne Hairston
Curl Stylist @ Evan Joseph Salon in Columbus, OH
---
How would you describe this look?
This look is effortlessly beautiful and super versatile. My favorite thing about this look is how easy it is to do!
Any advice for someone considering it?
Less is more, don't over complicate it. This look works on all hair types and textures. Just have fun with it!
Total Goddess
 @chrissyt.hair
Q&A with style creator, Chrissy Tsang
Owner / Stylist @ Charter Coffeehouse in Brooklyn, NY
---
How would you describe this look?
This look is very romantic and has a total goddess vibe. My favorite thing about this look is that it's actually really simple to do!
Any advice for someone considering it?
This look is great for naturally curly hair. Work with what you've got and embrace it!
The only items you need are a few hairpins, hairspray, and a flower or cute head piece if you so desire!
Twisted Up Curls
 @stacey_updoo
Q&A with style creator, Stacey Johnson
Hairstylist @ Updoo in Wootton, Bassett
---
How would you describe this look?
This look is perfect for naturally curly or wavy hair. It is textured, bouncy, and very on-trend for this season.
I love the twist detailing in the back. Not only does it look pretty, but it also shows you can create texture with curly hair.
Any advice for someone considering it?
The most important advice is centered around using the right products for your hair type. I created this style using serum sprays to tame the curls, and I also added a little heat from a curling tong to smooth over the ends of the curls.
Don't feel like you have to have lots of length to the hair to create this look. Shoulder length is all you need! Even if your hair is only slightly wavy, you can create a smoother curl using hair tongs or a wand to tame the locks for more of a structured curl. Again, this look works beautifully with your own natural curls.
Braided Side Upstyle
 @firstlookartistry
Q&A with style creator, Amy Loope
Hairstylist @ First Look Artistry in Charlottesville, VA
---
How would you describe this look?
This is a soft and romantic braided side upstyle for naturally curly hair. My favorite thing is how it looks so effortless and intricate at the same time.
Any advice for someone considering it?
This style is great for the laid-back, naturally curly girl who wants an easy, comfortable and long-lasting look.
Prep wet hair with a curl-enhancing product and let the curls air dry. Go back and enhance the dry curls with a 1-inch wand, especially around the face-framing pieces. This is a quick and easy style with minimal prep required!
Effortless Textured Chignon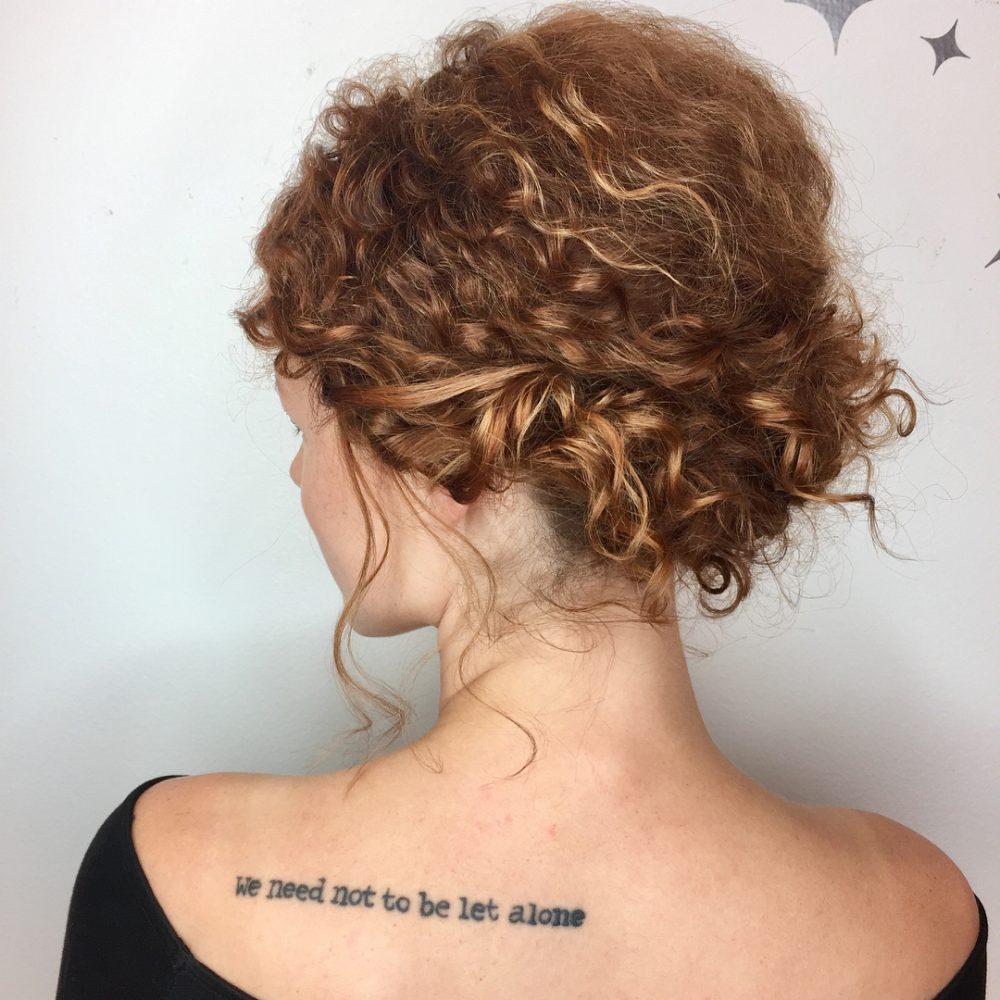 @taylovesbombshell
Q&A with style creator, Taylor Roose
Junior Stylist @ Bombshell in Richmond, VA
---
How would you describe this look?
I would describe this look as an effortless textured chignon.
My favorite thing about it is how it shows her classic curls in a conservative style, yet also accentuates editorial flair with the messier texture on top. It is almost a deconstructed twist on an elegant style.
Any advice for someone considering it?
This style was done on very fine curls, and this look would be ideal to build that light, fluffy texture. My model really didn't have much hair! So if your curls aren't as dense and you're looking for an upstyle, this would be a wonderful look for you.
If you end up booking for a style like this, make sure to go through your normal curly routine to ensure your stylist is able to use your peak curl texture. We want to show that off and build from your natural base!
Effortless Feel
 @tropicalbeauty_hairandmakeup
Q&A with style creator, Shae Howlett
Freelance Hair and Makeup Artist @ Tropical Beauty in Port Douglas, QLD
---
How would you describe this look?
I would describe this look as soft and romantic with an effortless feel. By adding flower clips or fresh flowers, the look is given a whole new dimension.
Any advice for someone considering it?
You need to have a bit of length in your hair to achieve this look, or use clip-in extensions to give it the fullness and length required. I have also used some padding underneath to give the illusion of thicker hair. This also makes it easier to anchor your bobby pins in.
Straight hair would need to be tonged to achieve this look. Naturally curly hair could also work well!
Waterfall Curls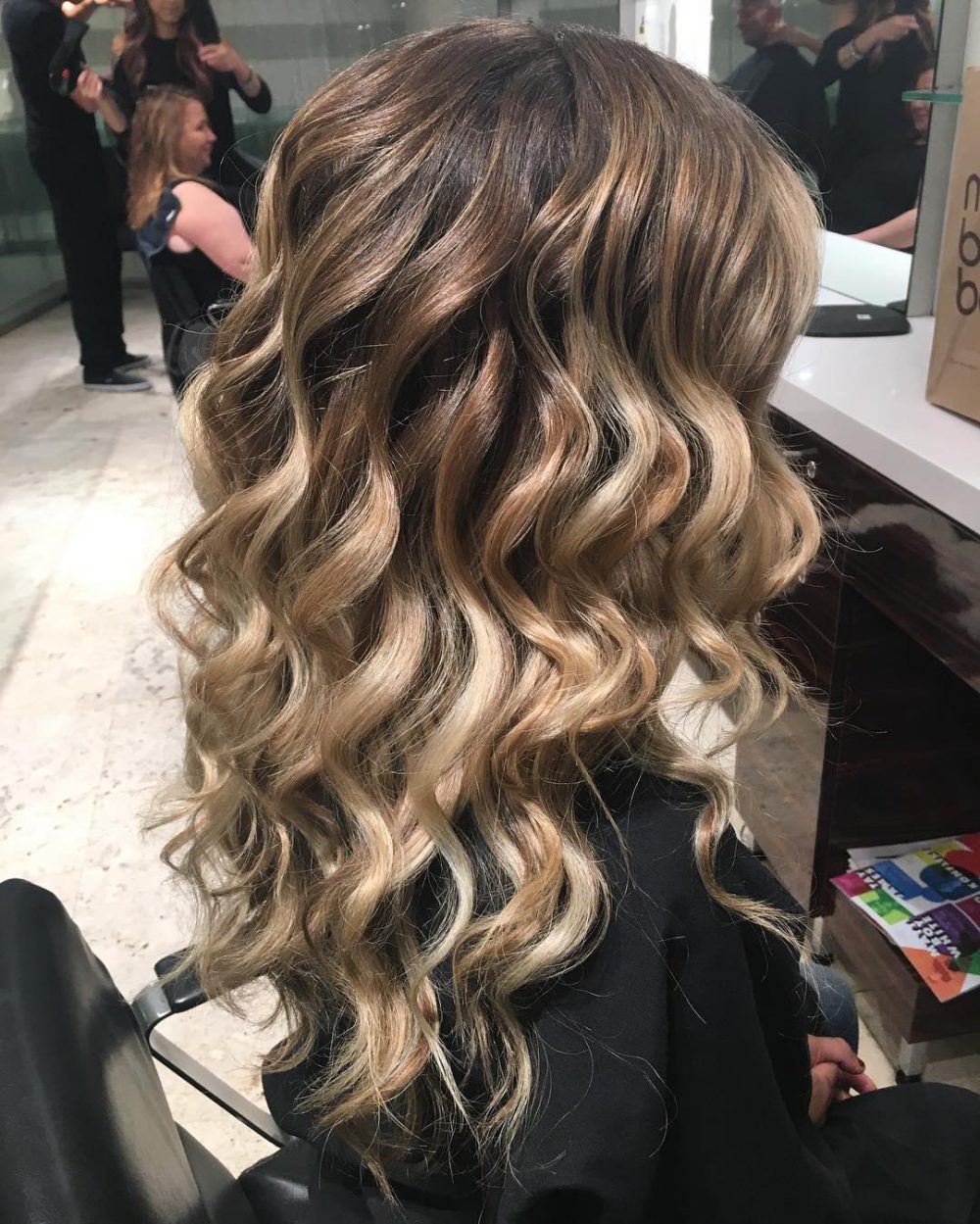 @nancystylistmt
Q&A with style creator, Nancy Bernal
Stylist @ Mario Tricoci in Chicago, IL
---
How would you describe this look and what is your favorite thing about it?
I would describe this look as a waterfall curl. It is in between a curl and a wave and looks clean and romantic. My favorite thing about this look that it is very diverse. It can be worn casually or as a formal night out style.
What tips or products do you recommend to recreate this look?
Start with a nice foundation. I recommend shampooing the guest, followed with a round brush blow dry. Before the blow dry, add a product for volume and for fizz. For this look, I used Rene Furterer Volumea to amplify the hair. From mid strands to ends, I used Rene Furterer Lissea to smooth the hair and tame the frizz. Always apply products on towel dried hair and always comb them through the hair before the blow dry for even distribution.
Once you're ready to wave the hair, section the hair for control and spray each section you are about to wave with a thermal protector and a bit of hairspray. Take small enough partings to wrap around a 1-inch iron, hold for five seconds, and release. When that wave cools, pull it apart just a bit and move on to the next one. Always wave hair away from the face and in the same direction for this look.
What type of client would you recommend this look for?
I recommend this look for clients with hair that is at least to the collarbone or longer. Like I said before, it's a very diverse style and fits all face shapes. If your client has fine hair, this would be a great look because it adds texture and fullness. For those like my model with curly/frizzy hair, this gave her a clean, classic and tamed texture.
The Pin Curled Princess
This curled look would complement any prom dress, and would make elaborate makeup stand out. This style is a timeless classic that will never get old!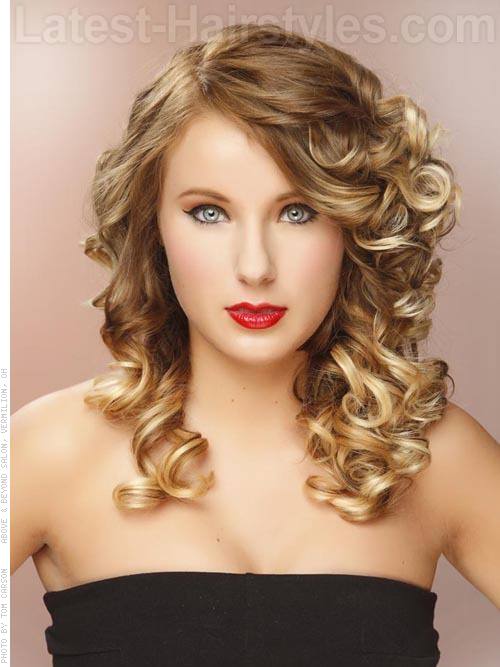 How to Style:
1. Start with dry hair parted to the desired side.
2. Secure hair back, leaving one section out to begin curling. Spray each section with a light holding spray before curling it.
3. Curl each section with a 1 inch curling iron. When you release your hair from around the curling iron, try to avoid letting the curl drop, but rather remove the curling iron, and keep the hair curled up in a pin curl, or, if the curl falls out a bit, simply re-wind it around your finger to create a pin curl .
4. Clip the pin curl to your head so it can "set". This can be done with a bobby pin or a pin curl clip.
5. After you have curled all of your hair, and each section is pinned up in a pin curl, allow it to stay like that for the desired amount of time. Anywhere from 30 minutes to two hours is ideal.
6. Remove each pin curl and gently twist it around your finger to re shape the curl.
7. Spray everything with a medium holding spray.
Recommended Products:
A good finishing spray is crucial to your style holding and looking great all night. I like Kenra Hairspray.
Best Face Shape and Hair Type:
This style will soften strong jaw lines and will flatter square face shapes. This style is also great for people with finer to medium hair, that doesn't hold curl well. Creating pin curls and allowing them to set will help your hair to hold a curl better than usual.
Lovely Curly Top Knot
@jewejewebee
There is nothing more stunning than a textured grand upstyle! This hairstyle is perfect for those going for a sweet elegant look.
The Big Sexy Blowout
There's few things I love more than a big, sexy head full of hair with tons of volume and movement. It's sure to be the finishing touch to a gorgeous dress and stunning makeup!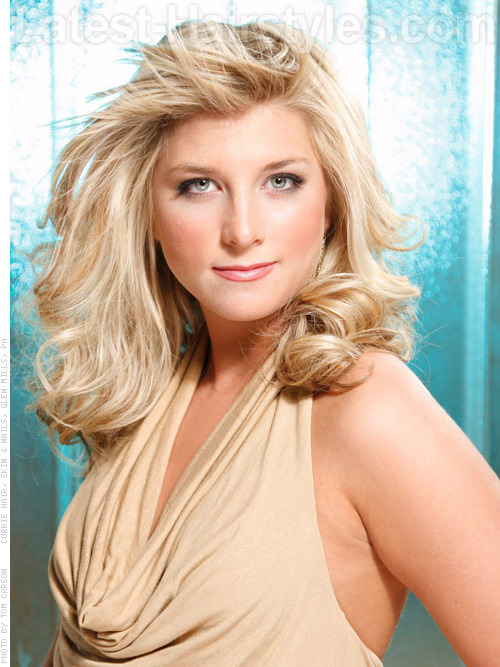 How to Style:
1. Begin with dry hair that has been smoothed with a round brush.
2. Secure hair back, leaving out one section to begin putting hot rollers in.
3. Begin by wrapping a larger section of hair (approx. 2 inches) around a medium to large size hot roller. Clip the roller and let sit. Continue until all hair is in hot rollers.
4. When the rollers have cooled, remove them from your hair. Run your fingers through your hair to create more body and bounce.
Recommended Products:
A good thickening spray right after you wash your hair is crucial to getting a big sexy volumized look. I love Bumble and Bumble's Thickening Spray.
Best Face Shape and Hair Type:
This style is great for people with medium to thick hair that doesn't have too much natural wave or curl. Because it creates volume and makes the hair look thicker, it will work well for anyone who has a narrow or elongated face.
Curly Waterfall Braid
@braidedsecrets
This chestnut brown hair color with honey blonde highlights will dazzle anyone in sight at prom night.
Elegant Style for Short Hair
@shakedbraids
Product is key in achieving this super cute voluminous look and keeping your locks defined!