15 Modern Shaggy Hairstyles for Women with Fine Hair Over 50
White Chin Length Shag with Bangs
@suzygrifa
Take note of this white chin-length shag if you're down to wear an effortless, youthful look past your 50s. The texturized chop features a side fringe to complement with the layers. And the best thing? These create more movement and texture to add volume to your fine locks.
Gray Medium Length Shag
@amysinclair65
If you ever crave for a new and an easy-to-maintain hairstyle, take note of this grey medium-length shag! As a fifty year old stunner, color touch-ups will never bother you while wearing this look. And did you say that you don't have much time to style every morning? This haircut offers layers to give your fine tresses a subtle movement and volume.
Razor Shag with Glasses
@meghanlandis.hair
Wear this stunning razor cut shag with glasses, and you'll look ten times younger! This shoulder-length cut has various texturized layers to boost the volume of your fine locks. Ask your colorist for some golden brown and blonde highlights to add a pop to your look.
Grey Layered Shag
@ryshairstudio
This is the stunning grey layered shag with a fringe that works well on your wavy, fine hair. If you're a 50-year-old lady, its ashy tone is what will make you look younger than your actual age. A chest-length cut is perfect as it's not too short that you can pull off several updos. It's even not too long that it still keeps the fullness of your locks.
Youthful Shaggy Lob
@andy_doesyourhair
Who says shags are so out of date? Here's a youthful shaggy lob to prove that wrong and make you look 10 years younger. Ideal for a woman over 50, it's sure to offer your fine locks the layers that bring out more details and flow into your look. Opt for this chop if you like your blonde's dimension to display with so much flair!
Sassy Neck Length Shag Style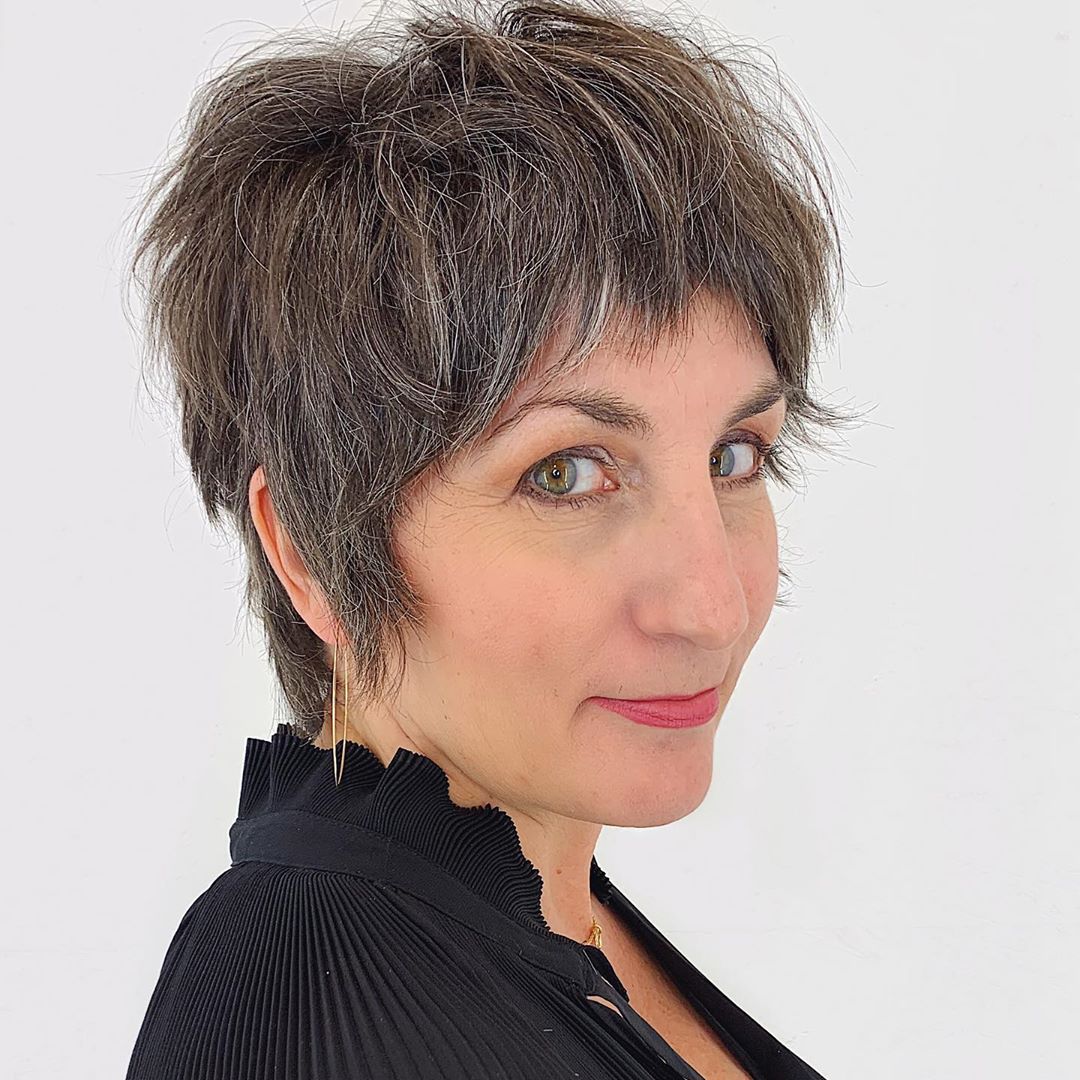 @andy_doesyourhair
Here's a neck-length shag style that works great on your grey hair and fine tresses. It features side-swept bangs and choppy layers to suit your square face shape, too. It's one of the best shaggy hairstyles for a woman in their 50s!
Edgy Very Short Textured Shag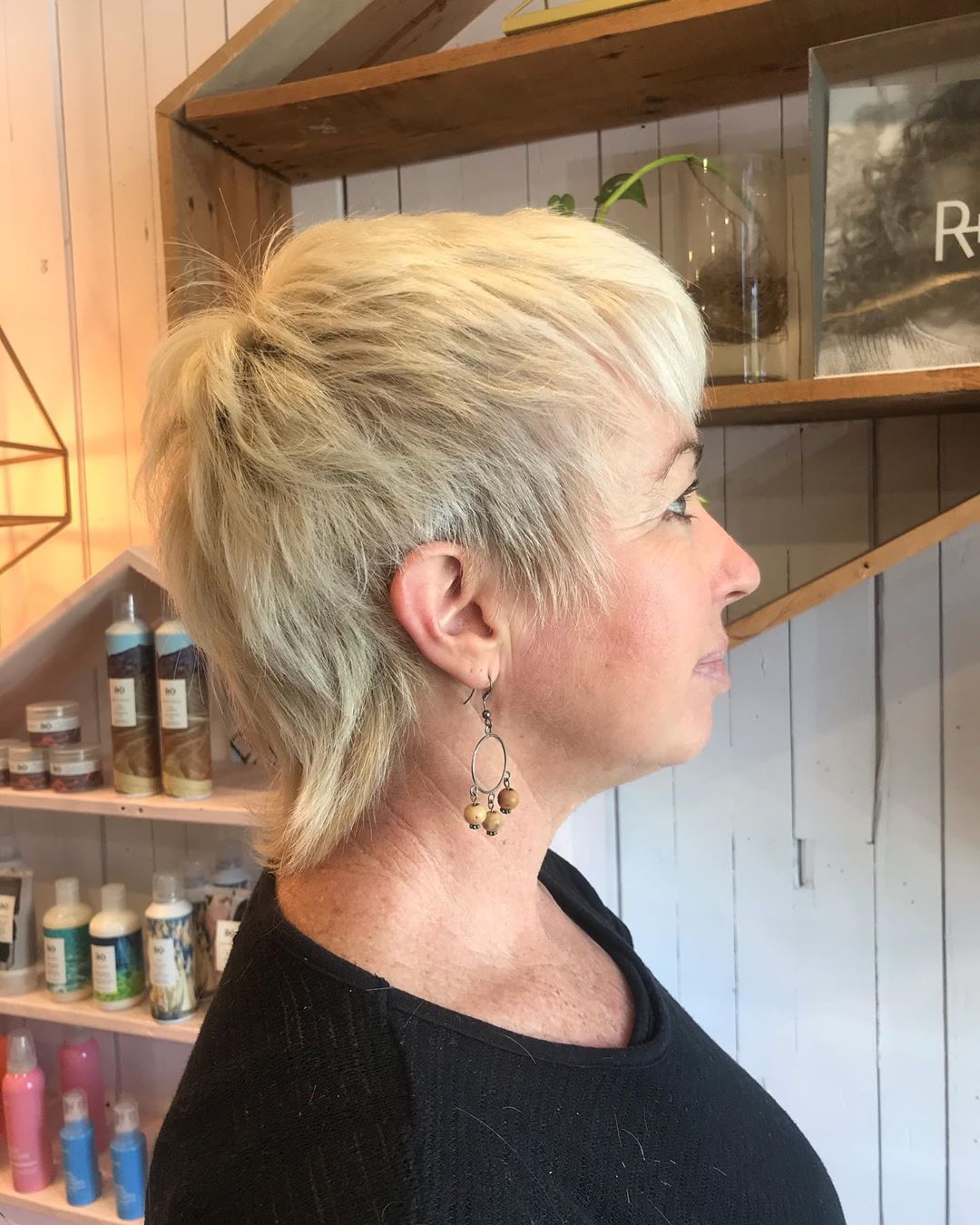 @janecutz
This very short textured shag is for a 50-year-old woman who has a busy lifestyle. Why? It requires minimal styling of texture to show off the layers even better. Have your colorist paint your locks with a golden brown hue to complement your olive skin tone.
Messy Shaggy Pixie Cut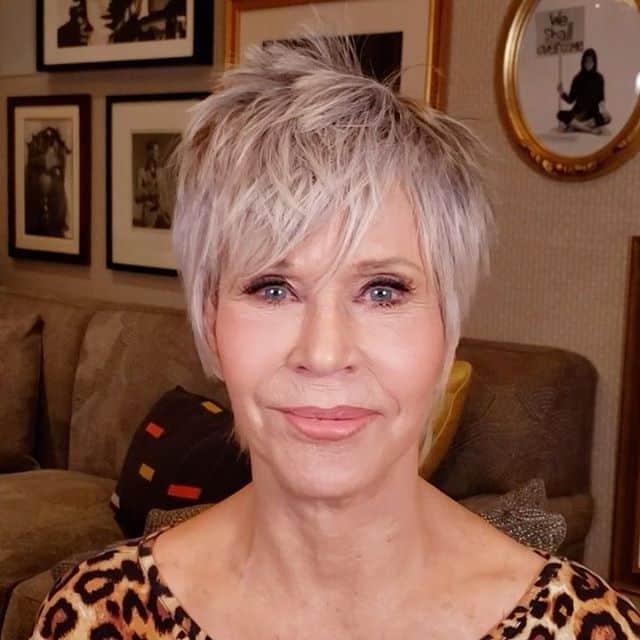 @janefonda
If considering to join the short hair club like Jane Fonda, going for this fab shaggy pixie cut is a must-try! This edgy 50+ hairstyle features curtain bangs to jazz up your fine, dark locks and for a younger-looking finish. When styling this chop at home, don't forget to use a dry texture spray to achieve its best result. Kiss your old school grandma hair goodbye!
👉 Check out these trendies pixie cuts for women in their 50s
Simple Long Shag Hairstyle
@minnietheshagger
Here's a much modern and trendsetting take on a classy shag cut for older ladies over 50! Perfect for your smooth and fine locks, this is a simple long shag with side bangs for you to try. Feel free to upgrade it with glamorous curls and waves, which can secure movement to your copper hair.
Feathered Shag Cut
@elevatebeautyroom
Here's another shag cut that any women in their 50s can rock. If you're one of these beauties, try this mid-length feathery shag cut to freshen up your style. The best result comes when you have fine tresses in its natural bright copper shade. Ask your stylist for an added fringe as a playful and youthful touch for your entire look.
Short Salt and Pepper Shag Haircut
@andy_doesyourhair
Stubborn grey hair no more! Consider this short, salt and pepper shag for older women when you need to amp up your current fine, thick hair. Notice how the layers line up, giving your tresses a gorgeous flow.
Modern Wavy Shag Cut
@studiozhairsalon
Are you a lovely woman who's over 50, blessed with shorter fine hair? If so, rocking this classy wavy shag will not bother you. The length that's a few inches past the shoulders is ideal for showing off your voluminous look. Don't forget to use a shine-inducing oil to keep your locks glossy for the whole day.
Angled Shaggy Hairstyle
@1twistedscissor
This shaggy cut is a modern take on a traditional shag with a curtain bang. Considering creating some dimension in your hair with balayage hightlights with low lights. Paired with the shag cut, this look will give you tons of amazing movement.
This shaggy haircut is great for women over 50 for many reasons. It helps hide fine lines and wrinkles around the face. It gives a youthful bounce to the hair. Plus, you'll have no problem getting volume with this cut even when pulled back in a pony. You will have cute little wispy strands to frame the face, helping to hide fine lines and wrinkles.
Silver Shaggy Bob with Bangs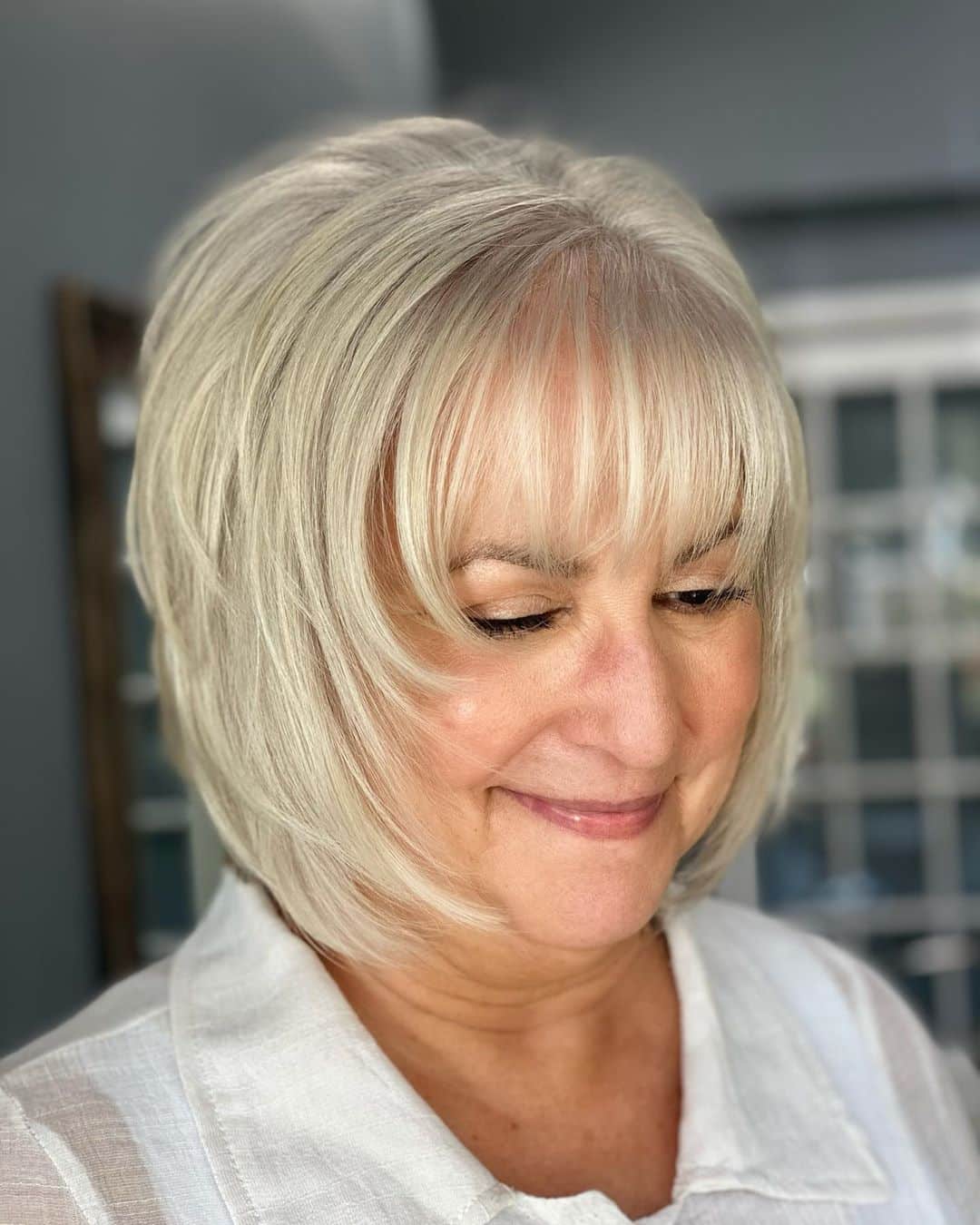 @hair_by_sarah_brophy
This haircut is a shaggy bob. The fringe and layering are my favorite because of the versatility and playfulness.
Because of the length and layering, this shaggy cut requires minimal product and styling, think a salt spray and a quick blow-dry.
It's a great cut for ladies in their fifties who may not have a lot of extra time to devote to styling. I would recommend it for straight and curly textures and everything in between.
Choppy Layered Shag Haircut
@atelier_vernackt
This shaggy hairstyle is easy to maintain and style! To anyone looking for a low maintenance hairstyle, the shag cut is perfect for you!
This would suit anyone who is willing to keep on top of their fringe. Stying is easy! Just a texture spray would be perfect. Women with straight, fine hair might find this hairstyle difficult to style, as the texture is easier with the shag cut, especially natural texture!
Here are some more easy wash and go hairdos for women 50+