The 45 Most Youthful Short Hairstyles for Women Over 50
Mahogany Wavy Short Bob
@modange13
One of the best short hairstyles for over 50 is this mahogany wavy short bob. If your hair is feeling a bit boring these days, try using a curling iron to add subtle waves. It's a lovely ladies' short hairstyle you'll see more often this year.
Blonde Pixie Style for Short Hair
@peanutshairattraction
Stand out with a blonde pixie style for short hair. Blonde is an eye-catching color, but throw in a cute pixie, and this trend lifts the whole face for a brightening effect.
Messy Pixie Bob for 50 Plus Women
@jamiemcdhair
Try a messy pixie bob for 50-year-old women and you'll have the best of both worlds. The bob element will add structure to your hair, while the choppy pixie element on top will enhance volume. Blend in textured bangs and you'll have a beautifully crafted hairstyle.
Short Textured Hairstyle for Over 50
@lisamanceking65
Rock a short textured hairstyle for women over 50 if you're finding your hair too high-maintenance. Not only does a shorter style open up the face and give a fresher appearance, but it's easier to style. Just add some light texture cream for definition.
Short Cut Bob with Curls for Naturally Curly Hair
@kkbhair
A short cut bob for naturally curly hair requires multiple layers to create a full, curly look. Getting a special curly cut, often called a dry cut, lets your curls lay in their natural state allowing your shape to be perfect. It's one of the best short women's haircuts.
Short Layered Bob for Fine Hair
@gothairsalon
This short layered bob for fine hair with a slight face frame was created by owner and stylist Sonia Rodriguez of San Antonio, TX. "I love this layered short cut on women who want to create volume in the crown which also creates an angular look that is flattering to most," says Rodriguez. "It hugs the head shape and the soft layers help frame the face and soften features and produces a rejuvenating effect."
If you have a lot of curls opt for a keratin express. This is a great treatment for women over 50 that will give your hair a youthful appearance, provide a rejuvenating effect with more lift, and will cut down on styling time. "Older women may not get enough natural oils to all of their locks so a conditioning treatment can also rejuvenate the hair," she adds.
For hairstyles for fine hair, Rodriguez highly recommends that especially if your hair is coarse and unruly due to grey hair. "If you don't have access to such smoothing treatment consider any lightweight de-frizzing products like WOW Dreamcoat and Speed Dry or Goldwell Kerasilk smoothing fluid before blow-drying and Kerasilk humidity barrier spray once it has been blown dry or heat styled," she explains.
Trendy Short Hair with Bangs For Over 50
@thefoundrysalon
A short crop, trendy short haircut with bangs for women over 50, and shiny silver locks is very trendy.
Classy Short Wavy Bob For Women Over 50 with Gray Hair
@hair_byemily
This classy short wavy bob for women over 50 was created by hairstylist Emily Murphy of Taunton, MA.
This bob hairstyle requires a lot of upkeep. Toners fade after 4/6 weeks. In order to maintain a true pigmented color prepare to visit the salon more often. The color is easier to achieve when your hair is naturally light. Silver hair is a great way to transition from coloring to growing out natural gray!
Super Modern Layered Bob for Thick Hair
@bormannjr
A modern layered bob would be a great choice for women over 50 with thick hair. Chin-length with minimum layers gives it a sharp and stylish look. Curling it with an iron gives a mature woman a softer look.
Spikey Layered Pixie for 50-Year-Old Women
@porschechick7390
A spiky layered pixie for 50-year-old women who want a haircut that is easy to style, consider this short pixie. This cut is easy to take care of at home, but be prepared to spend time at the salon every 4-5 weeks for a trim when maintaining short haircut styles. Use pomade or gel when styling short hair for women over 50.
Short Textured Pixie With Long Side Bangs and Glasses
Elena Gatzios / Instagram
This is a trendy, fashion-forward pixie and lighter hair that is easy to wear year-round. This pixie with long side bangs was created by stylist Elena Gatzios of Central Florida. "It can be worn so many different ways and each style looks like a different haircut! It even looks great on older women with glasses," she adds.
Short styles like this are fantastic with any texture of hair but look best if the hair is on the medium to thick side.
"Feel comfortable in your own skin," says Gatzios, "because this short haircut exposes a good portion of your face and neck. To keep this style looking its best, you need to head to the salon every four to six weeks for maintenance."
Textured Inverted Bob for Older Women
@jeanniejachman
A textured inverted bob is the ideal hairstyle for older women with thicker hair. An inverted bob on short hair is shorter in the back and longer in the front. How to style a short cut for older women entails air-drying and then straightening with a flat iron.
Modern Take on The Classic Bob for Red-Haired Ladies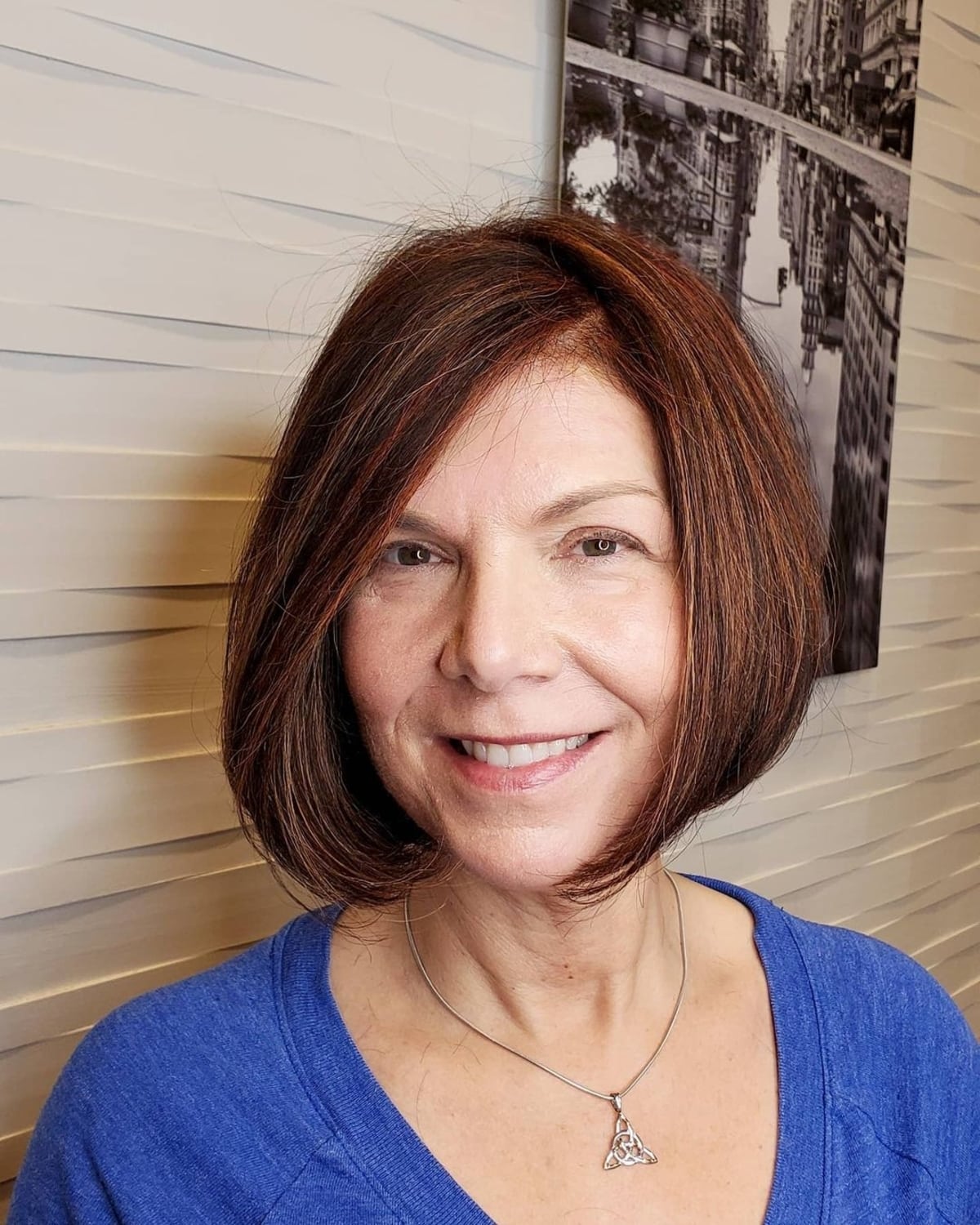 @ac_maniahairstudio
This is a modern take on a classic bob for red-haired ladies. A lovely haircut for older women over 50 isn't complete without a zig-zag part and the precisely cut long layers. A stunning, modern hairstyle for older women with short hair is a classic bob with long, precisely cut layers and looks best on oval-shaped faces.
Creative Short-to-Medium Straight Bob
@justinewerline
This short-medium haircut is a creative spin on the evolving rose gold color trend! More mature ladies are wanting to see a pop of color or do something fun while still keeping it acceptable for everyday work.
Using a great sulfate-free shampoo and rinsing will cool water is the best way to get more longevity out of these fun colors.
All older women over 50 can have fun with their hair!
Dark Brown Lived-In Pixie Cut
@chekatilda
The dark brown lived-in pixie cut is an excellent option for women who have a straight hair type. To have an impeccable straight, you will need to cut the ends of your hair every three months.
Long Undercut Edgy Pixie
@amoverley
A long undercut edgy pixie is a fun way to de-bulk thick tresses with a bit of sass and flair. Stylist Anna Overley, and her crew from Colorado, made this chop possible.
To create this long pixie with an undercut, "My stylist used a scissor cut for shape and a razor cut for texture. The undercut is done with a buzzer with one guard," explains Overley.
She also points out that styling short hair requires heat protection, texture spray, serums, and hairspray.
Gorgeous Chin-Length Bob for Women in Their 50's
@hair_thewrightway
"This modernized chin-length bob for women in their mid-50s is one of my favorites because it is so versatile," says hairstylist Chelsea Wright of Roanoke, VA. "We utilize a light razor technique in the finishing details to compliment a carefree style," she explains.
To protect and repair weakened hair for mature ladies, Wright always recommends a protein-based strengthening system. Her regime is easy and customized.
Chin length short hairstyles can really uplift and accentuate bone structure. Common face shapes such as oval and round face shapes particularly look great. The cut looks amazing textured or smooth and flatters most with a clean line from the nape to the jawline. A natural body on fine to medium hair shows off volume and texture as well. You just can't go wrong with a sassy bob!
Black Super Short Choppy Pixie
@hair_wiz
This black choppy pixie was created by master stylist Denise Roy of Chicago, IL. She created this as a short haircut for women over 50 with a round face. "The playful pieces that frame the face help you create different looks like super short pixies that are perfect for work or play," she says.
Roy uses HairWiz Sparkle Shine Spray to maintain the natural shine, Bed Head Pomade Stick to create the wispy effect, and HairWiz Magical Spritz to hold it in place.
"This particular woman has a relaxer," she explains. "She works out and needed a no-fuss cut because of the choppy layers cut into the hair which were created by using HairWiz Choppy Shears."
Shampoo and condition your hair, mold it down with Nairobi Styling Foam, then tie it down with a scarf or strips until dry. To style, Roy says to mist the Sparkle Shine over the entire head, then use a 1/4-inch flat iron. "Simply start at the top and slightly bevel the iron in a circle pattern completely around the entire head. To finish, finger style until the desired look is achieved."
👉 See more haircuts for women over 50 with round faces.
Auburn Bob with Layers for Volume for Women 50+
@valerie.solo
An auburn bob with layers for volume is an absolutely stunning short cut for women 50+. A textured bob with face-framing pieces creates dimension, texture, volume and is perfect for thicker hair.
Rounded Bob Short Cut for Older Women
@salonnirvana954
A short, rounded bob cut for older women allows for an easy styling routine. A short bob hairstyle is perfect for textured hair and stylish when worn straight or wavy!
Very Short Pixie with Purple Highlights
@villageonmain
This is an edgy pixie cut with purple highlights, while also maintaining a level of softness. It was created by senior stylist Rhiannon Thackeray of Northhampton, MA.
Thackeray recommends anything that enhances texture or gives a little hold. For this style, she used Aveda's Brilliant Universal Styling Creme to give her a little shine and to create separation and weight. "I also often find myself reaching for a pomade and hairspray such as Aveda's Men's Pure-formance Pomade and their Aircontrol Hairspray," she adds.
This look can work for a variety of textures and it compliments many face shapes. It's a very low maintenance style and the swept bang and undercut melt two looks together in a striking way.
Grey Undercut Pixie for Youthful Senior Ladies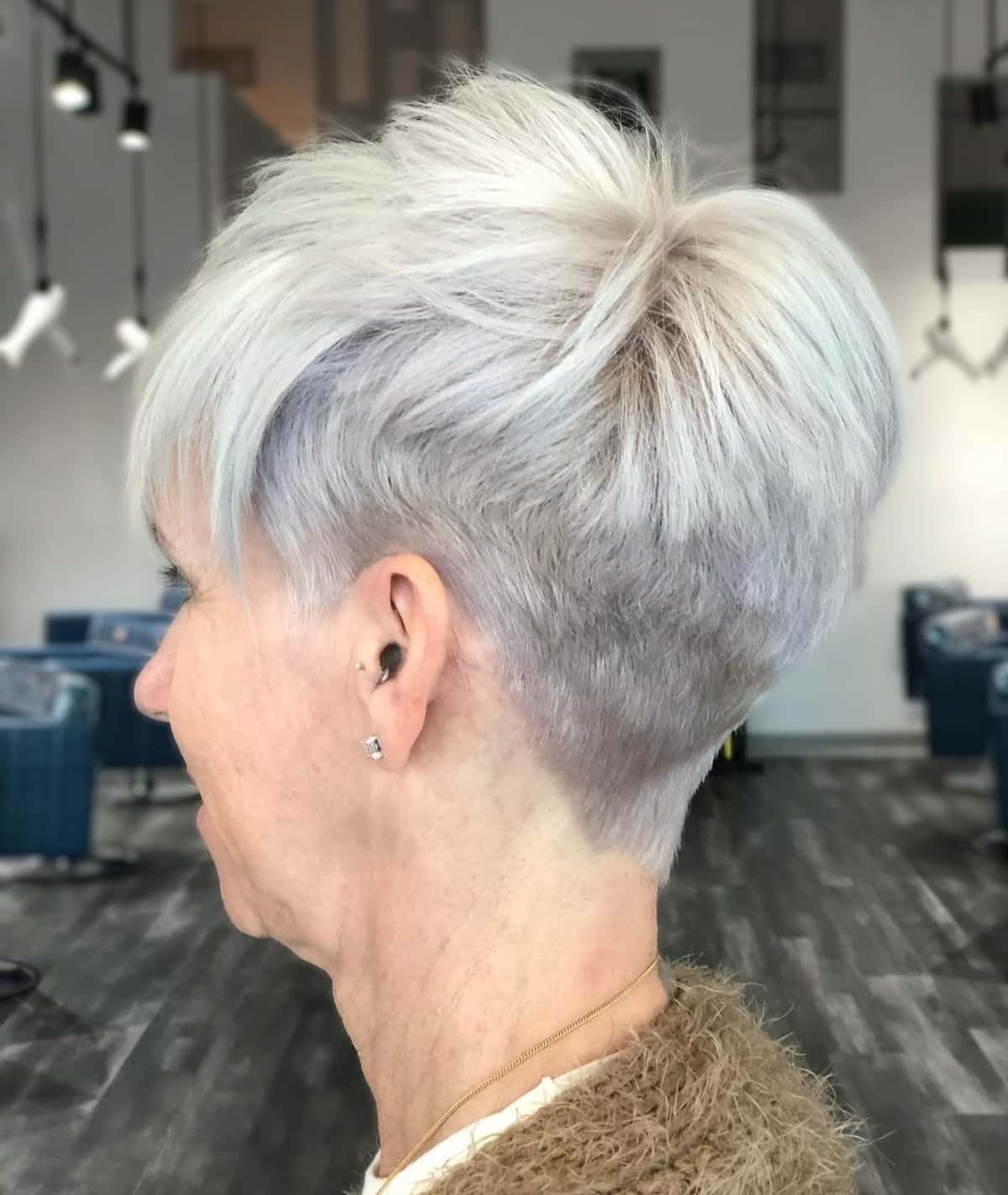 @woop_hair_it_is
You're never too old to rock a grey undercut pixie! Pixies are very common short hairstyles for women over 50. A pixie cut can make 50-year-old women with white hair look younger by bringing out their best features, especially their cheekbones and eyes!
Salt and Pepper Pixie For Over 50
@cutcolorsteph
A pixie cut on a lady over 50 is a popular haircut for women. When considering the vast styles of pixie cuts, it's easy to change every time. If opting for short haircuts for women over 50, ask the stylist for a feathered curtain fringe to frame the face. It will create a soft look and short wispy layers for added textures. Box o'Bollox a staple styling product for pixies and shorter cuts.
Stylish Tousled Pixie for Women 50 Plus
@allthathair2903
A tousled pixie style for women over 50 works best with textured hair. For senior women, this short stylist works best with loose waves and pixie haircuts that have many layers to create more body.
Modern Pixie Haircut for Women Over 50
@silverowl_64
A modern pixie haircut is the perfect, low-maintenance haircut for women over 50. A short pixie with side-swept bangs and short tapered sides is very trendy right now.
Simple Gray Graduated Bob with Bangs
@lolopisani
This graduated A-line bob for 50 plus women was created by independent stylist Lolo Pisani of Long Beach, CA.
To maintain this short hairstyle at home, Pisani recommends applying a mousse-like R+Co Chiffon to towel-dried hair before blow drying. "A paddle brush can be used for a sleek look, or a round brush can be used for achieving volume. Finish the style with a flexible hold hairspray. My favorite is R+Co Outer Space," she adds.
Edgy Chin-Length Shag for an Older Woman
@hairbykathymarie
An edgy chin-length shag for an older woman is a very practical haircut for a woman in her fifties. A short shag has a variety of layers, creating volume and fullness all around.
Shaggy Pixie for Thinning Hair
@switch_hair_design
This shaggy pixie hair style was created by salon owner Jacqueline Young of Switch Hair Design in Australia. It's a disconnected, long razor cut on top with an undercut.
Young's favorite thing about this short cut is that it proves that having very short hair can still be feminine, stylish and sexy and at any age!
This look is great for women wanting to give their short hair an edgy look, yet still keep it soft and feminine. "It's a great style for fine hair as we've kept the top and sides a little longer than the traditional pixie. This creates volume and texture and also means that having that extra length gives you more appealing options on styling your hair differently," says Young.
It also works well on thick hair, removing bulk from underneath for a more defined and textured look that you may not have been able to achieve before without having an undercut.
The shaggy pixie is super easy to style! The more textured and lived-in, the better. Best of all the "just rolled out of bed" look has never looked so good.
Neck-Length Layers with Long Bangs
@finnellhair
These neck length layers and long bangs were created by master cosmetologist Jennifer Finnell of Dunwoody, GA. "She is 80% gray and wanted gray blending versus permanent hair color," says Finnell.
"I cut her hair in a one-length bob with round layers so she may keep the curl throughout the day. I cut a side swooping heavy fringe, blending it into a face frame to maximize curl hold and minimize a rounder shaped face," she explains.
Finnell recommends using Paul Mitchell's Awapuhi finishing spray and Keratin Intense Treatment. To finish, use Joico's styling lotion for frizz reduction and curl hold.
Youthful Gray Bob
@studiodeuxsd
This youthful gray bob was created by Shellie Diamond Muro, owner of Studio Deux in Dan Dimas, CA. "What I love about this cut is that it gives a youthful look to someone who wants to embrace their natural gray but still have a sense of style. Like most gray hair, hers is coarse and resistant. and doing bi-weekly touch-ups was too costly for her since she has retired," explains Muro.
"We cut off over six inches, tapering the back to remove the bulk and giving it a slight a-line with blended layers. All of this makes this cut easy for her to style at home," she adds.
"It takes a lot of patience to grow out your gray hair," advises Muro. "I normally do not suggest it because it can age you, however, this woman happens to have naturally beautiful white hair with no yellow or "dishwater" tones. I have a few other solid natural gray clients who like to have fun with color and we weave in lowlights to add some depth and spunk to their natural gray," she states.
Layered Bob with Side-Swept Bangs
@stephanieyates_hairstylist
Salon owner and hairstylist Stephanie Yates of Tigard, OR created this jaw length layered bob with side-swept long bangs.
Yates recommends Redken Pillow Proof Primer, Redken Stay High, and Amika Undone texture spray for styling.
"Short hairstyles like this are perfect for a woman over 50 years old who wants texture and a fun look without a lot of work. It is ideal for fine to medium hair texture that is straight to medium wave. Oval, square, heart-shaped faces will wear this style well," she adds.
Mature Short Feathered Layers
@lara_stelmashuk
This short layered cut for mature women has feathered layers to add dimension. It suits any age group, and even if you have wavy hair, you can wear this cut. Blow-dry with a round brush for a smooth look.
High Stacked Bob with Layers
@geekycuts
This layered stacked bob with side-swept bangs was created by level 4 stylist Timothy Hays of Candler Park, GA. "It has a high stack in the back and is layered throughout to give it more movement. Side-swept bangs are a good choice for diminishing wrinkles around the forehead, fine lines, or crows feet around the eyes," says Hays.
Hays recommends Bumble and bumble Full Form Mousse to "help make the hair feel fuller and give it extra texture." Finish it with Oribe Dry Texture Spray to help add more grit and grip to the hair.
"When it comes to short hairstyles for women over 50, this hairstyle is perfect for anyone looking for a change in their hair. It is ideal for someone with medium to fine hair who is looking for a cut to give their hair some extra oomph," he adds.
High Volume LOB With Layering
@t.beauty11
"Women over the age of 50 tend to go shorter in length but a lob gives more options," explains master barber stylist Taneah Cantrell of Cookeville, TN. "A lob (long bob) with layers refreshes the hair by making it appear fuller and thicker. I love this look because it helps add instant body to the hair. It's a great cut for older women with short hair," she adds.
When styling hair, Davines products are always Cantrell's go-to.
Cantrell recommends this haircut/style for any mature woman with thin hair or lifeless hair. "It creates the illusion that your hair is actually thicker than it is. However, I wouldn't recommend it for someone who likes to pull their hair up. With this cut, an updo, ponytail, bun, etc. are not options," she explains.
Sleek & Youthful Angled Bob For Women Over 50
@hair_by_christines
This short cut is sleek, trendy and classic and is one of the best youthful hairstyles! It was created by stylist Christine Sandella of Toms River, NJ. "This short angled bob is layered, giving it serious swing and movement. I love that it looks so sharp and stylish," explains Sandella.
For styling, use Matrix Volume Bloom, which is great for short fine hair like this because it is so light and gives great lift. Also try Healthy Sexy Hair Soy Renewal Creme Oil to give the hair a smooth and shiny finish.
"I recommend this haircut for fine to medium hair. It can make someone's fine hair appear fuller," adds Sandella. "On a 50 year old woman with thin straight hair, The cut falls right in and is easy to style with this length. This can complement any face shape and I recommend coming into the salon every six weeks to maintain it."
Short Angled Bob With Layers and Flip
@haircarebyjenn
This slightly angled bob, with over directed round layers and a wispy fringe was created by hairstylist Jenn Tandarich of Encinitas, CA.
First, apply Bumble and bumble's Tonic spray all over for moisture. Next, add Bumble and bumble's Thickening Mousse from roots to ends for volume, texture and hold. Now apply Bumble and bumble's Invisible Oil from mid shaft to ends.
"This oil can be used as a heat protectant on wet hair, and can also be used to seal down the cuticle while adding extra shine to dry hair. Finish with Bumble and Bumble's Classic Hairspray to give this look the hold it deserves," explains Tandarich.
As for the fringe, you can wear it three ways: swept off to the side, straight down, or take it back to the 90s by curling the top section of the fringe up and the bottom half of the fringe down.
Graduated Layered Bob for Mature Women
@arrazzostudio
This graduated layered bob is carefree, feminine and sophisticated. The graduated layers maximize carefree volume and movement.
Use a root volumizing mousse and blow dry serum for a superior blow dry slip. Great products include Wella's Eimi Root Shoot and Eimi Perfect Me Lightweight Beauty Balm. Use a 35mm MoroccanOil ceramic round brush to create volume and separation between layers.
This short haircut is perfect for fine to medium hair texture. Layered bobs are ideal for a 50 year old woman who does not wish to spend a ton of time on their hair, but wants the illusion of a styled look.
Elegant Side-Part Chin-length Bob
This chin-length bob is nearly all one length. This keeps the style heavy and dense which is perfect among short hairstyles for women over 50 with fine hair!
Short Haircut with Wispy Fringe
@thehairroominc
This short style features longer layers on top of the head and a beautiful wispy fringe. It's one of the classier and simpler looking short haircuts for women over 50 you'll see.
Cool & Soft Short Blonde Highlights Hairstyle
This fabulous layered haircut features a texturized straight-across fringe. If you're looking for professional short cuts for women over 50, then this is it.
Chic Highlights and Longer Bangs Hairdo
This bob hairdo is nearly all one length and bangs are perfect for hiding deep wrinkles on the forehead. This allows it to keep most of its weight, making it the perfect cut for women in their 50s with fine hair. The way that it is styled keeps it from looking too heavy and the slight bend on the hair in the front gives a softer overall look.
Shorter Ear-Length Blunt Cut
@moosehoh
A style that would make you less drab and more fab! The bob is a great choice short hairstyles for women over 50 who a looking for something cute and simple.
Face-Framing Bob with Bangs for Seniors
The curve and wispiness of this short blonde bob softens the face and makes it more youthful. It softens the face as it frames it by having the ends beveled in. The short bangs on blonde hair give the same effect because it is cut at a curve and is texturized, soft and wispy.
The Wispy Casual Long Bob
This pretty short hairstyle for a woman looks effortlessly beautiful and casual!
Shorter Graduated Bob for 50 Year Old Women
@redlimehairandbeauty
This bob is shorter in the front and longer in the back. This causes hair to naturally fall to the back, making it one of the easiest short haircuts for older women over 50.