16 Most Slimming Hairstyles for Women Over 50 with Round Face Shapes
Long Layered Cut for Long Hair
@mariobydesign
A long layered cut for long hair will give you movement without taking away too much weight out of your white hair. It has an elegant style when curled giving it extra volume and bounce.
With face-framing layers starting from the chin down, it shapes the face into a youthful glow and hides wrinkles and forehead lines around the face.
Sleek Lob Cut for Round-Shaped Faces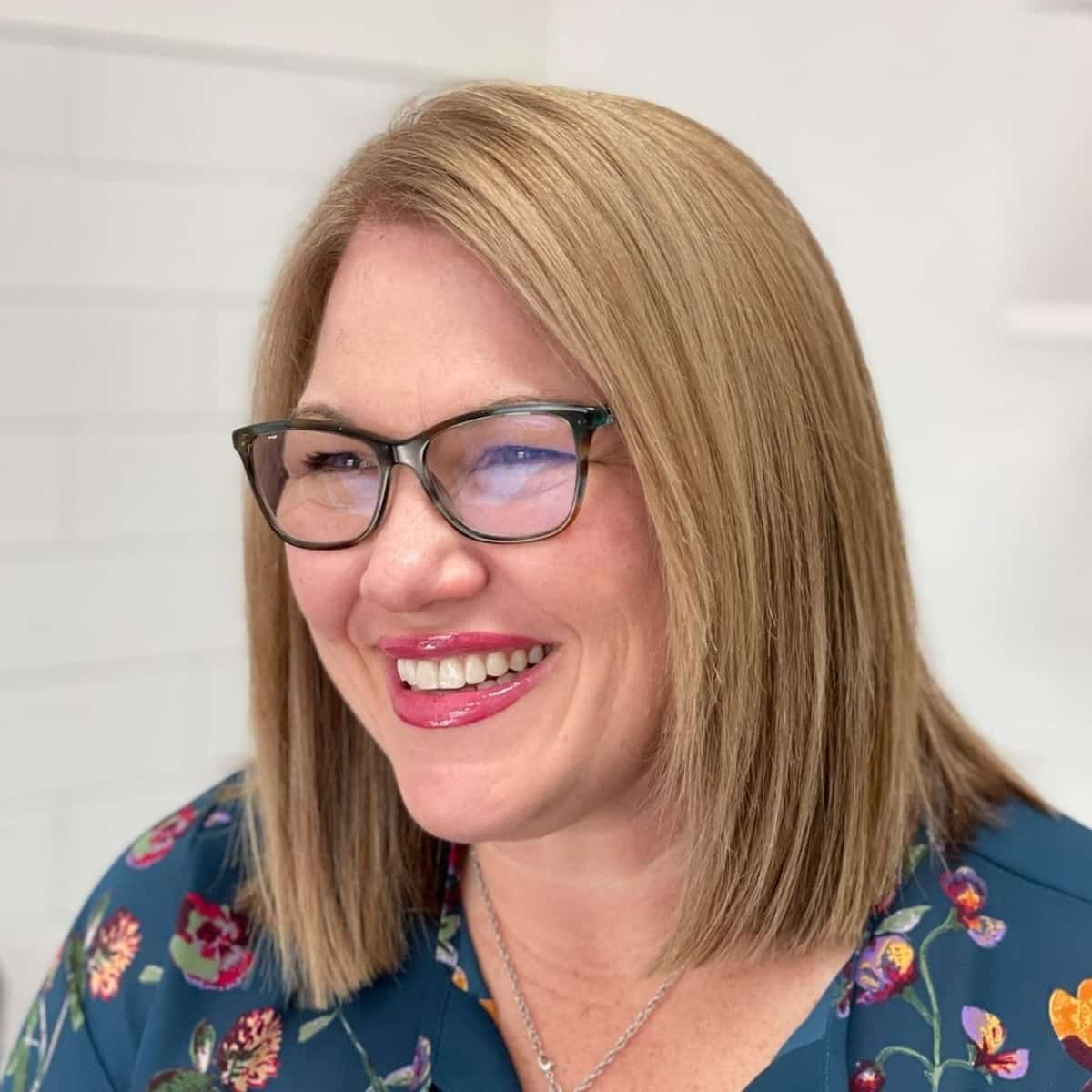 @blackbird.salon
The sleek lob cut for round-shaped faces is the perfect balancing style for women over 50. The long bob is a great length that sits just above the shoulder, disguising the jawline, and narrowing the widest part of your face. A beautiful sleek style that can be a perfect everyday look.
The Modern Shag for a Rounded Face
@hairbycalliesmith
The modern shag for a rounded face is the popular take on the retro cut that's coming back into the spotlight. Texas-based stylist Callie Smith created this younger-looking chop using a razor only.
"I carefully carved into the shaggy hair to create soft petals. These frame the attributes you want to highlight your face," Smith shares.
Smith also says that it's the best cut for low-maintenance styling and it's ideal for 50-year-old women with a natural wave or curls in their hair.
👉 See more shaggy haircuts for older women
Classic Shoulder-Length Haircut for Straight Hair
@cutnj
A classic shoulder-length haircut for straight hair can give you the appearance of fuller-looking hair. Cutting the hair right at the shoulder level will give your hairdo a natural bounce.
For extra body at the ends, consider asking your stylist to add some crown disconnected layers. Make sure you're not taking away too much shape and weight from the mid-length through the ends.
The Long Bob for a Round Face
@fightingfifty
Rock the long bob for a round face to get a super slim shape. The length of a long bob sits around the shoulder, which gives an elegant feel but also sits below the rounder part of the face which narrows the face. Try it with side parting to give extra height to the hair and lengthen the silhouette.
👉 See more bob haircuts for women over 50
The Razor Cut with Side-Swept Bangs for a Rounder Face
@oakfordbeautyandwellness
A razor cut with side-swept bangs is perfect for rounder face shapes because its sharp asymmetry will cut a rounded jaw-line. The softness to the hair lets it skim around the wider parts of the face, giving a slimmer feel without too much width. Style with some Defining Whip from Aveda to bring out the razored texture.
Short to Medium Cut for Thin Hair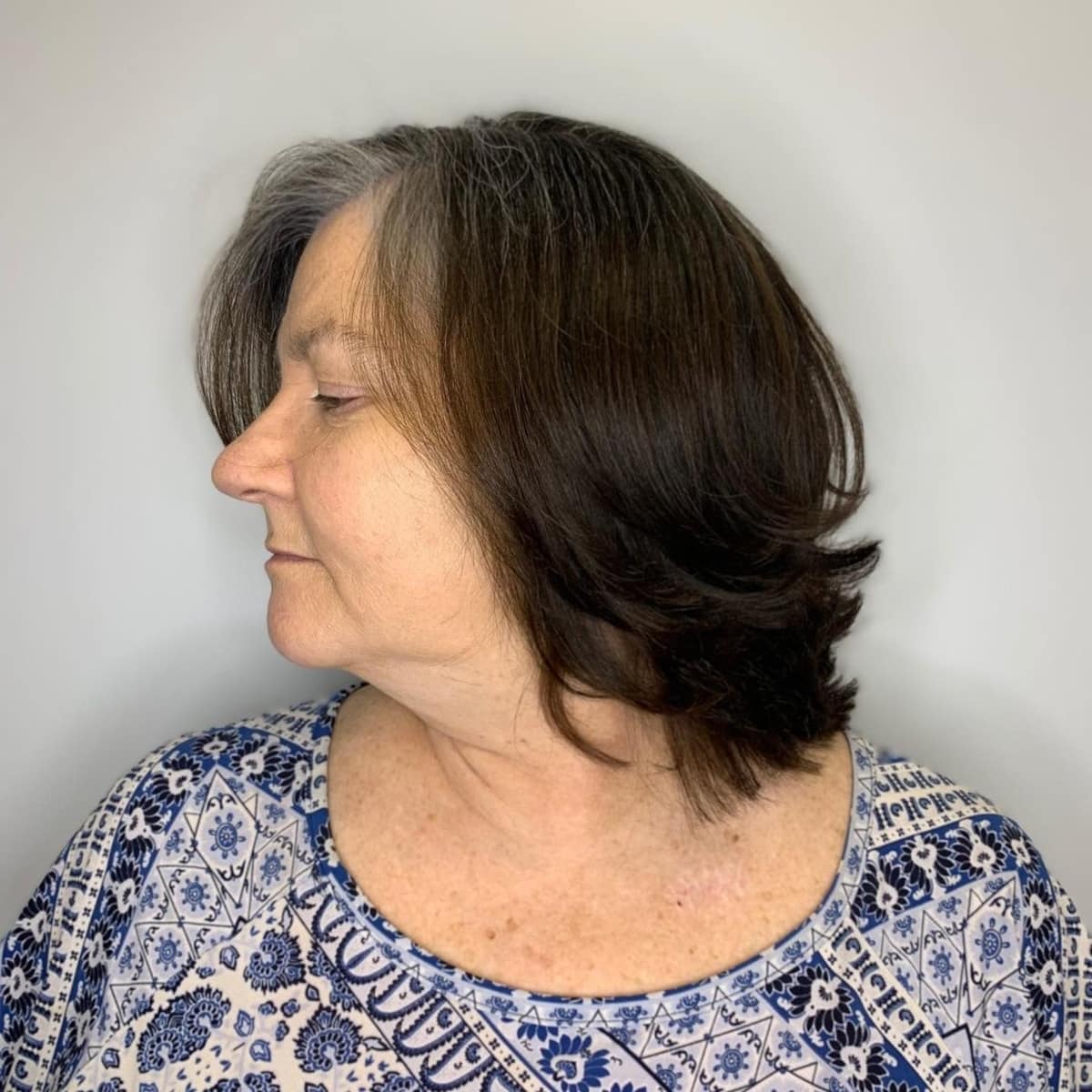 @alexabeautysolutions
Opt for a short to medium cut for thin hair when you need to thicken up your hair. The shorter length allows wispy ends to be taken away and look bulkier while adding some layers and shaping from around the face. This lets the shape feel wider from the movement of your tresses. Plus, it's a great hairstyle for older women battling hair loss and/or the growth of natural grey or silver hair upfront.
The Mid-Stacked Bob for Wavy Hair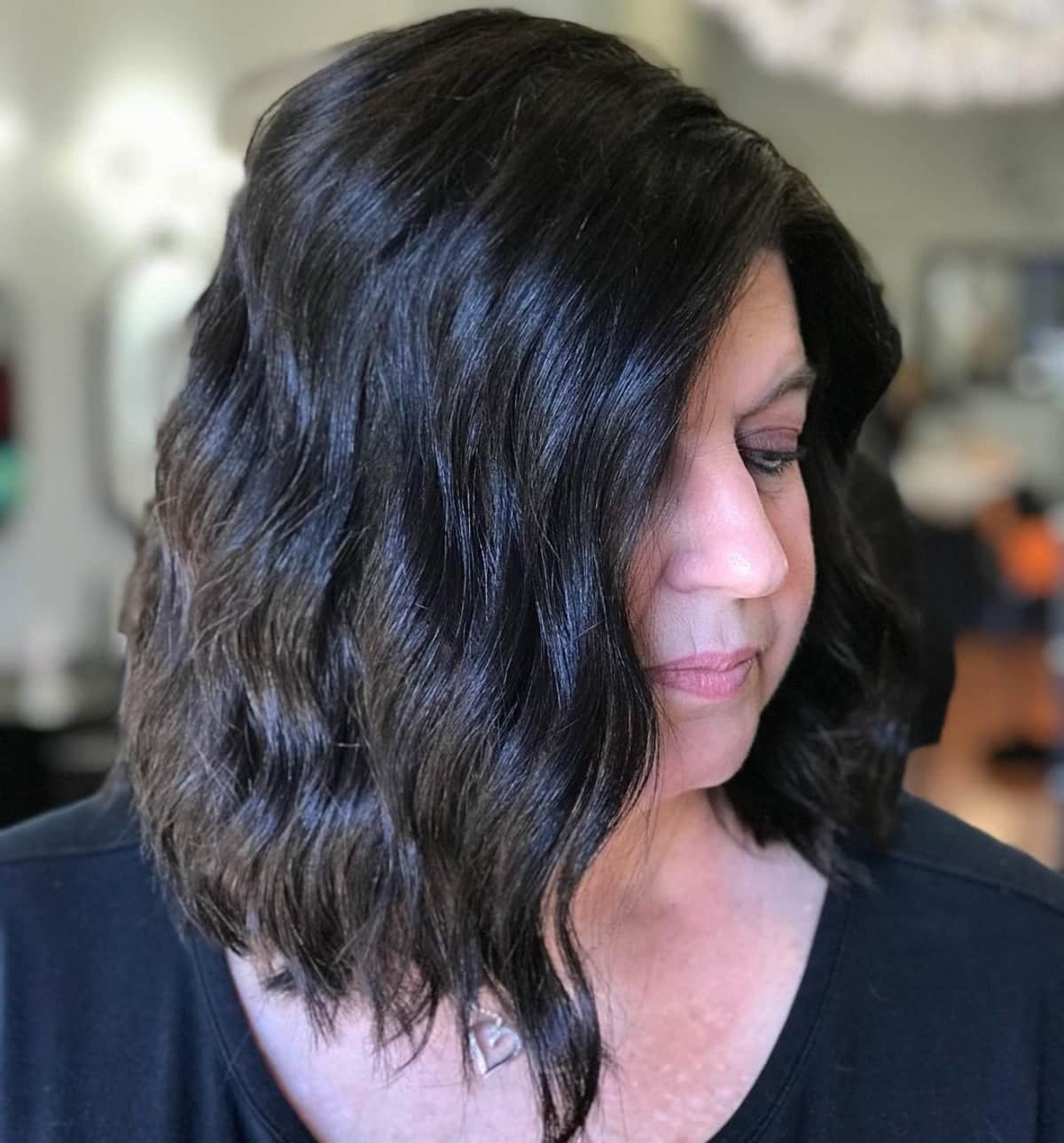 @hair_by_ti
The mid-stacked bob for wavy hair works great for mature women with a rounder face. To get this haircut, ask your stylist for a lightly textured blunt bob.
Wash-and-Go Long Pixie Cut for Round Faces
@toryb_hair
A long pixie cut for round faces is a great option if you're wanting to go short but feel like you can't pull it off with your face shape. Ask for a longer length around the face and a shorter length in the back of the face. This will shape your face and draw attention upwards.
This particular cut is a great cut for women over 50 as this will be easy to style at home with a quick blow-dry or wash-and-go style. Pixie haircuts will also make help older ladies look 10 years younger.
👉 See more wash-and-wear hairstyles for women over 50
Short Layered Cut for a Grandma with Fine Hair
@hairbyannaobx
Opt for a short layered cut for fine hair to get an easy-breezy messy texture to your tresses. The shorter layers give a playful feel to the hair so you can push it around in any direction you want.
This low-maintenance cut is very versatile and can be worn by women in their fifties. However, if you want to hide a double chin, this cut may not be for you.
Mid-Length Layered Bob for a Round Face Shape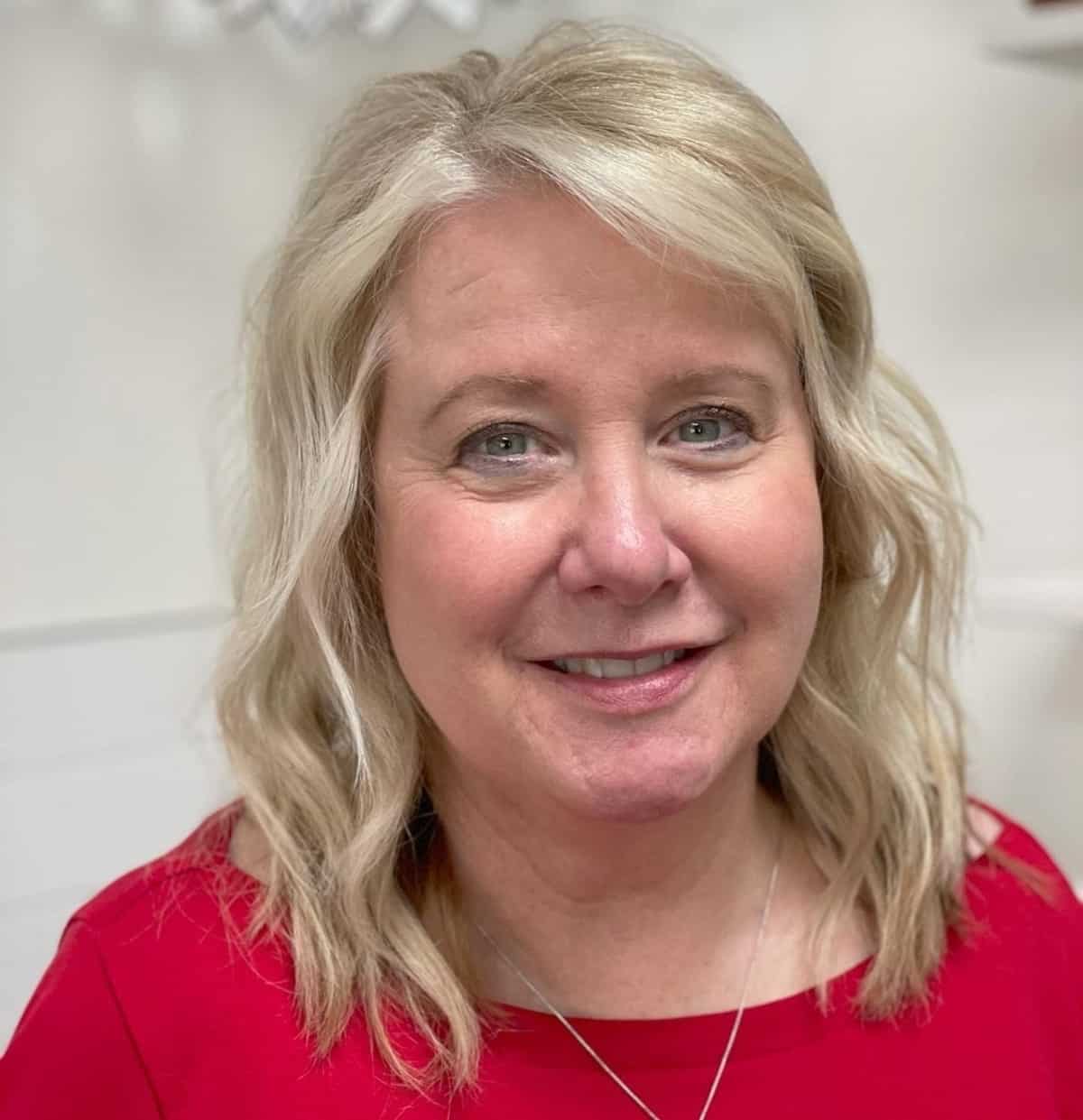 @blackbird.salon
Choose a mid-length layered bob for a round face shape as your new cut. Medium-length layers create movement and softness around the chubby face and are easy to style.
Straight-haired older women can style their hair with a flat iron and some hairspray. Wavy-haired ladies can air-dry their hair with a soft styling cream such as Ringlet by Redken.
Shoulder-Length Textured Cut for Older Women
@juliannasstyles
A shoulder-length textured cut is perfect for ladies over 50 because of the variety of easy-maintenance styling options. Also, this cut offers less volume and longer layers as the best way to elongate a round face.
Flattering Short Haircut for Women Over 50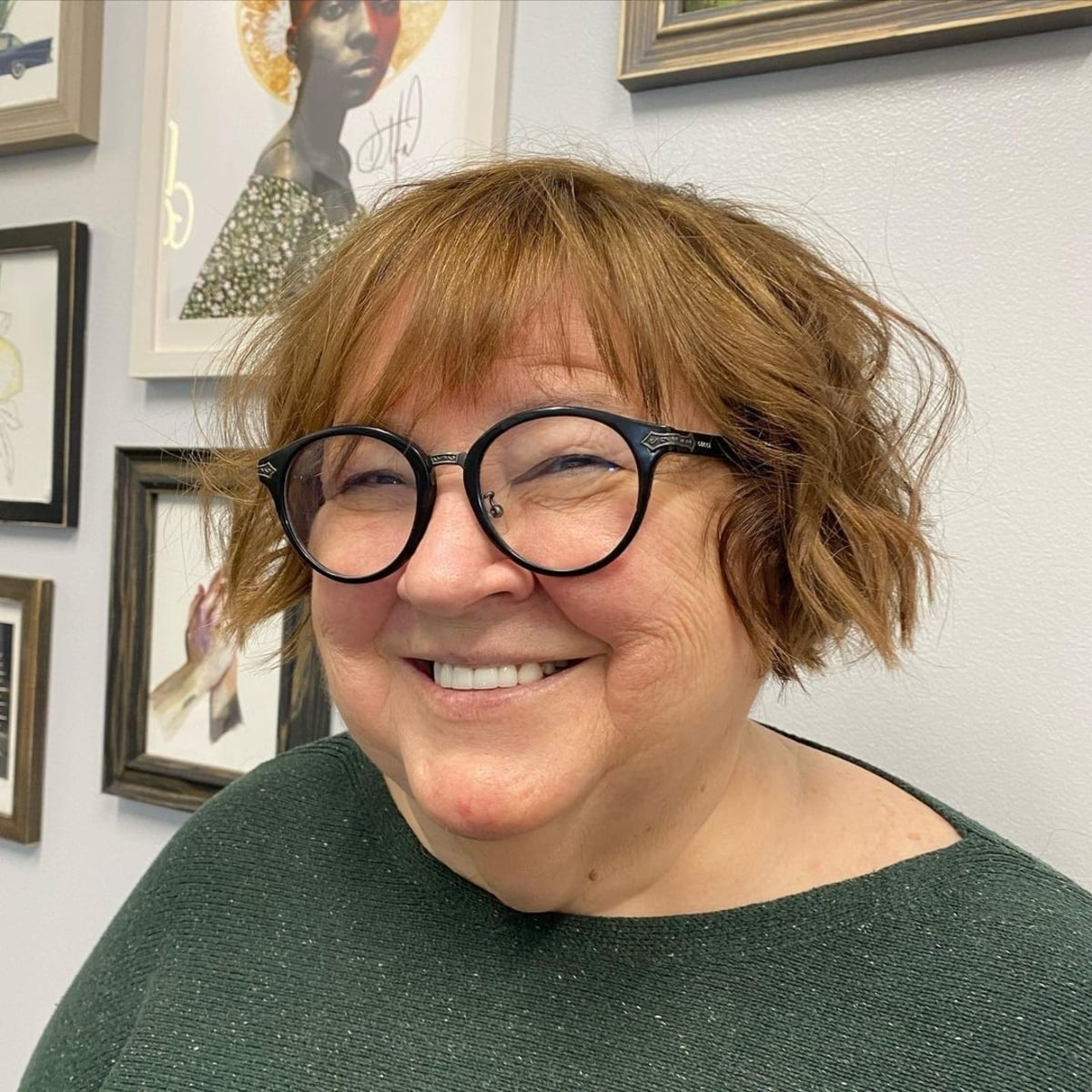 @splicesalon
A flattering short haircut for women over 50 often has bangs. This gives a fun and youthful look to the hair. The wispy bangs highlight the eyes and frame the face. Opt for a short hairstyle with edgy hair color to bring the whole look together.
Medium-Length Cut for Curly Hair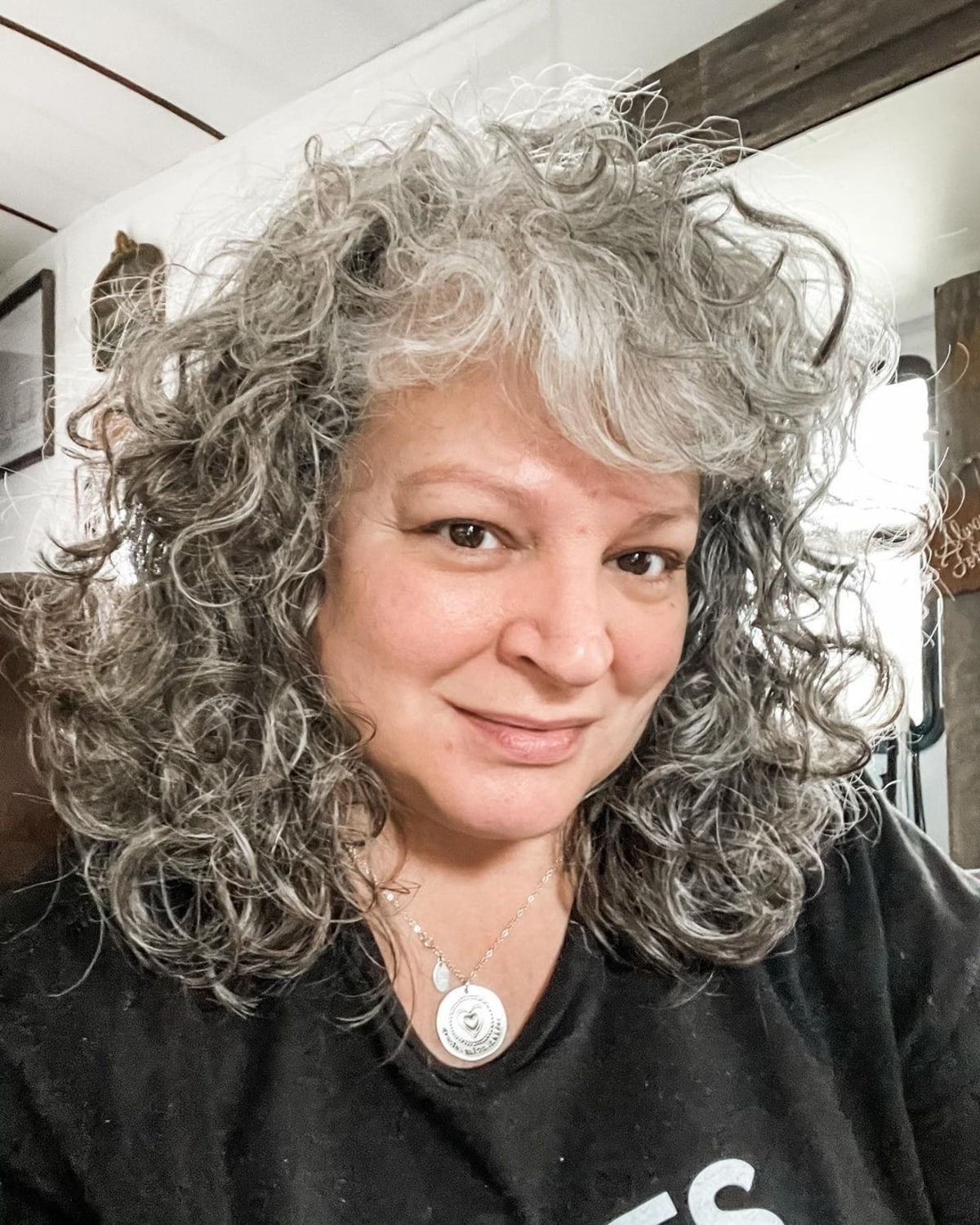 @whitehotandcurly
Try a salt and pepper medium-length cut for curly hair that enhances your curl and keeps a balance to your round face. The medium length is perfect for round faces as it encourages the curl pattern to have more bounce without widening the hair shape too much. The length holds a little weight down, so if you feel like you need more movement, ask your stylist to add some light layers.
Youthful Angled LOB for Women with Glasses
@hair_by_sarah_brophy
An angled lob (long bob) for 50-year-old women with glasses is great for the professional who wants an easy style to achieve for work, while still being able to put up in a pony on the weekends.
Hairstyles for women over 50 with round faces can be worn at the top of the collarbone or at the top of the shoulders. This simple and classy cut requires moderate to low-maintenance styling and requires a salon visit every 8-10 weeks.
The Choppy Feathered Cut for Senior Women 50+
@baysidehairandbeauty
The choppy feathered cut for 50 plus older women is perfect for straight, lifeless hair that needs to look fuller. Stylist Loree of Australia suggests using a feather razor to add a sassy texture and a soft edge to achieve the cut.
For styling feathery hair, Loree states, "It's best to use a volumizing root booster. A texture paste is also great when hair is dry to create movement and to piece it out."