21 Modern Layered Bob Haircuts for Women Over 50 to Take Years Off
Layered Lob for Salt and Pepper Hair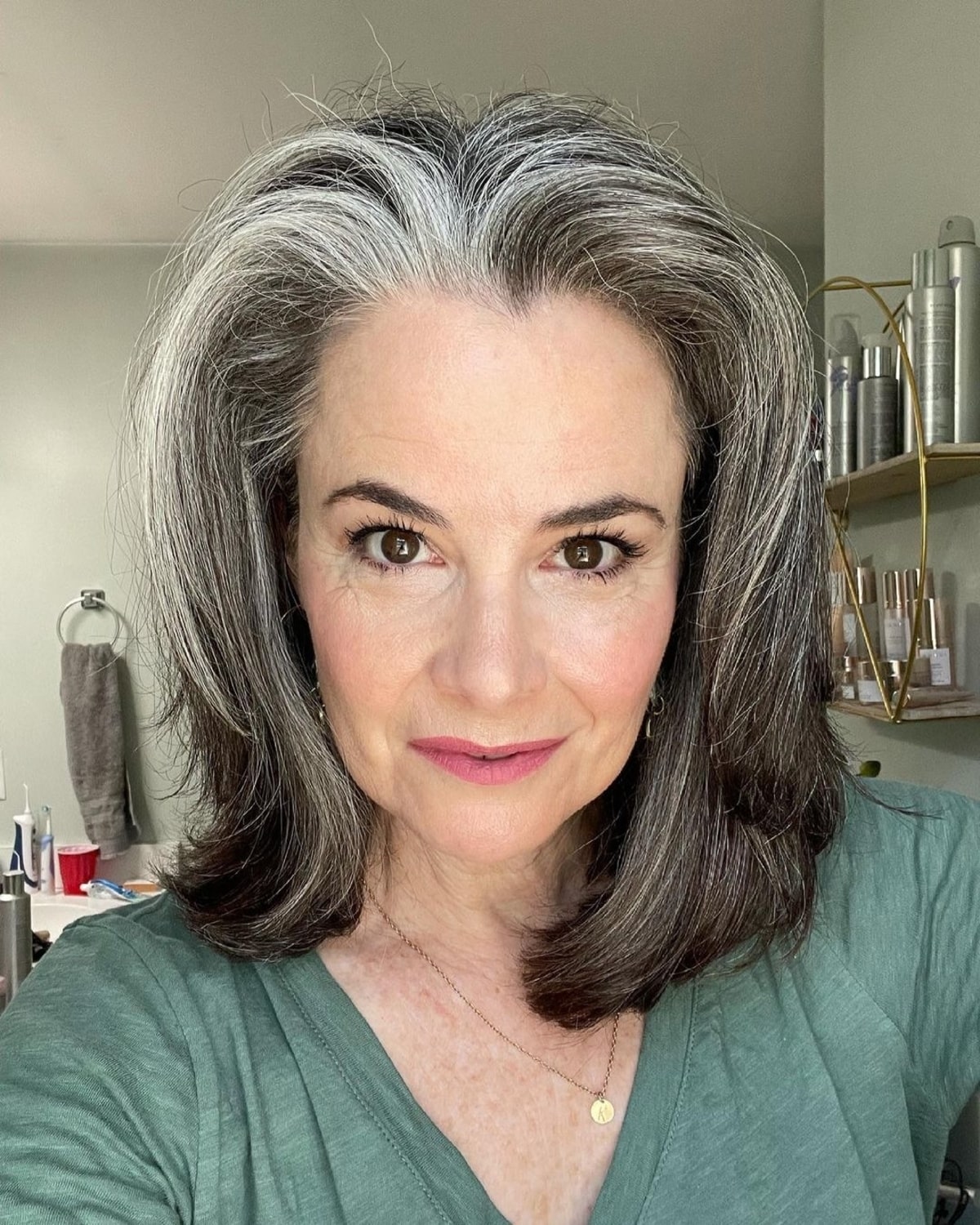 @kelly.o.doherty
Having a layered lob for salt and pepper hair can really show off the stunning elements of your multi-tonal hair. Salt and pepper hair can be striking if shown off with a layered cut, contrasting the different depths of darkness and lightness in the hair through its crafted movement.
Layered Long Bob for Women Over 50-Years-Old
@ka_espacobeleza
The layered long bob for women over 50-years-old is the perfect length to maximize fullness and add bounce to your hair. The shoulder-length bob instantly lifts the hair and gives a more conservative youthful appearance, while the layers add a lighter feel to the hair for some needed dimension.
Layered Bob with Bangs for Round Faces
@courtneytreyvaud_hairartist
A layered bob with bangs for round faces is great with layers and wispy ends on the bottom. Lighter piecey ends soften the face and the layers give lift to lengthen the face. A great option for finer hair textures. Wear straight with texture cream on the ends or curl it to add some classy sass.
Layered Bob for Older Women with Curly Hair
@rosiecurl
A layered bob for older women with curly hair is a beautiful option to give you all of the body and less fuss. A style that can be an easy wash-and-go or simply diffused on low heat to keep down frizz. Layered curly bobs are great for oval, heart, and diamond face shapes.
Shaggy Layered Bob for Women Over 50
@jackmartincolorist
Try a shaggy layered bob for women over 50 to entice sweepy movement into your hair. The shaggy layered shape allows the hair to move with flow, and brings the shape and style back up to cheek width adding a more youthful feel to the hair. Blowdrying with a large round brush will give maximum lift to your layers.
Layered, Short Bob for 50-Year-Old Women
@rusticbalayage
Opting for a layered, short bob for 50-year-old women is a great way to thicken up hair which may start to feel finer. Shorter bobs allow your finer hair to appear fuller, especially by adding some graduated layers which create an illusion of a thicker baseline. Add some loose waves on the top layer with a 1" barrel curling iron for speedy styling.
Layered Bob for Women 50 Plus
@tgcutzup
A layered bob for women 50 plus adds movement and lifting power to your hair. The extra sweeping motion that layers give to the hair softens the overall look of a bob and injects volume. Try adding some layers which flow through to the front of the face to give you height.
Medium-Length Bob with Layers for Women with Glasses
@from_my_porch_swing
Try a medium-length bob with layers for women with glasses to get sweeping movement. The medium layered length adds a swing to hair, which sits just below the shoulders, that pushes the hair away from the frames and gets the focus back to your style.
Layered Pixie Bob for Women in Their Fifties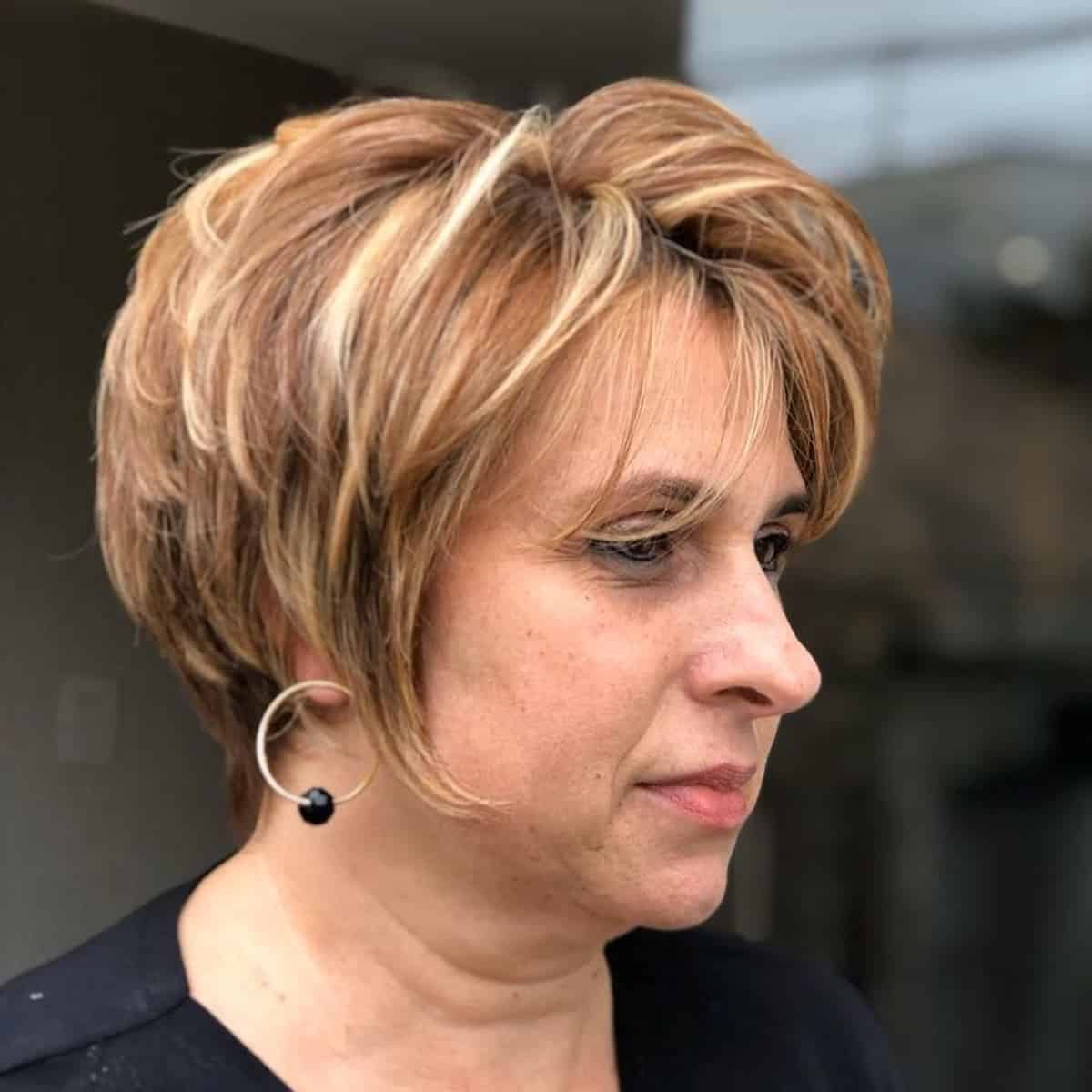 @silvananeveshair
Opt for a layered pixie bob for women in their fifties who have a rounder face shape. The mix of a bob and a pixie allows length to remain around the face, but gives all the volume and sweeping movement.
Feathered Shaggy Bob for Older Women
@cabelosfhabioribeiro
A feathered shaggy bob for older women gives you a nice lift to the face. Shorter layers underneath in the back help feather the hair up and layers all around to give body and texture. Use a round brush or curling iron to flick up the ends and finish with a medium-to-strong hold hairspray to hold the style.
Bob Cut with Layers for Older Women with Thick Hair
@ronnaleeann
A bob cut with layers for fifty-year-old women with thick hair looks best when paired with a few waves with the wand at the crown of the head. Ask your stylist to remove weight with thinning shears or a straight razor to get most of the bulk out of your hair. This will help create a softer look at a shorter length and flick up the ends for piece texture.
Bob with Layers for Women Over Fifty
@jikaiahstylist
A bob with layers for women over fifty can be youthful and still classy. Ask your stylist for a French Bob that hits right under the cheek bones and crown layers to give lift and body. Add some short piecey crop bangs to open up the face and a bonus feature to hide any forehead lines.
Shaggy Layered Bob with Curtain Bangs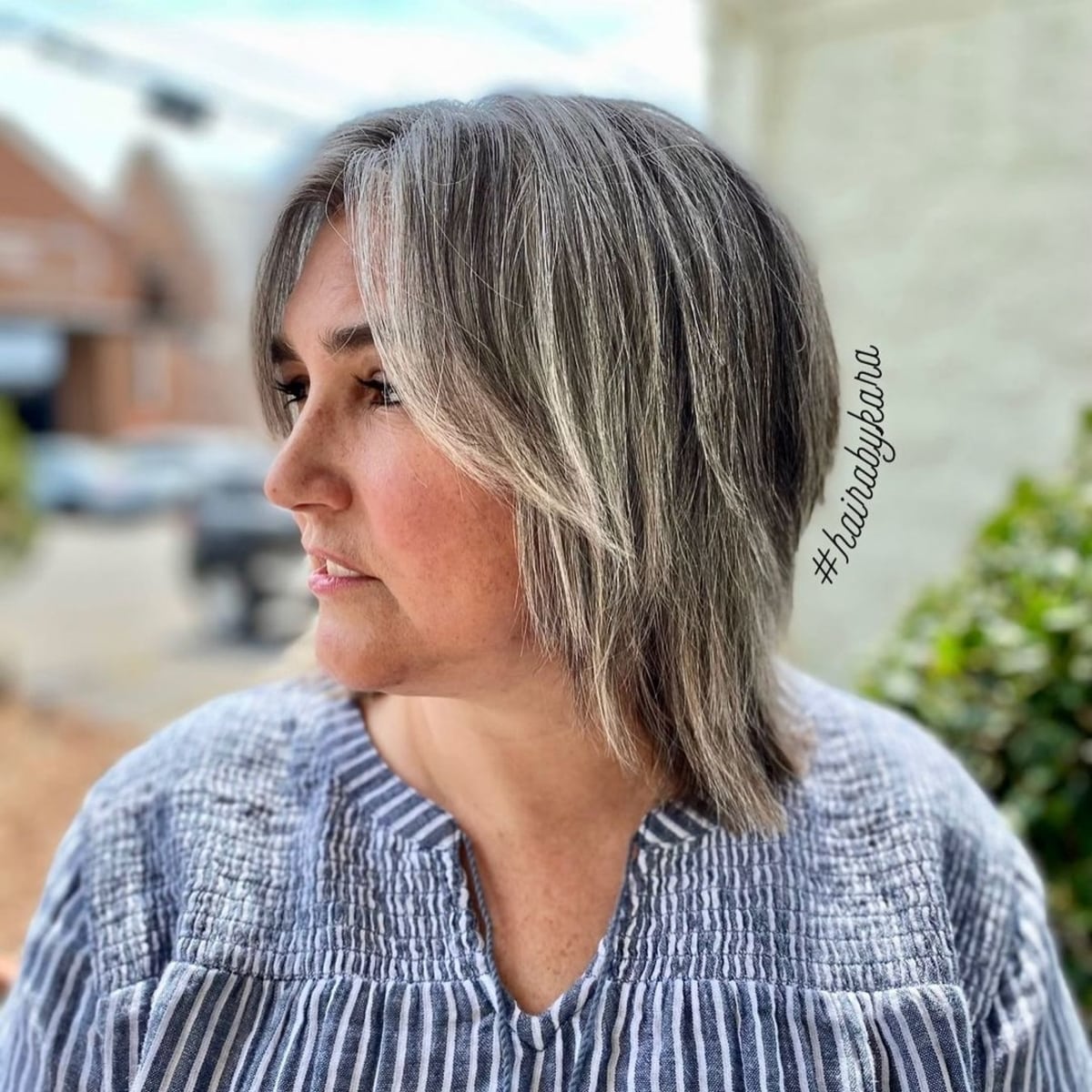 @eleanorigby_tm
A shaggy layered bob with curtain bangs is a go-to for all hair textures and thicknesses. Depending on your face shape and what features you want to bring out, ask your stylist to layer around those features to make them pop. A couple features you can accentuate could be the eyes with curtain bangs above or below the eyes or bring down the length a little bit to flick out those cheek bones. Square and round shapes could go below the cheeks or under the chin to soften the face.
Layered Stacked Bob for Women 50+
@dreamhairstudio103
A layered stacked bob for women 50+ can give you a longer short hairstyle that invites body and shape to the hair. Over-directed layers in the back create a stack, and short layered sides really blend it together. You're looking at maintenance every 4-6 weeks to keep this shape up. Natural wash-and-wear or blow it dry with a 1 inch round brush for easy daily styling.
Pixie Bob with Layers for Grey-Haired Women
@hairby.sara.k
A pixie bob with layers for grey-haired women is an easy way to stay chic and sassy. A choppy textured crop is great for all textures, but if it's really thick ask for an undercut to take away the bulk from underneath. Short layers on the top help add texture and body and keeping length around the occipital bone helps round out the back shape and give it a feminine finish.
Short Asymmetrical Bob for Older Women with Fine Hair
@hairbyolivia_adamson
A short asymmetrical bob is a very edgy look for ladies with fine hair. An asymmetrical bob is uneven with one side longer than the other, it fits all hair types along with face shapes.
Bob for Women Over 50 with Layered, Thin Hair
@hairxaya
Rock a bob for women over 50 with layered, thin hair for an effortless way to achieve maximum volume. Aya Allathqani from Texas is the hairstylist behind this hair inspiration.
"We used a graduation technique to achieve a slightly angled look. It has a very slight undercut, too, for an edgy style when wearing it up," Allathqani says.
When styling, Allathqani encourages you to tousle it with some mousse or smooth it out with a blowout cream.
Chin-Length Inverted Bob with Layers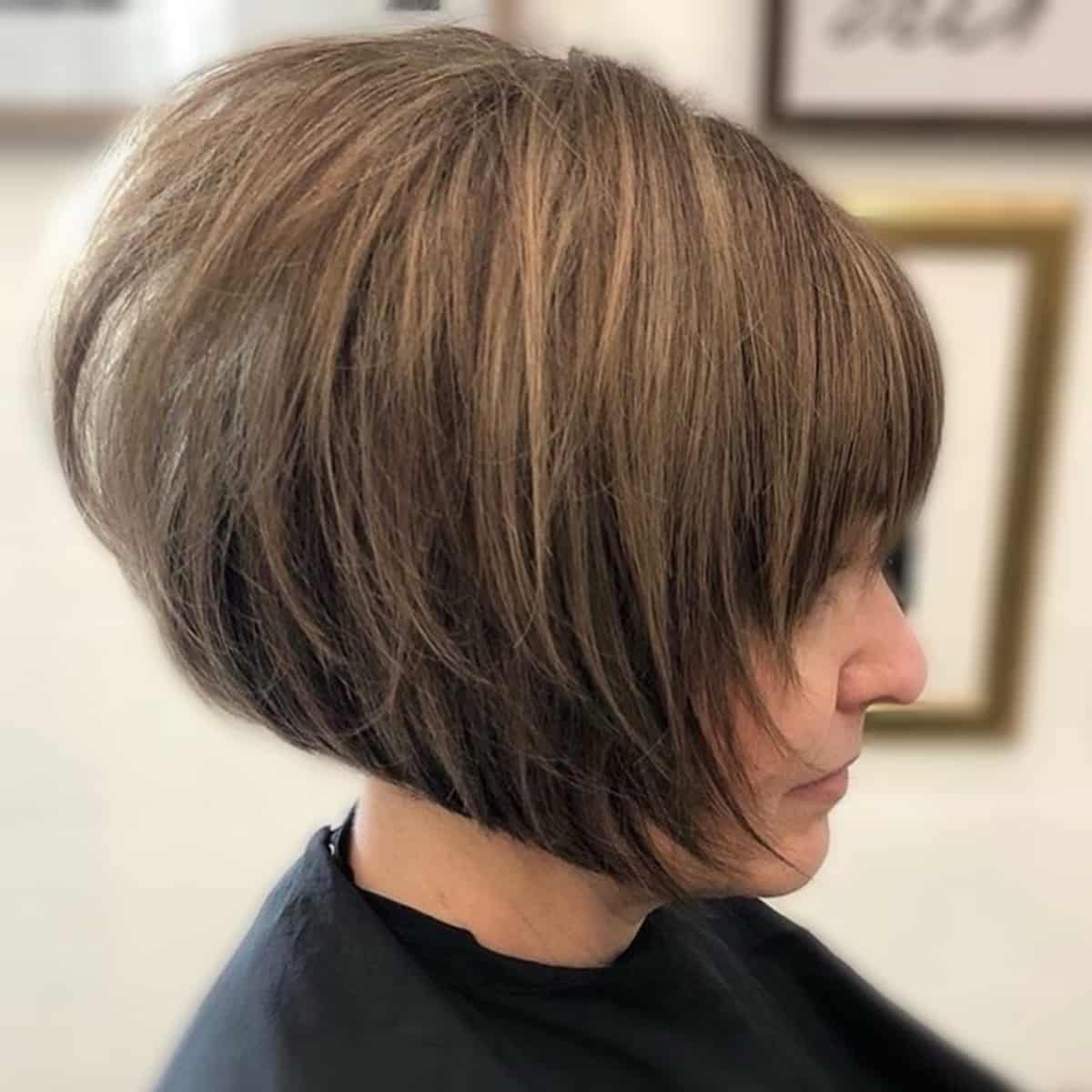 @krystalrosehair
A chin-length inverted bob with layers works for ladies with fine to medium thick hair. Created by Krystal Ergang of Canada—its length is perfect for a square face to soften its shape.
Fine hair expert Ergang shares some tips on how to recreate such a textured bob. She says, "Establish the perimeter with a slight angle toward the front. Add in some round layers. Then texturize the layers to soften them and create a blended look with lots of movement."
Her best tip? Always make sure your chin is tucked down while cutting the back of a bob.
Short Angled Bob with Layers Hairstyle
@in_the_kut16
A short angled bob with layers hairstyle is easy to jazz up and is ideal for any face shape. California-based Stylist Jaclynn Evaro created it for women of any age, but especially women over 50-years-old.
Evaro explains how a bob like this can suit all face shapes by customizing its angle. "For example, if you feel your face is too round and you're not ready for a super short cut, leave some length in the front."
Wavy Layered Bob for Mature Women
@curlfactor
The perfect wavy layered bob for mature women is cut into a fun, effortless style. Here's an example created by Christin Brown, a curl specialist from California.
Brown shares how she cuts wavy, "I cut it dry to see what my result will be before washing it. After cutting, washing, conditioning, and styling, I diffuse the hair to see its true shape."
Choppy and Layered Bob for Older Ladies
@chrismaddox_hair
Achieve a choppy and layered bob for older ladies over 50 to rock a fun, funky style. Stylist Chris Maddox of Greenville, SC says this cut brings out a natural wave or curl texture.
Maddox used a razor to give it an overall messy vibe. He explains, "The razor cuts a lot of variation into each section, which in turn gives a more airy and disheveled finish."
This haircut is great for air-drying or diffusing when styling.