23 Trendy Hair Colors for Women Over 50 to Look 10 Years Younger
Rich Brown with Babylights
@studioorangesalon
Women over 50 can look ten years younger by pulling off this shade of rich brown hair with babylights! It's paired with face-framing highlights and a shadow root for an easy grow-out process.
"With this hair idea, the variations of colors, especially the brightness around the front, frame the face," says salon owner and hairstylist Emily Hafele of North Hollywood, CA. "The color placement is done in a way that is less maintenance than traditional high lightening techniques."
She adds, "the combination of tones is sure to set you apart from another simple hair color. This brown hair color for older women works extremely well on both thick and finer hair."
Beige Blonde Hair Color with Glasses
@stylebydanielleleeann
Beige blonde hair color with glasses works great for women who are over 50 because the beige blonde blends well with their natural roots. To get this color, ask your colorist for soft beige blonde highlights.
Auburn and Burgundy Color Blend for an Elderly Lady
@joannadraffen
An auburn and burgundy color blend for an elderly lady is classy, sophisticated, and fun. Deep violet and red tones make all skin tones pop and give life and brightness to dull-looking hair. Pair these auburn tones with a short, pixie haircut to spice up your hair.
Ash Blonde Hair on 50-Year-Old Women
@deborahlynnhairartistry
Ash blonde hair on 50-year-old women is great for those who want to embrace their natural sparkles gradually. Cool, ashy highlights help blend grey streaks while leaving dimension to your hair. An angled bob haircut accentuates the icy, ash-blonde tones when combined with warmer lowlights underneath.
Salt and Pepper Hair for Grandmas
@letmeloveyourlocks
Salt and pepper hair color for grandmas is very on-trend and a great way to add some dimension to grey hair. By adding ashy, darker lowlights create depth in grey hair and give fullness to finer hair textures. An edgy, shag style pixie cut with lots of layers will accentuate the salt and pepper color and help in adding texture and fullness to shorter haircuts.
Soft Blonde for Thinning Hair
@murilobennemann
Soft blonde for thinning hair can create more texture in the hair, making it appear fuller after it is styled. Soft blonde is the perfect hair hue for women over 50 since it promotes a youthful glow. To get this color, ask your colorist for some soft blonde highlights.
Lovely Honey Blonde Hair
@lauraessexhairstylist
Now that you're in your 50s, it's never too late to explore new hair colors! Try this lovely honey blonde hair, which works great with soft waves.
The shade will add brightness to your thick and shoulder-length mane. To boost its glossiness, you can always apply oil to your strands.
Auburn Graduated Bob
@hannahrootshairqa
As a 50-year-old beauty with straight hair, you'll love this auburn graduated bob. The tapered layers in the back will give volume to your neck-grazing cut. For a glossy finish, apply a shine-inducing oil onto your strands.
Gray Hair with Blonde Highlights
@breeyoutifulhair
If you're a gorgeous senior lady, combine your natural gray and white hair with blonde highlights for something magical. If there are some unwanted ash tones, babylights will be your best friend.
Pair this natural gray hair color with a layered pixie cut if you have thin hair for an added volume.
Flattering Chocolate Brown Hair
@prissyhippiebeautyshop
A flattering chocolate brown hair color works well with fine hair! Opt for a neck-length cut and waves to make this dark hair look fuller and voluminous.
With the help of oil for styling, the result is sure to look luscious and classy on older ladies.
Burgundy Hair for Women Aged 50
@jennieforsyth.hair
Look gorgeous every day by wearing this burgundy hair color for women aged 50. The deep red hair color creates a blazing effect when matched with a textured and wavy lob.
Strawberry Blonde to White Ombre
@hairbysamanthakane
Yes—you can pull off long hairstyles with bright shades as if you're born to wear one! And, if you need an idea, here's a strawberry blonde to white ombre that will work great with your lengthy and wavy mane. Once you adopt this trend, keep the shades bright by using a purple shampoo.
Black and Brown Balayage
@themoorehair
Try this lovely black and brown balayage hair. It provides a soft yet striking dimension. To bring out more shine, use tonic oil and volumizing foam on your long, layered cut.
Warmer hues like in this brunette hair with highlights work on every woman—you just have to find what suits your personality the best.
Honey Bronde for Older Ladies
@kim_radicalhairdesign
A shade of honey bronde for older ladies has a subtle grow-out and dimensional finish. Look creator Kim Cunningham of Australia says it's ideal for women with grey roots.
Cunningham adds, "This is for the busy professional lady who loves to look her best at all times. Style-wise, she can recreate it at home with education on styling and optimum results."
Platinum Blonde Bob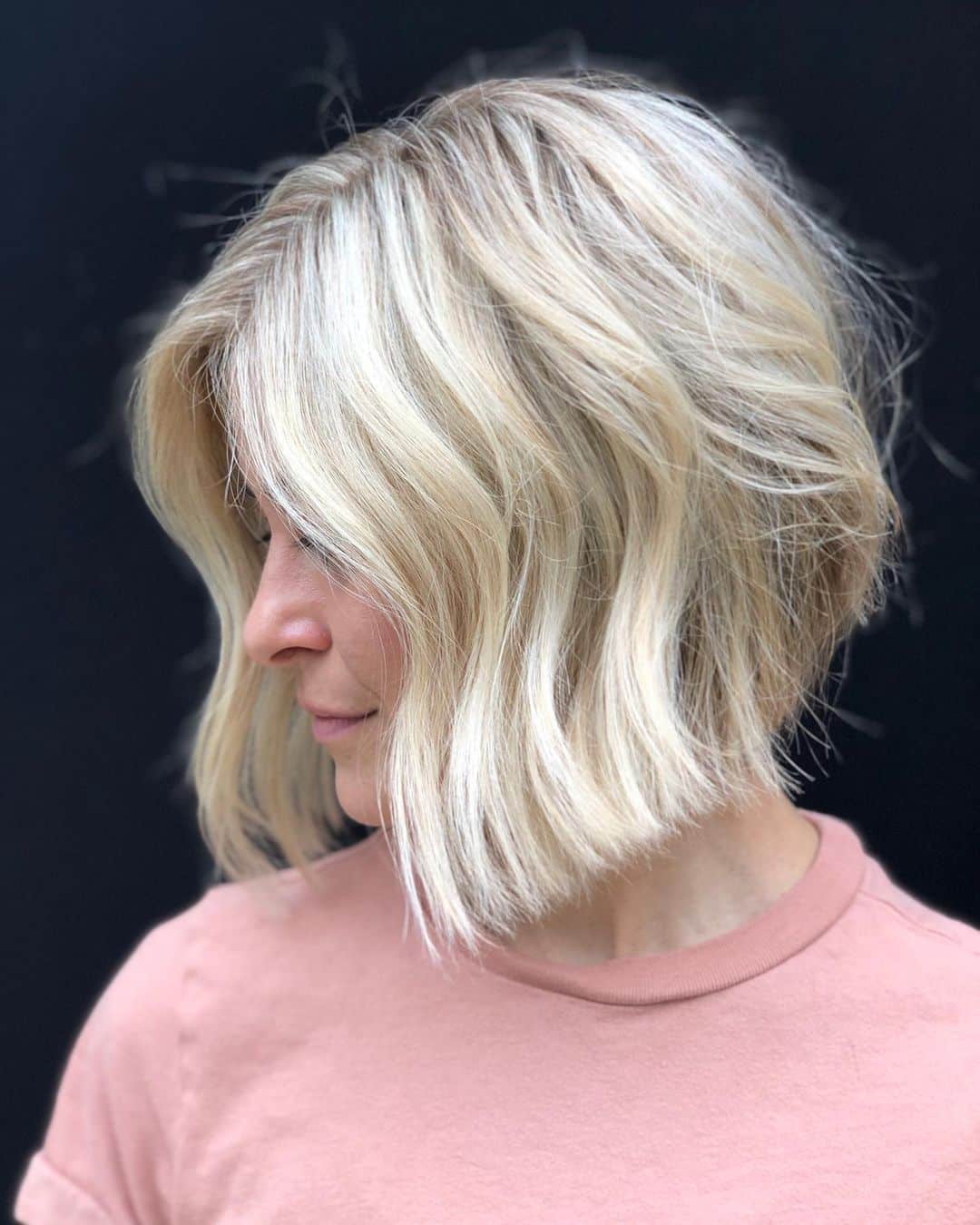 @alissathesauce
This blonde bob is a textured platinum hair color on a short haircut. It's a classic look that is on-trend at any age and was created by hairstylist Alissa Grossi of Newport Beach, CA.
"Blonde hair color is great for gray hair because the line of demarcation isn't as harsh when the gray grows in," says Grossi. "For this color, ask for a base color and highlights for maximum brightness."
Ash Brown Lob
@salondecheveuxboston
Don't let your age stop you from wearing a fresh warm hair color to feel younger and look cooler. Flaunt this gorgeous ash brown lob if you're a middle-aged woman, and feel the confidence. Featuring a warmer hue and face-framing pieces, this ashy color will enhance a fair skin tone.
Dimensional Bronde for a Woman Over 50
@dc.styles
It's never too late to play around with trendy hair colors with highlights and lowlights. This is the eye-catching and dimensional bronde balayage for a woman over 50 like you.
The dark root adds depth to the color, keeping it low-maintenance. Match the bronde shade with a neck-length bob and waves for a completely stunning result.
Copper Layered Bob
@lisa.watson.hair
Experience the fun of trying out new trends now, including a balayage ombre! This is the copper-layered  bob that is perfect for a charming 50-year-old lady.
"This color is a dimensional copper-layered  bob. The root is a little deeper with some lighter copper pieces throughout," says hairstylist Lisa Watson of Birmingham, MI.
She adds, "reds can be one of those scary hair colors for women over 50, but it's just about knowing if you need to be cool or warm red. This copper is more on the warmer side. Always take your skin tone into consideration when choosing the right color for you."
Gorgeous Classic Blonde
@amyspencerhair
Why don't you play with a new hair color and give this gorgeous classic blonde a try? This is sure to upgrade your jaw-length round bob with bangs. This shade will add radiance around your face.
"The color is a warm classic blonde with a few lowlights," says salon owner and stylist Amy Spencer of Draper, UT. "Stop oxidation using Malibu C De-Ox to lock in color and to normalize pH."
When maintaining hair colors for women over 50, Spencer says you'll need to get into the salon every 7 weeks or so. She also encourages you to use a large round brush, Olaplex 6 & 7, and a root lifter such as Unite Expanda.
Dark Mocha for Women Over 50
@ilona.cyan
Give your wavy pixie a new look by painting it with this charming dark mocha shade. It will enhance natural volume and curls in the most sophisticated way. The end result is funky yet stunning!
This charming dark mocha hair color for women over 50 is on a warm, medium brown pixie cut. It was created by hairstylist Ilona Krasnova of Ontario. "The brown offers a nice contrast to various skin tones," she notes.
Krasnova goes onto to explain, "ask for this brown hair color if you want something very low-maintenance day-to-day. Maintain the color and cut every 6 weeks in the salon and choose a demi-permanent color to transition into your natural hair color with less damage!"
Silver Gray Curls
@rosiecurl
Don't waste your time hiding your stubborn grays. Make it your best asset instead, and enjoy wearing silver gray curls. Some strands have a deep charcoal tone to create a contrasting effect like salt and pepper. Keep your locks in shape by maintaining the bob's neck-grazing length.
"These silver-gray curls were created by doing a dry, curly cut," explains salon owner and stylist Rosie Jablonsky of Minneapolis, MN.
This gray curly bob is perfect for maintaining a fun bouncy shape that is both easy to wash and go and looks professional for work.
To achieve this color, Jablonsky says to ask your stylist to hand-paint the curls using a Silver Transition method to create light and dark movement. She adds, "the movement seamlessly blends with the natural color, giving an enhanced and dynamic, and ultimately natural hair color."
Ash Gray Hair for 50-Year-Olds
@hairbystephgardner
This is the trendiest ash gray hair for 50-year-olds. Who says you can't be adventurous when it comes to your hair transformation?
This ash gray hair features a slightly inverted bob with a shattered textured vibe to it. It was cut and colored by stylist Stephanie Gardner of Pittsburgh, PA.
"If you are using an additional heat protection spray when using additional heat tools on the hair, such as flat irons, curling iron, or wands regularly, make sure you are getting as much protection on the ends of your hair as possible," says Gardner.
She explains, "it will ensure the ends of your hair aren't breaking down and getting damaged from too much heat styling. Try the heat protectant spray by Oribe's Soft Lacquer. Their whole line is amazing!"
Youthful Bright Blonde with Dark Roots
@tinamarie.hair
When it comes to hair colors for women over 50, this youthful bright blonde with dark roots will take years off your look. The blonde balayage helps this long, layered hair bring out a dimension for added texture.
Though this light hair color with shadow roots has low upkeep, never forget to use a purple shampoo to avoid an unwanted brassy hue.