15 Cutest Long Hairstyles for Women Over 50
Layered Hair
@silverbeauty.michelle
Amp up volume and texture with feathery layers on this long bob. Various color grades of blonde can be seen thanks to this creative and fun cut.
Easy Hairstyle
@hairxvanessa
Life is full of drama, but your hairstyle should not be. This easy long hairstyle achieves a glamorous outcome by adding loose curls to the hair and a fringe that straightened so fine. Either with or without extensions, long strands certainly keeps its perfection with blonde highlights.
Long and Youthful
@tiffany_link_hair
Having long locks can make you look more youthful. Long haircuts for women in their 50's benefit by adding texture, curls, and waves to mimic that dolled up look that says, "I'm looking for an adventure!"
With Blunt Bangs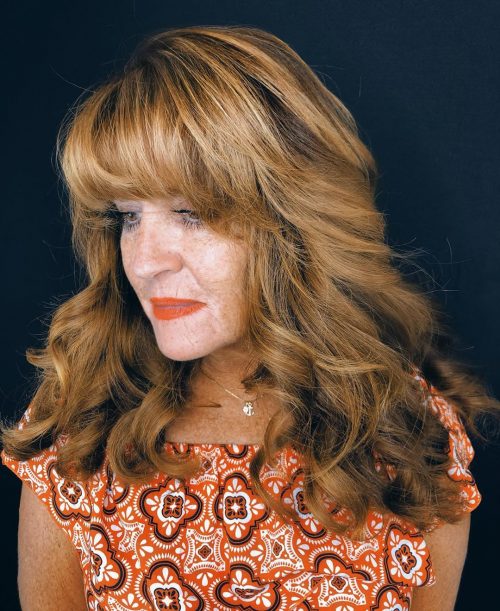 @jphairdesigns40
At times, the real glam of a woman is witnessed through a long haircut, so find one that you will not regret having like this one. This long hair styled with blunt bangs and volumized curls are better than what's simple. The highlights on hair that are painted in balayage and ombre coloring techniques are one amazing hair inspiration.
For Fine Hair
@minhwaleehair
Ash-blonde babylights and highlights, voluminous hair, and a long layered haircut with bangs — if all merged will result in a complete astonishing look perfect for fine hair of women over 50. Just by pulling off a look like this, no one can deny how lovely an older woman can be.
With Glasses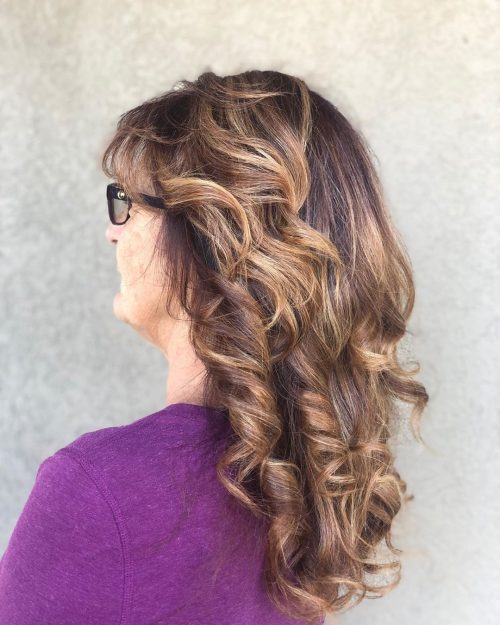 @hairtrix_carolina
Women with glasses will kill this look that is styled with volumized waves and brown highlights. The look creator Carolina of Hairtrix Carolina stated, "My goal is to help you achieve ultimate beauty inside and out." This only proves that some people were born with finesse running through their veins, and they only need to partner it with a great long hairstyle.
Long Ponytail
@yamilascalise
This long ponytail hairstyle appears so simple yet stunning and stylish on older women full of grace. With subtle voluminous waves on the tips and dimensional blonde on the entire hair made by hairstylist Yamila Scalise from Villa del Parque, CABA, it is not only invented to wear on a wedding but can slay a typical day out of the house.
Elegant Chignon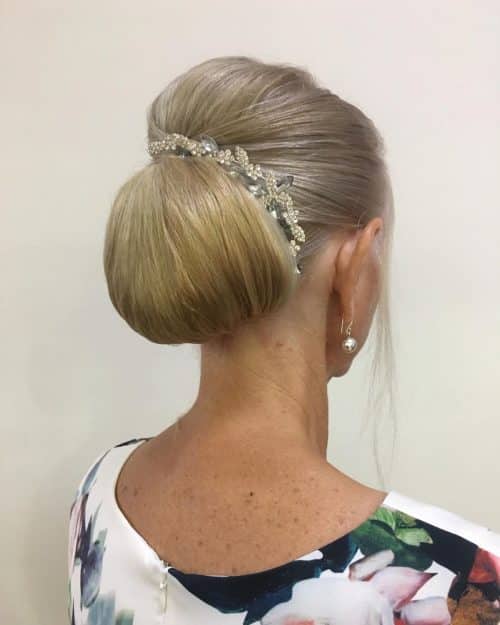 @hair_obsessionforboth
A woman of sophistication can pull off this elegant chignon effortlessly. Looking fab on women over 50 with long hair, this textured upstyle bun is to die for and can be worn on special celebrations such as a wedding.
With Curly Hair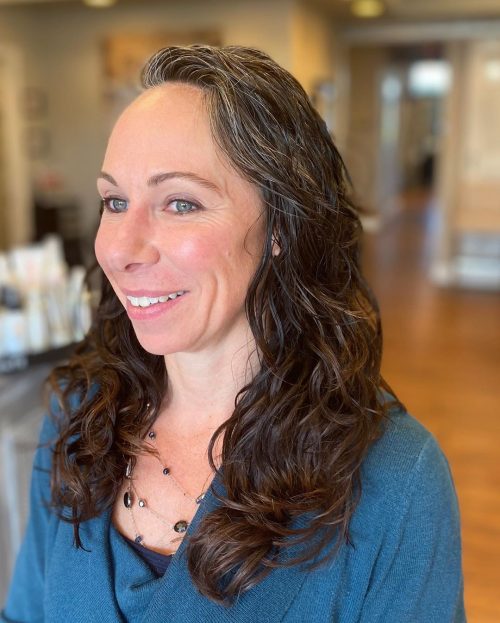 @amandawhaley82
Q&A with style creator, Amanda Skinner
Hair Stylist @ Studio Luxe Salon in Stow, OH
How would you describe this look?
This look was created by gently carving and slicing into the curl pattern of her long, naturally curly hair. This allows them to interlock, creating a seamless blend of layers that give volume and life to her long tresses! I love that it is very low maintenance yet very stylish and flattering to her face shape.
Any advice for someone considering it?
This long cut would work well with anyone who wants to embrace their natural curls. It only requires a handful of salon-quality products to achieve this result, starting with a lightweight leave-in conditioner, frizz-fighting gel, and a moisturizing hairspray. Air dry or diffuse for more volume!
📷 See more low-maintenance wash and go haircuts for women over 50
For Grey Hair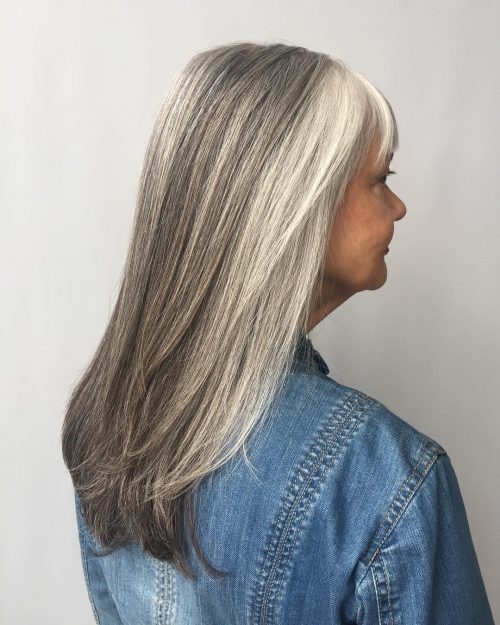 @candace.ellersick
Q&A with style creator, Candace Ellersick
Cosmetologist / Makeup Artist @ Lavish Salon in Spokane, WA
---
How would you describe this look?
This is a very natural and soft long hairstyle for women over 50. This client's color is all-natural! I love the bright white splash in the front! This look is good for a woman who has been wearing her natural silver color. It's very hard to achieve this effect artificially.
Any advice for someone considering it?
Going from coloring to natural gray is a process for women in their 50s, but I think once it's natural, it's much less maintenance. Long cuts like this are low maintenance with soft layers and medium length and grow out nicely. We keep soft long bangs which emphasize the white in front. In this picture, I styled her hair by using Living Proof 5-in-one styling cream spread throughout damp hair. Then, I did a round brush blowout to finish. She's a lovely silver fox!
With Thick Hair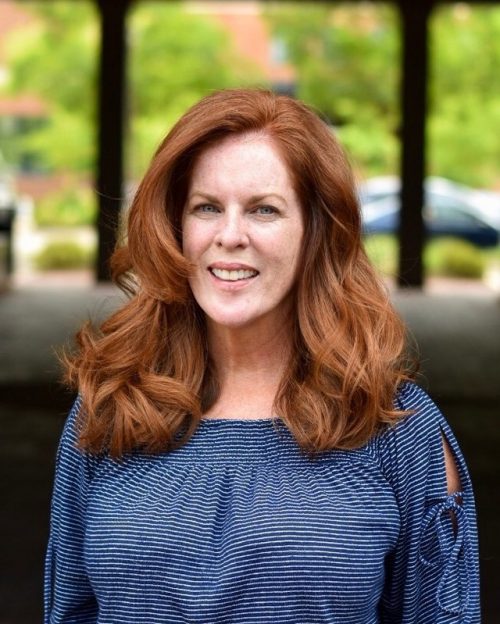 @stephydoeshair
Q&A with style creator, Stephanie Daniel
AVEDA Color Coach & Master Stylist @ Stephanie Daniel in Richmond, VA
---
How would you describe this look?
I really like this medium-long layered hairstyle. I think it is almost universally flattering on any face shape and works well on women over 50 with a thicker hair type! It works so well with rich, dimensional hair color and can be styled in a variety of ways. For this look, we did a simple blowout with a 1.5″ round brush.
Any advice for someone considering it?
This is a great length for active women over 50 because it can all be pulled into a bun or ponytail when needed. Clients should have a willingness and ability to use 2-3 styling products and a blow dryer and a round brush to get this look. We used a heat protectant, volumizing spray at the roots, and a light hold styling creme for softness and frizz protection. Maintenance for long styles like this is 6-8 weeks for trims and hair color touchups!
Long Wavy Hair
@prism__hair
Q&A with style creator, Brittany Hough
Salon Owner / Hair Stylist @ Prism Hair in Richmond, VA
---
How would you describe this look?
This long haircut is my Beachy Balayage Babe (the three B's). It's a beautiful, lived-in blonde that makes her look like she's been at the beach all summer chillin' and catching those rays. My favorite thing about this long style is how natural it is, which makes it lower maintenance for my guest, who gets highlights 3-4 times a year. (Some get highlights 1-2 times per year!)
I love a bright pop around the face to make the color stand out. The guest pictured is a natural blonde. If you're a natural brunette or darker, a similar sun-kissed look can be achieved as well that suits your hair, skin tone, and eye color. I also love the effortless waves that I created with my 1.25″ Babyliss Curling Iron using big sections alternating direction.
Any advice for someone considering it?
This sun-kissed look can be achieved on most hair types and colors as long as the highlights stay within three levels of your natural color. If you're a brunette, these golden highlights may not look as lived-in and natural as a lighter brunette shade would. It is one of my favorite styles for busy ladies who can't make it into the salon every 6-8 weeks.
The maintenance for this is about 8-12 (as long as you're using your stylist's recommendations at home and a good toning shampoo). The best styling products to achieve these loose curls are a good leave-in conditioner/heat protectant, volume mousse, and a sea salt spray to blow dry with for texture and bounce. Then, finish with a texture spray to rake through and piece out the curls for a beachy, natural look. If you're a gal who goes a few days without washing, you'll get to enjoy the curls for longer! I always recommend only washing your hair 2-3 times/week, as it keeps your hair healthier and your color last longer! Win, win.
With Thin Hair
@mountainmanesalon
Q&A with style creator, Krista Johnson
Hair Stylist @ Mountain Mane Hair Salon LLC in West Hartford, CT
---
How would you describe this look?
This haircut for long hair is awesome if you still have healthy, thicker, or simply denser hair. I don't believe just because you're over 50, and you need to chop your hair off. She was ready to transition to her snowy white natural, so I did a full, highly packed highlight and toned to a silver/white to match! She has been in for round 2 and will likely need round 3.
Patience is the key to keep long hair healthy. She will eventually no longer need color services!
Any advice for someone considering it?
As mentioned above, to keep hair long and do the waves, the hair is best if it's thicker or you have a lot of it. For this look, I used Oway Moisturizing Hair Bath (shampoo) and Moisturizing Hair Mask. For styling, I used Oway Glossy Nectar to protect from heat and Oway Sea Salt Spray for texture! All these can be purchased on my at-home website in bio or the salon! And since the hair is susceptible to fading or discolor, purple shampoo is a must! You can find Oway's Silver Steel Hair Bath on the website as well! All products are grown on a biodynamic farm in Bologna, Italy, or ethically sourced.
Also, talk to me about not shampooing daily for longevity. You can do it! I usually wash and dry the first day and curl the next. I use Original Mineral's Original Queenie for gold (also available on-site), and it helps keeps roots from getting oily. Win!
For Black Woman
@sasshayhair
How sassy can your long locks be? This hairstyle is the kind of stylishness you ever need in your life. Ultimately for a black woman, this look features twists and curls to give you an invincible glam.
Fancy Updo
@lishamishakisha
In case you miss the old days, you can always pull off this fancy updo for long hair inspired by a 1920s ball. With curls and volume, you'll be the most sophisticated fifty-year-old woman of the night. For a touch of youthfulness, add bright red highlights on your mahogany balayage locks.