18 Youthful-Looking Hairstyles for Women Over 60 with Grey Hair
Mid-Length Wavy Gray Hairstyle
@kmello86
Mid-length wavy hair is best styled with lightweight products. Adding layers can take excess weight off your waves to create a more voluminous, medium-length style.
Layered Bob for Grey, Thin Hair
@angstoghair
A layered bob for grey, thin hair is a smart choice if you would like your hair to appear thicker. Medium layers add fullness and body to fine tresses. Add bangs to this cut to soften the face. Thin hair should be trimmed every 3 weeks because even a little length will weigh it down.
Short Grey-Haired Bob for Older Women with Glasses
@brianhickman1
A short grey-haired bob is a smart look for older women with glasses. A classic cut, it looks best smooth and simple and works great on any hair type. To blowdry mousse and a round brush will do the trick.
Layered Salt and Pepper Long Bob
@nikkibartram
Try a salt and pepper long bob that's layered if your hair lacks movement. The layers enhance the different tones, add shape, and flicks to straight hair. Adding side-swept bangs would finish this gray hair style flawlessly.
Long Bob with Side-Swept Bangs
@nellcarmo
The beauty of a long bob with side-swept bangs is in the way the shape sweeps the face and covers forehead wrinkles. Longer layered bangs graze the face, which not only adds a softening effect but also elegance to grey or white hair. Having it a little longer than chin-length avoids emphasis on the jaw area (if this is an area of concern).
Over 60 Grey Blunt Bob
@stylistmatrix
The grey blunt bob for women who are 60-years-old and older features a very classic length. It's a cut that draws attention towards the jawline and cheekbones. For styling maintenance, use a flat iron and slightly bend the hair towards the neck. Finish off with the OI Oil by Davines for added shine and softness.
Wavy Gray Lob for Older Women
@ash_winslow
Rock a wavy gray lob for older women in their sixties by adding piece-y layers to complement the hair's color and shape. To achieve the salt and pepper hair color, ask for highlights and lowlights that create movement and depth. For styling, add soft waves with 1/2″ barrel curling iron to boost dimension and movement. Then, finish it off with R Co Trophy texture spray.
Long Layered Brown + Grey Hair
@megstevenshair12
Long layered brown and gray hair is a flattering style for older women who want volume, movement, and texture. It's an alternative to transition from a natural color to gray. For finishing touches, use R CO Death Valley dry shampoo for a style that will last all day.
Black and Silver Balayage for Senior Ladies
@jackmartincolorist
A black and silver balayage for senior ladies will blend grays with highlights and lowlights for contrast. The trick is to add lowlights to your long hair that will match the natural hair color. Ask the colorist for a technique that will work best to achieve it.
Choppy Bob for Graying Hair
@allbeauty_bykarli
Give a choppy bob for graying hair a chance if you want a versatile trend and playful appearance. It looks great whether it's straight, curly, or if you prefer, wash-and-go. The choppy texture adds fun to a jaw-skimming bob and flatters most face shapes.
Curly Wavy Hair for Women Over 60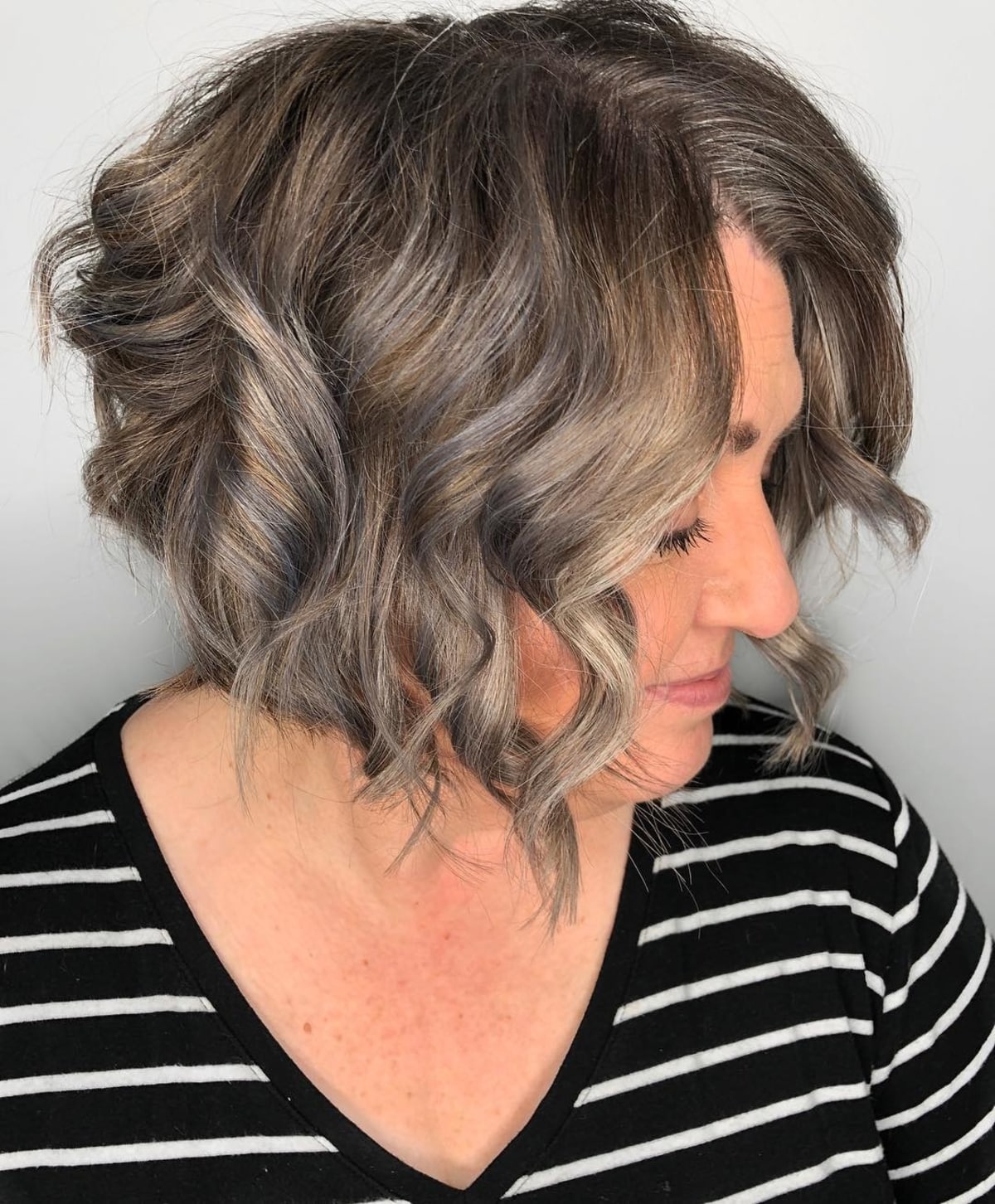 @mslameylynn
The beauty of curly wavy hair for women over 60 is that it adds more volume and helps disguise thinning hair. The bouncy nature gives a more youthful appearance, too!
Short Spiky Pixie for Gray Haired Women
@teresathehairstylist
The short spiky pixie for gray-haired women screams confidence and sassiness. This gorgeous chop is made by salon owner and stylist Teresa Adams of Arizona.
According to Adams, razor and texturizing shears are the best tools to use on short gray hair. "I don't over texturize grey hair as it can make it look more coarse and frizzy."
This short haircut for older ladies who get tired of coloring their gray locks and just want to chop them off. "It's easy to style and looks great all the time! She can dress up this style, or make it sassy to match her personality," says Adams.
It does the trick to make older women look younger!
To prep the hair before a blowout, Adams suggests Kevin Murphy's Smooth Again and Young Again. These are smoothing cream and oil that make the gray hair shine.
She uses a Dyson blowdryer and a boar bristle smoothing brush to dry and flatten the locks.
"Then, I mist the hair with my favorite texturizing spray like Bedroom Hair. It's light but has enough hold to last, and it smells amazing! Sometimes, I follow up with a little more pomade on the ends to piece it out even more," Adams explains.
Shaggy Cut for Thick, Grey Hair
@rute_boazhair
The shaggy cut for thick, grey hair is excellent for older women who love soft looks! It has layers that carry out extra movement and texture. Some stylists recommend a mousse to add extra volume and definition to the layers. This shag also comes with middle-parted bangs that frame the face well.
Textured Shag with Gray Ombre Hair Color
@amazing___grayce
A textured shag with gray ombre hair color gives the tresses fullness and texture. It looks so much better with loose curls, showing off a voluminous style. The ombre is such a chic addition, too. It makes this entire hair idea younger-looking.
Naturally Grey for Older Women with Fine Hair
@elegantly_disheveled06
A short hairstyle that's naturally grey for older women with fine hair shows off confidence. It can be a short graduated bob like this made by California-based stylist Krystal Aguiar. She created clean, precise lines for the perimeter and light texturing at the ends.
This hairstyle has a ton of versatility. Depending on the texture, it's easy to manage, which older women love. Aguiar explains, "It can be worn straight, round-brushed, or wavy and curly."
She suggests a styling cream or a curl cream when enhancing the style. Such a product will boost the texture, for sure. "Now, if you plan to blow out or heat style, use a root lift and a heat protectant," she adds.
See more hairstyles for women over 60 with fine hair
Grey Pixie with Wispy Bangs for Women Over 60
@stacy_stylist
Grey pixies with wispy bangs for sixty-year-old women create a short haircut and sassy look! This chop by stylist Stacy from North Carolina is the best example of this kind of hair trend.
"This style says 'I am sexy, bold, brave and confident enough to explore my femininity,'" she describes. It suits a woman with a big personality type who's outgoing and daring.
To create such a look on shorter hair, Stacy mainly uses her imagination and hands. "I use these to mold the hair into positions that I think are interesting and creative."
Stacy's number one advice to those who want to try it is to "Consult. Ask questions and never assume." If you're one of these ladies, discuss your lifestyle, time availability, and job with the stylist.
Lastly, Stacy says, "Buy the pro styling products and tools suggested by the stylist."
Feathered Grey Bob
@racheltaylor.official
A feathered grey bob is an ashy-colored short haircut that displays a lot of movement. Hairstylist Rachel Taylor from Pensacola, FL brought this gorgeous layered hairstyle to life!
"Bobs are a very stylish look that all mature women can rock. It can be tailored for thin, medium, or thick hair," Taylor points out.
She advises using a 2/3-inch round brush and a thermal smoothing styling product to achieve this bob with feathered layers. "Over direct all sections to get a maximum volume and height."
Curly Bob for Women Over 60-Years-Old
@shear.intensity
The ideal curly bob for women over 60-years-old can show off a bouncy texture and definition. This beautiful haircut is created by stylist Jennifer Peters of Shear Intensity Salon.
This chop is for women who want to try a longer pixie cut, but can't pull it off because their hair stacks up on itself and takes over. Peters added a hidden undercut to it. "This helps to remove extra weight and bulk if the tresses are thick," she notes.
Peters suggests "always use shine serum and a smoothing cream" when wearing this cut. She adds, "Wrap your curls around your fingers to direct your curls the way you want them to go. Don't touch your silver hair once it's dry because it'll expand and frizz!"
Did find anything here? Check out our edgy hairstyles for women over 60!