33 Youthful Hairstyles and Haircuts for Women Over 50
Chic Rounded Bob with Wispy Bangs
@girl_with_the_curl_
Q&A with style creator, Stephanie Siclari
Hair Artist & Owner @ SaSa Salon in Trumbull, CT
How would you describe this look?
I love this rounded bob with wispy bangs because it is elegant yet edgy. It is an undercut from recession to just below the round of the head, with an asymmetric micro fringe all tied into a classic bob. The strong lines accent her bone structure bringing attention to all her best features. I love the marriage of color and cut in this look because it's both strong and soft.
Any advice for someone considering it?
This cut works well with dense hair textures as it is an undercut underneath. The asymmetric micro fringe is great to really open the face and showcase the eyes. This haircut is versatile in styling and can be worn straight or curled. It's a modern approach to a classic.
Blonde Pixie Shag
/ @savagestylist
Q&A with Style Creator Jennifer Savage
Hairstylist @ Atelier by Square Salon in Las Vegas, NV and Salon Santo Tomas in San Diego, CA
---
How would you describe this look and what's your favorite thing about it?
This is a pixie shag. It is longer than a classic pixie, yet shorter than a layered bob with lots of soft airy (shag-like) texture. My favorite thing about this style is the versatility of styles the wearer has. The shape is both structured and lived-in making styling a breeze with very little effort and lots of options.
Which products would you recommend to help create and maintain this look?
While the hair is wet, apply a quarter-sized amount of Kerastase Ciment Thermique for heat protection. Follow with a lemon-sized amount of Kerastase Mousse Bouffante for long-lasting body and control. After drying, use a Hot Tools 1 1/4-inch curling iron to causally curl large sections of the hair, leaving the ends out. Finish with my absolute favorite, Oribe Dry Thickening Spray. This spray gives an outrageous body and holds while maintaining a modern flexible finish. Dry Thickening Spray can also be used the next day as a style revitalizer and dry shampoo.
What type of person would this look work best for?
This look is awesome for any woman over 50 wanting to embrace the youthful "lived-in" look without sacrificing sophistication. The pixie shag is great for all face shapes, including longer faces which can sometimes have challenges with shorter styles. All textures look great with this look too! It is an absolutely outstanding option for the modern woman who wants to look fresh and a little funky.
What's your best tip for someone who's considering this look?
My tip for 50-year-olds wanting this style is to not be afraid to loosen up! Curl large sections of your hair. Spray in a dry texturizing spray and use your fingers to massage, separate and soften the curls. If it doesn't look perfect, don't worry! This look is about looking glamorously casual.
Fun A-Line Bob with Layers
@jessicacarter.hair
Q&A with style creator, Jessica Carter
Hairstylist assistant @ Tricho Salon and Spa in Novi, MI 
---
How would you describe this look and what's your favorite thing about it?
This is a fun, effortlessly chic, low maintenance style that perfectly accentuates my model's features.
My favorite thing about it is that I could instantly see the confidence boost in my model. She was glowing! She had the same hairstyle for years and this was the fresh change she needed. She absolutely loved it, and my favorite part of every style is making my clients feel beautiful.
Which products would you recommend to help create and maintain this look?
To help create and maintain this hairstyle, I would recommend using a lightweight styling foam. It works great to give that beach waved, undone look that is very popular right now.
If you like some volume in the crown area, over direct the hair forward and blow dry from root to end. Let the hair cool, then gently flip it back to give you that great volume and shape.
What type of person would this look work best for?
This look is great for women over 50 with straight to wavy texture. If your hair is fine, this voluminous cut will make your hair appear fuller. If you have thick hair, it can be texturized and thinned out making it easier to maintain. What's great about this look is that it's customizable to fit your face and head shape. You can add a fringe or more dramatic angle, or go more subtle with less layers. My model has a heart shaped face, but this look can look great on almost any face shape.
What's your best tip for someone who's considering this look?
Taking a photo to your stylist is the best way of communicating what you want in a style. If you are looking for gorgeous, low maintenance hairstyles, this will be perfect for you.
Amazing Angled Bob
@erinstonerstylist
Keep it looking chic with dark ashy blonde roots that make the entire lighter blonde balayaged short neck-length hair exquisite.
Long Blonde Bob
@marisaramirezbeauty
Q&A with style creator, Marisa Ramirez
Freelance Hairstylist in Los Angeles, CA
---
How would you describe this look?
This haircut is a take on a modern "shag". My favorite thing about this haircut is how versatile it is.
Any advice for someone considering it?
This cut and style were created for Missy Reeves, an actress that I work with. We wanted something that would be versatile on screen and also easy for her to style in her off time. I chose to go with a modern shag, leaving the layers a little bit longer around her face so we can style it down the middle, to the side and even up off her face in a messy pony. On her off time, she rarely styles her hair. With this cut, she can apply a little curl cream and air dry for a more free beachy look.
For the hair type, it can be coarse, wavy, and frizzy. The look is a sleek side part with soft waves
Grey Pepper Bob
@ashleigh_gottliebglass
Q&A with style creator, Ashleigh Gottlieb Glass
Stylist @ Progressions Salon Spa Store in North Bethesda, MD
---
How would you describe this look?
This look is very versatile and can be suitable for almost every face shape. My favorite thing about this look is it will forever and always be in style.
Any advice for someone considering it?
As far as color this is her natural grey and for women 50 plus who wants to go grey, they have to be ready to commit to the grow out/transition.
This is one of the more classic cuts for women over 50 who want to also be on-trend. When styling this look you can keep it clean and polished or create texture for some fun.
Eye-Catching Blonde Bob
@enchantedsalon
A slight volume looks better than a sleek one for women of age, as it gives the appearance of a dense hair. This chin-length asymmetrical cut is one of the best examples of short hairstyles and haircuts for women 50+.
Gray Feathered Layers
@hair_by_claudiat
Featuring a really adorable cut that takes away ages from your look! Going with a length past the chin, not to mention those cute side-swept bangs, complement her round face by making it appear longer.
Playful Stacked Bob
@danielle.hairstylist
Short haircuts for women over 50 can be looking fun and youthful, too. Consider a playful stacked bob such as this masterpiece. A few layers will bring out movement and texture if you have fine, thin locks. Spice it up even more by adding light blue highlights around the face.
Romantic Loose Updo
@emshepmua
This exquisite yet easily achievable style looks perfect for a wedding and other formal nights you'll attend. It lifts up the hair beautifully and adds volume to it.
Shoulder Length Hair
@andrea_gildedfox
Layered medium-length haircuts for women over 50 look beautiful when styled with waves. Adding texture and waves is a great way to add fullness to your hair. Try adding in baby bangs to balance a long or oval face.
Cute Short Crop
@taylorhanrahair
Q&A with style creator, Taylor Hanrahan
Hairstylist & Chemical Specialist @ Greenline Salon in Covington, KY
---
How would you describe this look?
Well, I would describe this short haircut for women over 50 as easy to style while still having an edge. We know when a lot of women go for short hairstyles they worry about being not able to switch up their style.
The cut leaves the ears visible, tapered in the back, under the sides, and through the top with texturizing shears. We cut the top by slicing through many of her layers to thin out the top and add texture.
The color is a deep brown (I will post the formula below) and a few pop-up highlights from a previous balayage we had done last June. Those highlights were toned to be an ashy level 6 brunette color.
Any advice for someone considering it?
Have medium density hair, and though you don't need natural wave in your hair, it doesn't hurt to have any! This style would work well with any face shape, but if my client had more of a round-shaped face I would've left the sides a little longer.
The best thing about this style is how easy it is. My client has both air-dried and blow dried her hair – she says either way, with a little bit of product it's easy to get her desired look! We have curled and straightened her hair, and both look incredible.
So the lifestyle of a client with this haircut is active (since it is so easy to style), edgy (play with it! Wear some unique earrings and draw attention to your style!), and fashionable (it's trendy, it's fun, and you can make it your own).
Mid-Length Cut with Long Layers
@kclose.kc
This beautiful mid-length hairstyle with natural highlights and soft layering looks so glam in every angle. Complete with cute bangs to complement this lovely shoulder-length mane.
Timeless Layered Grey Hair
@finallylisahair
Q&A with style creator, Lisa Monaco Bodreau
Owner & Master Colorist/Cutter @ Finally Lisa's Hair Salon in Southbridge, Massachusetts
---
How would you describe this look and what's your favorite thing about it?
I would describe this layered bob as "timeless beauty." To me, this cut doesn't matter for women over 50, because your inner beauty shines through. Good haircuts for women are the foundation for their style and color. Without the haircut, everything else doesn't shine.
Which products would you recommend to help create and maintain this look?
She maintains her white with daily use of Matrix So-Silver Shampoo and a weekly clarifying treatment with Malibu Hard water. For her styling, I used Matrix Boost Gloss and Matrix Volume Builder before blow drying. I then set her hair on velcro rollers for volume and no curl. I finished with Proforma Spray and Sugarshine gloss spray.
What type of person would this look work best for?
This cut and style work well on various faces shapes and lifestyles for many reasons. I razored the edges of the exterior to create softness and ease of styling. The interior of her hair is lightened in the crown with a razor also.
This style is perfect for any 50 year old women. You could also just blow dry with a round brush and not even set it for a casual day look.
What's your best tip for someone who's considering this look?
Find a stylist who is known for haircutting and personalizing the cut for your face shape, hair texture, and amount of time you want to spend on it. In our daily salon life, we are bombarded with unrealistic pictures from social media. Find one that fits you!
Classic Layered Pixie Bob
@ells_marie
Q&A with style creator, Elaine Giering
Senior Stylist  @ Anthony Ashley Hair Design  in Allentown, PA
---
How would you describe this look and what's your favorite thing about it?
This is a layered pixie bob. I love that it's a great way to wear a pixie cut that is growing out and not having to dread the growing out process. I love that it's fun and sexy, but still conservative.
Which products would you recommend to help create and maintain this look?
Before drying the hair I used Surface Jump Mousse-root lift and Surface Awaken thickening cream-throughout the hair for overall volume and thickness. After drying I used Surface Push Powder at the roots for texture and lift and Surface Theory Flexible hairspray for light hold and shine.
What type of person would this look work best for?
This one of the best hairstyles women over 50 who are growing out a pixie cut and going through that awkward grow-out stage. This cut is great for coarse and fine hair and any face shape and skin tone would work perfectly for this cut.
What's your best tip for someone who's considering this look?
This haircut will need to be maintained with a cut every four to six weeks to keep the shape and prevent it from bulking out. Use the right products so you can recreate the same salon look at home!
Face-Framing Layers for Fine Hair
@hexgirlhair
Q&A with style creator, Bailey Elizabeth
Hairstylist @ Japa Salon in Stillwater, MN
---
How would you describe this look?
It's a very voluminous, texturized and subtle inverted bob haircut. For older women with fine hair, getting volume by adding short, feathered layering towards the top really helps make your hair appear thicker. As well as the added texture from razor cutting.
The cutest thing is definitely the back of her cut. I really love how much texture you can see, and it really helps create movement in a shorter style such as hers.
Any advice for someone considering it?
I'd recommend this style for a woman over 50 years old who is able to commit to using some product! Hairspray or pomade for a more textured look and volumizing products are really great! It's definitely important for those with finer hair to use products to hold this style.
Overall, this cut is really easy to maintain and work with. It's perfect for a woman looking for something easy to learn how to style, but still, have something trendy. It's also a really great cut for those with a wider or more square face shape since it helps build volume outward of the temple area and upward to really slim and elongate the face.
Blonde Hair with Long Waves
@foreverdeyounghair
Q&A with style creator, Heather Marie DeYoung
Owner / Stylist @ Forever DeYoung in Edina, MN
---
How would you describe this look?
This look is a soft buttery blonde. The best thing about this look is the way the light hits the brighter blondes to not only bring out her beautiful features but also creates great movement as it showcases the classic long layer haircut.
Any advice for someone considering it?
This is a hairstyle for women over 50 who are seeking a more natural, low maintenance color to reflect their lifestyle. I keep it light in the front along with adding some soft layers to frame her face.
Elegant Wavy Bob
@lauraloveshairrr
Q&A with style creator, Laura Jarrell
Professional Colorist @ Regis Salon in Barboursville, WV
---
How would you describe this look?
I think this look is fun and sassy! It is a haircut that can be worn in any style. It can be long and subtle or short and dramatic, and everything in between. This inverted bob can look amazing straight, wavy, or in the tightest curl! I think my favorite style is wavy.
Any advice for someone considering it?
An inverted bob is one of those haircuts for women over 50 that are easy to pull off. But if you do have a rounder face then I would suggest keeping the length in the front be somewhere past the chin so it elongates the face. As far as the back you can go as short as you want! That is the beauty of an inverted bob it can look amazing with as less or as many layers, and any length!
Short & Textured Wavy Hair
@genevieve.troutman.hair
Such a remarkable get-up-and-go style! Here's a short
Piecey Pixie Cut
@platinum.prince_
Neat sides and nape—opt for a fresher look like this stunning piecey pixie cut that flatters older ladies over fifty! This is one of those super-easy hairstyles for women over 50 with grey hair. With a mist of a texturizing spray, the result will create more movement and a classy finish. To better recreate this voluminous short hairstyle, show your stylist pictures, too.
Long Pixie with Choppy Bangs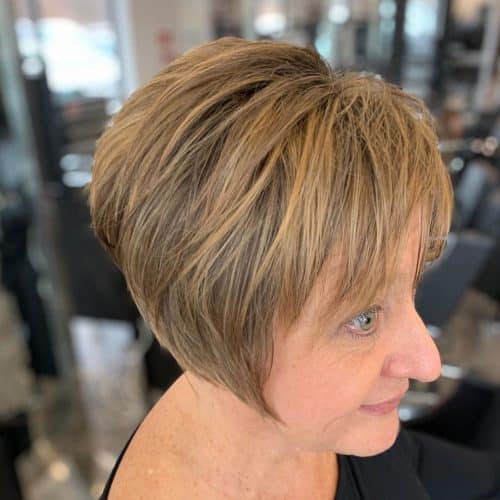 @blonde_hair_savage
To all flattering ladies over 50, a hair trend that will boost your natural beauty is here! Look edgy and young as you flaunt this gorgeous long pixie with choppy bangs. The golden highlights work best for women over 50, adding a touch of youthfulness. When you have an oval, diamond, or heart-shaped face, you can rock this textured long pixie, for sure!
Short Curly Bob Style
@andrea_gildedfox
This short hairstyle is perfect for women with curly hair. The length and texture keep the curls tamed while adding volume. Just like how the flowers are starting to blossom, gray hairs will start to pop out here and there.
Custom Pixie Crop
@manhattanhairco.rd
Looking for a short crop cut to go with your natural grey locks? Try this custom pixie crop to offer you an edgy but feminine look. The chop requires little to no effort to style and pull off. It's the short haircut that's easiest for women in their 50s with straight or wavy hair.
Cute Short Bob Cut
@seibellasalonstudiomontgome
Go for this cute short bob cut to class up your naturally gray hair. Its layers, shape, and bangs—these all suit most older women's features. A lovely chop like this works great on dense tresses, if styled a bit tousled and textured.
Salt and Pepper Short Cut with Glasses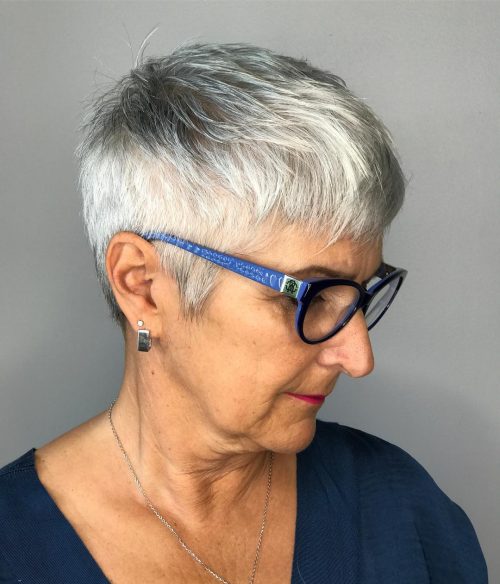 @mthairdesign
Flaunt this hair trend with flair while wearing your everyday specs! Sport this salt and pepper short cut with glasses for maximum sophistication. With its neat chop and hair color, it's one of those ideal short hairstyles for women over 50 with glasses.
Long Bob
@katiewhitehair
Layered long bobs are the best hairstyles for women over 50. Why? It's fuller-looking, trendy, and gives an impression of youthfulness. A medium-length hairstyle like this layered long bob looks fine with side bangs, too. If you opt to show off your black locks, use oil for a glossier effect.
Edgy Long Pixie for Thin Hair
@lisakthefoundry
An edgy long pixie for thin hair that's made for mature ladies in their 50s! Rock this look if you have thin and straight tresses. Style it with enough texture to create lift and volume, giving your white and grey hair a bouncy feel.
Long Hair with Curtain Bangs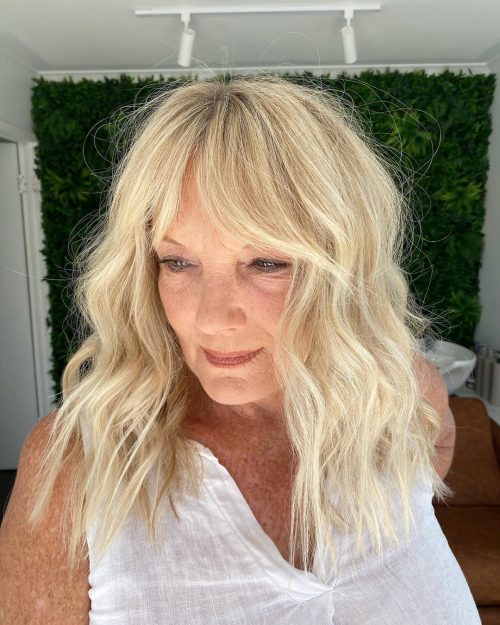 Long Hair with Curtain Bangs
No doubt, this can be one of the best long hairstyles for women in their 50s! In the search for a versatile hair trend? This long hair with curtain bangs won't let you down. Wear it however you want it—whether you like it straight or with beach waves—not a problem! If you're a 50-year-old with bright blonde locks, you can start a craze!
Modern Wedge Bob with Bangs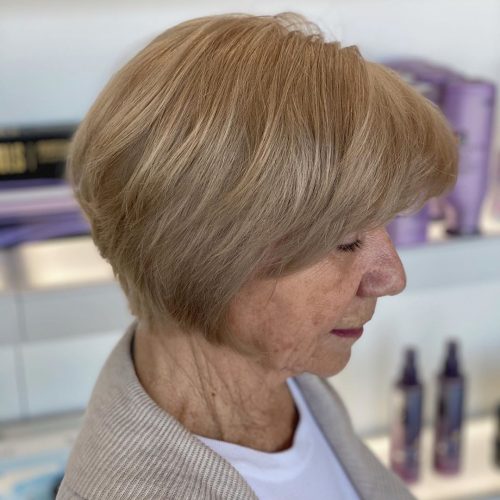 @lunarshear
This modern wedge bob with bangs is perfect and suitable for women over 50. It offers layers that will add life to your ash caramel blonde mane when styled with a dash of texture. If you want a look that gives fullness, don't miss sporting one that's as flattering as this wedge haircut.
Silver Chin-Length Graduated Bob
/ @jessicalakishair
Q&A with Style Creator Jessica Lakis
Hairstylist @ Headlines Salon and Spa in Edmonton Canada
---
How would you describe this look and what's your favorite thing about it?
This bob is a very versatile haircut. Whether it's styled curly or straight, the sharp line creates such a polished clean look. It is a timeless haircut for older women that will never go out of style!
Which products would you recommend to help create and maintain this look?
For this style, I used Aveda Pure Abundance Style Prep to create fullness in her fine hair. I used Aveda Volumizing Tonic at the roots for added volume and Aveda Air Control Hairspray to finish.
What type of person would this look work best for?
This style is great for all hair types, but especially for fine hair because it can make it appear fuller. It is great on most face shapes, especially oval.
What's your best tip for someone who's considering this look?
If you have a more square or round face shape, I recommend wearing this look slightly longer through the front and having the length at least past the jawline to elongate the face.
Gray Covering Blonde Balayage Lob
@brettsmithhairatame
Who needs such texture and movement? This gray covering blonde balayage lob offers layers that accentuate the hair color. As one of the best haircuts for women over 50, this one is effective and very stylish to cover grey hair. Match this neck-length chop with side bangs for a more youthful vibe.
Short Spiky Hair
@nicolehickshair
Featuring a short spiky hair that indicates boldness! As a fifty-year-old stunner, you'll love how easy this pixie chop to style just to look sassy on you. All you need is a dry texture spray to show off the layers and the hints of blonde hue on your dark brown locks. Say yes to this one if you're a woman over 50 considering a short haircut for transformation.
Sassy Medium Length Bob
@bchaircreations
Imagine pulling off a medium-length haircut like this one. It's easy to manage like short hair and versatile to most styles like long hair. Upgrade it by incorporating blonde highlights and lowlights, achieving such a spectacular dimension. Now, who's down to get this sassy medium-length bob?