19 Flattering Hairstyles for Women Over 60 with Round Face Shapes
Very Short Pixie for Women Over 60 with Round Face Shapes
@studio___15
A very short pixie for women over 60 with round face shapes is easy to wear and manipulate. It has a subtle texture at the top, which breaks up the face shape's roundness. The pixie style creates fullness to suit seniors with thin locks.
Curly Hair Style for Senior Women
@whitneycoburn
A curly hairstyle for senior women is perfect if the hair is already designed to be curly. Medium-length hair is great because it adds the right amount of body and the curls will look lush once it's diffused and primed with the right products to fight frizz. Professional Tip: Use a diffuser attachment when blow-drying on low heat and flip hair over to create volume.
Feathered Layers for Women in their Sixties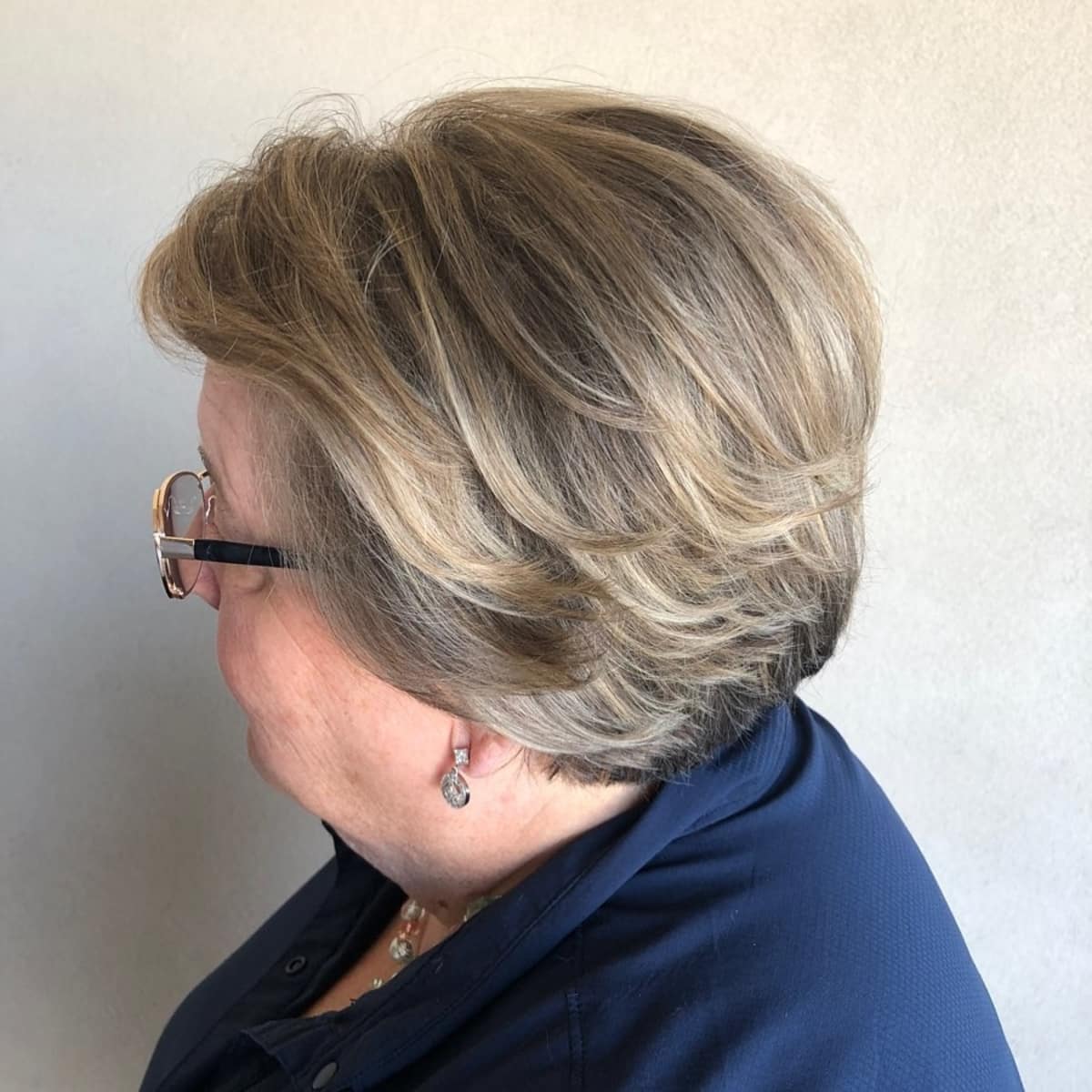 @kelsey_alteredimagessalon
Feathered layers for women in their sixties blends with any type of face, hair texture, hair color, or personal style. The maintenance of the cut can be done every 2 months to preserve it.
Pixie Haircut for Older Women with Fine Hair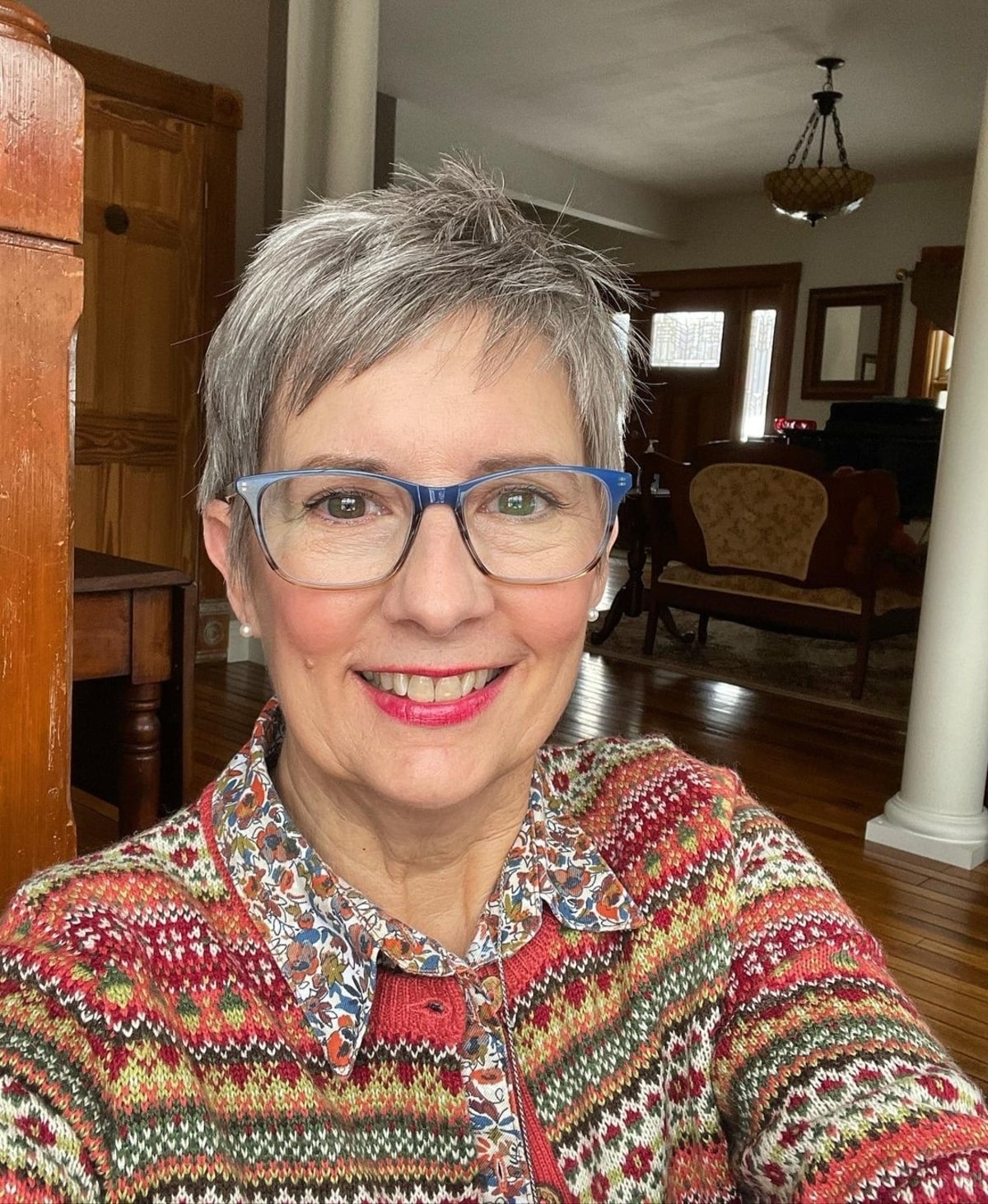 @silverknitteranne
A pixie haircut is perfect for older women with fine hair or thinning hair. A pixie haircut creates a more full-looking style with multiple, short and choppy layers.
Bob for Women with Straight Hair Over 60
@michelle.s_pvd
A bob for women with straight hair who are over 60 years old can give the hair some swing and avoid it becoming lank. Cutting your bob shoulder-length or above the shoulder will allow the hair to move and swing even without layering it. This is due to the lighter feel to the length.
Chin-Length Textured Bob for Older Women with Round Faces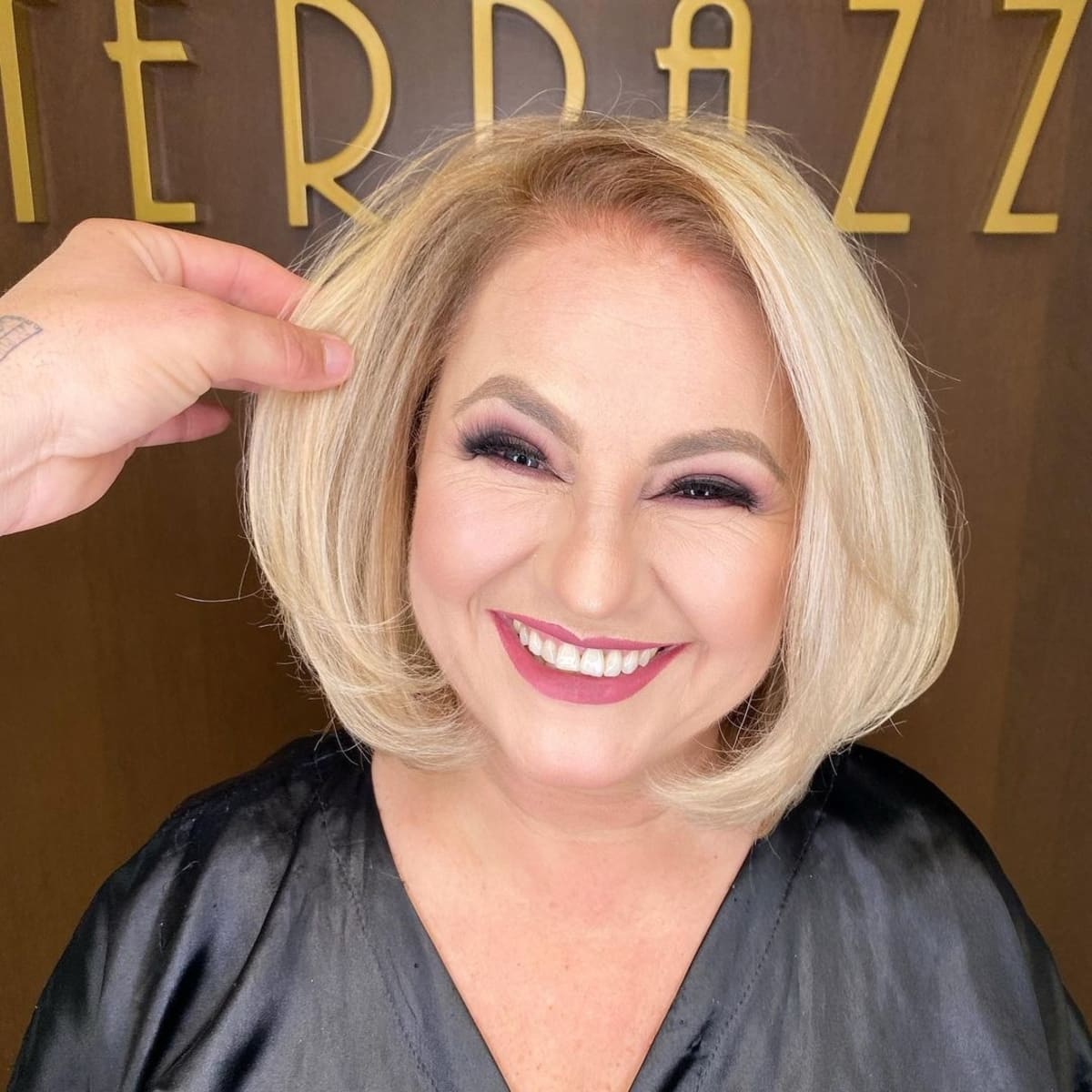 @nellcarmo
Opt for a chin-length textured bob for round faces to narrow down the widest part of your structure. The textured shape will visually give definition and structure. Women 60 plus with round faces should allow the length to sit a little longer below the chin for a full elongated effect.
Angled Bob for Older Women with Round Faces
@elhamnikooe_haircut
An angled bob for older women with round faces creates a slimming effect that skims the wideness of the silhouette. The slimming effect also elongates the face. When getting an angled bob, aim for a length that sits under the chin for a more modern feel.
Mid-Length Shag Bob for Thin Hair and a Round Face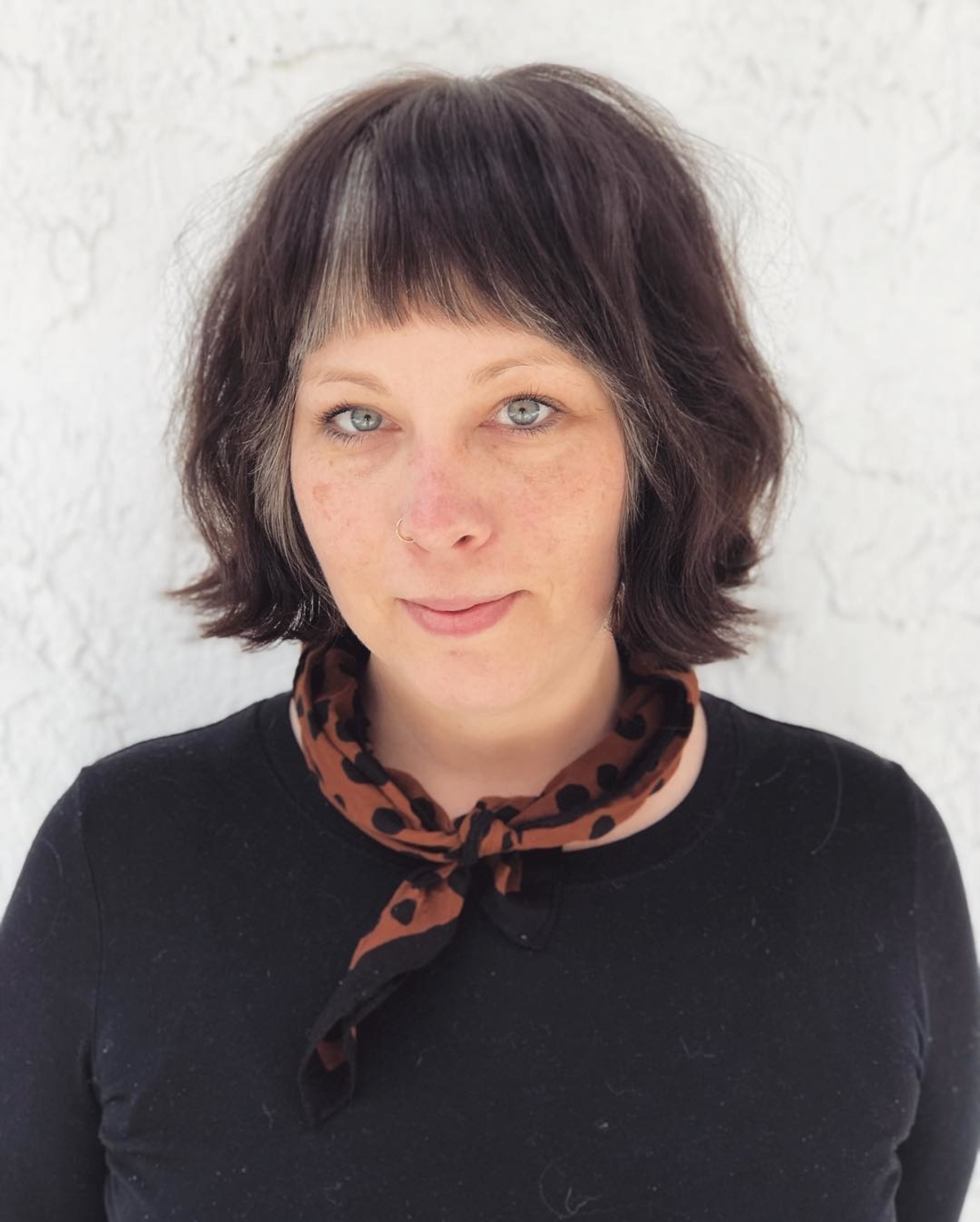 @lindsaythecurlygrl
Pulling off a mid-length shag bob for thin hair and a round face helps you embrace a loose texture. The movement from the layered bob shape contours the face, hugging it in all the right places. Be prepared for wash-and-go hair with a great texture like this.
Layered Pixie Cut for a Round Face
@hairbykathymarie
A layered pixie cut for a round face gives the illusion of a more narrow and balanced facial structure. For added texture and style, work with a She Bang-a-Bang dry spray wax by Evo. The finished hairdo will be super chic and younger-looking!
According to Alabama-based stylist Kathy Padgett, the ideal pixie cut for a round face must be "texturized with long slices to flow around the head and face shapes."
"This layered hairstyle is good for the woman whose short hair is beginning to thin because it is going towards her face," she adds. "Plus, it's quick and easy to style."
Razored Shag Cut for Round Faced Seniors
@ashleenormanhair
Razored shag cuts for women with round faces over 60-years-old are great for creating a more modern style, making hair appear thicker. This particular cut was created by California-based hair artist Ashlee Norman. "This haircut features a curtain fringe with face-framing layers," says Norman.
Norman says styling the bangs is crucial, so make sure your stylist walks you through how to do it.
"For products, using a thickening spray is great for controlling cowlicks and re-styling 2nd day. Also, using a texture spray after heat styling helps create volume at the root and give it that lived-in tousled look," she advises.
Long Choppy Pixie with Bangs for Women with Gray Hair
@adamtoniandguybrisbane
A long choppy pixie with bangs for women with gray hair can add asymmetry to your style to slim down rounder proportions. Lengthening your bangs to sweep one side, creating side-swept bangs, can create an illusion to wider areas. This makes a short haircut more exciting if you're conscious of a rounder face shape.
Blonde Pixie Bob for Full Faces
@chez.luisa
A blonde pixie bob for full faces looks flattering with a flipped side parting. The height opens up the forehead to add length, which slims down the facial structure. The neutral blonde tones contour the face's outer edges for a brighter appearance. 60-year-old women with round faces should consider a pixie bob for easy maintenance.
Shag with Curtain Bangs for Women 60+
@katiepdxhair
A shag with curtain bangs for women over sixty is an effortless '70s retake. The layering and texture open up the face at the cheekbones. They create width and a fresh youthfulness. The stunning flow of length means this works for women who enjoy longer hair.
Graduated Bob with Bangs for Seniors
@sisusalonsandbach
A graduated bob with bangs for seniors with round faces offers an appearance of fuller hair around the nape of the neck. For styling, 60-year-old women with a round face should use Iles Formula finishing serum for a frizz-free and easy-maintenance hairdo.
Edgy Pixie Bob with Glasses
@angles.north.hill
An edgy pixie bob with glasses looks great with sharp sideburns and long layers around the crown. These add body and fullness to the cut for women over 60 with round faces, especially for women with thin hair. Add a styling wax-like Box O' Bollox and blow-dry with a diffuser upside down. It creates movement and volume at the top.
A-Line with an Undercut for Women Over 60 with Thick Hair
@roxxyourloxx
An A-line with an undercut for women over 60 is a bob style that's ideal for ladies with thick hair. Try experimenting with a graduated cut to create a youthful style. The undercut will help remove a lot of weight underneath and create that smooth blunt finish. For a smooth result, try R CO Tinsel Smoothing Oil.
Silver Wavy Bob
@gray.is.gorgeous
A short silver wavy bob is a low-maintenance option for older ladies. The hairstyle has a curl and a color that will make you embrace your natural greys! Waves are trendy and can help any hair color have a dimensional result.
Long Bob with Grey Ombre
@greyhair_projectny
A long bob with grey ombre is one of the hair trends that's the best for senior ladies. It creates a more natural and polished result. The length where it hits the collarbones gives the cut a very feminine and flattering edge, especially if you're a woman 60 plus with a round face.
Lob for a Woman Over 60 with a Chubby Face
@cindyhstyles
Lobs for women over 60 with a chubby face create an elongating effect. This haircut frames the face, which breaks up its rounded shape. It also works great on fine and thinning hair when styled with soft waves. The long bob provides added layers, movement, and body that not many hairstyles for women over 60 with a round face have.