20 Volumizing Short Haircuts for Women Over 60 with Fine Hair
1. Short Crop with Thin Bangs for Older Women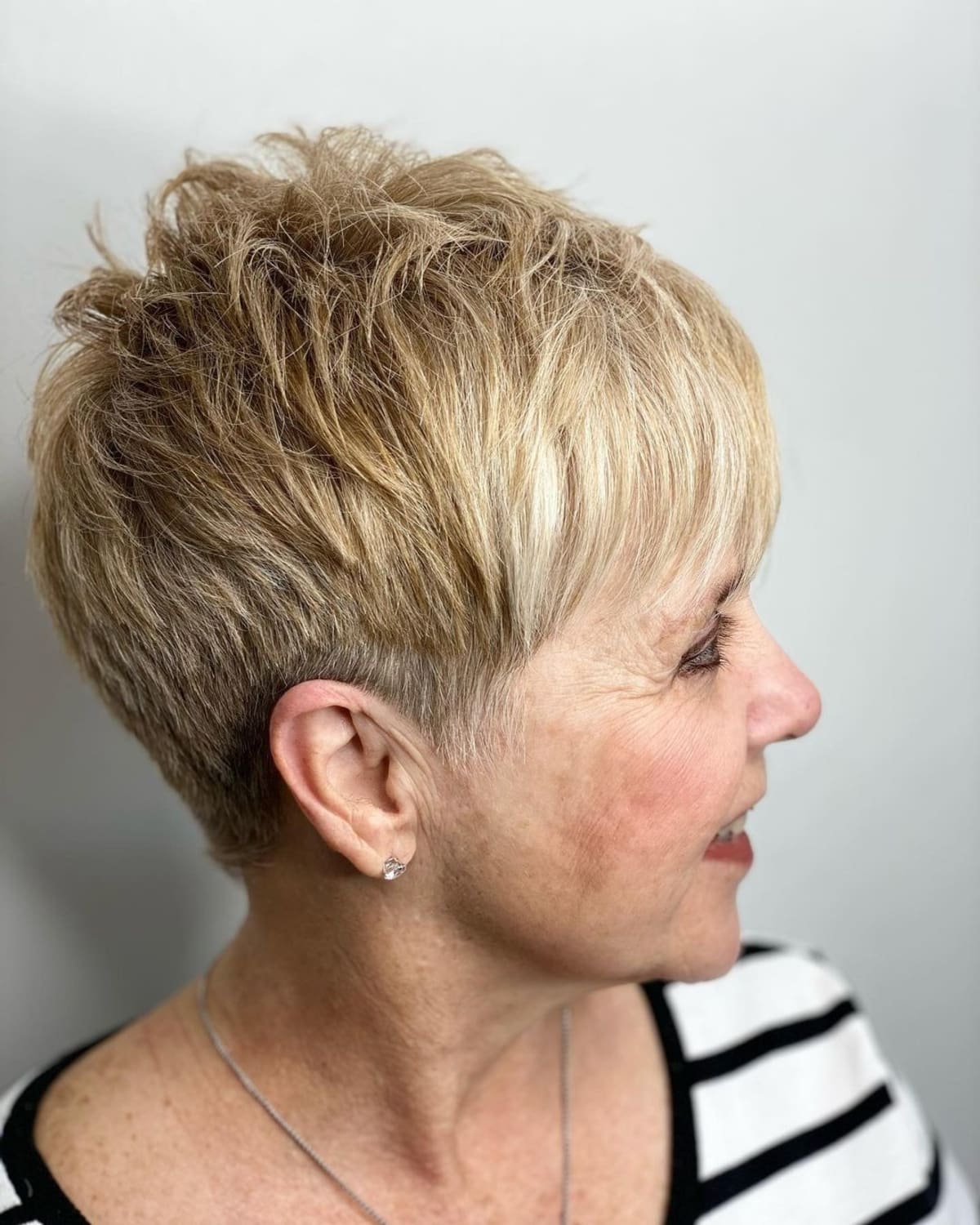 @valentinahairboutique
A short crop with thin bangs for older women is a fresh, sexy cut that favors straight, fine tresses. This edgy, short hairstyle was done by stylist Sharlene Soriano from Florida.
"I used the scissor over comb technique on the upper portion. Next is a razor to smooth, creating more texture," she advises.
Soriano suggests a mousse when enhancing its texture and volume. Shiny wax, matte wax, and hairspray are great alternatives, as well.
2. Short Pixie with Wispy Bangs for Over 60
@stevenp_dojem
A short pixie with wispy bangs for over sixty can be versatile and edgy. You can go as short as you like on the sides. Allow texture through the front and keep the length on top disconnected to give it a fuller effect.
See more edgy hairstyles for women over 60
3. Short Textured Bob Haircut for Fine Gray Hair
@simone_at_oohlala
A short textured bob haircut for fine gray hair shows off dimension in the cut and hair color. Try soft layers to wear hair smooth or piece-y. Layers will create volume and add fullness. For a smooth blowout, Aveda Smooth Infusion works like a charm for a beautiful sleek finish.
4. Sleek Bob for 60-Year-Old Women with Straight Hair
@vitosatalino_official
Flaunt a sleek bob for 60-year-old women with straight hair to achieve a younger-looking style. Its face-hugging layers can soften and frame square-shaped faces. The cut also features a side fringe, giving the entire style a fresher touch.
5. Short Crop for 60+ Women with Finer Hair
@stacy_stylist
The ideal short crop for 60-year-old women with finer hair is something stylish, yet easy to maintain. The shortest hair at the nape of the neck creates volume at the crown of your head. Ask for disconnected geometric pieces and a piece-y fringe that will create interesting visuals all around. Style it with Ouai finishing creme for a smooth result.
6. Chin-Length Curly Pixie for Fine, Curly Hair
@lindsaythecurlygrl
Consider a chin-length curly pixie for fine, curly hair to help revive the curls and their shape. This cut is great in giving the hair the appearance of fullness and volume. For a frizz-free style, try Aveda's Be-Curly Curl Enhancer on wet hair. Then, twist the hair to form spirals and diffuse on low heat.
7. Fine Hair Shaggy Bob for Older Women
@touchiebeauty
Try a fine hair shaggy bob for a sixty-year-old women to achieve a retro look. It helps add movement and gives both the color and cut a little more dimension and playfulness. For hold and texture, try Kristen Ess Dry Finish Working Texture Spray for a soft, matte finish.
8. Layered Bob for 60-Year-Old Women with Glasses
@hairbyafox
Layered bobs for 60-year-old women with glasses are ideal for flaunting a wavy hair texture. To copy the look, use either a flat iron or a curling wand. Don't forget to straighten out the fringe to emphasize the hair texture even better.
9. Short Textured Layers for Grey-Haired Women
@jackmartincolorist
Consider getting some short textured layers for 60-year-old grey-haired women to boost your locks' dimension. Ask for softer interior layers so the cut doesn't look shaggy. Use bumble and bumble grooming cream when styling your grey hair to add texture and to smooth frizz.
10. Ear-Length Bob for Senior Women
@stevenp_dojem
An ear-length bob for senior women is an appealing option to keep your hair short, but with an added length throughout. The subtle layers will create the illusion of thickness. Finish it off with L'Oreal Professional Dual Styler because it will fight frizz while adding volume.
11. Short Bob with an Undercut for 60-Year-Old Women
@madelicioushair
A short bob with an undercut for 60-year-old mature women allows those with fine, thicker hair to rock a short cut. The undercut will be tight enough to remove weight from your fine, thick hair. It also blends into the graduation without feeling too harsh on your hairline.
12. Choppy Pixie Haircut for Fine-Haired Seniors
@stevenp_dojem
Try a choppy pixie haircut for fine-haired seniors for a wash-and-go hairstyle. It's not just a flattering shape but it's super easy to style. While you may need to maintain cuts every 6-8 weeks, your everyday styling will be kept simple. Apply a little texture cream to dry hair to define its shape.
13. Feathered Pixie Bob with Side-Swept Bangs for Women Over 60
@hairbystevenward
The feathered pixie bob for women in their sixties will add a beautiful flow and movement to fine locks. The shape blends from the long side-swept bangs into feathered layers throughout the head. So, not only will your hair have more bounce, but it will also contour your face for an added lift.
14. Choppy Angled Bob for Short Fine Hair
@hairheaven_by_jessica
A choppy angled bob for short fine hair is ideal for ladies over sixty who need something to bring their locks back to life. This hairstyle requires very little maintenance because of the wispy, choppy layers and bangs. It has the freedom to flow, and it'll still be great no matter where the hair settles. To make the style last longer, try Evo's dry shampoo Water Killer.
15. Blonde Short Inverted Bob for Older Ladies with Fine Hair
@studio___15
The perfect short inverted bob for older ladies with fine hair offers a lot of movement. The idea is to style the mane with soft waves and texture, preventing it from appearing flat. If the hair has some blonde hues, this style will boost the dimension! Bottom line—this trend offers fullness and a younger look.
16. Short Textured Shag for Older Women
@katiecofferonhair
Short textured shags for older women are done by a razor or the point-cutting method. The stylist behind this? She's Katie Cofferon of Number Three Salon in the UK.
"The back is softly tapered into the nape and is very slightly undercut. It creates subtle graduation with no hard lines," Cofferon describes. Adding texture to the ends of the layers helps achieve the look, as well.
This shag has textured layers that work well on fine hair, giving it more density and movement. It also makes a great option for older ladies growing out shorter styles.
All face shapes can pull it off. Cofferon suggests to "consider the length of the fringe or the sides depending on your face shape."
When styling short hairstyles for fine hair over 60, she loves the Bumble and Bumble's Surf Range, especially on a short shag cut. It's essential to accentuate the texture, too.
17. Short Bob for Older Ladies
@studiofifteen15
A classic short bob for older ladies is great for fine to medium density hair. It's a timeless short hairdo with bangs that takes just a few minutes to style every day. The length of this chop is customizable, which makes it ideal for most face shapes.
18. Pixie Cut for Women Over 60 with Glasses
@k_growing_gray
A pixie cut for women in their 60s with glasses is a low-maintenance short hairstyle. Add layers to create a lift that adds density to your tresses. You won't go wrong if you ask for feathered bangs, too. The fringe brings out a younger-looking touch to the final result.
19. Bob Cut for Fine-Haired Seniors
@vanityhairandbody
Bob cuts for fine-haired seniors is another hair idea that helps the hair appear fuller. A short haircut like this makes a sophisticated style if matched with straight hair. This grows out with ease and a graceful edge. One thing to love about it, as well, is how stunning it is on a round face shape.
20. Short Pixie for Elderly Women with Thin Hair
@hairbyjessmunro
A short pixie for elderly women with thin hair works on a natural silver color. Made by stylist Jess Munro of Canada, this low-maintenance cut improves hair texture.
"Pairing your natural color with a good pixie cut will enhance your features and natural texture. Communication is key so research a stylist before your big change," Munro adds.