15 Best Pixie Haircuts for Women Over 60 (2021 Trends)
1. Short Pixie Cut for Seniors with Fine Hair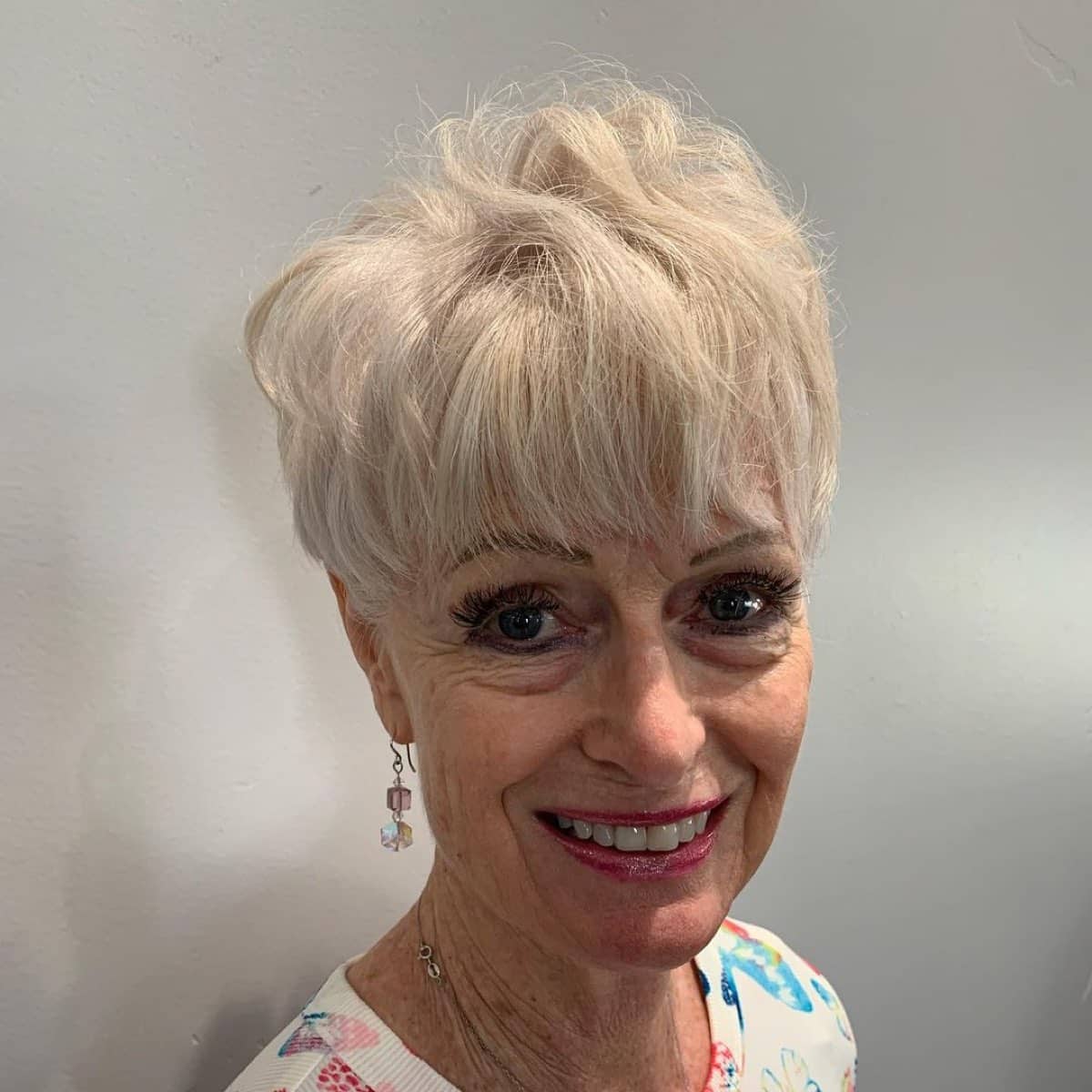 @viana.b.hair
A pixie cut for seniors with fine hair makes a refined, sleek hairstyle. The short length gives the locks an impression of a thicker density. Short hairstyles for women over 60 with fine hair, like pixies, are easy to style and look natural with a subtle texture.
2. Spiky Pixie for Thin, Grey Hair
@stacy_stylist
Be a little more daring with a spiky pixie for thin, grey hair. Thin hair is ultimately at its best when it's short, and a pixie ticks all the boxes. Be a little more creative when styling and add some height to achieve a lifting effect on the face. Spiky pixies are perfect for women over sixty with grey hair.
3. Long Pixie for Older Women
@saharkarimi1986
A long pixie for older women can offer a classic style without going too short. Elevating the length at the back of the head adds weight and structure to the hair. However, the length can still skim the jaw without exposing too much of your face and ears.
4. Pixie Haircut for Gray Hair
@diviannaoficial
Add two striking elements together with a pixie cut for gray hair. Gray hair tends to become finer as we age, so a pixie really adds life back to the hair. Pushing all the movement to the front of the face works well disguising any concerns with recession areas. It also frames the face for a feminine style.
5. Asymmetrical Pixie Cut for Older Women with Straight Hair
@mess.begley
An asymmetrical pixie cut for older women with straight hair works as a great transition style into a bob cut. It looks flattering on most face shapes, and its length can be customizable. Consider a texture paste-like Box O' Bollox from Evo for styling.
6. Gray Pixie Cut for Older Women
@stacy_stylist
Gray pixie cuts for older women look effortless and great without even trying. Sure, it takes only a few minutes to jazz up hair like this. The best style for this chop is with a piece-y definition. Achieve it using a wax spray or salt spray and make the layers stand out.
7. Blonde Pixie for 60-Year-Old Women
@saharkarimi1986
A blonde pixie for 60-year-old women is a soft, eye-catching hairstyle. The blonde hair color complements medium to light skin tones. Meet with a colorist regularly to keep its gloss, and use a purple shampoo to prevent brassiness. But what's cool about it is it's easy to style!
8. Pixie Cut with Fringe Hairstyle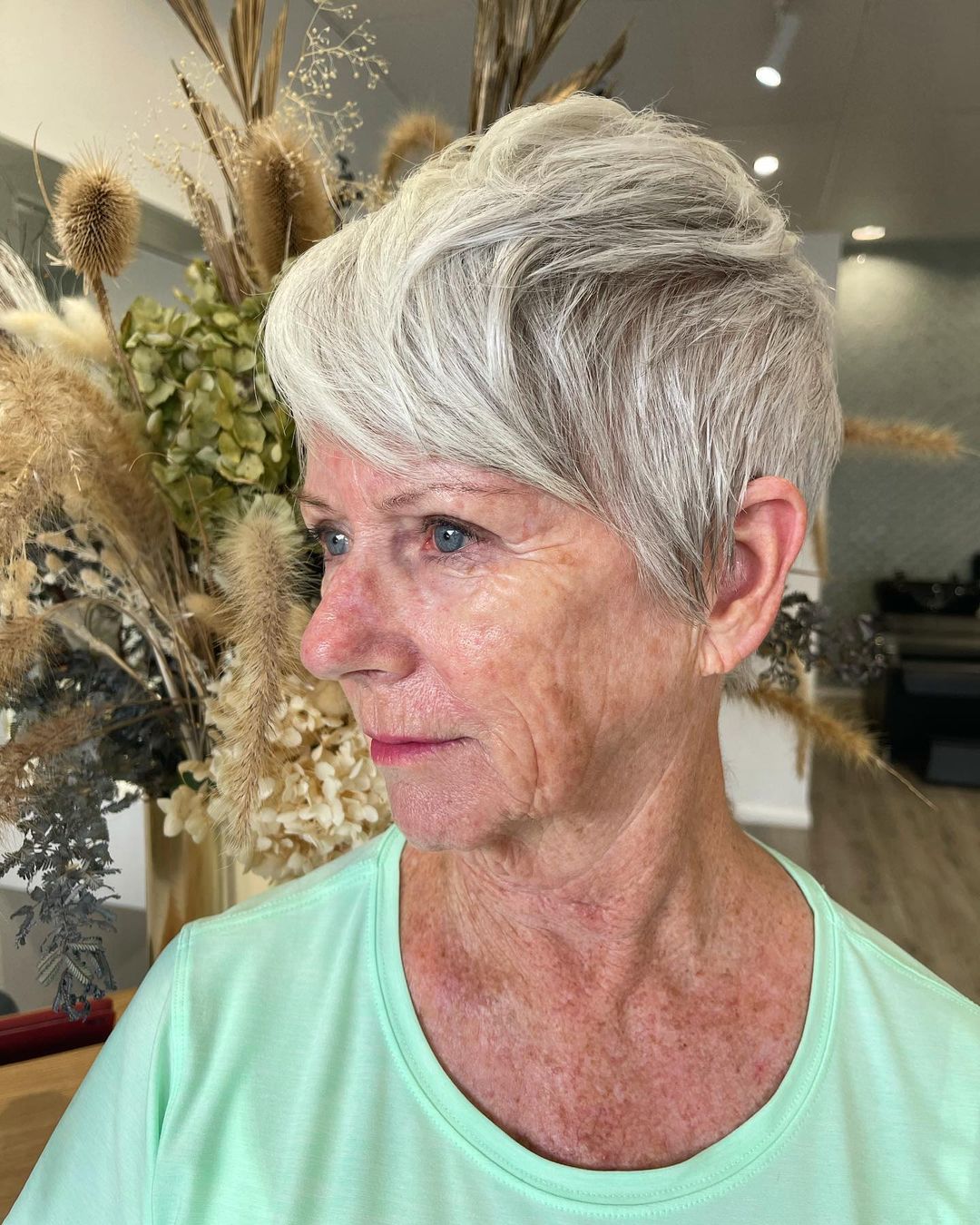 @salon_reborn
A pixie cut with a fringe is a sweet, charming style that flatters most 60-year-old women. This ear-length chop does a great job with wavy locks. Waves are the perfect texture to show off the layers in this short haircut.
9. Pixie with Bangs for Older Women
@vanityhairandbody
A gorgeous pixie with bangs for older women is short hair cut with shorter layers for added texture. It offers a feathered definition that adds glamour to its complete style. This chop demands less styling and manipulation. So, for women who are in their 60s, try it!
10. Pixie for Wavy Hair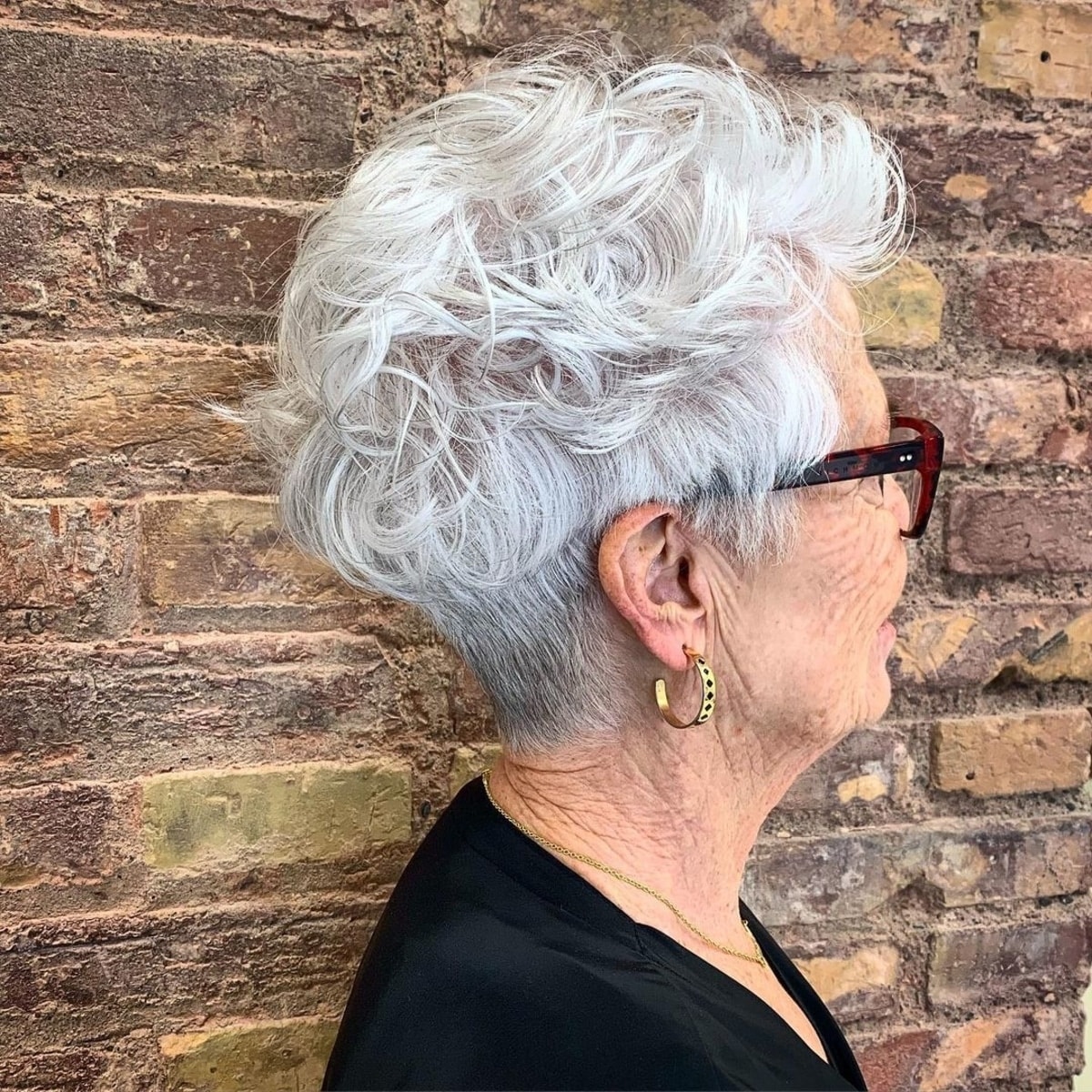 @raffelpageslleida
A tousled pixie for wavy hair screams maximum texture and volume. Use a flat iron to add waves and enhance the definition, especially if you have curly hair and want to tone it down a bit. For the finishing touch, apply enough amount of balm to create separation and texture. Women who are over 60 years old flaunt wavy pixies the best!
11. Pixie Cut for Seniors with Thin Hair
@_hairbyharold
One of the ideal pixie cuts for seniors with thin hair is a tapered one with lots of layers and texture. Hair artist Harold Guadalupe from Florida created this bold short haircut. It offers fullness, volume, and movement.
Guadalupe made sure that he kept most of the length towards the center. It gives the hair added height and length while still preserving a lightweight feel.
"This can provide a fun and edgy look that's easy to style and can be achieved in no time," he states.
To style such hair, Guadalupe shares the three best products to use. "Add a liquid gel for light hold, followed by a texturing powder at the roots for lift and movement." He suggests a defining whip for the detailed finish, too.
12. Pixie Cut for Thick Hair
@lylaclare
Pixie cuts for thick hair are easier to manipulate into any texture and style. Sleek or textured? Women over 60 can pull off any vibe they want to go for. If you're tired of your greyish hair, ask for a blonde color that will help hide the grey. The bad news is a dense mane can be very fragile and dry. So, stylists recommend moisturizing shampoo and conditioner when washing it.
13. Pixie for Older Women with Glasses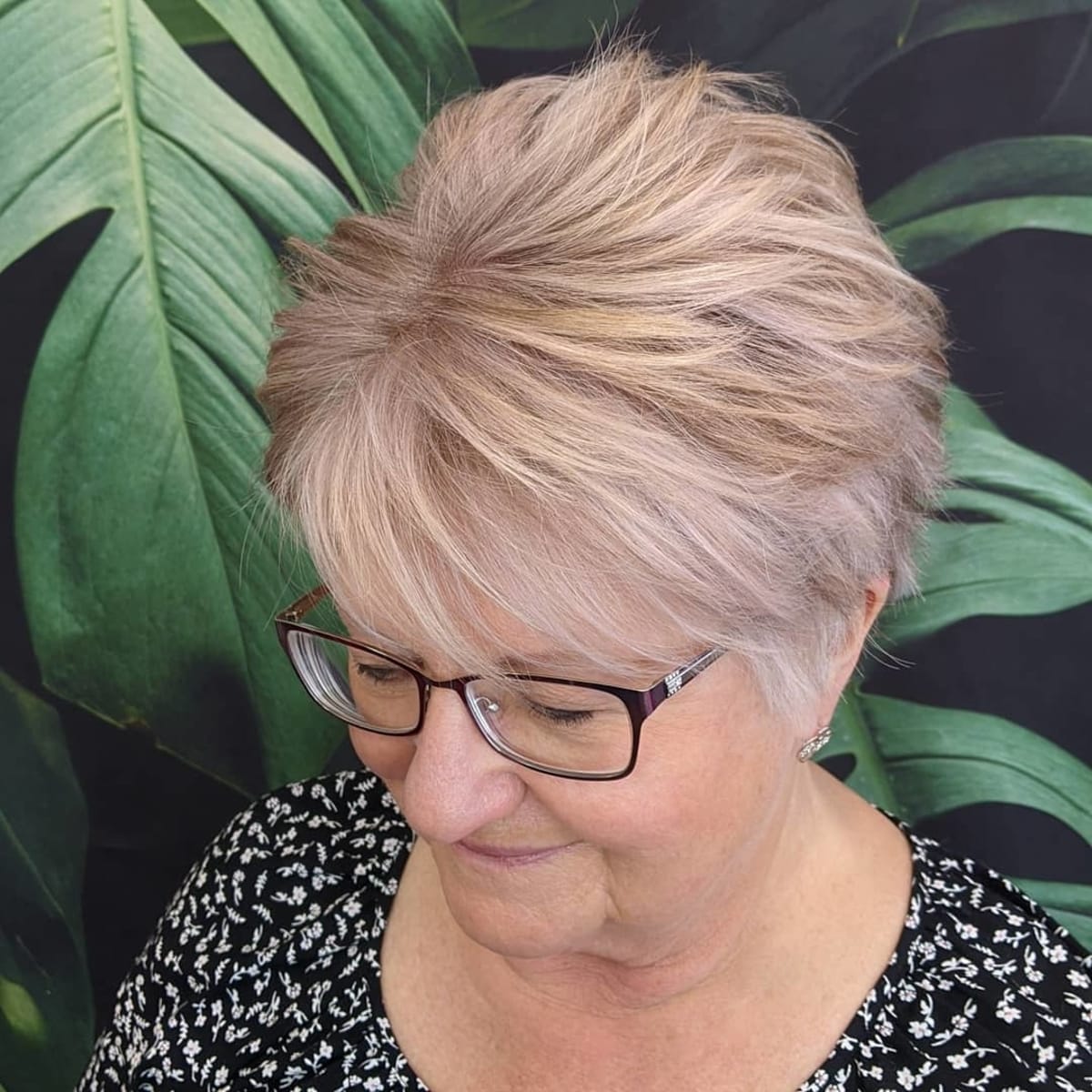 @hair_by_rae.m
The most flattering pixie for older women with glasses features feathered layers and a piece-y texture. This type of short cut allows the locks to have a layered, rounded shape that suits seniors the best. And hey, it won't hurt the look if you add blonde highlights and lowlights. The result is sassy and dimensional! If you have a round face like this, then check out these flattering cuts for women in their sixties!
14. Choppy Pixie for Senior Women
@villagehairdresserstoowong
A choppy pixie for senior women gives their entire style softness and edginess. To style this chop, add a lot of texture to create a fuller-looking finish. Use a dry texture spray to work the shape, and show off the choppy layers and texture.
15. Very Short Pixie for Over 60
@hairbynikkiml
A very short pixie for over 60 is a hairstyle that flatters an oval face shape. Stylist Nikki Libertelli from Colorado proves it right by creating this sassy cut.
To achieve the look, use a palm to palm technique starting on the left side to the back, then right to back. Libertelli suggests, "connect the top with a feather razor on top, giving it texture."
A combo of texture powder and mousse are excellent products to style it. Then, finish it off with a pomade to give the hair shine and light hold.
For older women who plan to get this chop, Libertelli says, "you must be willing to get it cut every four weeks."