15 Flattering Short Hairstyles for Women Over 60 with Glasses
Layered Bob for 60-Year-Old Women with Glasses
@hairbyafox
Layered bobs for 60-year-old women with glasses are ideal for flaunting a wavy texture. To copy the look, use either a flat iron or a curling wand. Don't forget to straighten out the fringe to emphasize the hair texture even more. Plus, adding bangs is a great way to hide wrinkles on your forehead.
Chin Length Bob for Fine Hair
@still_la_v
Choose a chin-length bob for fine hair to get all the fullness into your length. A chin-length bob cut for women over 60 with glasses is a classic style due to the amazing weight it holds on the length. It allows finer hair to be kept at its heaviest. It's also a low-maintenance style as it should only need a light blow-dry on wash days.
Short Bob for Older Ladies
@studiofifteen15
A classic short bob for older ladies is great for fine to medium density hair. It's a timeless cut with bangs that takes just a few minutes to style every day. The length of this bob haircut is customizable, which makes it ideal for most face shapes.
Pixie Cut for Women Over 60 with Glasses
@sassy_silver_nana
A pleasing pixie cut for women over sixty with glasses is a low-maintenance hairstyle. Add layers to create a lift that adds density to your tresses. You won't go wrong if you ask for bangs, too. The fringe brings out a younger-looking touch to the final result.
Short Shag Cut for Women with Glasses
@mslameylynn
A short shag cut for women with glasses in their 60s is great for face-framing texture. The softness of the fringe, with extra height from the layers, gives life to boring hair. Apply some mousse to the roots and dry with hands upside down for that instant root lift.
Very Short Pixie for Thick Hair
@karismahairand
A very short pixie for thick hair makes for a youthful style for ladies in their sixties. An unstructured pixie can add softness to bulkier hair. Keep a rounder flow of the layers that follow the head shape to ensure it grows out softly until your next appointment.
Curly Bob for Women with Glasses
@rute_boazhair
A curly bob for women with glasses is perfect if you want to frame your face with added bounce. Taking off excess length of your curly hair can be what your curls need to reactivate the curl pattern.
Very Short Spiky Pixie for 60+ Women
@petekhair
When choosing a very short spiky pixie for women over 60, look for something with extra definition on top. While the sides keep a flatness, ensure the top is molded into longer lengths. This enhances the fullness of the shape for thicker-looking hair.
Short Curly Hair Pixie for Older Women
@rachbenshair
A short curly hair pixie for older women works better, depending on the locks' natural texture. Tresses that have natural-looking movement create a soft, effortless style. When jazzing it up, apply a balm or cream to give the curls a nice hold. The result is mesmerizing!
Layered Crop for Fine Haired Seniors in Their 60s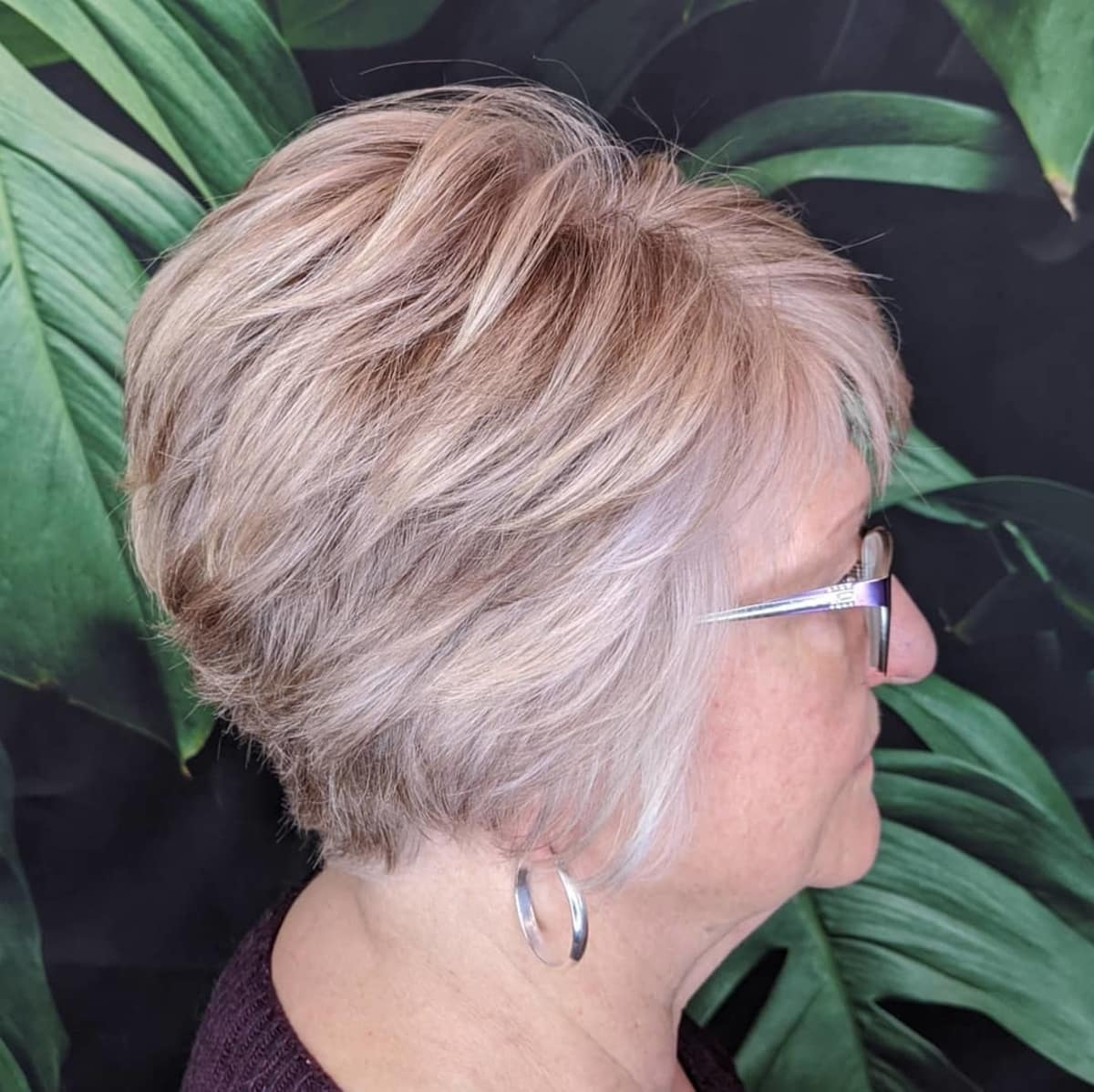 @hair_by_rae.m
A layered crop for fine-haired seniors over 60 offers a fuller, voluminous style. The layers create a lift, giving the fine hair an illusion of density. It's the texture at the top that adds height and matches a round face.
👉 See more short haircut ideas for ladies over 60 with fine hair
Short Feathered Bob for Seniors with Glasses
@hair_by_rae.m
The short feathered bob for seniors with glasses is such a classic look that never fades! The chop has layers to bring out more movement and bounce to the tresses. With straight locks, it looks more natural!
Short Cut for Grey Hair and Glasses
@katiecofferonhair
Short cuts for grey hair and glasses look so natural and effortless. This salt and pepper hair color and chop works on older women very well. It's easy to style and will grow out nicely. Since this one has middle-parted bangs, it can suit an oval face shape.
Shaggy Cut for Thin Hair
@hair_by_rae.m
Shaggy cuts for thin hair, if styled with a piece-y texture, screams sassiness! To mimic the look, choose between a volumizing mousse and a fiber paste. Apply it to the strands, then manipulate them to the direction where you want them to go. Let some pieces hang from the hairline to frame the face and your spectacles.
Short Crop Haircut with Bangs for Round Faces
@sulekati
A short crop with bangs is a sweet, adorable haircut for 60-year-old women with round faces! It demands minimal styling, which makes a great go-to look. Here, the short fringe is added to conceal a more prominent forehead and thinning hair. It's a huge plus that the bangs give the round face extra edge, as well!
Short Bob with Layers for 60-Year-Old Women
@essensesalon
A short bob with layers for 60-year-old women offers a low-maintenance haircut. This edgy bob is a creation by a stylist from Canada, Nicole Dietze.
"The nape is tapered short with a tightly cut natural hairline. A weight line was added to the back. There are layers thru the top, making sure that they bevel in mid-shaft to ends to create a nice rounded shape."
For finishing touches, Dietze used a razor to add texture and bounce to the hair.
According to Dietze, this is perfect for women looking for a longer pixie. The bob cut adds an illusion of fullness, movement, and texture to benefit fine tresses. "Short hair exposes the cheek and jawline, adding natural highlights to the face," she adds.
To mimic a messy style, Dietze says, "Quick shampoo and blowout should not take more than 15 minutes." The product she recommends is Eufora Dry Spray Wax to complete the style.
Remember: A woman will need to return to the salon every 4-6 weeks to maintain the cut's shape.