30 Best Auburn Hair Color Ideas That Are Hot This Year!
Rich Auburn Hair Color
@catecutdye
A super-rich dark auburn color can do wonders for thick long textured hair. This burnt sienna with orange undertones can greatly intensify even the most subtle waves your hair has.
Hints of Mahogany and Auburn Tones
@elsalonofwrentham
Auburn hair with hints of mahogany and auburn tones is the perfect fall vibe! Auburn hair color can be easy to maintain and if on the cooler side, looks best with pink or olive skin tones.
Auburn Hair for Women Over 50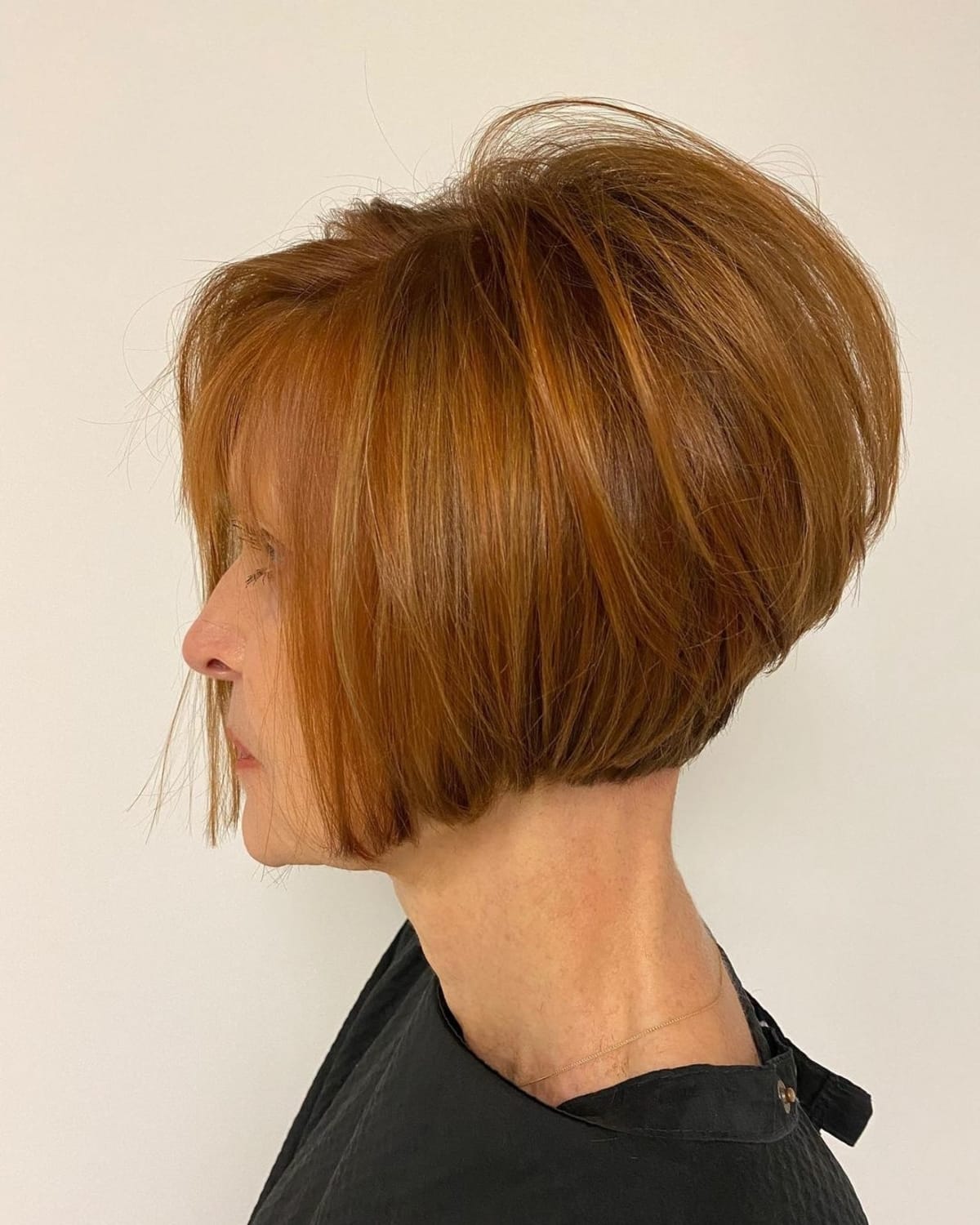 @petra_hair_design
Auburn hair for women over 50 can often make women look younger. Auburn ranges in shades from medium to dark and can be found on a wide array of skin tones and eye colors.
Subtle Auburn for Women over 60
@revelsalon
Get a glow with subtle auburn for women over 60 due to its warming effects on the skin tone. Auburn hair has beautiful rich tones which brighten up the skin, but as we age we tend to lose this youthful feel to our coloring. Injecting your hair with these subtle auburn tones can give a glowy appearance to the skin.
Reddish-Brown Auburn
@_sarry.harry_
A reddish-brown auburn offers a luscious color for any type of hair. It's also a perfect start off point when wanting to try the redhead lifestyle. A rich auburn hue, if paired with long waves, beautifully complements pale skin tones the best.
Brown Auburn on Medium-Length Hair
@hairby_steven
This remarkable auburn hue is a blend of medium brown and golden honey highlights that flatters those with warm undertones. Pair with flirty and light waves for that extra glam!
Red Brown Auburn Hair
@hairstylist_ashleybenefiel
The easiest way to become a natural brunette is to wear mixed shades of red brown auburn hair like this. Undoubtedly beautiful on any hair length and style, this shade also complements any skin color.
Chestnut Auburn Hair Color
@carly.colors.hair
This deep shade of auburn would make anyone want to grow long hair! This chestnut hair absolutely looks so mesmerizing with any style you try with your locks.
Auburn Highlights on Dark Hair
@saradaniellle
If you want to keep your beautiful natural brunette hair and spice your hairstyle up at the same time, try adding some auburn highlights to enhance your hair color and make it bright and vibrant!
Purple and Auburn Red Balayage
@ceeen
A dynamic triple melt with a bit of red, copper, and purple to make this unique auburn red balayage.
Auburn Hair With Highlights
@hairbystefs
Try these fiery auburn and copper highlights on your natural dark brunette hair for an amazing pop. For more dimension, cut your mid-length hair into long layers, then match it with waves to emphasize the dimension in this orange-red tinge mane!
Auburn Ombre with Hints of Red Brown Color
@byefromfelisha
Autumn-inspired red auburn ombre hair color that melts into warm blonde tones. This masterpiece is what you get when you combine blonde and auburn highlights, adding them to your dark locks to brighten them up.
Dark Auburn Bob
@willowbirchsalon
This gorgeous dark auburn hair color with highlights features a dimensional bob cut.
Auburn Highlights on Brown Hair
@hairbysaiphetkhosa
A gorgeous long, dark brown hair with auburn highlights like this adds so much richness to your color and look!
Light Auburn Color for Women over 70
@baysidehairandbeauty
A light auburn color for women over 70 flatters a warmer or fair skin complexion. Stylist Loree from Warners Bay, NSW created this color, and here's how.
"To create this multi-tonal auburn, I used a global level 7 copper base. I added a deeper red/copper lowlight and a warm blonde highlight to add dimension," says Loree.
Keep its shine with a product that provides fade protection like the Matrix Keep me Vivid.
Burgundy Auburn Hair for Older Women
@valerie.solo
Burgundy auburn hair for older women looks fun, funky, and edgy when matched with a short bob cut. This hair idea was created by stylist Valerie Tini of Haddonfield, NJ.
For styling, Tini shares us her go-to products. "Curl cream or texturizing products for a tousled look, and a smoothing cream for a classic sleek look."
Auburn and Blonde Hair Color
@_danielledoeshair
This auburn and blonde hair color is called "autumn caramel." It was created by hairstylist Danielle of Watertown, CT. "It's a combination of 3 different warm colors that blend from a smooth auburn brown at the root to a soft beige at the ends with hints of copper. It's the perfect balance between blonde, brunette, and natural red," she explains.
Danielle says it's great for a previously foiled platinum blonde woman who is looking to tone down her color into something warmer and more low-maintenance. "Come in once every 6 weeks for a gloss service to refresh your hair dye and keep the tones looking as fresh as possible. This color is great for women who are looking to go a little darker without totally getting rid of their lightness and also have an open mind to copper hints," she adds.
Deep Auburn Hair Color
@kelsey_theyoungamerican
Gorgeous long hair with bangs and a deep auburn red hue make a combination that results in a very chic hairstyle. Auburn-colored hair like this is sure to flatter warm and neutral skin tones.
Auburn Hair with Caramel Highlights
@little_miss_ds_creations
This auburn hair with caramel highlights is a slightly angled lob. It was created by hairstylist Dana Parsloe of Revelstoke, BC.
"These auburn tresses are a great look for all women and face shapes," says Parsloe. "Different lengths can be played with, but always work around the collarbone. Anything above may have the tendency to flip."
Light Auburn Balayage
@taylorfennern
This color is a high-depth copper-auburn balayage. It was created by color specialist Fenn of Wayzata, MN. "Ask for a rich brown base color to balance out the warmth of the copper mid-lengths and ends. If you're a redhead, opt for this hair color with its vibrancy and soft wave," says Fenn.
If you're considering an auburn balayage like this one, Fenn says you have to be able to follow a couple of guidelines if you want a longer-lasting color. "The first of those being you need to be able to go 2-3+ days in between washes. Reds tend to fade a little faster than more neutral colors and prolonging washes helps extend color vibrancy."
"The second guideline is cooling your water down when washing and using a good color-protecting shampoo and conditioner, like the Kérastase Reflection line," she adds.
Beachy Auburn Hair with Blonde Highlights
@los_pastel
"This auburn hue is a sunny, textured balayage. There's dimension between the high and low lights and the "worn-in" root. It's reminiscent of a warm summer glow," describes salon owner and stylist Grace Clayton of Australia.
"Wear your light auburn hair color tousled using a sea texture cream for piecey texture," notes Clayton. "A bit of bronzer on the collar bone will also complement the sunny blonde tones."
Auburn Hair with Golden Blonde Balayage Highlights
@hairbysheilamacchia
This blend of auburn and golden blonde balayage highlights was created by hairstylist Sheila Macchia of Whittier, CA.
"By using the "V" shape balayage technique, it purposely kept it off the roots for it to be a more low-maintenance "rooty" vibe," says Macchia. "There's a ton of dimension in the hair when blending the two colors with the natural base."
This auburn hair with blonde highlights would be great for a woman wanting to experiment with red tones, but doesn't want to commit to the high-maintenance of an overall red hair color.
"It would require using a color-safe shampoo and conditioner, as reds tend to fade quickly when not properly taken care of," she adds.
Auburn on Curly Hair
@hairbylannab
If you're adventurous, try on this fiery auburn color and look bold with any hairstyle you wear with those glamorous natural curls! This shade looks more vibrant and flattering for warm skin tones.
This is an auburn red copper curly style with with roots. It was created by colorist and stylist assistant Lanna of Jupiter, FL.
"Red is fun but if you like to change your hair color a lot then it might not be for you," says Lanna. "It's very important you have a thorough consultation with your stylist to make sure this is the right shade of hair for you."
Auburn Hair Highlights on Brunette Hair
@amanda_red_does_hair
Auburn hair highlights on brunette hair look luxurious at any angle! This idea creates a deep auburn tone that makes tresses seem thicker when styled with waves. Some red tones complement pinky skin complexions. Yet, the deep auburn colors flatter olive skin tones the most!
To see what shade suits you, hold a swatch to your face and compare the different reds to your skin tone. If a deeper one looks best on you, get your auburn waves now!
Natural Auburn Hair Color
@oh_these_hair_perfections
The thing with hair dyes is you can transform yourself to have natural auburn hair. Dyes that are copper-tawny tones that suit you are readily available in the market for you to try on.
Auburn Brown Hair Color
@shear.renegade
"This auburn brown hair color is dimensional and a warmer, more fun alternative to blonde or even caramel highlights for girls who are naturally darker," says hairstylist Lael Ann-Marie of San Diego, CA. "There's a seamless blend between the levels of lightness, and the tones tie the look together for an overall seamless blend with tons of dimension."
This darker shade of auburn works on any hair type. Auburn colors work best with medium to dark brown, or even black hair. It looks best on neutral, olive, and darker skin tones. Stay away from it if you have any red undertones.
To recreate this shade, Lael says to start by highlighting, formulating to leave warmth in the hair to keep depth and not over lighten. "Use the balayage technique for a more seamless dimension. If you need to cover grey hair, start with the base color and allow it to process, rinse and dry before beginning your highlights," she explains.
"Allow for the lightest pieces to frame the face and simply dust the mid-shaft to ends. Gloss the hair with a demi-permanent color," she adds. "Use Redken Shades EQ in equal parts with 09AA, 06AA, and 05RV. Leave on five to ten minutes. Finish the style with long layers and face-framing layers for an extra kick."
Aside from root touch-ups (if they need it), it only requires maintenance every 10-12 weeks to refresh the gloss and move up the highlights as needed.
Medium to Dark Auburn Hair Color
@estherachapman
This is a soft auburn shade, which by definition is in the red-brown family and has chocolate tones in it. It was created by hairstylist Esther Chapman of Pleasanton, CA. "It's not an extreme red, but it definitely has the warm undertones with a hint of copper and red that peek through in the highlights," explains Chapman.
Red tones do tend to fade faster than others, so start using a color conserving shampoo and conditioner such as L'Oréal Professionel's Vitamino Color line. "Always use professional salon products. This will help in preserving the color as well as the integrity of your hair," she notes.
This color combo is pretty versatile as it still keeps the darker tones around the face and is only accented throughout the mid-shaft and ends with the subtle auburn. It is suited best for light to medium skin tones but could work on darker tones as well.
Medium Auburn Hair Color
@christianeshairdesign
This auburn hair is coppery with just the right amount of golden. Brandish your long waves with such a monumental medium auburn hair color.
Light Auburn Hair Color
@anna_julia_brig
Light auburn hair color on sleek, long locks creates an edge, packed with richness. Salon-quality, color-safe shampoo and conditioner are a must to maintain the hue.
There are some tinted shampoos with red hues in them that can be used. Just be careful that it won't shift the bright auburn tone into a cherry red. When considering this color, bring pictures to the stylist of what you're aiming for.
Auburn on Short Hair
@dianna_zorn
This breathtaking deep auburn on short hair is perfect for bold personalities.