18 Trendy Short Haircuts for Older Women with Fine Hair to Boost Volume
Short Shag for Older Women with Glasses
@dessardopatrizia
A short shag for older women with glasses is youthful and is an easy cut to style around your spectacles. If wearing glasses is an everyday must for you, then consider choosing a hairdo that will blend in well with it.
Make it certain that the bangs or any layers located in front of the face won't be annoying for you and your glasses. Short shags offer face-framing layers. They flatter the face quite well and accommodates the spectacles at the same time. Opting for a blonde hair color is ideal when wanting to hide unwanted grey hair.
Bob for Older Women with Fine, Curly Hair
@rebelcurlsnsw
A bob for older women with fine, curly hair is such a cute choice. Embrace your curls with this easy-care hairstyle. Hair products should be used to either accentuate or de-frizz your waves. A strong gel will accentuate your curls, while an oil or smoothing cream would help tame those ringlets.
Layered Pixie Cut for Fine, Thin Hair
@joshuamartell
Consider a layered pixie cut for fine, thin hair as your next style. Short hair is so easy to dry and style, and it makes fine hair appear thicker. A special addition to this cut is to leave the front long and sweeping. This cut softens any facial shape.
Short Shag for Seniors with Wavy Hair
@carins_hair_studio
Try a short shag for seniors with wavy hair for a fun low-maintenance style. The soft layers help boost curls and make this cut easy to air dry. Apply a curl amplifier to enhance the waves even more. A short shag is pretty and is an especially great choice if you are not looking forward to go super short.
Short Crop For Fine-Haired Seniors
@hairbykathymarie
A short crop for fine-haired seniors is a smart choice. It adds texture and volume to the tresses. Try using shampoos that offer volumizing properties to maintain the added volume.
Short Cut for Grey-Haired Women with Fine Hair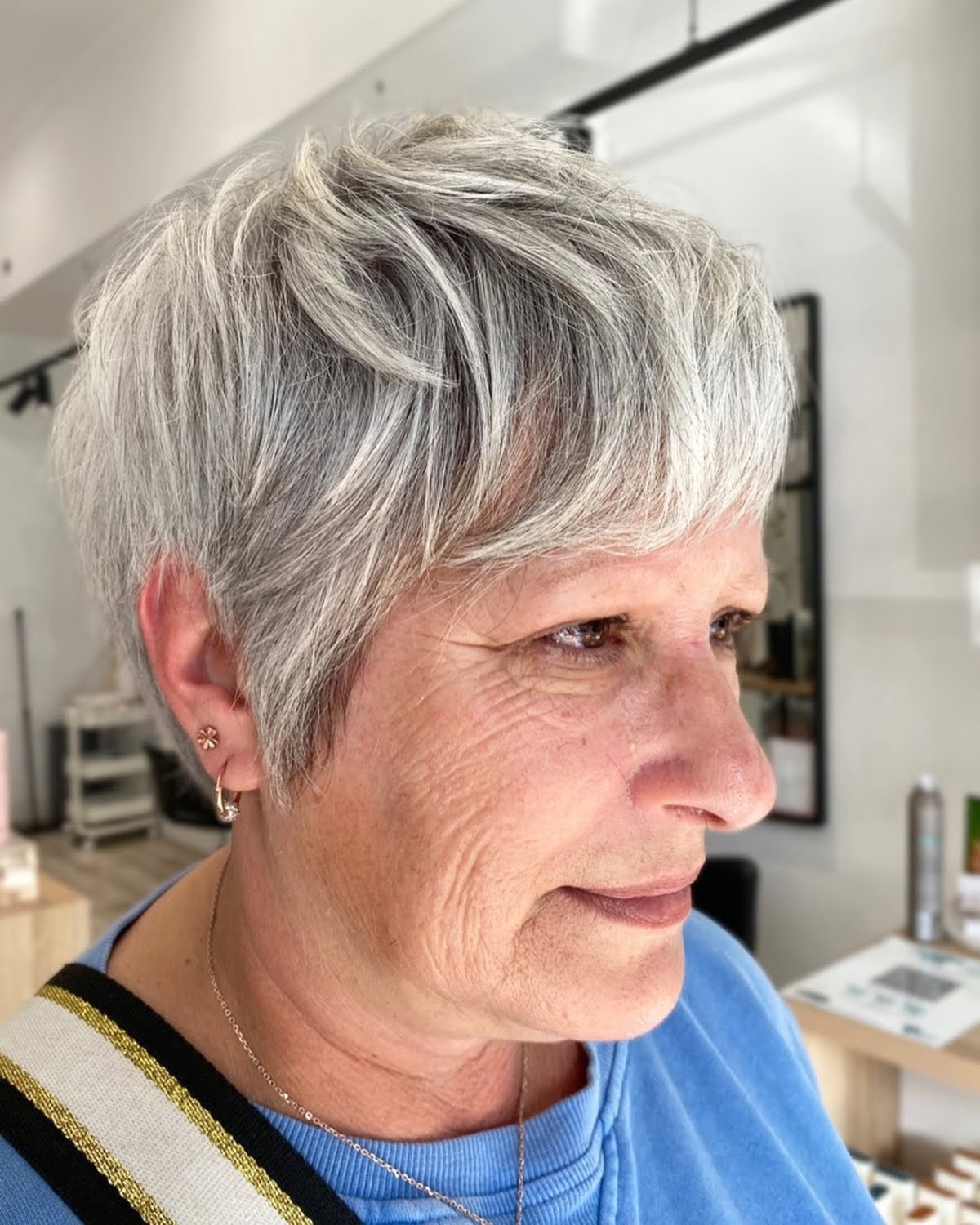 @andrej_bodahairboutique
A short cut for grey-haired women with fine hair could be as simple as a pixie cut. A messy style of the cut works well since it creates an illusion of thick hair.
To create this low-maintenance style, blowdry forward with your hands to maintain the shape. Volumizing shampoo, conditioner, and hair gel thicken the hair shaft, adding extra volume.
Tousled Wavy Bob for Fine Hair
@salonestique
A tousled wavy bob for fine hair is a great choice for those who want lightness and modernity. Get a curling wand to curl your hair. Then, use any comb in combing your hair down to create big, classy waves. You may use some hairspray to own the waves a bit longer.
Short Choppy Bob for Older Women with Finer Hair
@tracycroot
A short choppy bob hairstyle for older women with finer hair offers the perfect harmony between strength and softness. The strong length gives texture and dimension to the choppy layers. Both providing volume and balance in all profiles.
Edgy Pixie Cut for Older Women with Fine Hair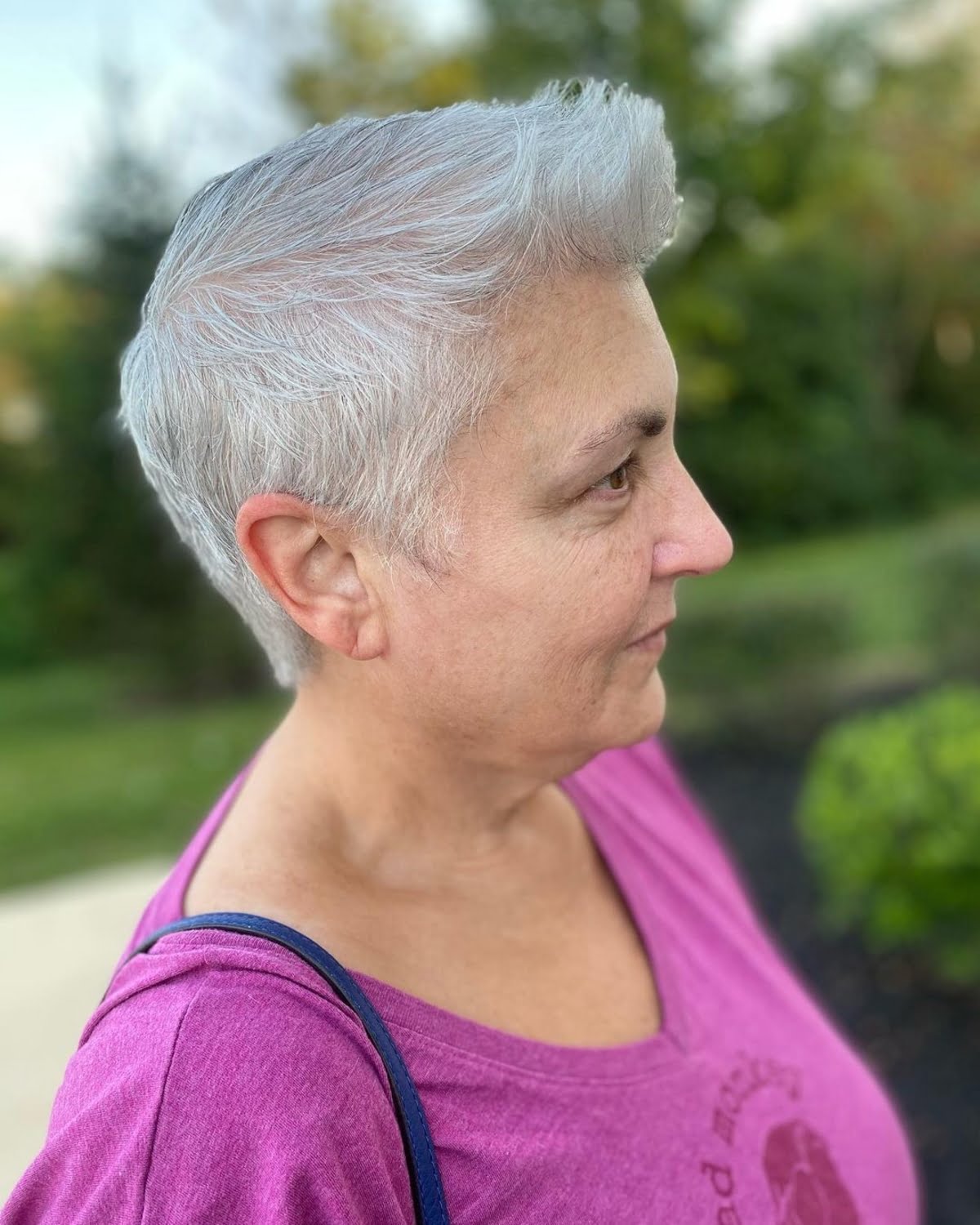 @abetterwayattaras
A pixie cut for older women with fine hair is a smart choice. Pixie cuts flaunt off an edgy yet elegant appearance. This cut is great for women with fine hair since it adds effortless volume.
Add an extra layer of texture by using Afterworld Organics's texture mist. It's an easy style to maintain with haircuts scheduled every 4-6 weeks.
See more edgy hairstyles for women over 60
Short Bob with Bangs for Senior Women
@tracycroot
A short bob with bangs for senior women is a must-try especially for those with fine hair. Going for this haircut provides a noticeable change in the volume of the hair.
This cut also creates a youthful bounce to the hair. Adding bangs is a quick remedy to covering any hair recession.
Very Short Layered Pixie Haircut for Women Over 60
@georgie.s.lavitahairdressing
A very short layered pixie haircut for women over 60 has distinguishing characteristics. It plays around the shortness of the length of the hair as well as the textures it creates. Most of the time, its length lays still on the nape area.
Adding short layers creates a glorious hair texture and adds dimension to the entire appearance. Pixies really are one of the best short haircuts for women in their sixties.
Silver Pixie with Bangs for 50+ Women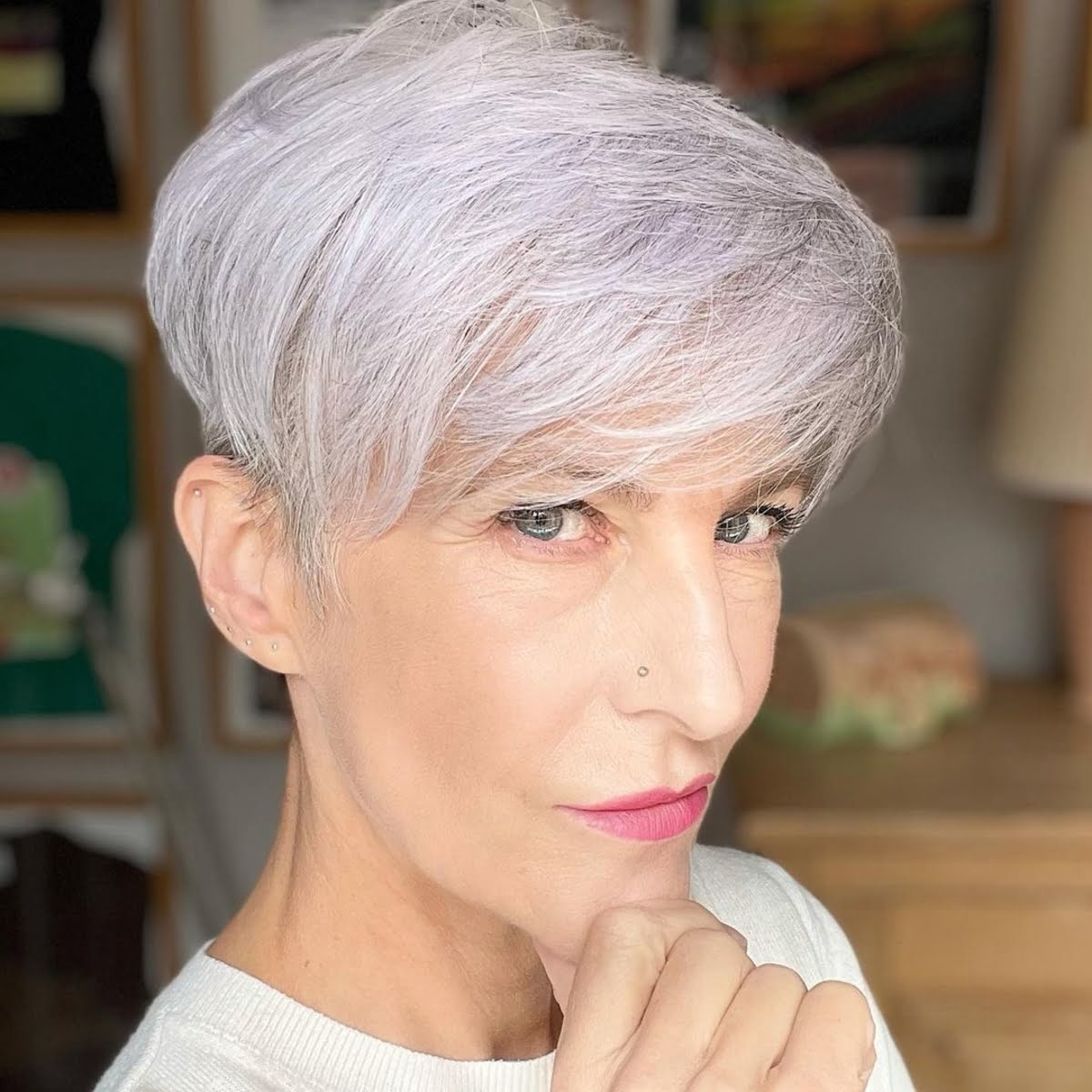 @thin_latin_moose
Silver pixies with bangs for 50+ women are so versatile. Straight, sleek, undone, messy, curly, or even cute these are the styles a pixie can wear. Another nice thing about a pixie cut is how easy it is to change it up from one appointment to the next.
Women can take the sides and back as short as they want it to be, or let it grow a little longer. The top can have spikes or grown longer to add wavy curls. Add side-swept bangs for an instant youthful appearance. The options for styling this cut are endless.
Tapered Short Haircut for Women Over 50 with Fine Hair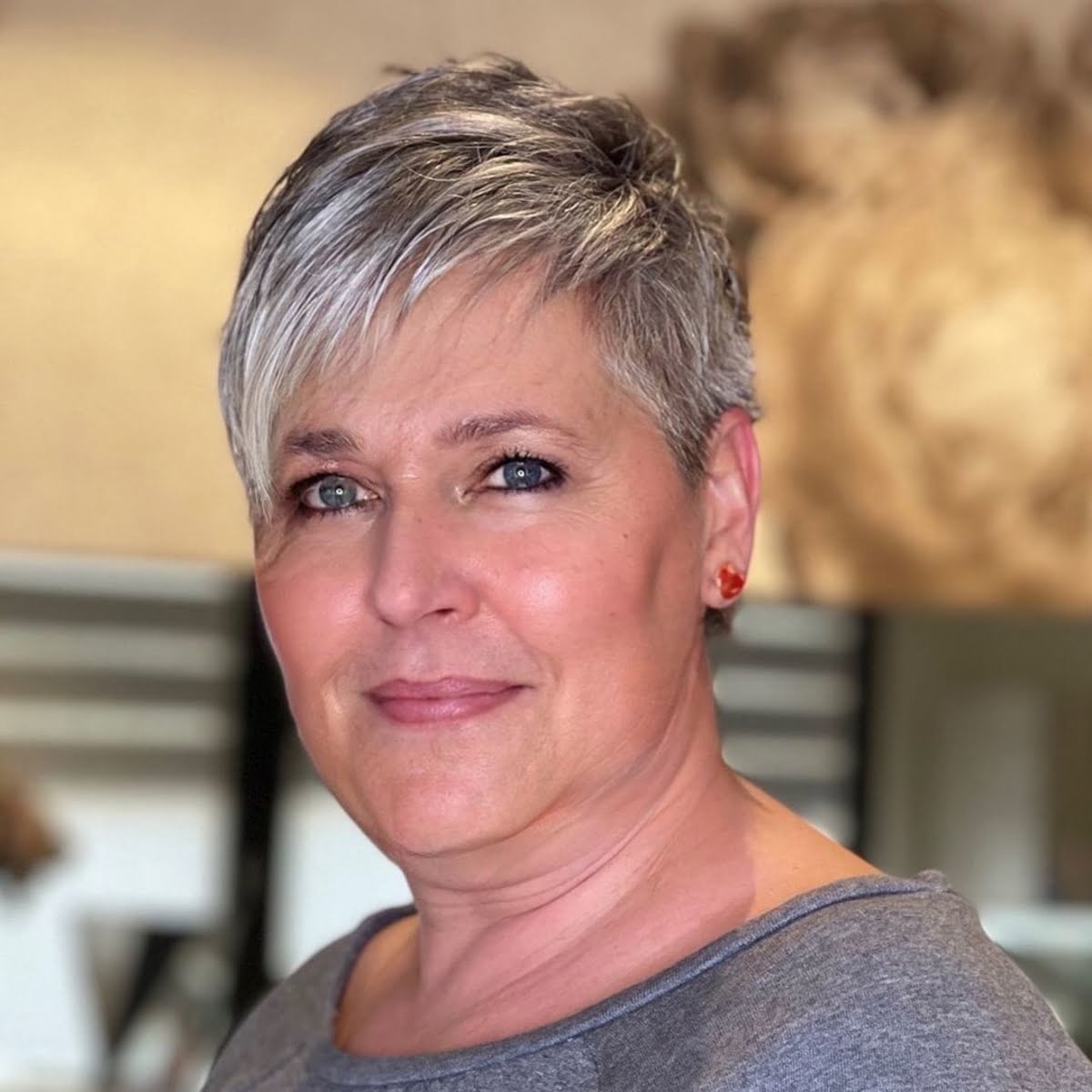 @dessardopatrizia
A tapered short haircut for women over 50 with fine hair is easy to style and maintain. Adding in a razored fringe gives off an edgier vibe. A styling paste helps a woman create a piecey look, too.
Salt and Pepper Pixie for Women Over 70
@kcollective.salon
A salt and pepper pixie for women over 70 is a must-try. As we age, our gray hair usually becomes thinner. Don't fret, a soft pixie can make the most out of your limp locks.
Tell your stylist if you would like your ears covered when you ask for a pixie since some pixies can be cut even shorter. The shorter crown layers make for an easy care, wash-and-wear hair style.
Rounded Blonde Bob for Older Women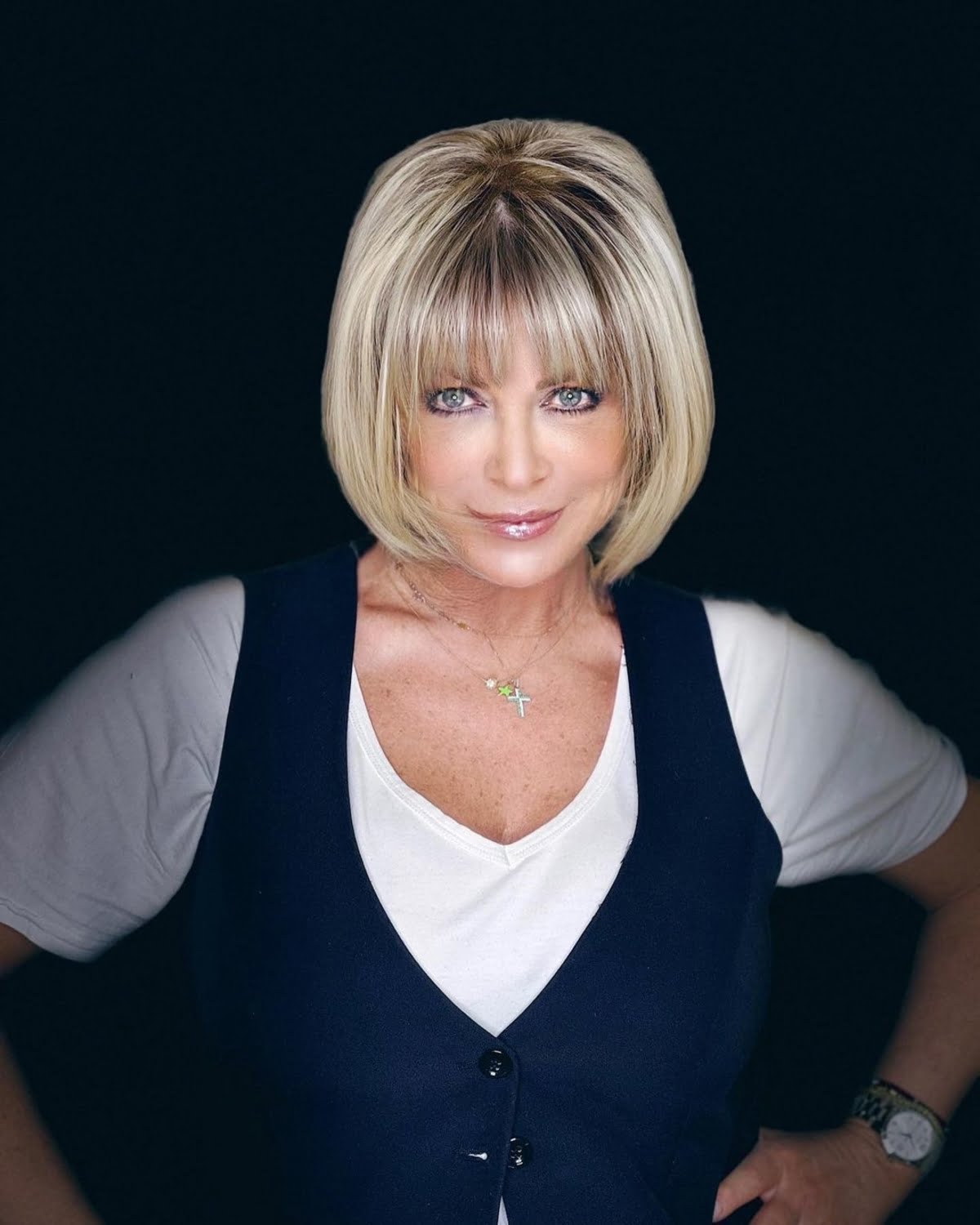 @dessardopatrizia
A chin-length rounded blonde bob for older women promotes youthfulness and adds volume to the hair. Fine hair especially benefits from a rounded bob as it creates thickness at the bottom of the hair.
Adding in bangs and face-framing layers accentuates the facial features even more. They bring the eyes in, slimming down the facial shape. Show off your straight hair with dark roots and blonde highlights.
Short Choppy Pixie for Fine-Haired Older Ladies
@dessardopatrizia
A short choppy pixie for fine-haired older ladies flaunts boldness and chicness. Short layers are easy to style with a simple blow dry, hairspray, or even some hair wax. With short hair, arrange hair appointments every 4-5 weeks to maintain the cut.
Sassy Undercut Pixie Bob for Fine-Haired Women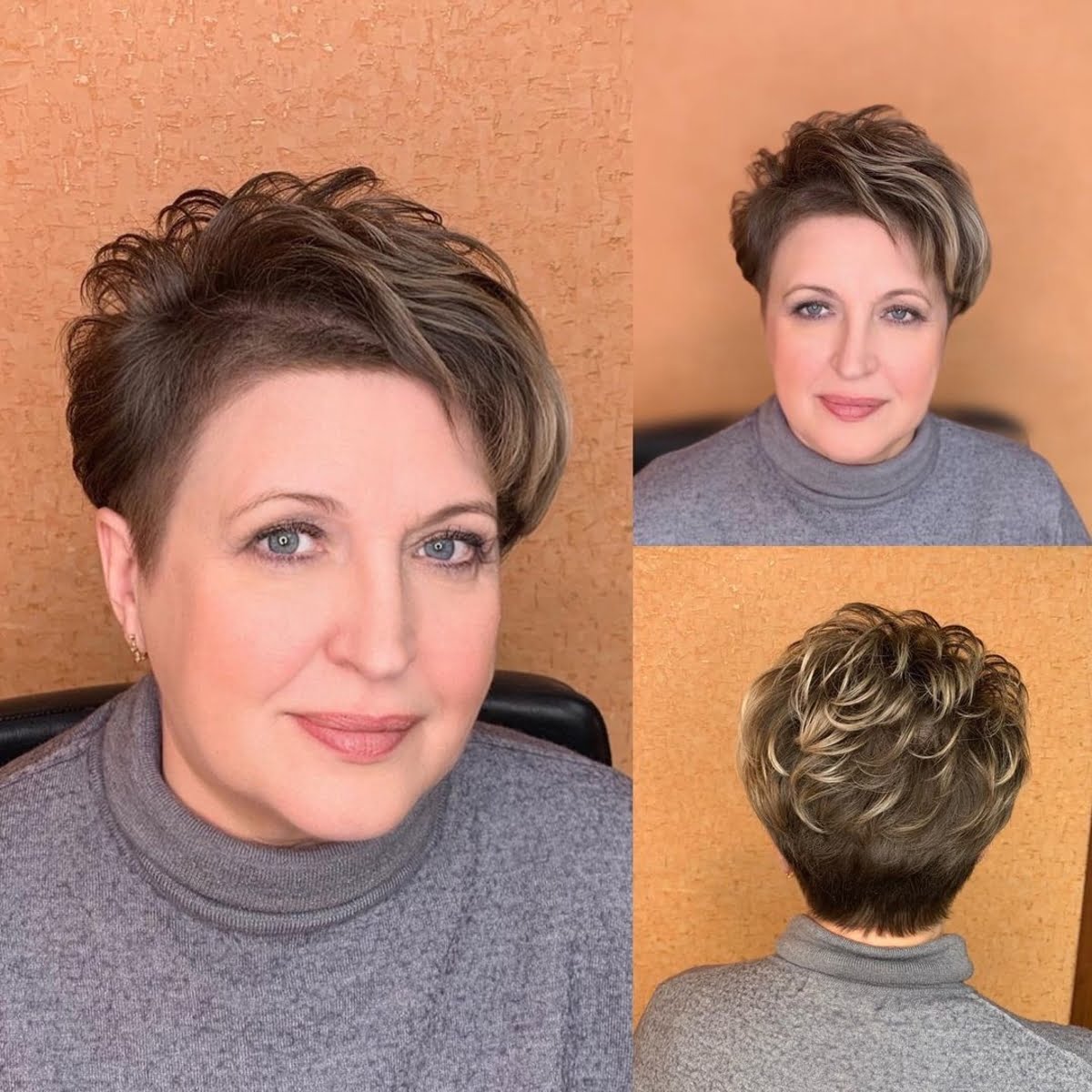 @nikitenko_elen_
A sassy undercut pixie bob for fine-haired women is a classy cut with some flair added into it. Creating a rounded hairline with hair clippers compliments a square face shape. Add some curls to the top for extra volume, especially if you're starting to experience hair loss.
Comb through with a wide comb or your fingers to break up curls in a smooth manner. Finish it off by spraying it with some fine mist hairspray.
Short Sliced Undercut Hairstyle for Fine Hair
@jesskamunro
The short sliced cut for fine hair is chic, timeless, and can be worn by many hairstyles. To pull it off, stylist Jessica Munro of Airdrie, AB used a razor cut technique.
"The razor created all the added texture in this short hairstyle," Munro explains. "This is an undercut on the sides and back. The top of the head was over-directed into the middle, and then the corners were softened."