21 Short Stacked Inverted Bob Haircut Ideas to Spice Up Your Style
Inverted Bob for Short Wavy Hair
@headrushdesigns
Opt for a chop that's inverted for wavy hair to gain more body and structure. It's ideal for tresses with fine to medium density. It features a sexy, angular perimeter that's perfect for most face shapes. This inverted haircut is such a gem!
Stacked Bob Cut for Curly Hair
@monica_parrucchiera_visagista
Consider a short stacked bob cut if you have curly hair. To achieve that bouncy-looking shape, go for a dry-cutting technique. This technique creates an accurate result after the haircut. Such a graduated, stacked haircut may require a trim every 6-8 weeks.
Stacked and Shaggy Hair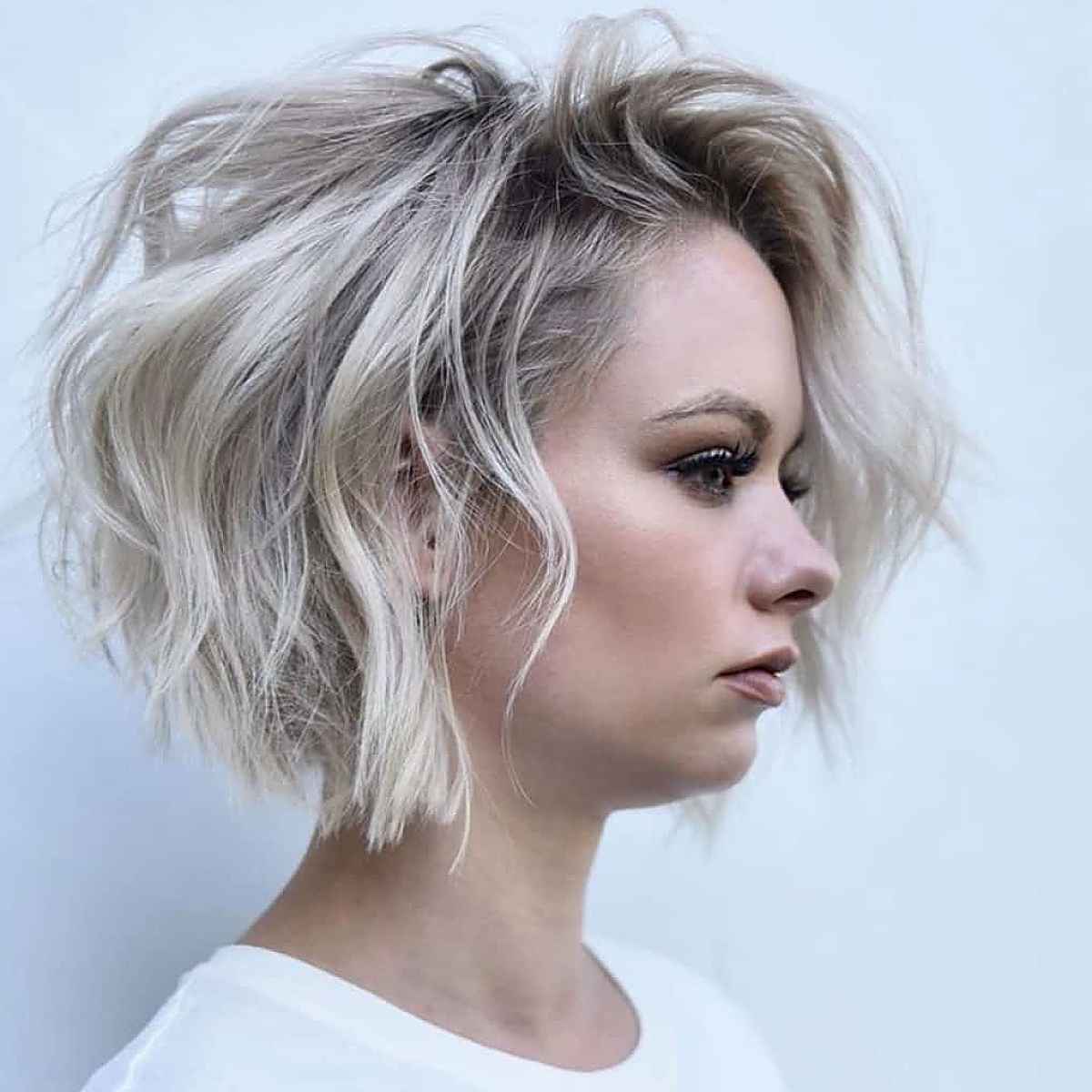 @styled_by_carolynn
Stacked and shaggy hair makes a short-length cut carefree. It seems so natural, especially with waves to enhance the texture. This short stacked shaggy inverted bob will require styling each day. So, keep your styling tools handy.
Stacked Inverted Chin-Length Haircut
@headrushdesigns
Choose a stacked inverted chin-length bob haircut if you have thin hair. A shorter length is best to give tresses a full-bodied finish. Since hair like this looks great with texture, why not try some blazing red highlights? The result will be epic, for sure.
Dramatic Stacking of Wispy Layers
@cut.and.color.by.vicki
A dramatic stacked bob with wispy layers creates an illusion of volume and texture. The stacking of layers creates a style that thin, fine tresses can enjoy. For a finishing touch, style the hair with a lot of texture. That will accentuate the layers of the chop.
Edgy Nape-Length Inverted Bob
@ktenion
A short and edgy inverted bob with added crown layers that are stacked looks great with a lot of texture. The finish creates a tousled, undone style that's sure to catch attention. What makes this stacked nape-length bob awesome is the ease of manipulating and styling it.
Inverted Bob Cut for Short Thin Hair
@livnavedaloca
This inverted bob for short, thin hair has stacked layers in the back to create a bulkier shape. It makes an ideal match to take the attention away from the symmetry of a round face shape. It looks classic and older ladies can pull it off the best.
Neck-Length Stacked Inverted Cut
@moiseshairstylist
A neck-length cut on a straight, inverted bob is a sassy spin on a classic hair trend. Its sharp perimeter keeps it looking edgy. What's great about it is it works on both thin and thick density.
Stacked Angled Bob Ideal for Thick Hair
@ro.hsiqueira
Ideal for thick hair, this short stacked inverted bob removes weight and length. Internal layers help the tresses become weightless. The length grazes the neck to keep the fullness of the locks. Iron the ends when styling and achieve a more polished edge.
Stacked Short Bob for Older Women
@cabelosfhabioribeiro
The stacked layers in this short bob are for older women who want to look young and beautiful every day! It offers a rounded shape, so thin tresses can appear bulkier and more voluminous. Go and chop a few strands at the front to create side bangs. The fringe carries out an additional movement, for sure.
Ear-Length Inversion
@cabelosfhabioribeiro
An ear-length inversion is a bob with a stacked nape haircut that features shorter strands at the back and longer ones at the front. A short bob cut can be edgy with lots of texture. But when on straight and fine locks, the finish offers a softer style.
Funky Stacked Cut
@headrushdesigns
This is a funky stacked cut, and it's fun to wear and exhibits a trendsetting style. Short hairstyles go well with a textured finish to show off the layers. This funky stacked bob haircut for short hair isn't complete without the splashes of blue. They complement a cool-toned ash blonde hue.
Messy Inverted Long Bob
@michaelalanphearhair
Get a fresh messy long bob with slight inversion to pair with a dimensional blonde hue. The waves enhance the texture and movement. This style demands the perfect thickness and texture of hair. It's for ladies with tresses that have a medium to heavy density.
The Short Blunt Bob
@duanydourado
The short blunt bob is another haircut that offers versatility. It goes well with a straight or a wavy look. Part it to one side, and it provides a style packed with volume. It will look super cute on ladies with a diamond face shape.
Texturized Stacked Bob with Bangs
@rodrigues_ricardo
Rock a texturized stacked bob with bangs if you're down to try a tousled, inverted style. This hair idea is a chic choice for women with fine tresses. It has a messy-looking finish that complements the cut's feathered ends. Now, that's the texture that thin, straight hair must have!
Stacked Jaw-Length Bob Haircut with Micro Bangs
@howmyhairgrows
A jaw-length stacked bob with micro bangs can be very versatile. It looks so sophisticated when straight and sleek, but texture can offer more than that. An inverted messy hairstyle may give a natural finish, yet it offers an edgier vibe. Are you a lady who loves experimenting with a classic haircut? If so, this stacked inverted bob hairstyle with bangs is for you!
Messy Layered Bob with Soft Brown Highlights
@gabrielsubeauty
This messy short bob is an inverted and stacked layered bob haircut that has an undone-looking effect. It makes ladies appear so fab without even trying. The style helps achieve greater density and volume for thin tresses. To show off the cut's shorter layers, add soft brown highlights.
The Angled Choppy Bob on Dark-Rooted Blonde Hair
@styled_by_carolynn
Ask for a choppy bob that has a sharp-angled stack, and if wavy, shows a style full of texture and movement. It's a popular pairing for dark-rooted blonde hair. This angled bob is trendy and suits ladies with medium to thicker hair.
Stacked for Fine Hair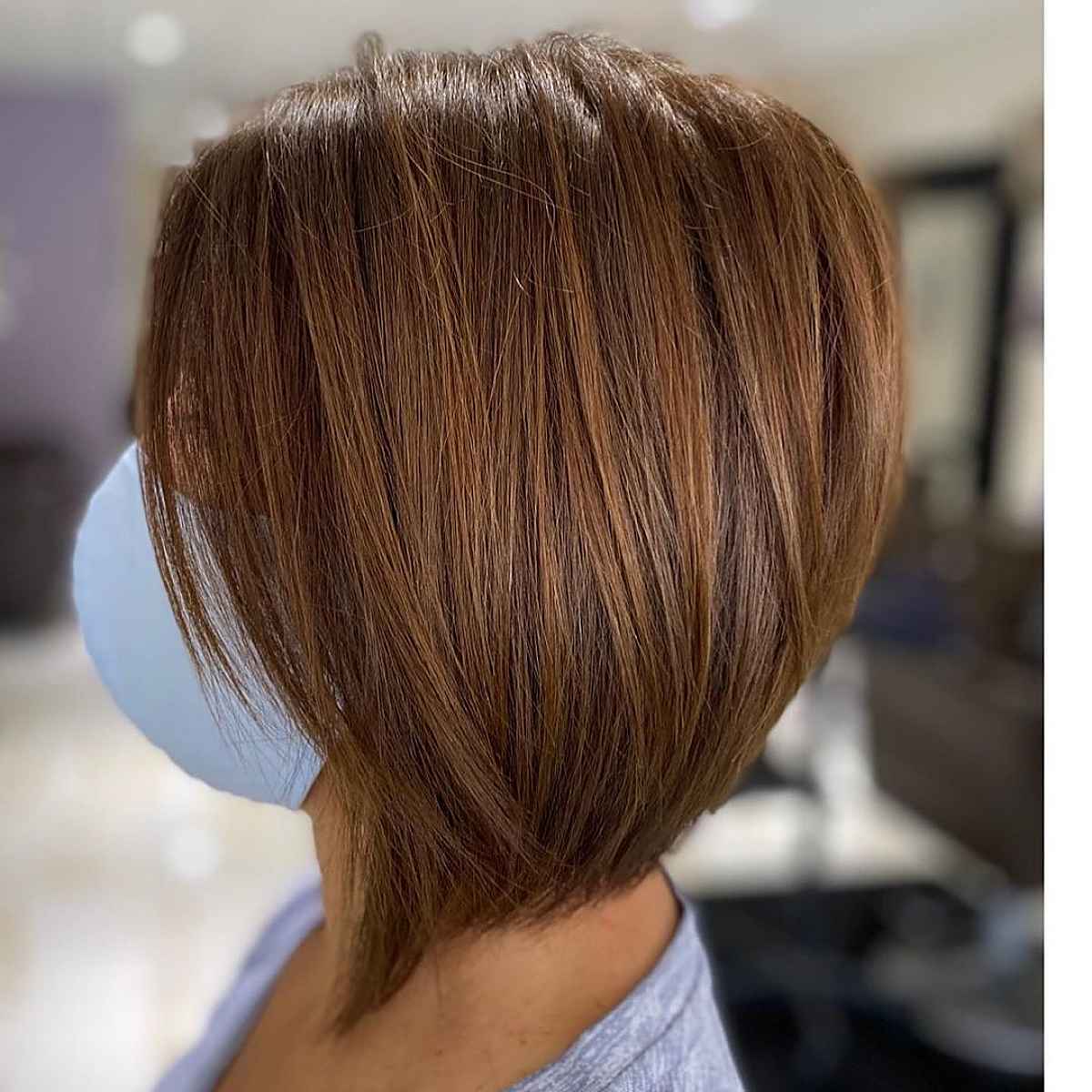 @amenitybykristina
This is a short textured stacked bob hairstyle for fine hair, cut and styled by hairstylist Kristina Bennett of Oldsmar, FL.
"Short stacked inverted bobs like this are ideal for most women, even with coarse hair," Bennett points out.
Low-Maintenance Stacked Jaw-Length Bob with an Undercut
@hairbydye
This gorgeous jaw-length bob is a short textured bob with stacked layers and an undercut in the back. It offers a softer and feminine look to women. Hair artist Olivia Thomson of Silverwood Heights, SK styled it with loose waves, adding dimension to the beautiful blonde hair color.
According to Thomson, this wavy stacked bob is for thin or fine hair to make it look fuller and healthier.
She adds, "Styling always adds a product to help blow out to add a full look. It's a good cut for a thin face and a prominent jawline. It's easy, quick to maintain, and style on the daily basis."
Very Short Stacked Cut with a Tapered Back
@lillinloeffler
This hairstyle is a very short stacked, inverted bob by Lilli Loeffler, a hairstylist from Whitefish, MT.
Unlike a classic A-line, this cut features a tapered back with stacked layers. The undercut actually helps with the styling as it keeps the weight-line longer to hold that shape of the inverted bob.
To style, Loeffler suggests applying a lightweight volumizing product called anti-gravity from Kevin Murphy.
"This high stacked bob with nape undercut is great for both thick or thin hair. For thin hair, it creates height and volume. With thicker hair, the layering can take the bulk out of it for a smoother look around the face," Loeffler states.
Oval face shapes are also great with bob hair cuts, but a round face shape would pair nicely with this one.