27 Gorgeous Short Bobs for Older Women with Style
Very Short Bob with Bangs for Older Women
@chicatanyage
A very short bob with bangs for older women is easy to maintain and style. Adding fringe to a short bob is a stylish way to help cover unwanted facial wrinkles.
Chin-Length Bob for Mature Women
@elsedidmyhair
A chin-length bob for mature women is an excellent cut to create fullness and give lots of body to the hair. A soft forward sweeping angle helps frame the face and offer more bounce. Short haircuts like a bob do not require much styling maintenance. Trims are done every 5-6 weeks to keep the shape of this cut.
Salt and Pepper Bob for Thick Hair
@hair_by_ae
A salt and pepper bob for thick hair is perfect for embracing your natural silver hair. A short bob hairstyle will keep your hair looking stylish. If you're a woman who is always on the move, this salt and peppered bob haircut is for you. This cut is hassle-free since it's easy to style and maintain.
Short Tapered Bob for Wavy Hair
@nikitenko_elen_
A short bob for older ladies is pretty common, but tapering it makes it one of the most youthful haircuts. If you have lots of grey hair and you're looking for coverage, consider a beautiful dark auburn balayage.
Youthful Short Bob for Curly Hair
@svetablagosvet
A youthful short bob for curly hair is a great way to accentuate natural curly tresses. When considering a short curly bob, don't forget to consider a slightly longer length to accommodate the natural bounce of the curls. You do not want it to be cut too short, so ask your stylist for a long bob. A curl cream and a diffuser are must-haves to create the perfect, natural-looking curls.
Short Bob Cut for Women Over 70
@thesingingstylist504
A short bob cut for women over 70 perfectly frames the face and allows you to embrace a youthful appearance. A classy graduated bob lays right along the shoulders while adding fringe, helping diminish a large forehead. Short bob hairstyles work great for any age and essentially any hair type. The length and layering of this cut are customizable for any woman's hair.
? See more hairstyles and haircuts for women over 70.
Short Pixie Bob with Bangs for Old Ladies
@marie_jasalonspa
A short pixie bob with bangs for old ladies is a cut that adds the illusion of thickness and texture to fine, thinning hair. Short, choppy layers create height in the crown of the head. A thickening spray and a root lifting spray give a short pixie cut bob an extra layer of volume.
Inverted Bob + Short Hairstyle
@the_wildwood_collective
An inverted bob short hairstyle is ideal for women who want to maintain some length towards their face, without hair on their neck. Slight graduation in the nape helps round the cut-out shape, causing the hair to lay gracefully. Before choosing this cut or any short hair styles, consider the shape of your hairline, especially on how your hair grows at the nape area.
Short Layered Bob Haircut for Older Women
@karlajeanstudio
A short layered bob haircut for older women helps lift the hair, giving an extra layer of volume. Short, wispy layers make styling a short hairstyle quick and easy. Four-week cut appointments are mandatory to keep the shape and style of this cut.
Younger-Looking Inverted Bob for Senior Ladies
@gemmalouisehair
A younger-looking inverted bob for senior ladies is sleek and sophisticated while giving a youthful-looking glow. Removing bulk toward the perimeter of the hair helps to make the hair lay down nicer and not create a triangle shape. A sharp, blunt perimeter with subtle stacking in the layers creates a timeless bob profile.
Short Bob for Older Women with Fine Hair
@elena_przhedetsk
A short bob for fine hair is a great way to give the illusion of fullness to the hair. By keeping the bluntness in the perimeter of the hair and not adding layers, the hair, in turn, appears thicker, and the ends don't have a wispy, thin look. Pair a short bob with a fun, funky color, and you will look 10 years younger.
? See more short haircuts for older women with fine hair.
Textured Bob for Older Women with Glasses
@cosmobylala
A textured bob for older women with glasses accentuates the face and gives spectacles the recognition they deserve. When wearing glasses, it's vital to get a cut that doesn't interfere with the lenses and frames in any way. Wispy face-framing layers that are styled and swept-back are the best way to style hair around glasses.
Classic Bob for Older Ladies
@zen_hair_designs
A classic bob for older ladies gives off a younger appearance and is easy to style and maintain. Layers and side fringe help the hairstyle lay smoothly back and off the face. Short bob hairstyles are versatile and tend to show off and frame the face.
Short Bob with Feathered Layers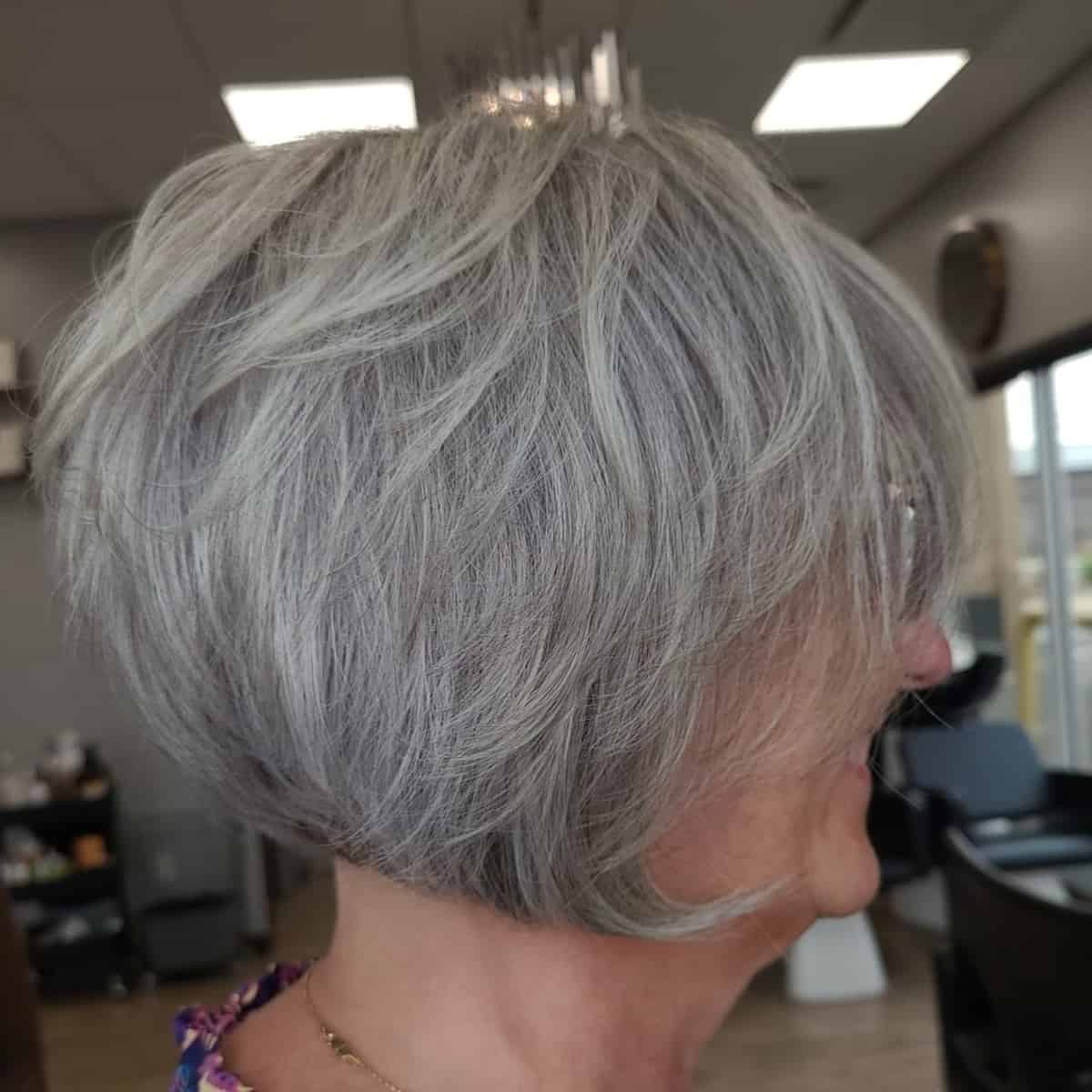 @darilynn.saradee.salon
A short bob with feathered layers gives the hair added height, movement, and soft texture. Cutting hair with a razor gives piece-y layers that appear wispy and light. A lightweight texture cream is a good investment for a short style. Blow drying the hair with a round brush gives the most lift.
Short French Bob with Bangs
@jet.trevino
A short French bob with bangs is a perfect wash-and-wear cut that flatters older women. It has seamlessly blended layers that create a voluminous bounce.
Rounded Bob for Seniors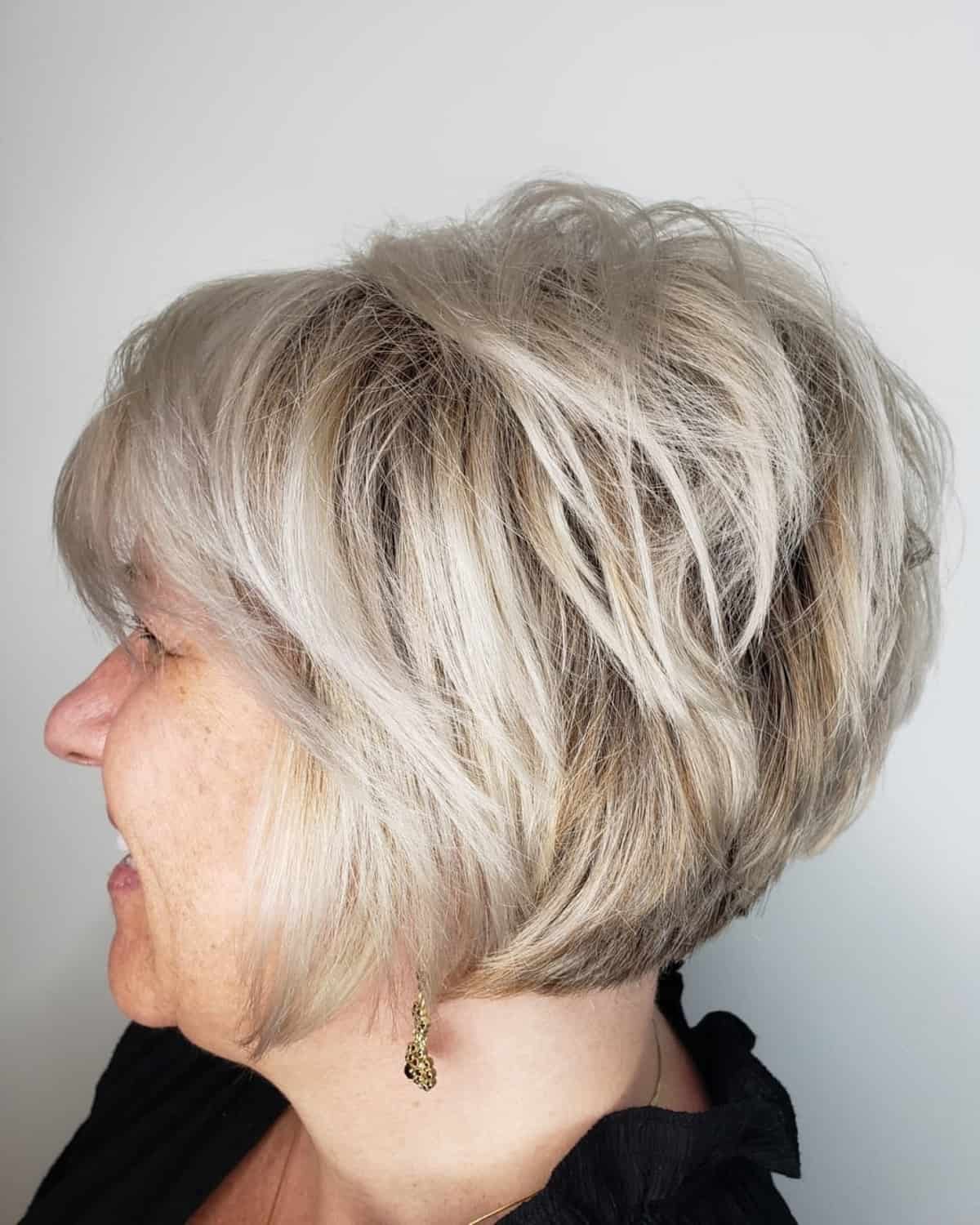 @evahairstylistmt
A rounded bob for seniors gives the perfect shape and profile for a short bob haircut. Short stacked layers throughout the hair create added fullness and lift. A texture spray is a product to use to achieve a tousled, textured look.
Gray Short Bob for a Grandma
@freshbeautystudio
A gray short bob for a grandma is an elegant and age-appropriate style. Graying hair tends to change texture, so opting for a sleek, soft bob will help create volume and dimension on your tresses. When blowdrying, use hair mousse as a styling agent, then use a large round brush to add fullness and volume to your bob.
Grey Graduated Bob Cut
@lms__hair
A grey graduated bob cut is classic and chic. A graduated bob haircut is shorter in the back and longer in the front, adding fullness and texture to your haircut. Consider adding blonde baby light highlights to accentuate the textured cut, add dimension, and illuminate your greying hair.
Angled Bob for Mature Ladies
@hairby_carina_f_clemens
An angled bob for mature ladies has a few layers, most often located at the bottom. A short cut can be styled curly or straight, suit many face shapes, and offers easy upkeep.
Bob for Older Women with Short Hair
@beautybyisabella.__
A blunt bob for older women with short hair consists of minimal to no layers and a precise cut. Short bob haircuts are stylish, offer several styling options, and suit many face shapes and hair textures like straight hair.
Layered Bob for Women Over 50
@susans_hair_arts
A layered bob for women over 50 offers easy maintenance and style. For ladies with thin hair, a short bob style with several choppy layers is a good choice. It creates added texture and dimension.
Short Pixie Bob
@beauty.bydama
Like a long pixie bob, a short pixie bob has many styling options, and they are all fun to wear. Older ladies who want easy upkeep and a short bob cut should ask for a shorter back with longer face-framing, choppy layers. For an edgier style, have one side shorter than the other.
Stacked Bob for Older Women
@rachelflynnavedahair
Opt for a stacked bob for older women because it's a popular haircut that never goes out of style. Short bob cuts have several seamless layers with a shorter back. A stacked bob is suitable for ladies of all ages and all face shapes.
Feathered Bob for Women Over 40
@kawaimi_
A feathered bob for women over 40 is synonymous with soft, airy layers, but it can be edgy too. A feathered, short haircut is perfect for ladies with thick tresses as all the layers create a beautiful, light feathery style.
? See more short haircuts for women over 40.
Blonde Bob for Ladies Over 60
@serendipity_salon_gibson
A blonde bob for women over 60 is a go-to look for a youthful-looking glow! If you have natural grey tresses that you want to hide, don't worry, this hairstyle will do you wonders! Blonde hair highlights will blend perfectly with your natural hair. Short bob styles are very trendy and will make you feel younger than ever.
? See more short blonde bob hairstyles.
Flattering Jaw-Length Bob
@nikkisnipshairsalon
A flattering jaw-length bob works well for women with more slender face shapes like an oval or heart shape. Slight stacking and soft layers around the face create youthful hairstyles.
Chin-Length Bob for Mature Women
@elsedidmyhair
A chin-length bob for mature women is an excellent cut to create fullness and give lots of body to the white hair. A soft forward sweeping angle helps frame the face and offer more bounce. Short haircuts like a bob do not require much styling maintenance. Trims are done every 5-6 weeks to keep the shape of this cut.
? Not sure about a bob cut? See more hairstyles for older women.