25 Asymmetrical Haircuts for Women Over 60 with Sassy Personalities
Curly Asymmetrical Bob for Short Hair

@ignacioantonioartista
A curly asymmetrical bob for short hair is the perfect hairstyle for women over 60 who have a natural texture. Curls on your tresses are amazing! Ask your hairstylist how you can show yours off. Finish this cut with Verb's Ghost Oil to add shine and remove frizz.
Super Short and Textured with Choppy Bangs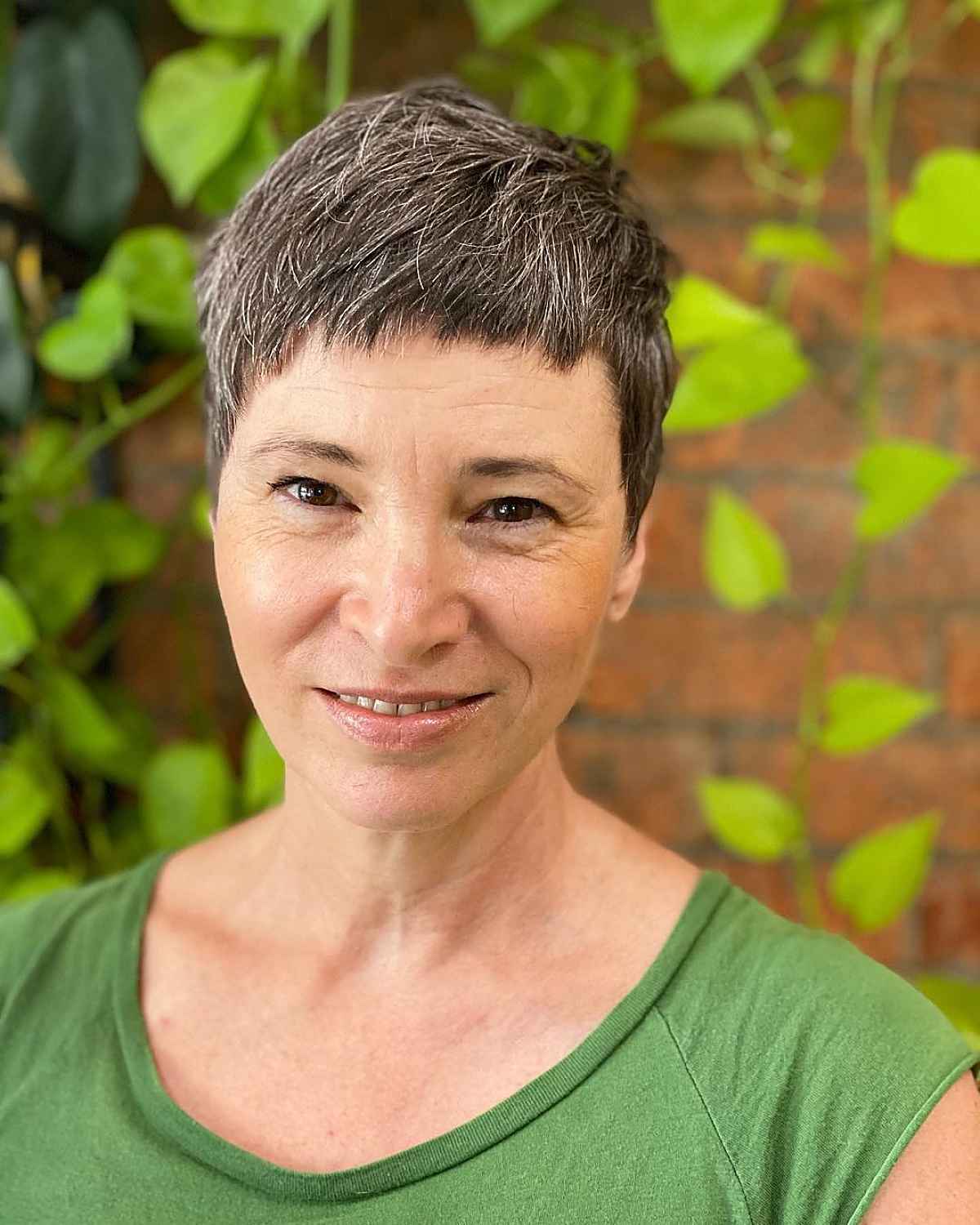 @hairnerdsalon
A super short and textured hairstyle with choppy bangs is a sassy cut that is great for minimalist 60-year-old women. Styling is simple by applying a texturizing paste, for instance, CHI's Twisted Fabric, for added shine and dimension.
Very Edgy Pink Purple and Red with Bangs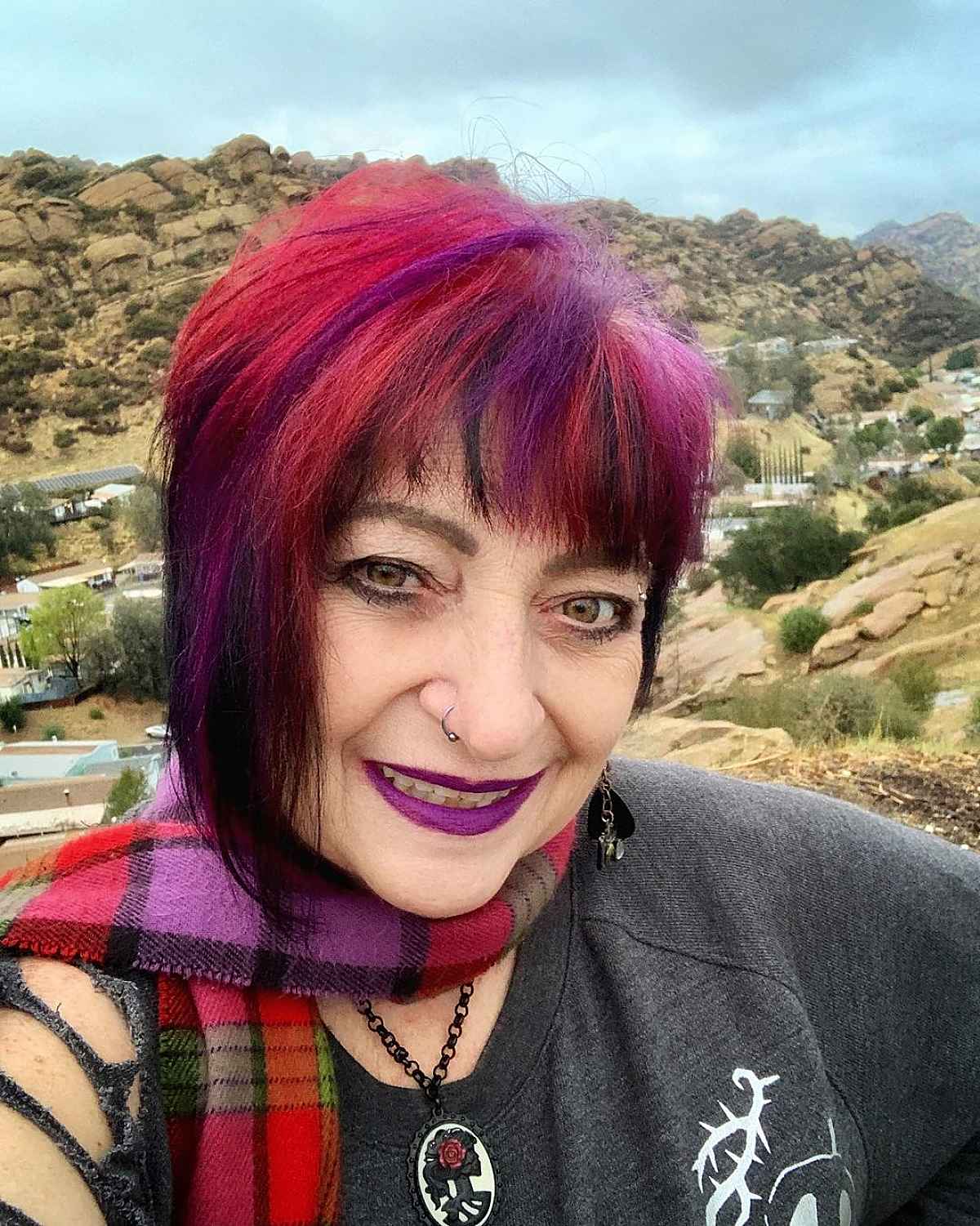 @eyeshutter4u
A very edgy pink, purple, and red with bangs hairstyle is a fun way to jumpstart your day! Cut your hair asymmetrically with a fiery red hue to showcase your fierce side. An edgy cut is perfect for 60-year-olds with fine to medium hair textures and senior women who want to experiment with a bit of bright hair color on their tresses.
The Low-Maintenance Pixie Undercut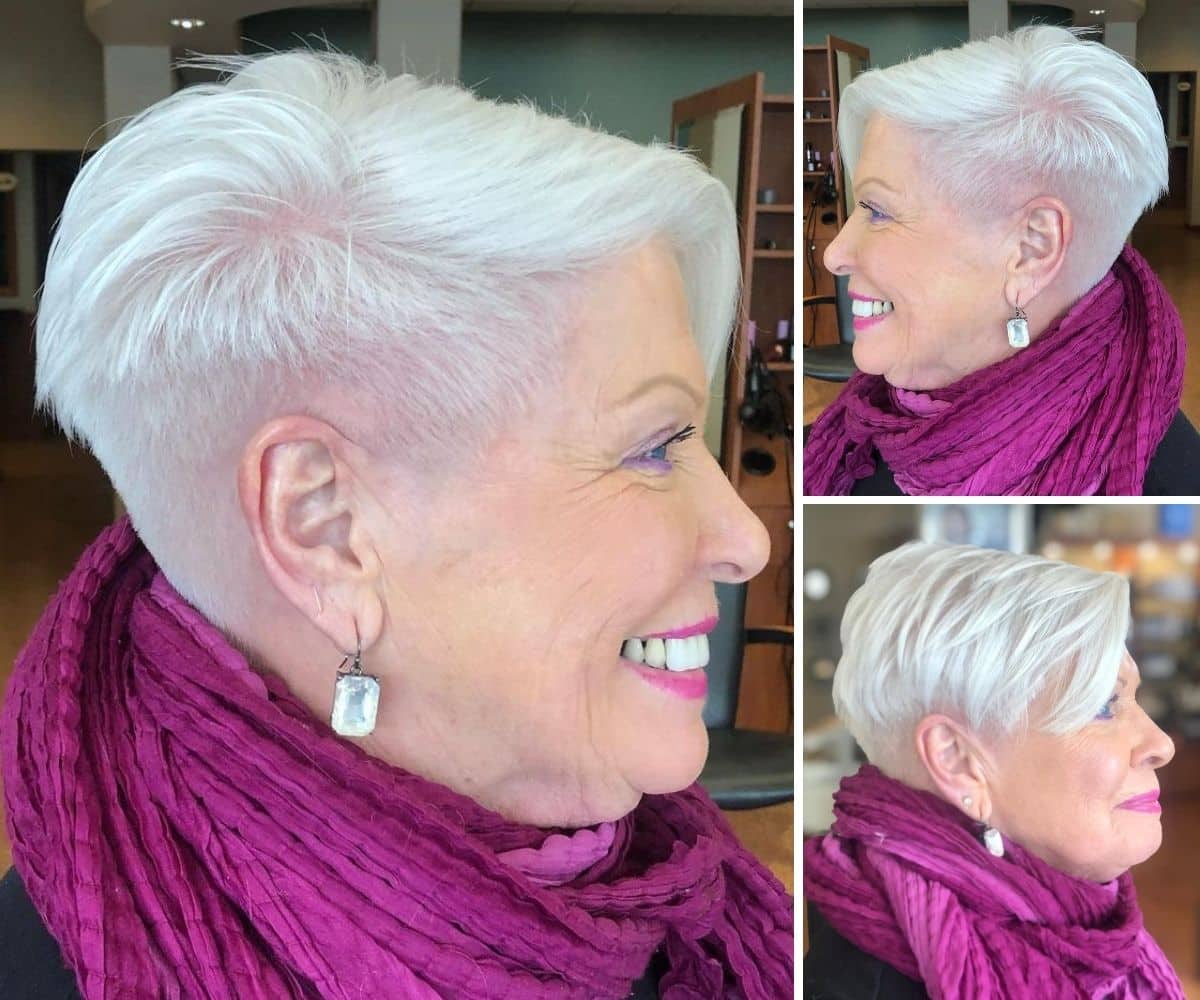 @bethanyevelynhair
The low-maintenance pixie undercut works beautifully for women in their sixties with tricky hairlines or hair growth patterns. The tight undercut removes the flicks of different growth patterns and allows the haircut to last longer. Be playful with the length on top and work a side parting for a low-maintenance styling.
Classic White Asymmetrical Style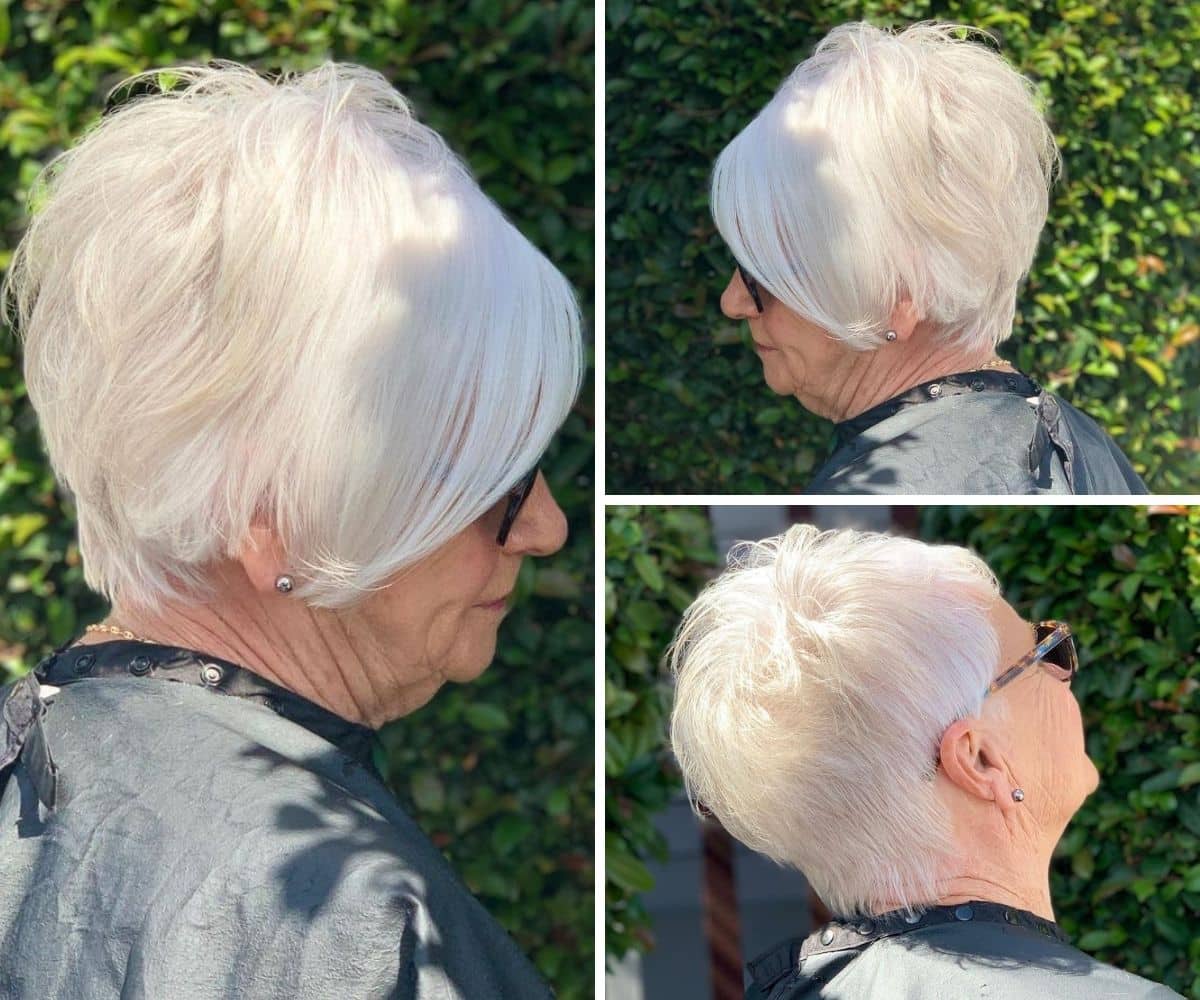 @delaveehair
Opt for a classic white asymmetrical style. It's a soft textured pixie that works well for older women passed their sixties wanting a low-maintenance style. To get this short haircut, ask your stylist for a short asymmetrical pixie cut that allows you to wash-and-go with a soft texture.
? See more short haircuts for women over sixty.
Asymmetric Stacked Bob for Older Women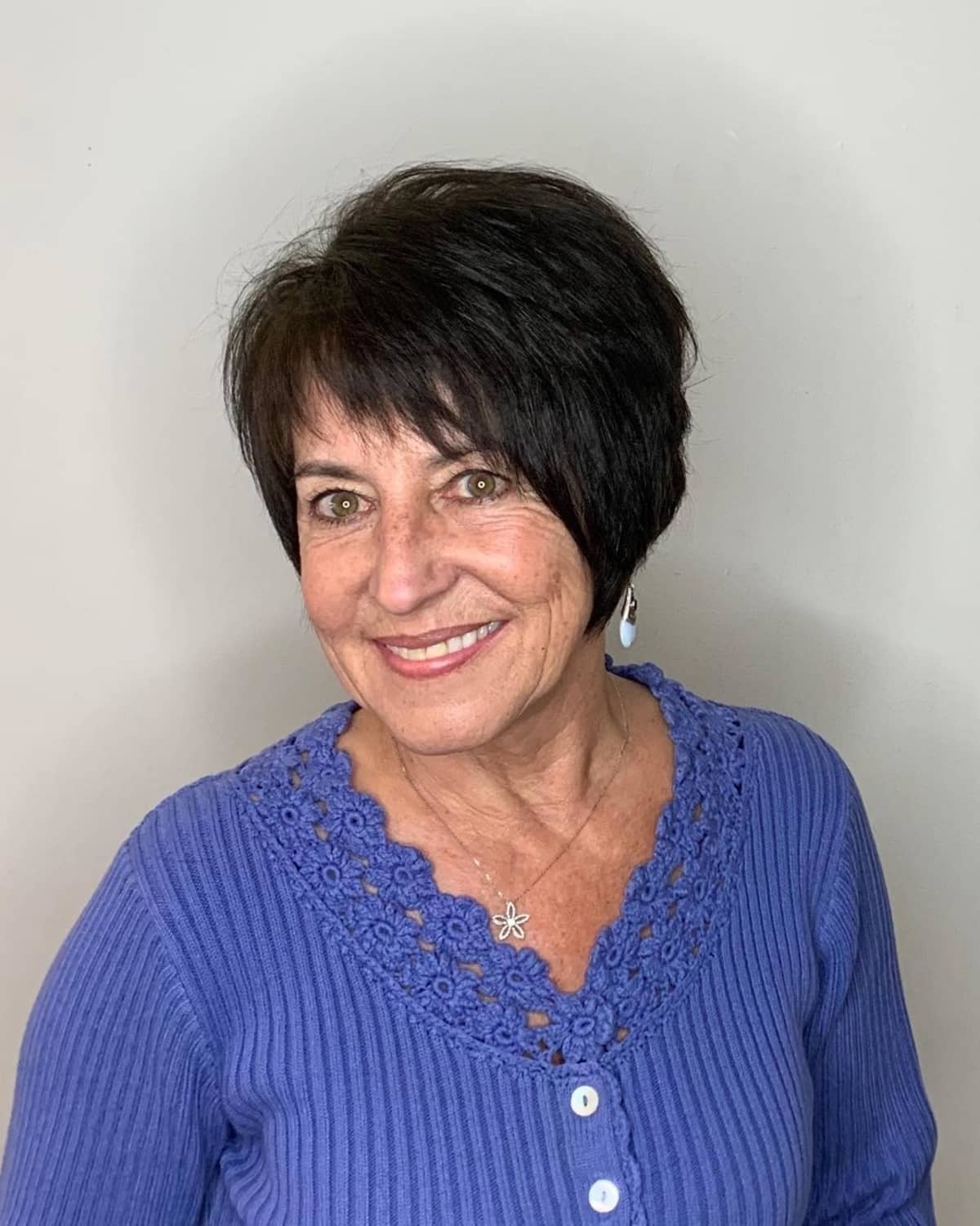 @lisafraser01
If you're looking for haircuts for women over 60, try an asymmetric stacked bob cut for older women to get a slimming shape and height in your tresses. The length skirting around the jawline and the volumized lift entices a lifted feel to the face, enabling a shorter hairdo for a wider face shape. Try blow drying with Aveda's Volumizing Tonic to ensure you get that lift.
Short and Asymmetrical Hairstyle for Black Women

@therealaikolove
Go for a short and asymmetrical hairstyle for black women over 60 to embrace full-on sleekness. The smoothed-out style requires styling maintenance to keep its smoothness after every wash.
Purple Pixie with Bangs

@hairbyjj.kent
Rock a purple asymmetrical pixie with bangs for a funky edge that can be worn at any age, especially if you're a lady over 60. Don't shy away from the stunning pastel purple tones, which look beautiful against older skin tones. The soft bangs cover the forehead softly, creating an asymmetrical cut, hiding any unwanted wrinkles and crows feet. Play with a soft, textured product like Aveda's Defining Whip for a light definition hold.
Short, Sassy, and Stacked Cut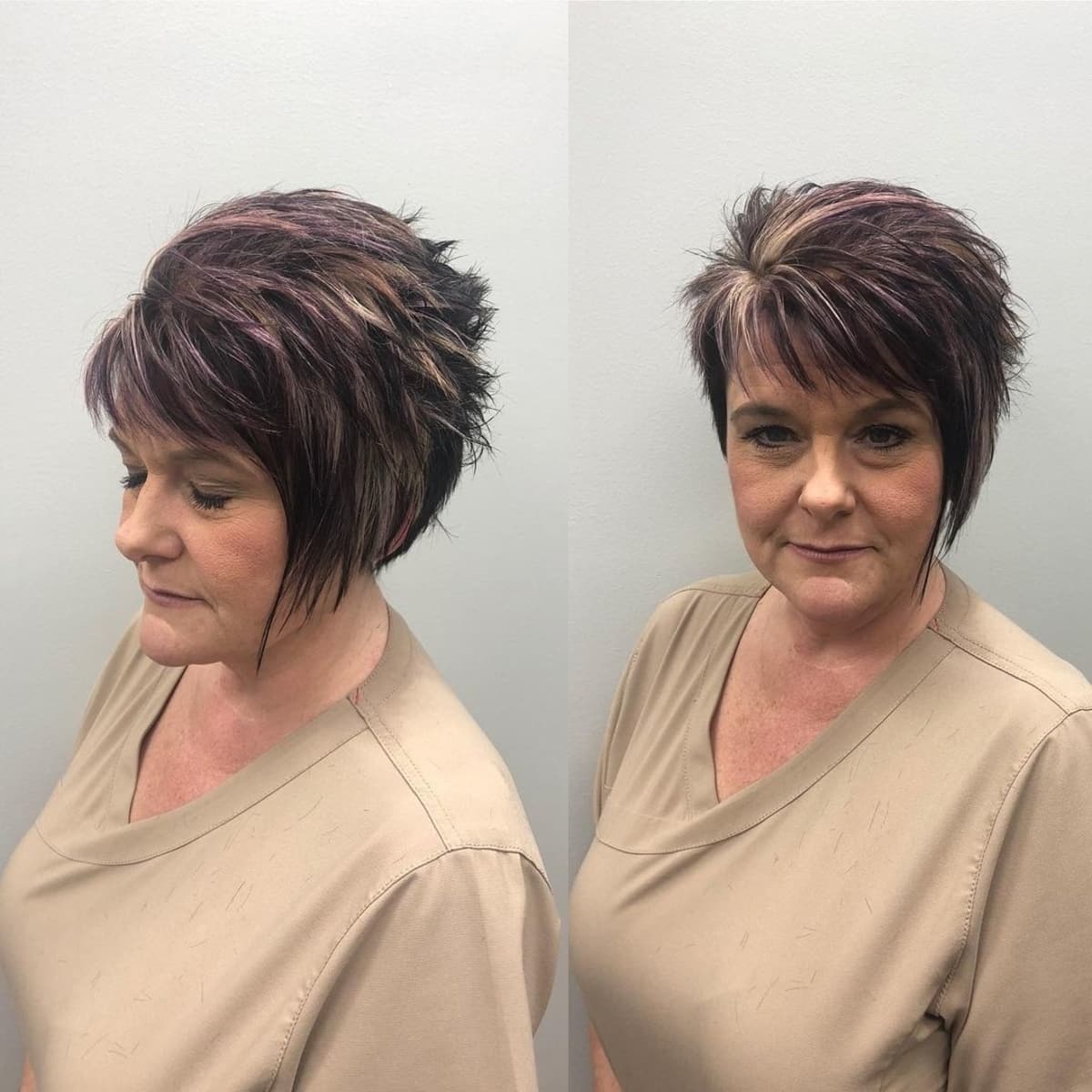 @hair.nh.nc
Opt for a short, sassy, and stacked cut to get the volume-enhancing height to flat hair types. The choppy stacked shape provokes movement and lifts your hair, adding a little fun to the style. Discuss with your stylist the best length and style of bangs that are suited to your face shape to personalize this hair over 60 for you.
Chin-Length Bob with Beach Waves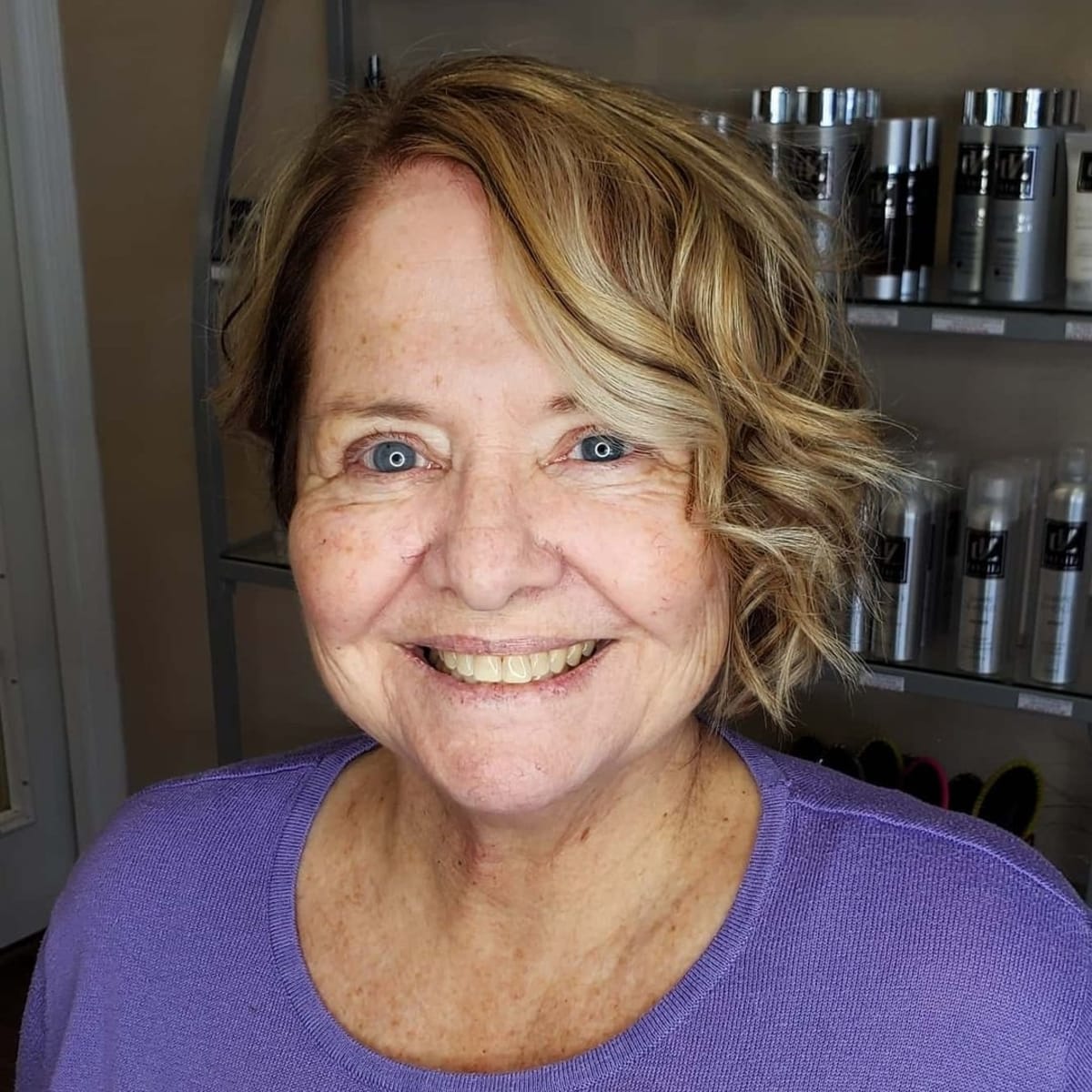 @chicstylezby_anna
Go for a flattering chin-length bob with beach waves for a seriously youthful asymmetrical cut. The chin-length wavy beach look offers a playful, youthful-looking glow. Use a large barrel tong and ensure that the curls are waved away from the face. The shorter side opens up the face, which works quite well on small face shapes.
? See more classy bob haircuts for women over sixty.
Asymmetrical Haircut Layering for Fine Hair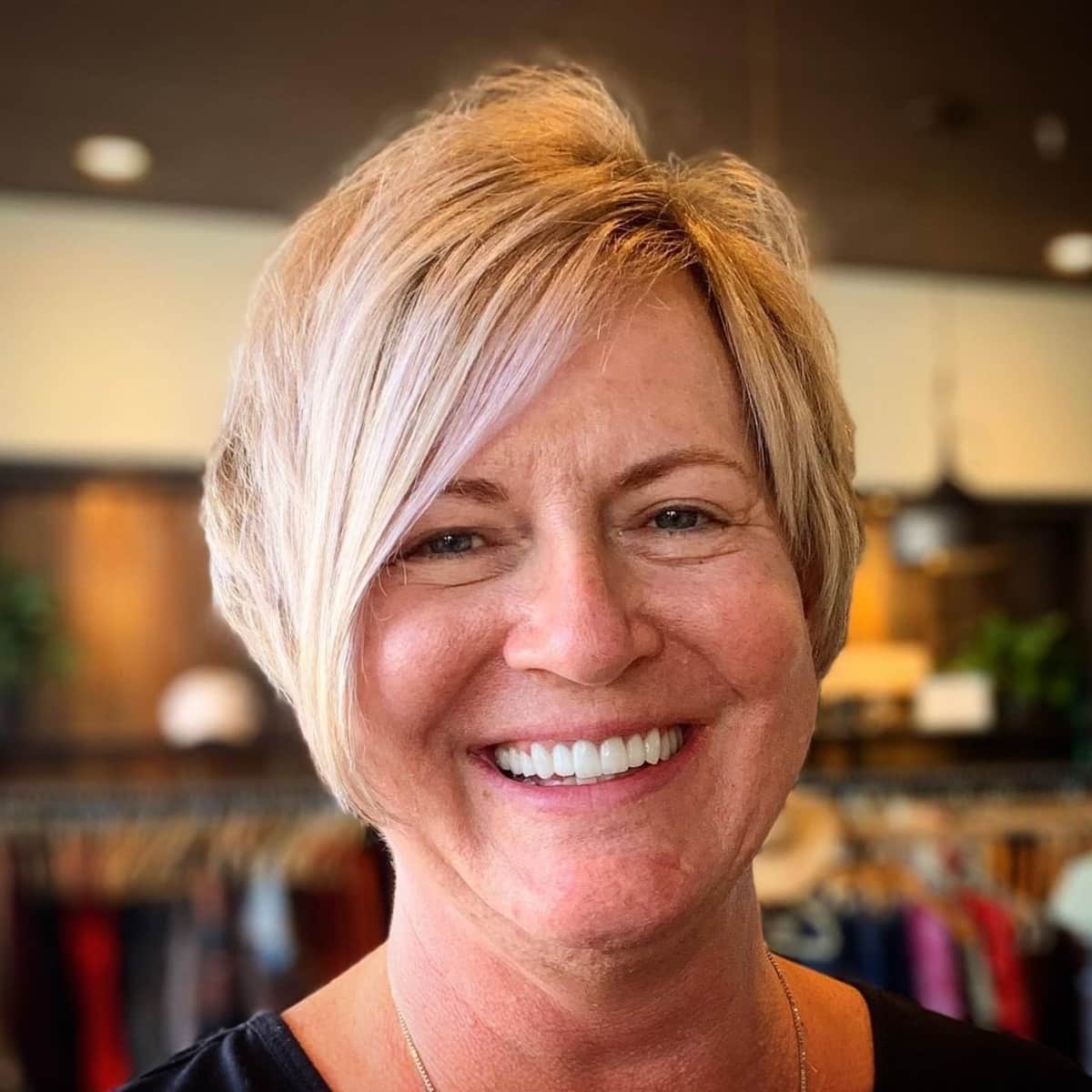 @teresahairart
Go for asymmetrical haircut layering if you're a senior woman with fine hair to get extra fullness and movement back into your tresses. The asymmetry grazes the sides of the face making this a great short hairstyle for fine hair and round face shapes. Adding layers to your asymmetrical pixie gives added shape and texture.
Asymmetrical Cut with a Shaved Side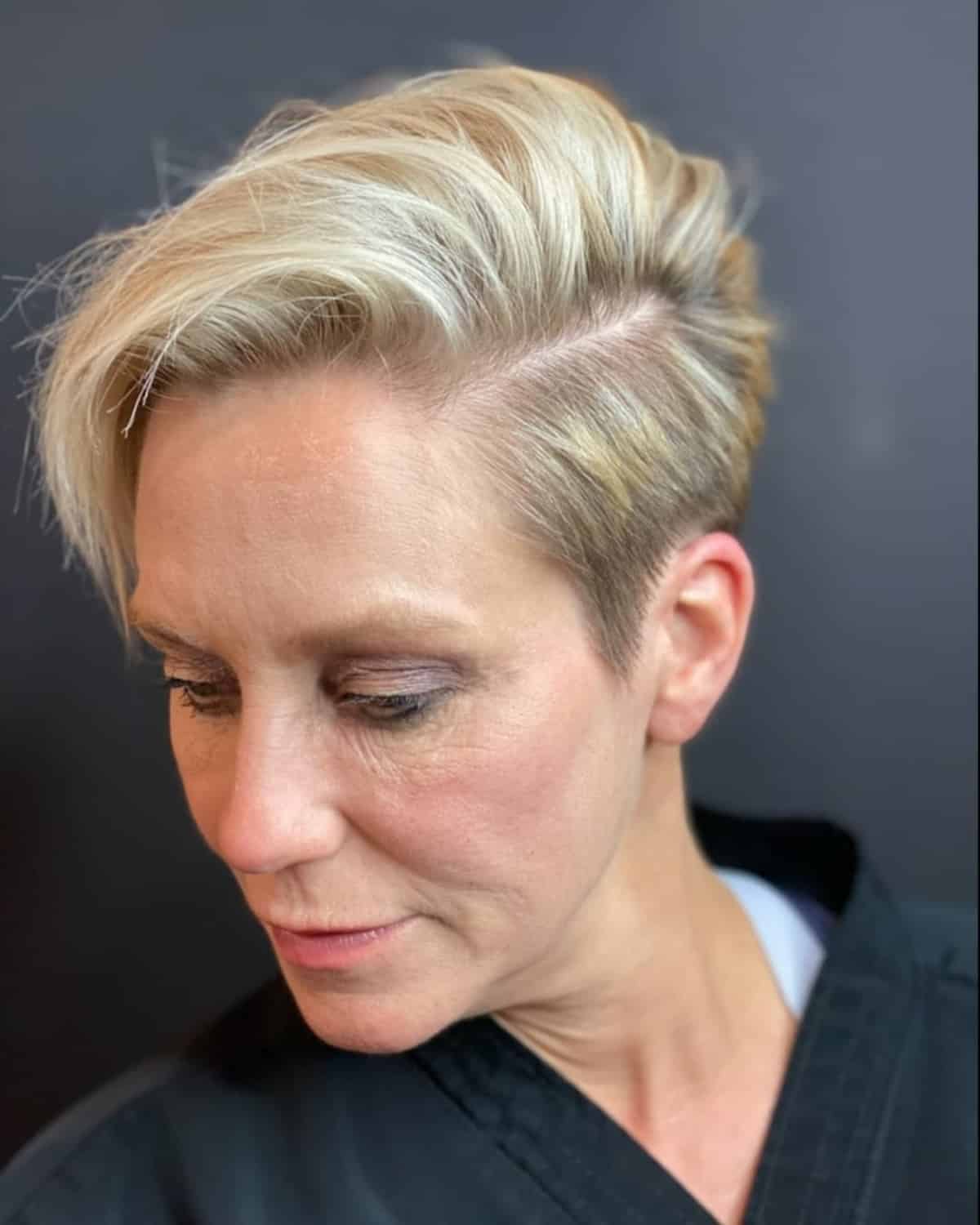 @the_last_hair_bender_
Amp up the fun in your hair with an asymmetrical cut with a shaved side for a youthful style. The side-swept length gives additional volume to the hair, while the shaved sides offer a slimming effect. You can style this haircut textured or sleek, depending on your mood.
Classy Layered for Thin Hair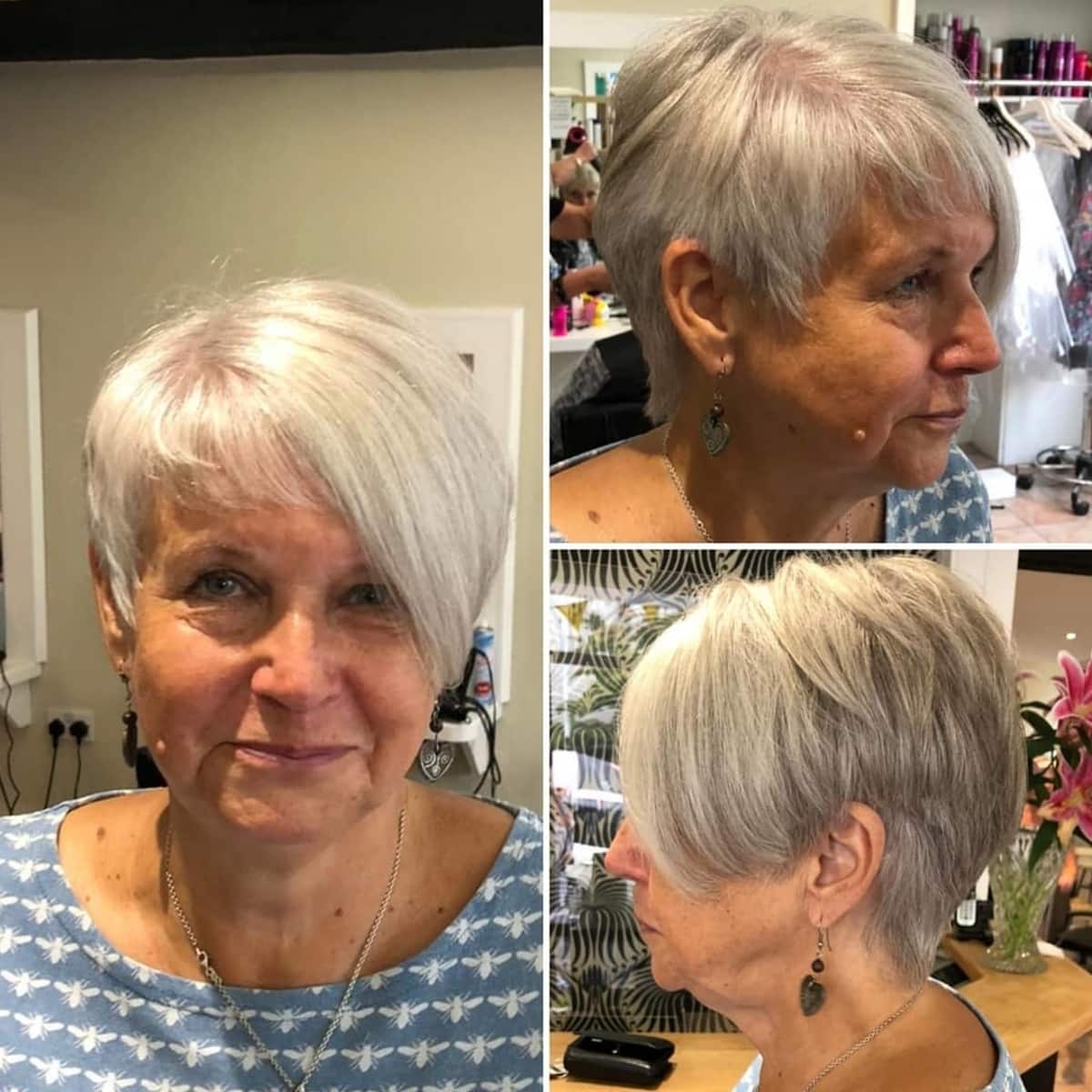 @shipshapehairdesign
A classy layered cut for thin hair gives plenty of movement, giving the impression of fuller-looking hair. Layers remove weight, but if done correctly, they enhance movement in the hair and lift the hair to look more volumized. To enhance the fullness in your tresses, try Aveda's Thickening Tonic to pump up your locks.
A Shaggy Pixie Makeover for Gray Hair

@soubecas
Consider a gray shaggy pixie makeover to freshen up your overall look. It's easy to style and great for fine hair. Ask your stylist for a softly tapered nape and rounded layers on top, and you'll be on your way to a new you, even with graying hair.
Jaw-Length Choppy Cut with Bangs

@flauntbybrynn
A jaw-length choppy cut with bangs is a practical haircut that adds youthfulness to your style. It's styled with wax or gel to create a messy texture. The only drawback to this asymmetrical cut is that it asks for maintenance every 20 days.
The Asymmetrical Pixie Bob for Wavy Hair

@soubecas
Try the asymmetrical pixie bob for wavy hair for older ladies if you are ready for a dramatic hair transformation. The asymmetry in this short haircut makes you look modern and stylish and takes years off your appearance. As a bonus, styling this bob is quite a breeze. Just add curl cream and let it dry.
Voluminous Asymmetrical Layered Bob

@sylvias.styles
A voluminous asymmetrical layered bob is great for 60-year-old women with straight hair who prefer everyday practicality to hair maintenance and styling. You can try to style it with soft curls with a curling iron when you want to vary the hair texture and add extra volume.
Asymmetrically Long Pixie with Side Bangs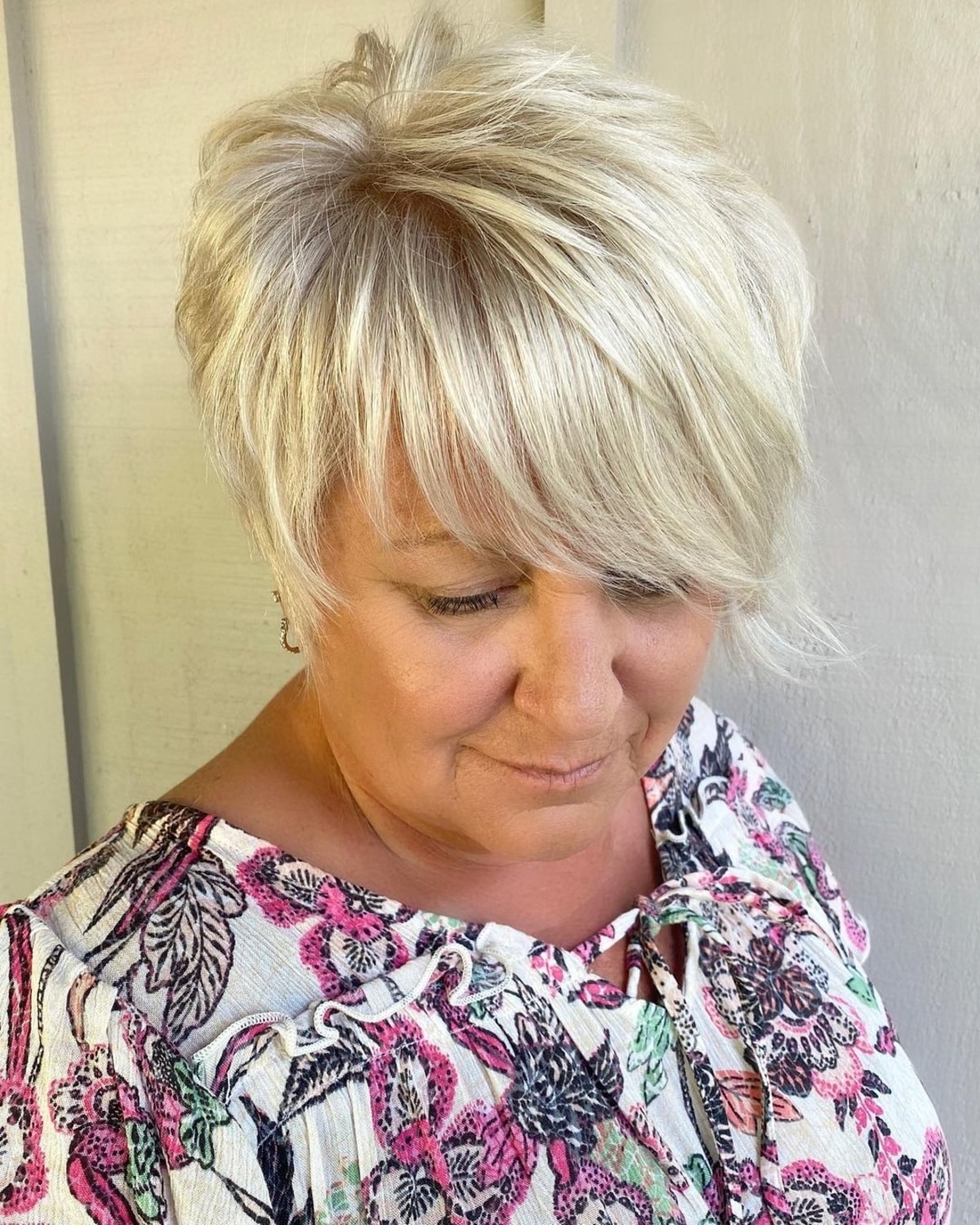 @sylvias.styles
An asymmetrically long pixie with side bangs is a good choice to try if you have thin hair. Don't forget to use a dry texture spray to add extra texture, volume, and movement to your tresses.
Short Asymmetrical Haircut with Feathered Layers

@flauntbybrynn
A short asymmetrical haircut with feathered layers is a good choice if you want modernity and lightness on your tresses. To get something similar, make sure you ask your hairstylist for choppy ends when you get your feathery cut.
Asymmetrical Bob Haircut

@edith_janlyons
An asymmetrical bob haircut evenly distributes the volume of your thick hair. Create more drama on your tresses by applying Babyliss to give an extra layer of movement and texture, and to add volume to lifeless hair.
Asymmetrical Pixie Cut for Grey Hair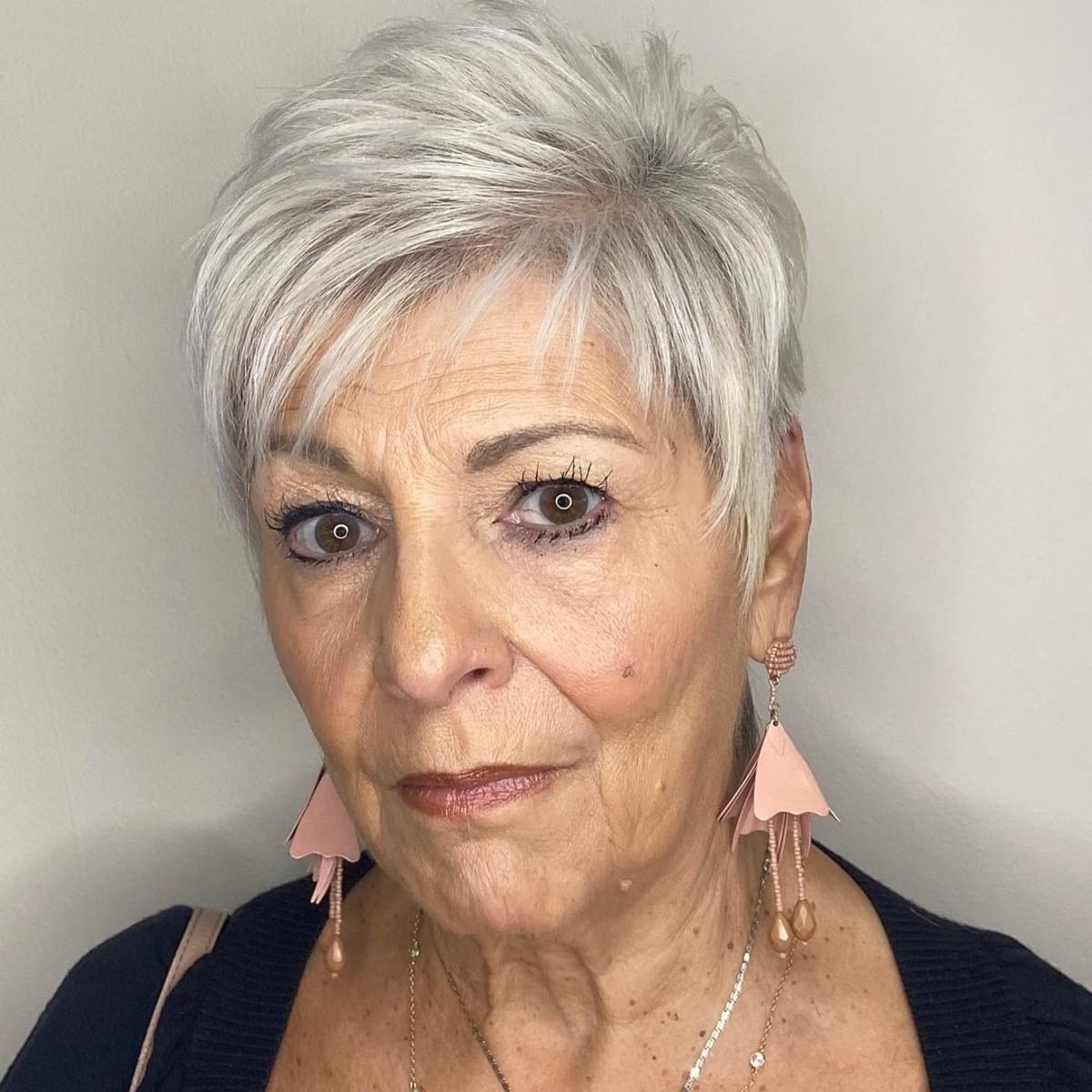 @flauntbybrynn
If you're an elderly lady, consider an asymmetrical pixie cut for natural gray hair. It's smooth with frayed bangs that leave the face delicate and youthful. The gray salt-and-pepper color illuminates and highlights the frayed haircut, even more, adding dimension and texture to your tresses to help you look 10 years younger.
? See more hairstyles for women over 60 with grey hair.
Deep Side Part for Straight Hair with Glasses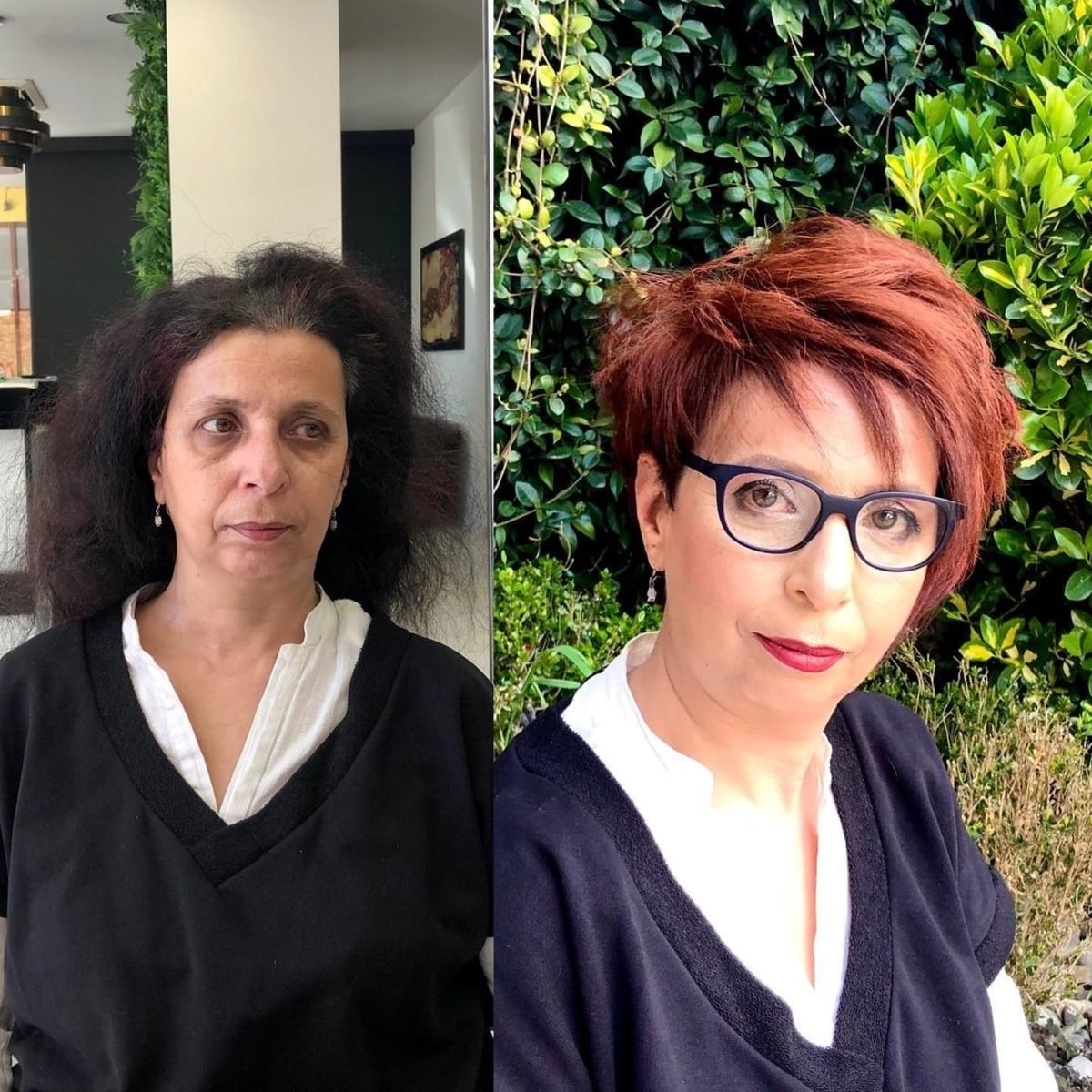 @soubecas
A deep side part for straight hair with glasses is super-easy and quick to style. It also instantly slims down wide face shapes for women in their 60s.
? See more hairstyles for women over 60 with glasses.
Long Asymmetrical Pixie with a Side Part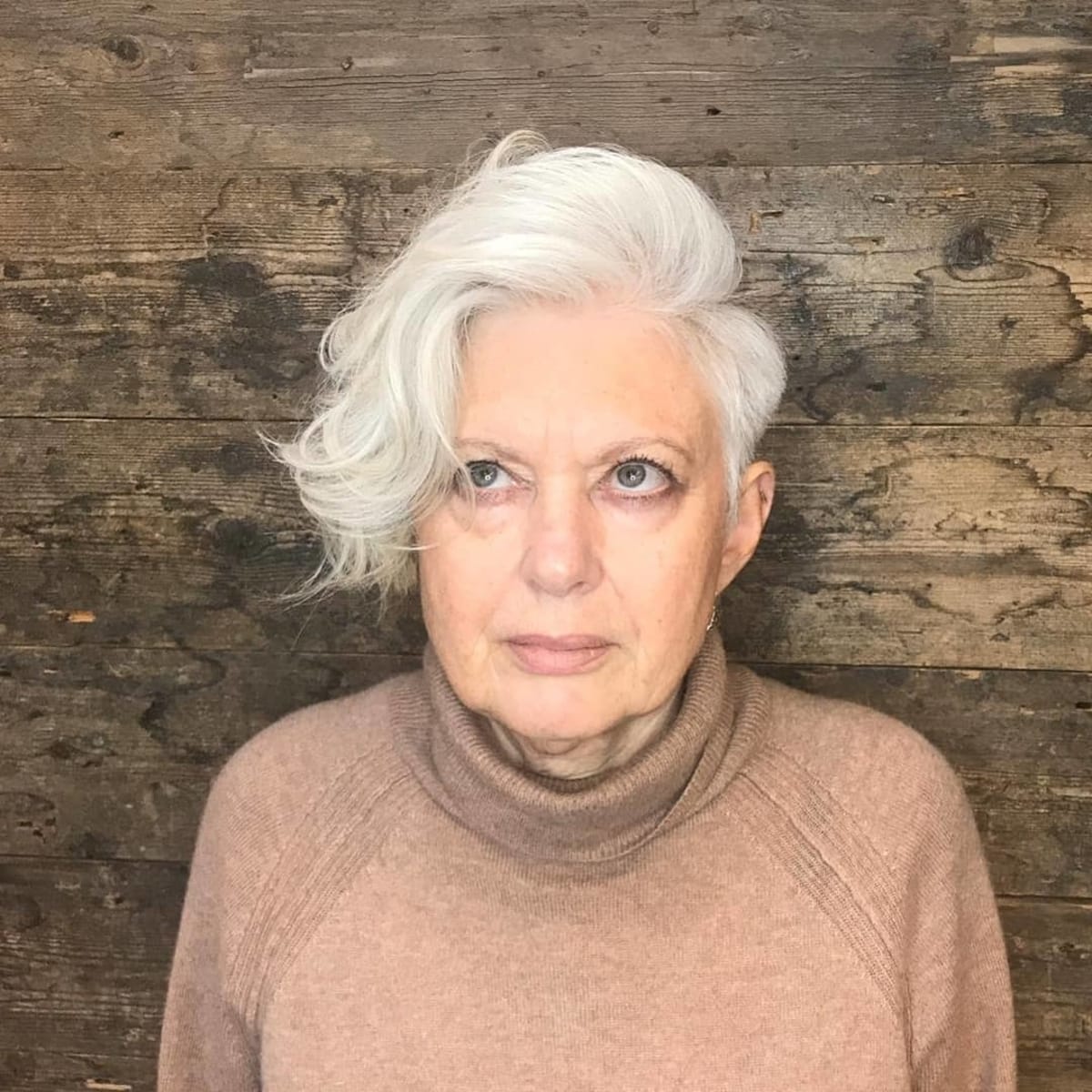 @jay.doan.hair
A long asymmetrical pixie with a side part offers balance to your face. It contours the eyes and cheekbones on the shorter side while giving movement to the longer side.
Jay Doan, a hairstylist from London, UK, shares how she creates this cut for 60-year-old ladies. "Always work in thirds to determine which length to choose," she says. "A small difference in length won't look intended, it'll make the longer side look dated."
Short, Messy, and Spiky for Round Faces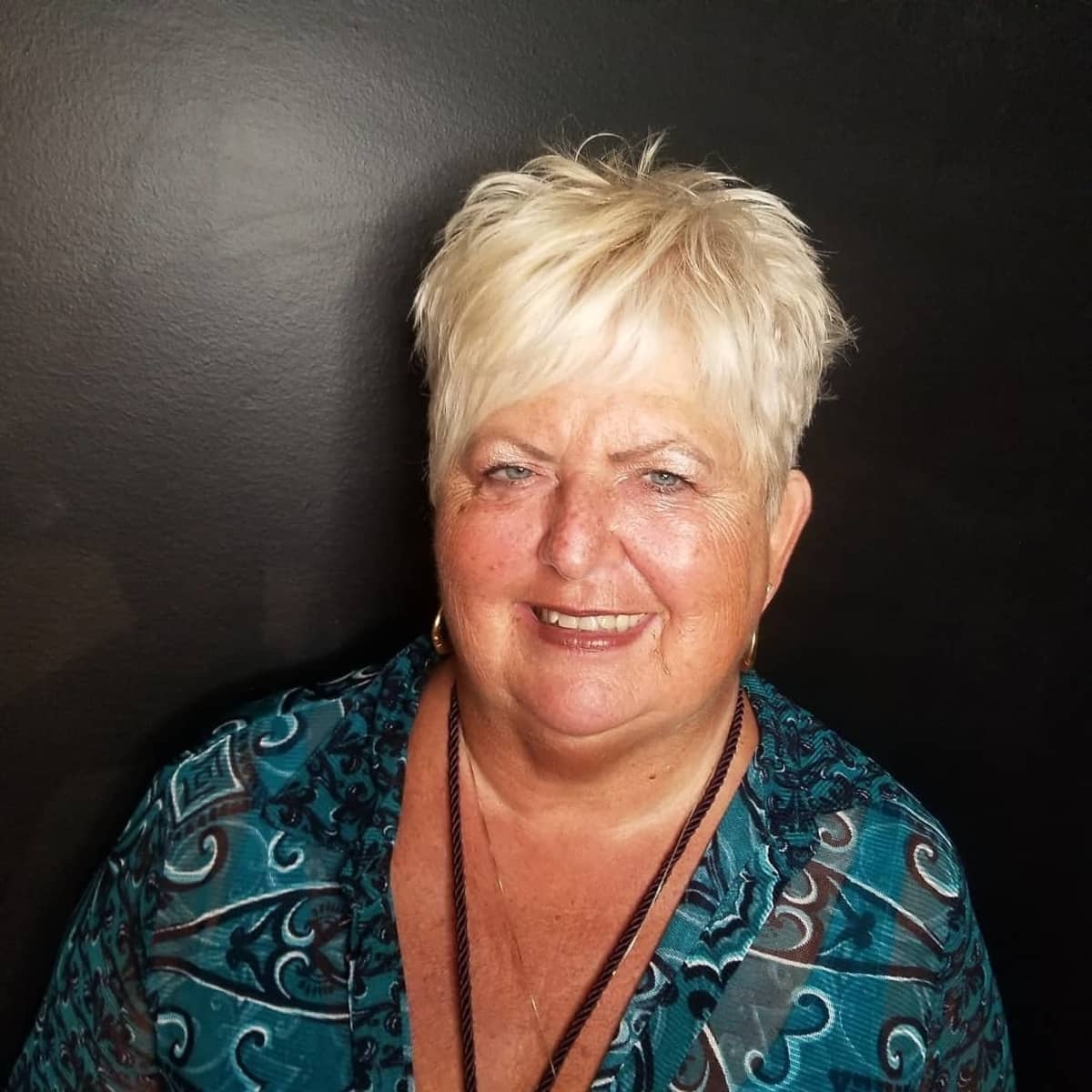 @hairandwigsbychrissie
Short, messy, and spiky cut for round faces is for older women over 60 who are on the go yet still want to look cute. It's famous for its low upkeep in styling.
Chrissie Robles, a hairstylist from Bloomingdale, IL, shares her method to get the cut. "I create triangle section for the bangs, cut using pie sections, and follow the curve of the head," she says. "I bring the bangs down, then slide cut to blend it in."
Related: See more short spiky haircuts and hairstyles for women over 60.
Short Bob for Curly Hair

@cherryheart06
A short bob for curly hair works on women who wear glasses and are aged over 60 who want to add edginess to the typical bob. Cherie Walker, a hairstylist from Australia, shares how she creates an asymmetrical bob. "I start around the left side of the ear, then work through the back to determine how short I want it to be," she explains.
It grows out well and holds its style for months. She recommends hair mousse and leave-in moisturizer for at-home care and styling.
? Like this hair color? See more fall hair colors for women over 60.