26 Very Short Pixie Haircuts for Confident Women
Undercut Pixie with Short Sides
@mattallenhairstudio
Consider an undercut pixie with short sides if you're desiring an edgy and versatile look. A pixie for very short hair is bold and fun to wear. Style it smooth or with extra texture depending on your mood for the day!
Short Pixie with Layers
@faba.moscow
A short pixie with layers is versatile and bold. The short layered haircuts flatter different face shapes and hair textures.
Cute Pixie Cut for Blondes
@tinietashaa
Consider a cute pixie cut for blondes with shaved sides if you're thinking about going short. To keep this style looking sassy, as with most pixies for short hair, visit the salon every few weeks for some trimming. Remember to use a purple shampoo and conditioner every week to maintain the bright blonde hair color. Don't hesitate to get a little wild with this pixie!
Undercut Pixie for Women Over 40
@dudkazhenya
An undercut pixie for women over 40 holds power and practicality for every woman facing this modern-day world. Styling very short haircuts with plenty of volume at the root come highly recommended.
Voluminous Pixie Bob for Older Women
@cabelosfhabioribeiro
A voluminous pixie bob for older women is a versatile and bold haircut. Try a very short cut if you want practicality in everyday life.
Edgy Pixie for Women with Round Faces
@zinoveva_elena
An edgy pixie for women with a round face shape leaves the face thinner with side bangs. A pixie for the shortest of hair grows fast. It's wise to visit the salon every month to keep the cut fresh and beautiful.
Very Short Pixie Cut for Thick Hair
@stebunovhair
A very short pixie cut for thick hair looks great when brushing the strands out, kneading it with a dry pomade, and fixing it with a spray to finish it off with a topknot.
Shaggy Pixie Cut for Women with Glasses
@lindseybridgeshair
A shaggy pixie cut for women with glasses has long bangs that can be worn on the sides. Adding hair mousse on very short pixie cuts creates extra volume and texture to thin hair.
Very Short Spiky Pixie Cut
@shorthairforlife
Use some styling gel to style a very short spiky pixie cut. Find pixies for short hair that suit your facial shape to enhance all your features the best.
Very Short Pixie for Curly Hair
@curly_sivz
Add some leave-in conditioner on a very short pixie for curly hair to create defined curls and to control its volume. Bet on a pixie for short hair if you want to showcase the beauty of your natural tresses.
Short Pixie for African-American Women
@trueglambeauty
A short pixie for African-American women looks beautiful with natural hair textures. Black hair illuminates the eyes and eyebrows, enhancing the overall look.
Short Choppy Pixie with Bangs
@lcs.hairdesign
A short choppy pixie with bangs is a very charming version of the pixie cut. The fringe adorns the face. Transform very short pixie hairstyles with short or long bangs.
Short Pixie with Long Bangs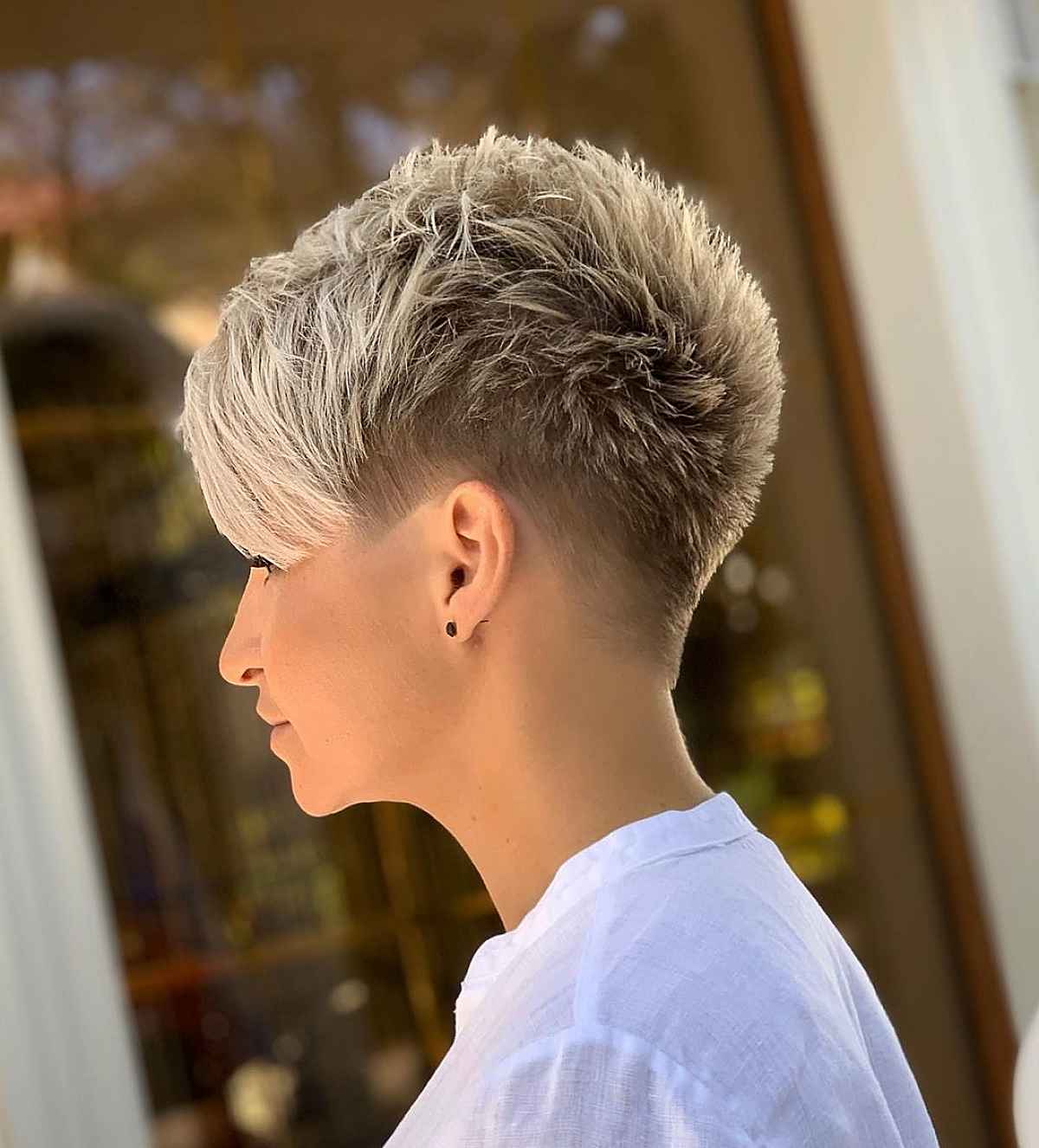 @georgiykot_salon
A short pixie with long bangs has a shorter cut on the sides and longer strands on the top of the head. When looking for practicality and attitude in a haircut, bet on a very short pixie hairstyle.
Super Short Pixie Cut
@kurzehaare
A super short pixie cut has a shorter side, irregular or frayed bangs that give it a modern look. A very short pixie haircut requires high maintenance to keep the shape and finish.
Low-Maintenance Pixie Cut
@chernyshova.nataliia
A low-maintenance pixie cut is a good choice for women who want pixies for the shortest hair creating a charming look with versatility.
Wavy Pixie Haircut for Women Over 30
@shorthairforlife
Think about a wavy pixie haircut for women over 30 if you like a little more length up top. Easily style this very short haircut by adding some barrel curls. Use a curling iron and lightly separate the curls with texturizing cream.
Very Short Pixie Haircut
@chroma.moscow
Consider a very short pixie haircut for women ready to rock a spiky, undone look. It's good in any hair type. Very short pixies should have edges that are short to gather attention up top and around the face. Get those spikes to stick up with styling wax.
Youthful Short Pixie for Women Over 70
@studiosheilabuenooficial
A youthful short pixie for women over 70 is created by keeping the edges soft and wispy. To maintain a very short pixie cut looking feminine, create length in front of the ear to ensure no harsh lines.
Ask for lots of texture around the face and throughout the top. This cut is good if you have natural waves, you can blow and go with a texturizing spray.
Classic Short Pixie Hairstyle
@dominique_de_klucke
A classic short pixie hairstyle is a simple, clean haircut. Pixies for shorter hair come in all shapes, but this classic boy cut is worth a try. You can't go wrong with a side part and gently tousled bangs. To achieve a lift and volume up top, try using a curling wand for the slight bend.
Long Pixie with Bangs for Short Hair
@izzydeveer_hair
A cool long pixie with bangs for short hair is a good option for fine hair texture. Very short cuts can be versatile with long fringe. Bangs can be twisted back with a clip or easily brushed to the side. Keep the side cut close around the ear to keep the focus up the top.
Extra Short Pixie with Wispy Bangs
@brianaguilarhair
Women with thick straight hair should consider an extra short pixie with wispy bangs. The bulk of the hair is pulled forward from the crown, lots of texture is required to control fullness. Wispy bangs break up any hard lines around the face. Keep the sides and nape cropped short to showcase this short pixie.
Grey Spiky Pixie for Women Over 60
@stylesbyame
Try a grey spiky pixie for women over 60 if your hair is soft and thick. Very short hairstyles can often take the burden of styling thick hair away. Ask your hairstylist for lots of texture so that the ends wouldn't be as thick as the base. Finish this cut with a gel-like pomade for control.
Short Pixie Shag Cut
@earth.bride
A short pixie shag cut is best styled by pulling the majority of the hair forward from the crown. It gives this shaggy hairstyle lots of movement in front of the ears and around the face. It's perfect for medium-textured hair but can be beneficial for fine hair too. Added choppy layers give the appearance of added volume. Blow-dry the hair forward and style with a texturizing spray.
Wash-and-Wear Pixie for Older Women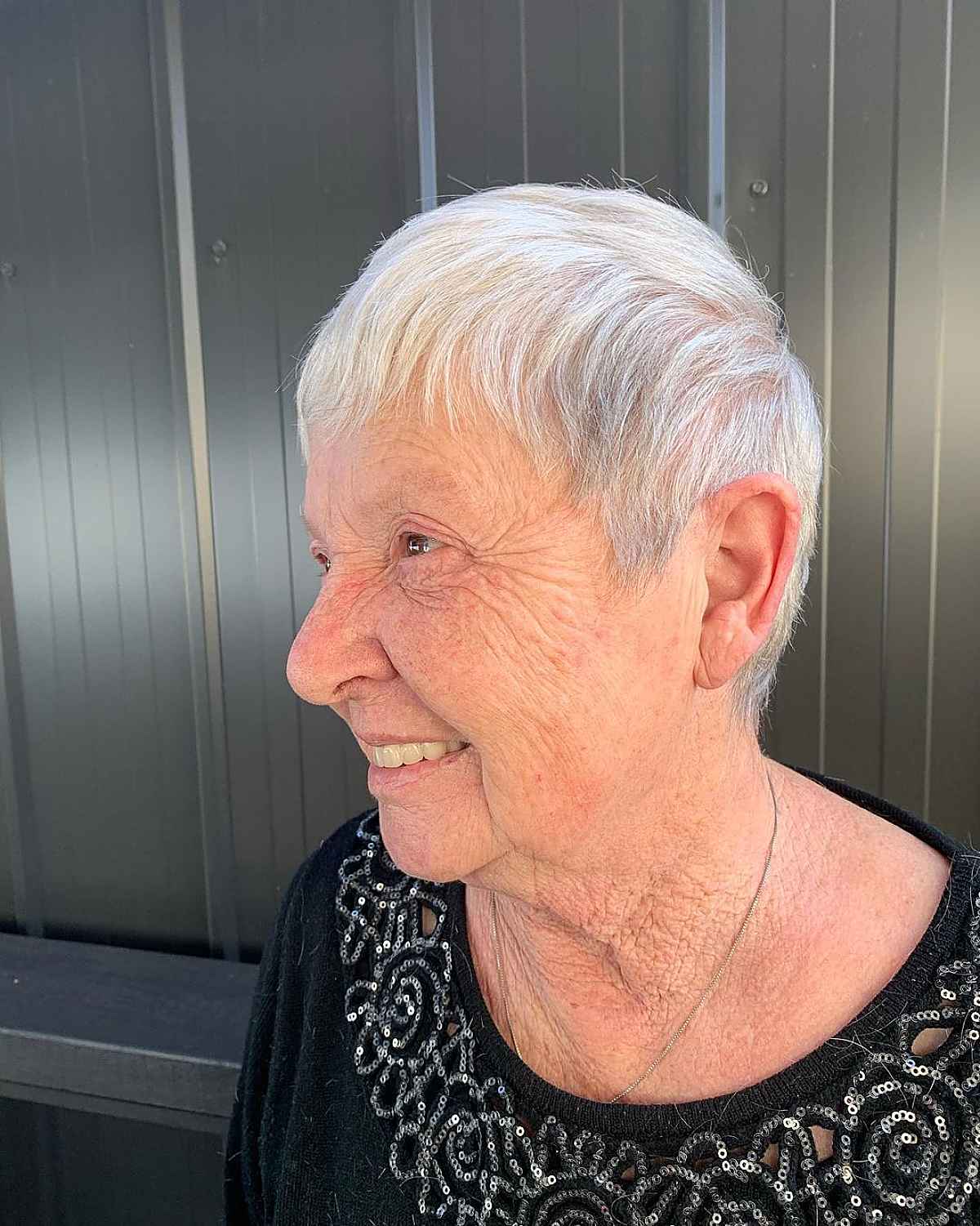 @ashadoeshair
A wash-and-wear pixie for older women is great for a simple and on-the-go style. Pixies for the shortest of hair don't have to be boring! Accessorize this cut with headbands or barrettes. For extra piecey style, rub a matte pomade between fingers and apply to the ends.
Short Pixie with Shaved Sides
@angelicagrechkina
A short pixie with shaved side is a bold, edgy cut that is great for women who want their hair off their neck and ears. A pixie for shorter hair looks great when styled in several ways, but spiked and messy is an ideal way to style a pixie. With shaved sides, it's vital to make haircut appointments every 3-4 weeks.
Asymmetrical Pixie Hairstyle for Women Over 50
@bailey_aesthetics
An asymmetrical pixie hairstyle for women over 50 gives the illusion of longer hair with the maintenance and styling versatility of a very short hairstyle. Having a thicker, heavy side fringe is ideal for women over 50 as they hide any forehead wrinkles a woman may have.
Related: See more asymmetrical pixie hairstyles.