19 Trendsetting Short Brown Hair Colors to Consider
Caramel Brown Ear-Length Cut with Bangs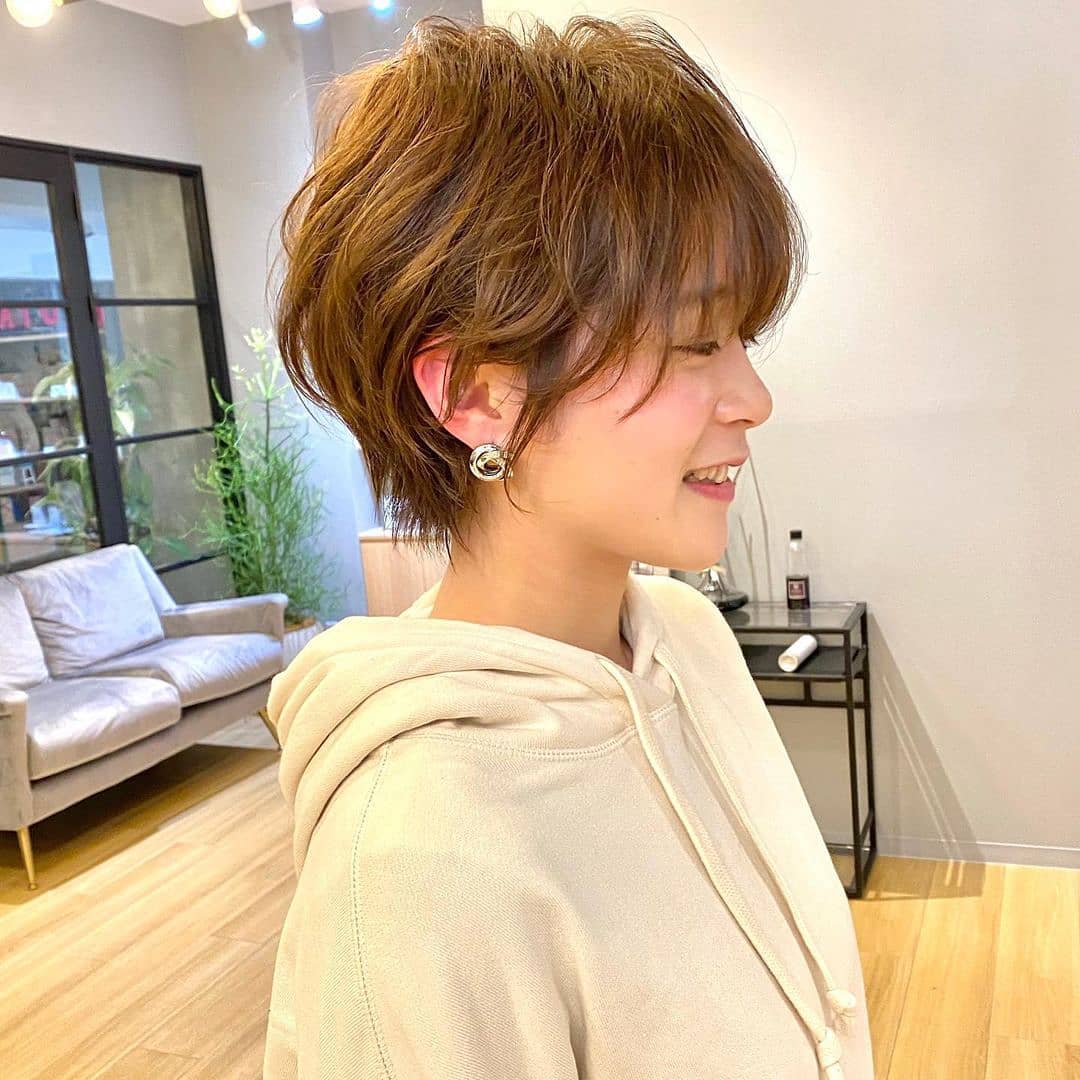 @hair.cutcolor
Embrace a caramel brown ear-length cut with bangs as it's fun to wear! Its creamy color can enhance a lady's fair skin tone. The haircut would look natural on a fine, wavy texture. It sets out a movement to make tresses seem fuller. These cute short caramel brown tresses aren't complete without the fringe.
Ash Brown Pixie Undercut
@jeanclaudeelmoughayar
An ash brown pixie with a faded undercut is absolutely gorgeous. Unlike most brown hair colors, ash brown is a gray shade that will bring out the cool tones in your complexion, making it best for neutral to cool-toned ladies.
Short Brown Bob
@angelo.baiunco
A short brown bob as beautiful as this turns out lustrous on fine and straight hair. The vibrant brown hue gives the tresses a thicker illusion. Like any classic bob haircut, this one displays a simple yet glamorous finish. It works as a go-to hairstyle.
Short Dark Chocolate Layers for Thin Hair
@heygreathair
Perfect texture comes from an exquisite short haircut with a dark chocolate brown base and subtle blonde highlights. With little to no effort, you'll have a chic look instantly.
Short Light to Dark Brown Ombre
@oceaneavakian
A short light to dark brown ombré has a beautiful brunette base with lighter ends. Ask your stylist to leave dimension in the hair by leaving out some dark with the light pieces. A color melt after the lifting process will give the perfect blend from brown to blonde.
Neck-Length Cut for Brown Curly Hair
@aboutthecurl
Here's an astonishing neck-length cut for brown curly hair. Applying a combo of moisturizing curl cream and control gel can define the curls and add shine to the brown hue. Get regular trims, as a short brown hairstyle like this requires shaping and layering.
Q&A with style creator, Hannah Lloyd-Jones
Hair Stylist @ Hair by Hannah in London, UK
How would you describe this?
It's a neck-length cut for brown curly hair. It's super voluminous and for women with naturally curly, thick hair. The color is a medium warm, auburn brown – perfect for autumn.
What's your best advice?
It takes a little time to figure out what products work best on your hair. What works for one curly girl may not work for another. Use a sulphate-free shampoo or a co-wash (a cleansing conditioner).
If you decide to embrace the curly girl method, give it time. It takes a few weeks to a few months for your hair to transition.
Honey Brown Hair with Beachy Waves
@johnnyramirez
A honey brown hair with beachy waves is a gorgeous blend of warm blondes and browns. Alternating foils or a balayage can achieve this color and a brown root smudge for that lived in low maintenance color. A short shoulder-length cut with textured ends works great with medium to thick tresses.
Mocha Brown Textured Cut for Thick Hair
@angela_skullptures
Look at this mocha brown textured cut for thick hair— it appears chic and bold! A mocha brown dye job makes a short layered bob look richer. Adding all the layers is perfect for women with thick hair. They keep it in shape and with the body. Hair like this is simple, easy to maintain, and effortless to style!
Balayage Chin-Length Textured Cut
@fergalwella
Combining balayage with a chin-length textured haircut adds dimension and fullness to your cut and color. Warm-toned balayage highlights on brown hair are subtle yet striking and add shine to renew your hair color. Together with balayage, a chin-length bob haircut with layers, adds texture and fullness to fine hair. Blow-dry your hair upside down to add volume and smoothness. Add texture at the same time using a flat iron to give your hair messy waves.
Short Brown Hair for Women over 50
@annamarie_chemistry
This short brown hair for women over 50 is a fun, stylish short haircut with styling versatility. It features plenty of layers for a more textured finish. This short hairdo is easy to maintain, which is perfect for an everyday look.
Light Brown Asymmetrical Pixie
@brazenhairbaltimore
Pick a light brown asymmetrical pixie if considering going from a longer length to a shorter one. When wearing short hair, styling products are necessary. Sea salt or thickening spray offers texture and grit. A pomade or wax, meanwhile, gives life to a lived-in, messy hairstyle.
Q&A with style creator, Nicole Leadbeater
Creative Colorist @ Braxen Hair in Baltimore, MD
---
How would you describe this?
This light brown asymmetrical pixie is an undercut pixie.
What's your best advice?
This short style is suitable for most hair types. You could adjust the size of the undercut to tailor to different hair thickness. If you have thicker hair you could have a bigger undercut. For finer hair have less of an undercut.
Dark Brown Edgy Pixie Cut
@leonesespacodabeleza
A dark brown edgy pixie cut is sophisticated and timeless. An edgy undercut pixie is a great option for women looking for a shorter cut that shows you're not afraid to try out a funky haircut. Ask your stylist to use clippers to undercut your hair from below the parietal ridge and curved below the occipital bone and then use a razor to cut the remaining hair to add texture to your haircut.
Brown Choppy Crop with Highlights
@katieealm
Q&A with style creator, Katie Alm
Stylist @ The STORM Salon in San Dimas, CA
---
What's great about this look?
The brown short cut is perfect if you're growing out old pixie cut. Ask your stylist to shape up the back to meet the length in the front.
To style, use a flat iron to crafts the waves and finished the look with Joico Beach Shake which is a texturizing spray to break up the waves and give it a very lived in look!
What's your best advice for it?
This short hairstyle was created to slowly and safely remove box dye out of the hair.
If you have super straight, thick hair, adding a wave texture will add some extra drama. It's for ladies who have a sassy personality who needs a sassy short cut!
Chocolate Brown Jaw-Length Bob
@hair.by.mel.darmody
A chocolate brown jaw-length bob requires a small amount of maintenance. The brown color on this short hair benefits dark-haired bombshells the most. To keep and boost its gloss, use a shine spray or oil when going out. That should also give hair a sleeker effect.
Shorter Layered Cut with Mahogany
@mabstyling
Q&A with style creator, Melissa Ashley Burlington
Owner @ Urban Palette Salon in Medford, OR
---
What's great about this look?
A mahogany-brown short layered textured bob is low maintenance. You can style it straight, curled, or with just a quick bend with the curling iron which is nice for ladies who doesn't want to spend a ton of time styling their hair every day!
What's your best advice for it?
It can be chic, flirty and low maintenance depending on how you want to dress it up or down for your day or occasion!
Chestnut Short Shag Cut
@hairbybethany
Q&A with style creator, Bethany Duffy
Hairstylist @ Salon De Moda in North Providence, RI
---
What's great about this look?
A chestnut short shag cut will look good on any face shape by detailing the front face-framing pieces to the individual's facial structure.
The brown color also helps accent certain aspects of the cut by popping in balayage pieces around the face.
What's your best advice for it?
If you decide to get this cut, it is so low maintenance. All you need is a good sea salt spray or dry texturizer spray for that lived in look.
Brunette Pixie Shag
@hairbysamhostad
Notice how this brunette pixie shag results in a chic, trendsetting hairstyle. This shag is a great choice for women who don't want to commit to a short pixie cut. It makes a nice wash-and-go style that only demands low maintenance. A short pixie shag can look great on all hair types but is best for women with medium to thick hair.
Very Short Medium Brown Cut
@fusehairstudios
Opt for a very short medium brown cut to add interest to your entire appearance. A little product always helps to define and polish a brown crop like this. A light pomade, wax, or texturizing product would all work depending on the hair type and what style to go for.
Long Pixie on Natural Brown Hair
@randa.rivera
Look at this long pixie on natural brown hair. Breathtaking, huh? The texturizing on this short brown hair require a lot of slide and point cutting techniques. If going for a more lived-in look, Paul Mitchell's Invisible Wear Pump Me Up hair powder is a good product.