23 Best Examples of Long Hair with Side Bangs
Eye-Catching Long Wavy Hair with Side Bangs
@meottiarianna
This is a gorgeous long bob with side-swept bangs. Long haircuts make for an eye-catching contrast when paired with a fringe and wavy hair.
Blunt Fringe For Long Haired Women
@alexandrmaslovsky
A blunt fringe for long-haired women is a great option to add movement around the face. Long hair can sometimes be overwhelming to a smaller face. But with a blunt fringe, it draws attention back up towards the face and gives the hair a more styled finish.
Long Hair with Curled Ends and Blunt Bangs
@salonchachicago
Inject some glamour into long hair with curled ends and blunt bangs. The fringe works beautifully on long hair to break up the length. You can opt for blunter bangs to keep fullness in the ends. To add some curly ends, try blow-drying with a large round brush. If this is too difficult, try leaving your hair to set in large Velcro rollers for a blow-dry effect.
Long Ombre Hair with Highlights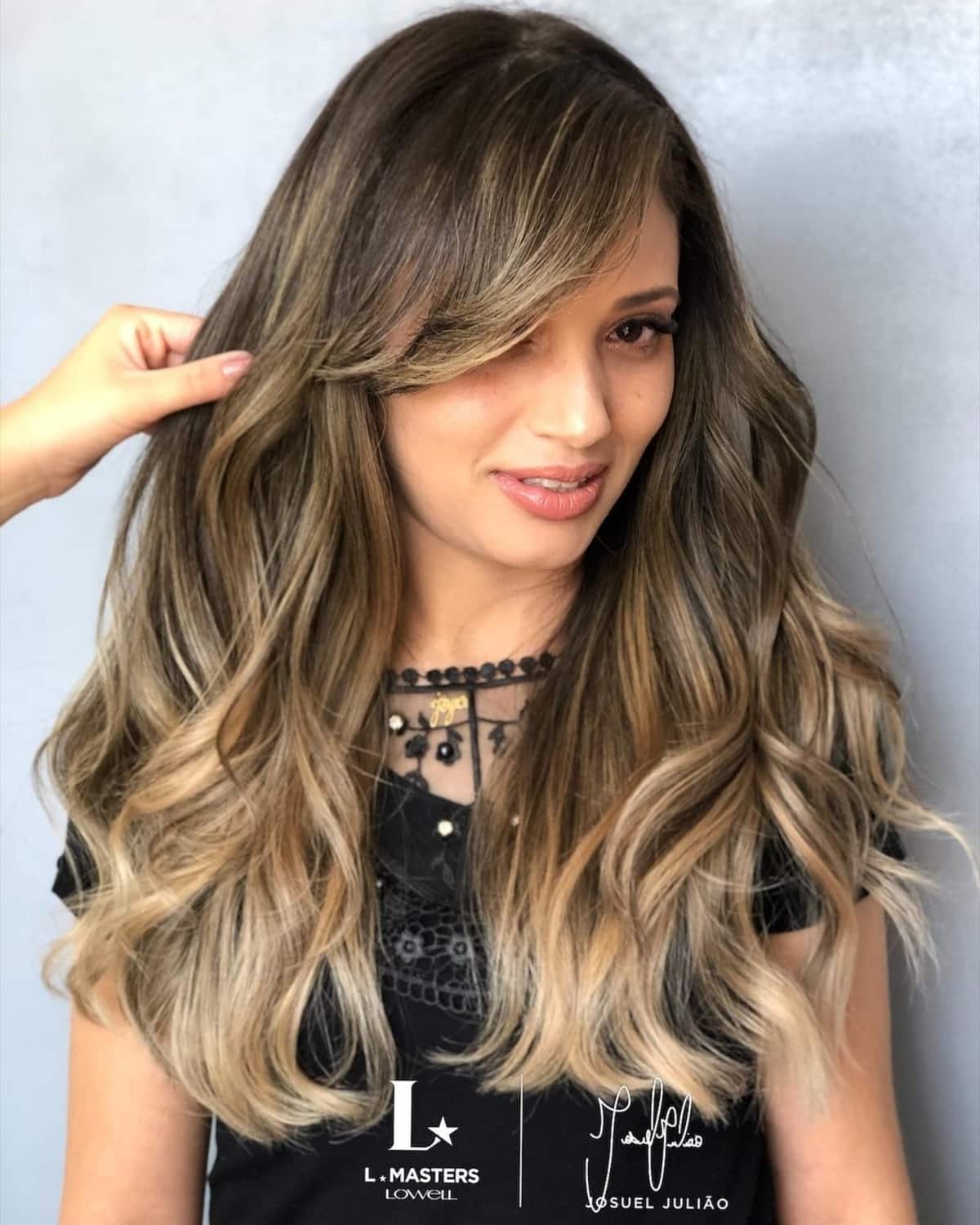 @josuel.juliaohair
Long ombre hair with highlights can be done with balayage to break up the base color and make it look fresher. This technique is not so high maintenance but can be noticeably different. When choosing the best color to wear, stick with natural ones to match the skin tone. Also, choose a stylist who specializes in different variations of balayage.
Long Layered Bob Haircut with Wispy Fringe
@victorkeyrouz
The beauty of a long layered bob haircut with a wispy fringe is that it's so versatile. The layering brings out a dimension to soften the strong length. The textured fringe sweeps the eyes enough that it'll work on most face shapes.
Long Haircut with Straight Bangs
@victorkeyrouz
A long haircut with straight bangs may look simple, but it offers a maximum impact. Sleek hair is still sexy, with low effort and high effect. With straight bangs swept to the side, they contour out the cheekbones for a structured look. For a final touch, add drops of Aveda Brilliant finishing gloss for a shine.
Parted Bangs for Longer Hair
@jennifer_level10salon
The parted bangs for longer hair make a soft and very feminine style. Cut specialist Jennifer McQuillan of Florida creates such a chic haircut. It's done using the dry-cutting method "to create volume, texture and hidden layers."
This type of fringe is a perfect combo with a tousled style. "It'll always look incredible with volume and a little bend," says McQuillan. To finish it off, she suggests powder root lifter and dry texturizing spray.
Delectable Long Brown Hair and Side Bangs and Waves
@beautyworldnet
This simple brown long hairstyle is made steamy by some layered cuts and waves. Add the chocolatey goodness of hair color and you've got an amazing example of long hair with side long bangs.
Stellar Long Thin Hair and Side Bangs
@imipj
The best long hairstyles for thin hair have lots of texture. A prim and proper haircut doesn't have to mean dull and boring. Long fine hair with long bangs softens up any subtle style.
Prettiest Side Bangs and Curls for a Round Face
@nicolefusco.yeghair
This pretty asymmetrical blunt cut and long layers with side-swept bangs give the round face some clear edges. Then, added styling like curls and layers moves the hair cut even more.
Chic Side-Swept Bangs on Long Blonde Hair
@studio29hairbeauty
Simple curling can make long straight hair come to life! Manage some motion in your long blonde hair by keeping full side bangs in place. Sweep the long bangs over the forehead to control facial framing.
Bangin Long Blonde Hair with Side Bangs
@creativecharliehair
It is legal to be blonde so show off those bright tresses! Add some sweeping side bangs to long hair for a gorgeous long hairstyle.
Lovely Long Layers and Bangs for Fine Hair
@gracesonhair
These beautiful side bangs on long hair sweep seamlessly along the face to create soft long layered hair. Youthful and easy to maintain, layers add texture to thin hair.
Stylish Long Layered Cut with Side Fringe
@brett.russo.color.specialist
"The best thing about this stylish long hair with side-swept bangs is how effortless it looks while still being very put together," says hair color specialist and style creator Brett Russo of New Orleans, LA. "Go for a red-brown color that looks like it should be your natural color," he suggests.
Add some tape-in extensions (VoMor) to add fullness and create a long layered hair style. The side bangs keep the cut from being too heavy around the face and blend in very nicely to the layers.
Russa says to go for it! "It's very easy to maintain. The long hair was styled in about 20 minutes using a large curling iron and big sections. The side part bangs are great because they don't require a lot of maintenance or trims in between services."
Fantastically Long Choppy Hair with Side Bangs
@blushstudio.hairstylist
This dark sleek long haircut with side bangs screams Egyptian goddess. It was created by hairstylist Ashley Mills of Springfield, MO. "The bangs are very thick and don't fuse into the length of the hair, but it still compliments most face shapes," she says.
Side bangs for long hair are a battle. Whether your hair is short or long, it's thicker hair or fine hair, there is a bangs style for you! Mills says, "think of the shape of your face, your daily routine, and most importantly, your style. Maybe some edgy micro bangs or soft 70's curtain bangs? Don't turn away from side bangs long hair before searching for a choppy style just for you!"
Wonderful Long Thick Hair and Bangs
@cats_styles_
Cosmetologist Catherine Louise of Woodbridge, CT created this chic long hairstyle with side bangs. It's a very modern, classic look. "The long layers with fringe are perfect for almost all women and adding the angles and longer fringe helps to frame the face. This thick hair cut could easily be customized to any face shape, so any woman would be able to pull off this modern long haircut with side bangs," she explains.
When you have longer layers and angles it makes it easier to style your black hair. Naturally curly haired women could let their hair go natural and the layers would help the curls get curlier! If they didn't have the layers there would be more weight on the hair and the curls would be straighter. If you have straight hair, adding layers, angles, and the fringe would help add texture, movement, and depending on your hair, body!
Catherine says that this long haircut with thick bangs is a very easy style! "Using the right products when you blow out your hair like using a volumizing spray to help add a little lift in the crown (top of the head)," she adds. "Or using a heat protectant before adding some curls. The long layers in the back are perfect for any face shape, adding the front face-framing is easily customizable for each face shape to make it perfect for you."
Simple Long Straight Hair with Bangs to the Side
@rachelrolandhairloom
This fabulous long one-length haircut is what hair dreams are made of! It was created by stylist and owner of Hairloom Salon in Oxford, AL, Rachel Roland. A long haircut with side bangs helps to create some softness and frames the face.
"To recreate this long style with side bangs, you'll need to use an anti-frizz smoothing cream before blow-drying with a paddle brush," describes Roland. "Then a few quick passes with a flat iron and some shine spray will give you that extra smooth finish."
If you are considering long hairstyles with side bangs, it's important to keep your long locks strong and healthy. Hair of this length may require a little extra attention. Having a healthy hair routine, including regular trims and treatments, will ensure your hair looks silky smooth in all its natural beauty!
Vibrant Long Red Hair with Long Side Bangs
@anthonylimhairstylist
This fantastic long hair with long side bangs has two factors, the cut and the color. It was created by hair dresser Anthony Lim of San Jose, CA.
"The cut is one of the signature cuts from Oribe haircare, which embraces the movement and fluency of the hair without having lots of layers. For the color, a combination of babylights in foils and balayage at the end was used. There's an elegance with the longer layer hairstyles, so embrace them," says Lim.
This look is suitable for most of the women who looking for movement and lightness without cutting short or being thinned out. The long swipe bangs create the soft diffuse illusion so your face looks slimmer.
To style this long hair with bangs and layers, Lim suggests you use all Oribe products. "Prep with Supershine the unbeatable leave-in conditioner, blowout with grandiose plumping mousse, smooth the ends with royal blowout oil (heat protecting and smoothing the hair shaft), and then finish with impermeable spray to create light hold with shine and anti-humidity," he adds.
To keep your long hair side bangs and color sharp, tone every 6-8 weeks, cut every 3-4 months, and do an Olaplex treatment biweekly.
Cutest Face-Framing Side Bangs on Long Hair
@jazzykm_styles
This stunning long cut with side bangs was created by hair artist Jasmine Murillo of Charlotte, NC. "Use Aveda volumizing tonic and Phomollient to help add body to your long hair," she says. "Ask your stylist for long layers with bangs to give you movement, and soft face-framing layers to accentuate your face."
Side bangs on long hair is a universal style and a great option for women looking for a layered haircut! It's long enough to pull up and still give you some short fun pieces to pull out for a cute ponytail. This shoulder-length hair with layered bangs is a pretty low-maintenance cut and easy to style with a round brush, blow dryer, and some volumizing products.
Attractive Bangs for Long Curly Hair
@jikaiahstylist
This cool long cut is the ultimate curly shag with loads of height and long curly hair with bangs and bits! It was created by hairstylist Jikaiah Stevens of San Francisco, CA.
"I would suggest you find a curly hair specialist and one who potentially cuts with the straight blade razor," says Stevens. "As for styling, curly hair women should go home with Undressed and Hair Balm by Hairstory and Y.S. Parks soft metal mesh sock diffuser."
Stunning Long Shaggy Hair with Side-Swept Bangs
@theresaprzybyla
Cheers to the '70s! This eye-catching long shag haircut with side bangs has the versatility of all the classic '70s styles all in one. It was designed and created by hairstylist Theresa Przybyla of Austin, TX.
"Wanting the trendy "curtain bangs"? Looking to wear a middle part? Maybe your goal is maximum movement with your hair parted on the sides? Cascading layers upon layers is the answer," says Theresa.
This long haircut allows preserving length on the hair, or not. It's even suited for the low-maintenance lady. It can be worn "air dried", and no styling needed if you don't want to! Be prepared for an updated, sexy shake-that-hair vibe!
Gorgeous Formal Updo Hairstyles with Side-Swept Bangs
@hair_by_suelon
This cut long hair updo with side bangs was done by style creator Sue Jac of Mississauga, ON. "Use clip in extensions to achieve the full bun if your hair is chin-length! Start by blow drying the hair for maximum volume and use Hollywood waves mousse by L'Oréal," she says.
When styling the rest of your hair, Jac recommends, "take a one-inch barrel curling iron to the hair and extensions to blend them together a bit before twisting pieces softly back and pinning them. If your bangs are integral to your feeling like yourself, keep them down with soft face-framing pieces. You can achieve this formal updo hairstyle with side bangs in about 30 minutes."
It's really important not to do something so far from your everyday style. A soft side bangs style like this can work on almost any hair type, but it's best to stay truer to your natural texture.
If your hair is really curly keep it like that! Also, take into consideration you'll probably not want to worry about your hair (frizzing and going flat) on the night of your wedding.
Lovely Wavy Long Hair with Side Bangs
@hairbyabri
It doesn't take a lot to look like a supermodel. This carefree wavy long hair with bangs swept to the side will leave you looking beautiful.