22 Fantastic Curly Perms for Short Hair
Lovely for Women Over 60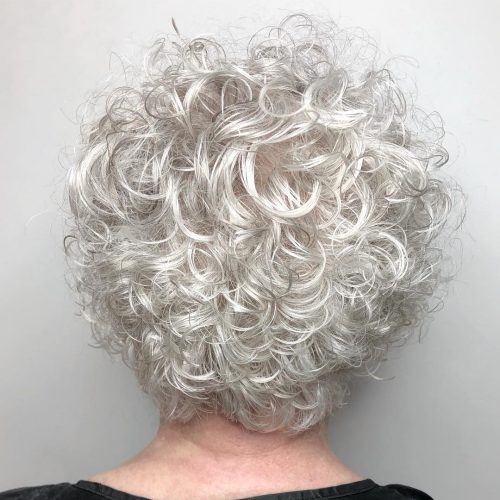 @sinshearly_olivia
It's a lovely short style for women over 60. Perm in this look is vital to give you such defined curls, carrying out a bold round shape. Don't be afraid to flaunt your natural grey strands as they will bring shine to this textured look.
Spiral Perm
@hairbysarajoy
Give the short haircut and shiny, soft brown-haired color a new definition with these spiral perms. What more could you ask for if you have the massive texture and volume imposed by layered tight curls?
Digital Perm
@emil.val27
What makes a digital perm the best is that it helps ladies both feel and look alluring even on the ordinary days. The loose, thin curls give hair the much-needed texture. Couple it with straight full bangs on a rich ginger hair color to show that you are one of a kind.
Loose Wave Perm
@yukarikohnokaragianis
For extra fun and sexy vibes to hair, these loose wave perm did a great job. Wear your best fancy smile and be the most gorgeous woman in the room that people would look up to.
For Very Short Hair
@kyorisworks
A clean vintage-looking perm for very short hair is so mesmerizing for women with the oval face shape and classic black hair color. Short bangs and texture on hair work hand in hand like magic.
Wavy Perm
@thehairupstairssm
The combination of french bob cut and wavy perm can make people want to have short perm hairstyles, as well. The smooth beach waves on a soft brown-colored hair create the most exceptional texture effect one could have imagined.
Perm for Thin Hair
@sachikohanda________
An upgraded and modern version of mullet haircut in a length that goes down to neck is ideal to do a perm on it. Nothing beats this perm for thin hair with bangs on dark hair color if matched with your retro fashion taste.
Permed Bob with Bangs
@nastyazu_hairdresser
This bob haircut with bangs paired with perm curls works perfectly on ladies with fair skin and naturally brown hair color. Texture and volume given to this permed bob with bangs define those lovely curls to perfection.
Perm Rod Set on Natural Hair
@giviniv
As on the name, using a perm rod to perm your hair can still result in natural-looking curls the spring with life. Auburn curls shine magnificently, getting all the attention that this perm needs.
Beach Wave Perm
@galenassalon
Short haircuts are indeed the faces of a sassy look. A beach wave perm can form a movement to your dark brown, neck-length bob. Texture comes out more naturally in this hairstyle, giving you a much exciting shine.
Perms for Seniors
@smartstyle_bushnell
Adding these kinky curls onto your hair is the perfect way to amp up the texture and volume of older ladies. Plus, everything looks cute and fluffy when you're wearing this perm, so try it on now!
Asian Perm
@baton.hairdesign
Famously seen in Asian dramas, this perm is a light feathery look that boasts both texture and gentleness. The bangs over the eyes complement the bob pretty well to give that cute, Aegyo look!
Check out more haircuts for Asian girls
Cute Curls for Women Over 50
@zay.nomore
Who can pull off a permed style better than the grey-haired beauties? These cute curls for women over 50 will minimize your need for daily styling. You'll love how they can add bulkiness to your short and thin tresses. Take good care of your curls by using a hair mask, keeping them soft and shinier.
Q&A with style creator, Zayra Muvar
Cosmetologist @ Hair by Zay in Sherman Oaks, CA
How would you describe this look?
This look is a classic, elegant, and fun look. This perm makes my client look stunning every day by having to apply low maintenance. I used a light color to give her a grey blending and a short layered haircut while still keeping a good length for a solid perm.
My favorite thing about this look is the fact that it suits her really well and that those curls will last more than just days. This style also makes my client very happy and that excites me because it's amazing contributing to someone's happiness.
Any advice for someone considering it?
I feel that anyone is able to rock this look especially those who are looking to add texture, those who need help with their thin hair, those who want to have fuller hair, and those who want their coarse hair to be more manageable. Don't assume that perms are only for women. It's for everyone looking for a new and exciting look that only perms can provide!
They come in different hairstyles but same techniques are applied. My only suggestion when wanting to get a perm is to go to a professional.
Soft Perm
@sabrinafunz
Where are my beautiful and modest ladies at? This is the soft perm that is very special for you. The ample amount of texture and volume brought by soft perm using the flexi rod is always addicting to gaze at.
Q&A with style creator, Sabrina Szymanski
Hair Stylist @ Brio Salon and Spa in Lethbridge, AB
---
How would you describe this look?
This gentle flexi-rod perm allows the guest to achieve a tousled beachy wave. I love how this textured, soft layered bob gives her more volume and movement to her hair.
Any advice for someone considering it?
This style is for anyone with fine to medium density of hair and someone with a busy lifestyle who wants less work and still enjoy having great hair. A side fringe frames your cheekbone and eyes. Toss some curling cream onto towel-dried hair and diffuse.
Body Wave Perm
@abigail_cosmo
Q&A with style creator, Abigail Motdoch
Licensed Cosmetologist @ Augury Salon in Lancaster, CA
---
How would you describe this look?
This look is a body wave bob. We did a major cut on this client as she came in to donate her hair to Wigs For Kids, which is awesome! I love donation cuts! She wanted to totally change her look, so we cut about 12 inches into a cute layered bob. I then permed her hair with Redken's Inner Secret using large rollers rolled every other way in a brick lay pattern to create a little bit of a natural-looking texture in her hair.
Any advice for someone considering it?
It is a fantastic way to add a natural body and curl to your hair. It makes styling reasonably effortless. I recommend a curl cream like Loma's Curvy Creme and a diffuser for styling. It's also an easy style to scrunch and go!
Short Curly Perm
@cassstylez
Q&A with style creator, Cassidy P
Junior Stylist @ Vq Salon in Winnipeg, MB
---
How would you describe this look?
The look I was going for was elegance meets eccentric. Her multidimensional flame of hair draws your eyes in, but then it's all softened by her allure. My favorite part would be the contrast between classy and vibrant! Fashion colors and curls aren't viewed as classy compared to other styles, but the texture is what brings hair to life!
Any advice for someone considering it?
Educate yourself on curly hair. Changing the state of your hair could also mean a change in your everyday routine! Curly hair can be as much of a job as any other hair type, so be prepared to work with it, not against it.
If you have short hair and are considering a perm, keep in mind, you will lose a bit of length from the shrinkage of the curls! Someone with a heart-shaped face may want more volume with layers, but someone else with a shorter, wider face should desire more length.
Find blogs specific to your texture. Is your hair wavy, curly, or coil-y? Understanding your texture will be helpful when looking for techniques to enhance your curl and to treat it properly. Frizziness and dryness must be maintained if you want your curls to be healthy and defined.
Curly hair is also very fragile, especially when wet. Combing your hair with conditioner in the shower can help prevent knotting or damage. Most importantly, be patient! It will take time to understand how to work with a new texture in your hair. Have an open mind to new styling products and techniques – you might be surprised at what your curls can do!
Dry Perm
@cecesshears
Q&A with style creator, Cecilia Doyle
Cosmetologist @ Renee's Day Spa & Salon in Modesto, CA
---
How would you describe this look?
This look is a natural curly perm. When my client came to me, she said she wanted her hair curly but not "Shirley Temple" curly – rather larger and softer curls. I cut it in a round shape with 90° layers to achieve a "natural fro" look. Her hair color is natural.
Any advice for someone considering it?
Anyone considering getting a perm done should be aware of the harsh effects that take place when you chemically reform the structure of your hair. Deep conditioning and treating the curls as if the curls were natural with the appropriate curly products (depending on the texture) will help the style live longer and the health of the hair to be stronger.
If you are not able to afford curly products and a perm or even retouches on perms, maybe try different "at-home" rolling/braiding/twisting techniques for heat-free curls to see if you'd like the curls. Also, if you plan on styling your hair with any heat after the perm, probably just don't get one. It will lead to further damage and cause your hair to become more brittle. Perms last about six months to a year, depending on the size of the rods. Tighter curls last longer, looser curls don't.
I think the curly style can be very beautiful on most. It depends on how an individual feels in it. If you are confident, you will rock anything, so I don't think style is necessary as long as you feel cute in what you wear with it. My goal is to make everyone feel good about themselves, in their body, and when they look at their reflection. I try to make every cut unique to each individual. If I gave someone a shaggy, long-layered cut, I wouldn't do it the same for everyone. It's not about what I want, but it's about what I can do for my clients.
Loose Perm
@givethemhairbykristi
Q&A with style creator, Kristi Richards
Master Stylist @ Palace Flophouse Salon in Grand Rapids, MI
---
How would you describe this look?
This look is free-flowing, relaxed, and lived in. I love the volume she has and the way we cut the curls make a perfect frame around her face.
Any advice for someone considering it?
I would advise someone considering a perm to understand what it is going to do to their hair.  Yes, you will get volume and texture, but you will also get some damage and frizz.
The health of the hair should always be most important, and if you have damaged or color-treated hair, proceed with caution. Curly/permed hair can look great on its own, but sometimes you do need to use a good styling cream and dry with a diffuser for maximum volume as we did in this photo.
Shoulder-length Perm
@capellisalon280
Q&A with style creator, Betsy
Hair Stylist @ Capelli Salon in Birmingham, AL
---
How would you describe this look?
I love this look. I used orange and peach rods to create this look. My goal was to create a natural curl with various sizes. The client wanted more volume and a more natural style. I feel like we were able to achieve both of those things.
Any advice for someone considering it?
I think body waves and perms are great for texture and volume when styling straight hair. They are also great for a fast-paced/on-the-go client who needs an easier hair routine.
Loose Curl Perm
@dogan__kuafor
Q&A with style creator, Nurdoğan Cam
Hair Stylist @ Kuaför Doğan Çam in Denizli, Turkey
---
How would you describe this look?
I like very short hair. It is becoming a more attractive and modern style.
Any advice for someone considering it?
Face lines and head structures are very important to consider for short hair. Take into account the client's face shape and skin color when deciding the haircut and color. With beautiful waves, I created a more voluminous, more modern, freestyle feeling.
Loose Spiral Perm
@beautywithsabrinas
Q&A with style creator, Sabrina Reynoso
Cosmetology Student @ Beauty with Sabrinas in Arizona, USA
---
How would you describe this look?
This look is both easy and fashionable. My favorite thing about this look is that it's a softer curl, perfect for the beach, and perfect in a beanie when it gets cold out!
Any advice for someone considering it?
Some advice I'd give to a short-haired client thinking about getting a perm is to determine how you'd like the curl pattern to look, what suits you best, and what makes you feel most beautiful. Then, just go with it!
Permed Black Hair
@mcouturestudio81
Q&A with style creator, May Sayumporn
Hair Stylist @ MCouture Studio 81 in Chiang Mai, TH
---
How would you describe this look?
I call this look an "enhanced natural." The model had natural curls, but it was so fizzy and dry. That's why I did a cold perm to give her hair stronger curls which suit her face very well.
In Asia, many girls have curls and fizzy hair, but they like to straighten the hair, and after a few months, the root starts to grow curly, but the length to the ends is straight. For me, that doesn't look good, so I always recommend clients who have curls or fizzy hair to perm and enhance their natural hair. The curls will last longer, and you stay away from doing too much chemical service.
Any advice for someone considering it?
You have to take good care of your curls by using the right hair care. I always recommend using volume shampoo, conditioner, and of course, a curl cream to enhance the curls and give moisture for more bounce and a little bit of hold. Be aware of using haircare with keratin or a lot of protein, which is too heavy. It will weigh your curls down. Try Natulique volume shampoo conditioner and curls defining hair cream.