28 Volume-Boosting Medium Length Hairstyles for Thin and Fine Hair
Mid-Length Layered Hair for Added Volume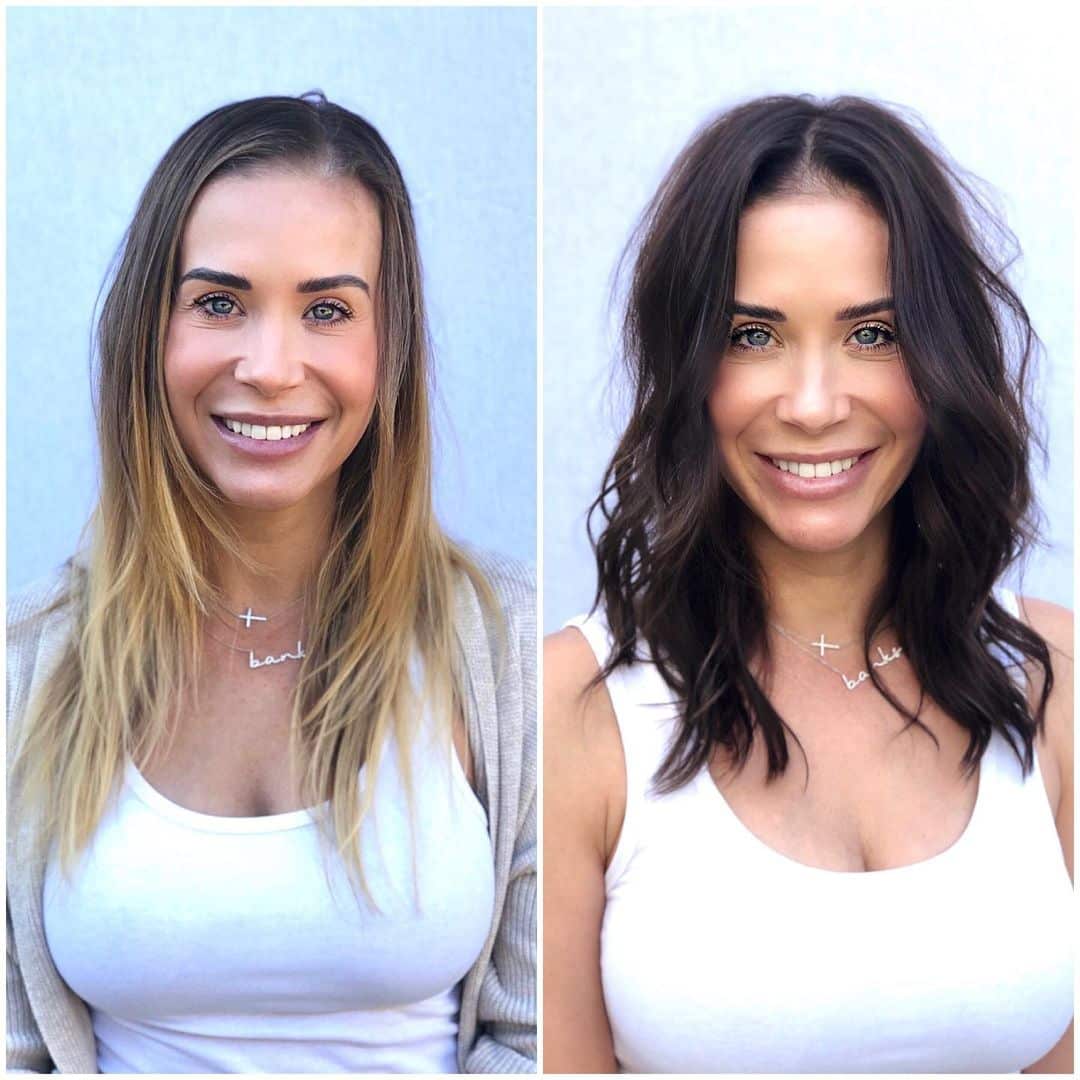 @alissathesauce
Enhance your look with this beautifully shaped mid-length hair with long layers and a brightening ombre. It's the best and most flattering tousled medium-length locks for round faces, creating a narrow and dimensional appearance.
Long Angled Bob with Curled Ends
@hairbyrachelmae_
A long angled bob with curled ends is a great style to modernize the bob especially for those with finer hair. The length being longer as it flows over the shoulders creates an angled shape that keeps fullness in your bob but bringing it to bang up to date. For days when you want some extra styling, try curling the ends to give some texture and extra fullness to your new bob.
Medium Braided Pompadour Hairstyle
@byannlykke
A medium braided pompadour hairstyle creates a sophisticated look and can be a great option for humid days. This elaborate hairstyle is an excellent hairdo for various social events.
Medium Cut with V-Cut Layers
@asiang_salon
Try a medium cut with v-cut layers if you would like to change the style of your long hair without chopping it off. The v-taper adds interest and would work best on straighter hair. This style will require trims every 8-10 weeks to keep it looking fresh.
Messy Updo for Medium Cut
@denisehairbridal
A messy updo for medium-cut hair is the go-to hairdo if you want to rock your prom. Styling this hairdo involves curling your hair with a curling iron before putting it up. Once you have those curls, it's easier for you to twist them and pin them all in for a tousled romantic style.
Modern Mid-Length Shaggy Bob
@create.hair.culture
A modern mid-length shaggy bob is all the rage. A shaggy cut has lots of layers and looks fantastic, but make sure you are ready to take that plunge. This style works well on either curly hair or straight hair. If you're going for minimal work for a natural-looking finish this might be the cut suited for you.
Jennifer Aniston's Medium Face-Framing Cut for Straight Hair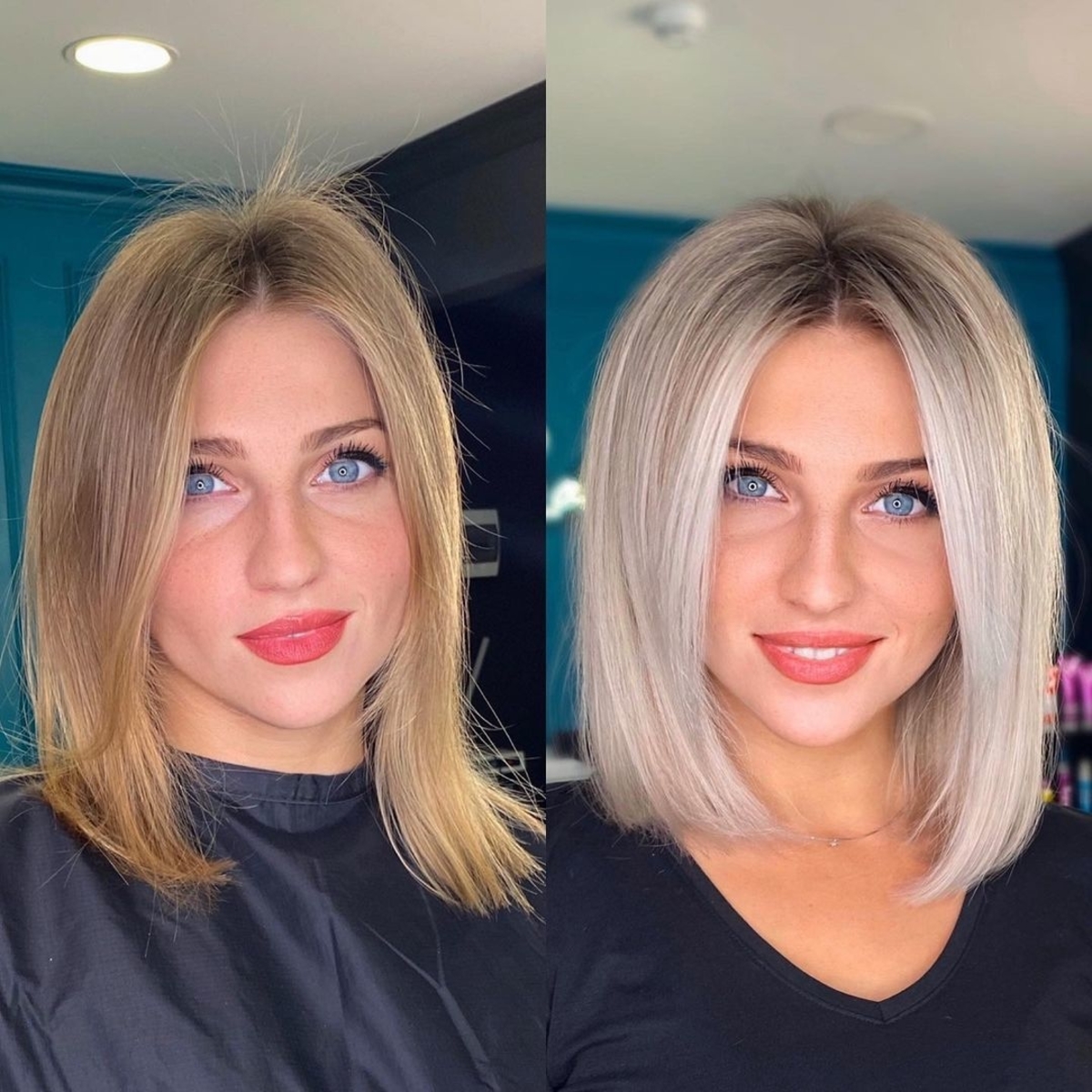 @marianna_070
Jennifer Aniston's Medium Face-Framing Cut for Straight Hair exudes elegance. This cut is achievable with a little help from leave-in conditioners. These conditioners offer thermal protection. It ensures more durability for styling while shielding hair from unwanted hair damage.
Feathery Cut for Medium-Length Hair
@kim_loan_hair_stylist
A feathery cut for medium-length hair gives major 80s vibes. Face-framing layers with a round brush style give the appropriate fullness and softness to truly accentuate the face shape.
Waves on Blunt Lob for Women Over 40
@anadoesmyhair
When it comes to finding cute shoulder-length hairstyles and cuts for fine hair, a one-length blunt cut like this is a great option. It helps frame the face and accentuate your bone structure. Style with waves plus contrasting highlights, and you'll totally get lots of movement when wearing blunt medium-length haircuts for thin hair.
Trendy Wavy Mid-Length Lob Haircut for Thin Hair
@insta_deuce
Ease into a short cut by cutting your thin hair mid-length and go for the modern wave hairstyle for a really versatile look. With these medium-length angelic waves, you'll experience the best of both worlds.
Collarbone-Length Edgy Razor Cut
@corinna.at.pony
A collarbone-length edgy razor cut is super trendy. The frayed cut in medium hair makes women with thinning hair look more modern and gives a light volume to the hair.
Sleek Long Inverted Bob with Dark, Fine Hair
@hijoaveda
Make the most out of your thin straight hair by going with a mid-length inverted bob cut plus a simple brunette balayage that goes with the season! Medium inverted haircuts with a sleek texture like this make a stunning hairstyle for fine hair. The asymmetrical cut makes it easier to maintain without making it less stylish.
Brown Choppy Lob with Medium-Length Layers and Highlights
@margaret_doeshair
Featuring chocolate chestnut hair, this shoulder-length cut is very easy and effective in giving your mane beautiful depth. The layered ends create a trendy choppy lob style that adds a soft edge for women with fine, brown hair.
Cute Cut for Straight Fine Hair
@vdahair
A cute cut for straight fine hair is effortlessly chic. A sleek lob is a great medium-length hairstyle for women with thin hair. Make sure to use a heat protectant on your hair before flat ironing and some serum to tame flyaways and to increase shine.
Collarbone-Length Shaggy Cut
@salsalhair
When it comes to medium haircuts for thin hair, you can't go wrong with a shag! This cut is back and modernized with sexy layers and blunt ends, creating the perfect shaggy medium-length hairstyles for fine-haired gals. Pair it with a blonde hair color, and it looks so chic. When styling, apply a mousse to damp hair for a better tousled result.
Tousled Medium-Length for Fine Hair
@jandrewserna
Join "Team Tousled" with this gorgeous example of medium layered haircuts for thin hair and give new life to your hair. The combination of waves and blonde highlights makes such a chic and eye-catching style for medium-layered hair.
Medium-Length Bangs
@lucystanb
Medium length bangs popular in the early 90s have made their comeback. Medium-length bob paired with medium-length bangs brushes right below the collar bone. Great for square-shaped faces with no layers and textured ends to soften the line.
Perfect Long Bob for Black Women
@hair_by__ashley
A lob is a sleek and simpler choice for medium hairstyles for thin hair over long braids for easy upkeep. It suits black women the most! Shoulder-length hairstyles for fine hair are sassy and goes well with round small faces, especially when styled with a center part.
Messy Choppy Layers for Mid-Length Hair
@trivey
Messy choppy layers for mid-length hair are a wise choice. Medium-length hairstyles for fine hair create added volume and dimension. To achieve this, throw in layers by incorporating razor cut and slice out those ends to create movement. Layer it up from your cheekbones down and add some petals around to frame the face well.
Modern Choppy Hair Cut for Finer Hair
@stefan_scholz_hairandmakeup
A really cool shade to pair with a mid-length choppy haircut for finer hair is an atomic platinum blonde for a solid definition. The messy layers and loose waves give an edgy vibe and make it so cute and very easy-to-style.
The cut in these fine tresses is a structured messy long bob created by hair and makeup artist Stefan Desczyk of Berlin, Germany.
With the shape of medium-length layered haircuts, you can't really go wrong. It almost fits every face shape. Depending on the face shape, you may have to adjust some details (length, fringe, etc).
"The best hair type for the messy lob is fine to medium thick hair," says Desczyk. "A wavy base would be even more perfect. For blowdrying, use a thickening pre-style spray, just to give the hair some strength and that bit of fullness. When it's dry use a GHD Platinum Styler for adding some waves if needed. To finish it off, use a styling serum for definition and control," he adds.
Easy Layered Cut for Round Faces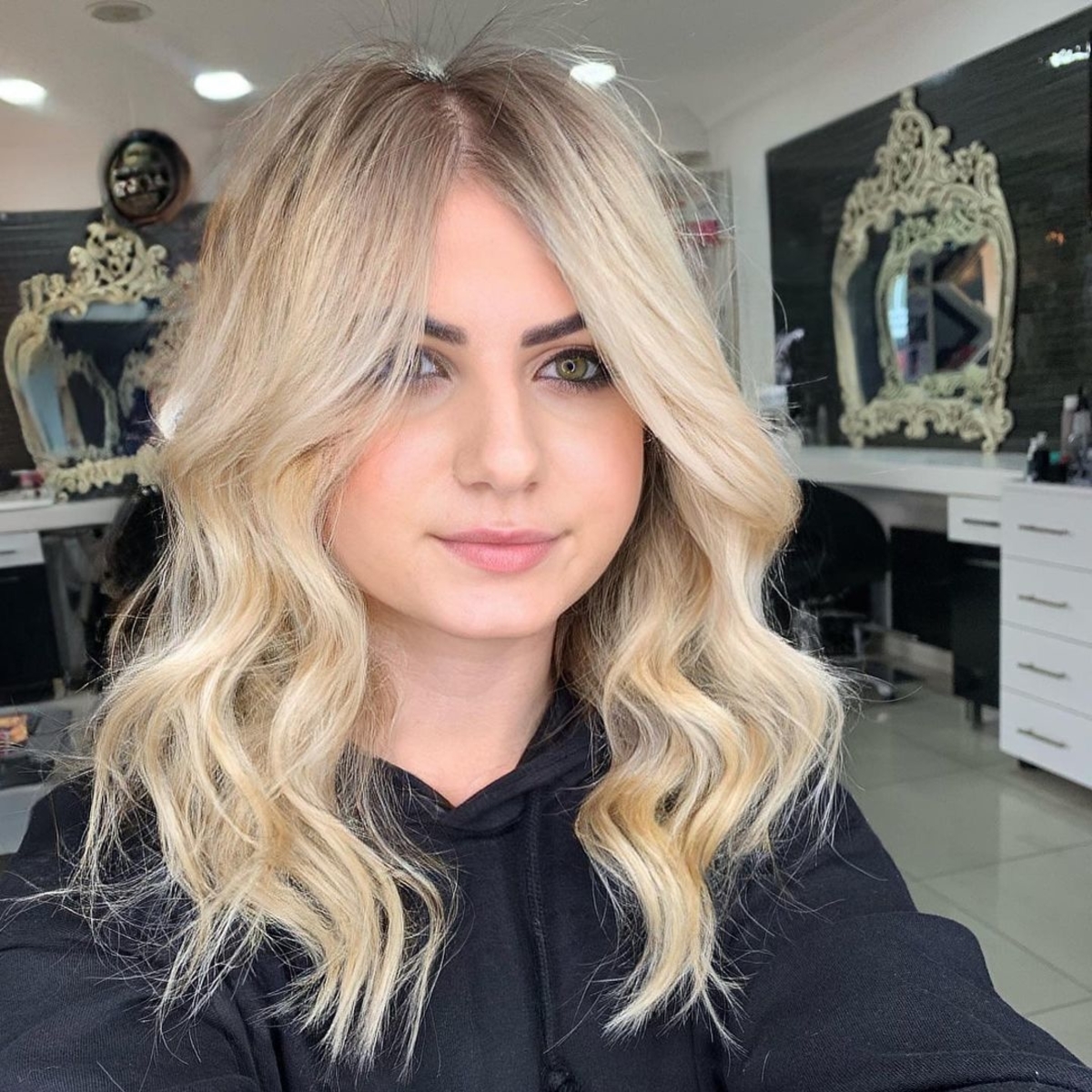 @ayhanonluel
An easy layered cut for round faces is fit paired with medium-length hairstyles for thin hair. Finer hair tends to lay flat on a round face, adding more width, complementing each other quite well. Medium layered haircuts change the all in all appearance without being too drastic.
Long Messy Bob with Choppy Layers for Mid-Length Hair
@cosmic_cosmo_bylissa
This medium-length hairstyle for fine hair has multi-dimensional tones that really pop with the shattered, choppy layers. It was created by stylist and barber Melissa Fraitag of Scarsdale, NY. "You can easily dress this up or down depending on your mood. No matter how you style this cut, it looks effortlessly chic," she states.
"Medium-length haircuts for thin hair are perfect for any fast-paced, get up and go trendsetter. A classic silhouette with an edge is very easy to style. Using any texturizing products (putty, dry texturizing spray, even your favorite dry shampoo!), a quick tousle, and you're ready to run the world. Most hair textures can carry this style with the proper personalization and products," says Fraitag.
Mid-Length Curly Hair
@elenadamovaa
This mid-length curly hair is very soft and feminine and was created by curly hair specialist Elena Adamova of Washington, DC.
With this collarbone-length, you have two options: going for a longer bob where it's shorter in the back longer in the front (A-line perimeter), or the opposite, longer in the back and shorter around the face.
Curly, wavy medium-length hair always craves moisture! It needs good organic, botanical water-based products meaning when people choose a shampoo, conditioning cleansers, gel, creams, it's important to see first if the ingredient has water! If it starts with oil or silicone – don't buy as it will dry your hair long term. Using too many oils on the hair is not recommended because it coats around the hair shaft and prevents moisture to penetrate.
"Especially for the winter," she states, "I recommend conditioner cleansers for the scalp only. That way when rinsing off the hair all of the natural oils from the scalp goes to mid-shaft and ends. After that, just finger comb it with conditioner. If the conditioner is water-based you don't have to rinse it off all the way. You can leave some in your hair."
"Also, apply your styling products on very wet hair, and don't towel dry it before that. Scrunch it to force the curl to come out then scrunch with a microfiber towel to remove access water.  Let it air dry. A cotton t-shirt will do the trick. The point is not to remove extra water/moisture. A regular towel has more texture that absorbs more, and scrunching with it will create frizz," she adds.
Light Layers and Side-Swept Bangs in Mid-Length Hairstyle for Thin Hair
@laurel_keita
Stylist Laurel cut light layers onto thin medium hair. Add a side part and long curtain bangs to your medium-length cuts for fine hair for the full volume package.
Low-Maintenance Cut for Medium Fine Hair
@classiclois_hairstylist
This low-maintenance cut for medium, fine hair is a slightly triangular, textured long bob with long layers and a soft perimeter. The cut was created by haircutting specialist Lauren Shabino of Austin, TX. "The best thing about it is that it's low-maintenance, but still edgy enough to stand out in a crowd. It air dries beautifully, while also maintaining the ability to be worn straight or with waves," she states.
This haircut is for women with long hair, who are looking for a change but aren't willing to go "short-short". The shape lands right past the "awkward length" where the hair starts flipping at the shoulder, so there really isn't an awkward moment if you decide to grow it out again. It is still able to be put into a ponytail or bun.
For styling medium hairstyles for fine hair like this one, Lauren says, "it should look great air-dried with some styling cream, blown out straight with smoothing spray, or styled with beachy waves using texture spray to finish."
Medium A-Line Bob for Oval Faces
@jamiethurlow.stylist
This shoulder-length hairstyle for fine hair is an A-line bob haircut. It was created by stylist Jamie Thurlow of Lansing, MI.
"This cut has so much movement and several styling options," she says. "It can be worn with natural curl/waves, styled straight, or curled with an iron. And this length will still go up for those women who need their hair out of their face at times."
If you're considering this hairdo, Jamie says, go for it! It's so versatile. It can be styled in many different ways to be worn to look professional, fun, sexy, casual, etc. Plus, it's flattering on every face shape. Depending on hair texture and look (natural curly, vs. straight, etc), like most looks, you'll need to use some product and tools.
When it comes to styling, she advises, "first, use a detangler/conditioning spray to comb out your medium-length cut. Then, use a volumizer and a styling cream for body, protection, and shine. Rough blow-dry it 80% dry and then section into 4 sections. Use a large ceramic round brush to achieve body and movement. Run a flat iron over the top layer and spray with moveable hairspray to finish the look."
Layered Shoulder-Length Bob
@colorbystephanie
"This is a layered shoulder-length bob that's easy to recreate at home," explains style creator Stephanie Garcia of Chino Hills. "Shoulder-length haircuts for fine hair like this are perfect for women who cannot come in for routine touch-ups every 4-6 weeks," she adds.
Stephanie believes this style is the "power cut" for all the badass women who are always on the go! "No more daily fights with long blow drys, curling irons, and tons of product for your fine locks and shoulder-length haircuts!"
Short Layers and Face-Framing Highlights for Fine Hair
@sadieface
This updated version of a long graduated bob was created by extension expert and creative color specialist Sadie Curtin of Costa Mesa, CA. "Its textured layers and fresh balayage give this shoulder-length layered hair a modern approach to an old classic," she states.
When considering medium-length hairstyles for fine hair, you may need to add a new product to your regimen or curling iron to help achieve your end results.
"Sitting in the chair while the service is being performed is the perfect time to ask your stylist for a quick tutorial on styling your new do," adds Curtin.