22 Best Haircuts & Hairstyles for Women Over 50 With Thick Hair
Shoulder-Length Inverted Bob for Thicker Hair
@spinhair
Need new hairstyles for women over 50 with thick hair? Here's a shoulder-length inverted bob that works great with your desired diamond blonde hair color. With a subtle fringe, it gives an impression of youthfulness, even in your 50s. Turn your thick, straight hair into a blonde bob for a change!
Wavy Lob with Ombre
@thesilvertitaniumlife
A wavy lob with ombré is great for naturally curly and wavy textures. An ombré shows off the cut in a fun way. Great for women over 50 looking to keep some length and having a lower maintenance shorter style. If you are looking to grow out your gray, a style like this helps you get to that goal sooner with having less hair to grow out.
Short Layered Shag for Women with Gray Hair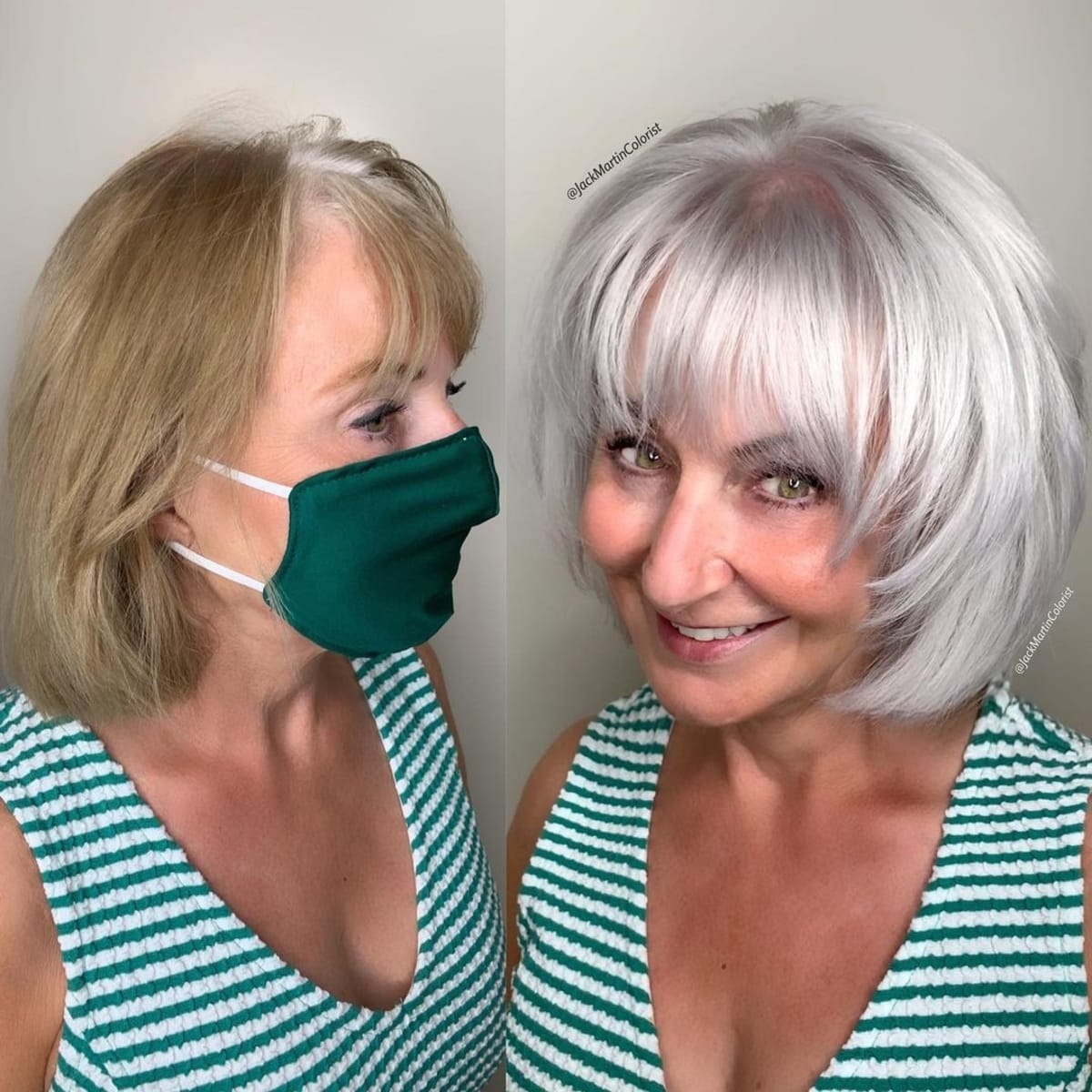 @jackmartincolorist
A short layered shag for women with gray hair can give a youthful vibe and boost style to the hair. The layered shag adds texture and an edgy feel, plus shaping around the face, which can balance out the older feel gray hair can bring.
Pixie for Short-Length Hair
@allthathair2903
A pixie for short-length hair can really make denser hair more maintainable, in both washing and styling. Thick hair can really weigh the hair down, so working a shorter length can lift the hair allowing more texture and movement to your style.
Long Pixie with Feathered Layers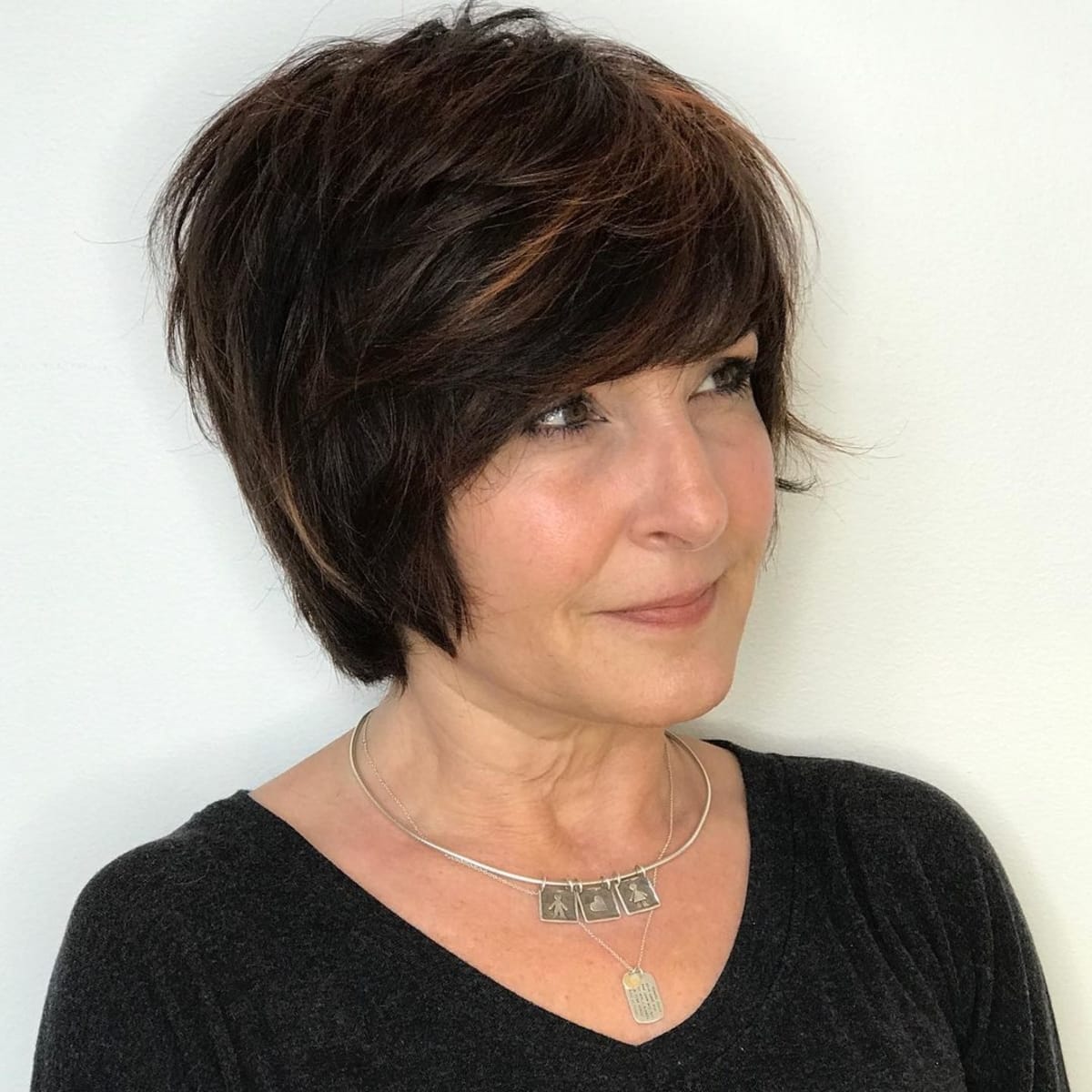 @terryvartykaslow.hair
Rock a long pixie with feathered layers if you love the short texture but still require some length to fall around your face. A pixie can feel like it exposes so much of your face and hairline, however maintaining some length to cover your ears and jawline can be the perfect cure to still embrace a shorter style. Opt for feather-like layers to allow softness around the face and a lighter effect to the hair.
Feathered Hairstyle for Thick Hair
@cabelosfhabioribeiro
Try a feathered hairstyle for thick hair for an airy feel to your layers. Thicker hair can still feel bulky after it has been layered, so discussing with your stylist to add a feathery feel to your layers can lighten the feel and look to your style.
Tousled Shag for Medium Hair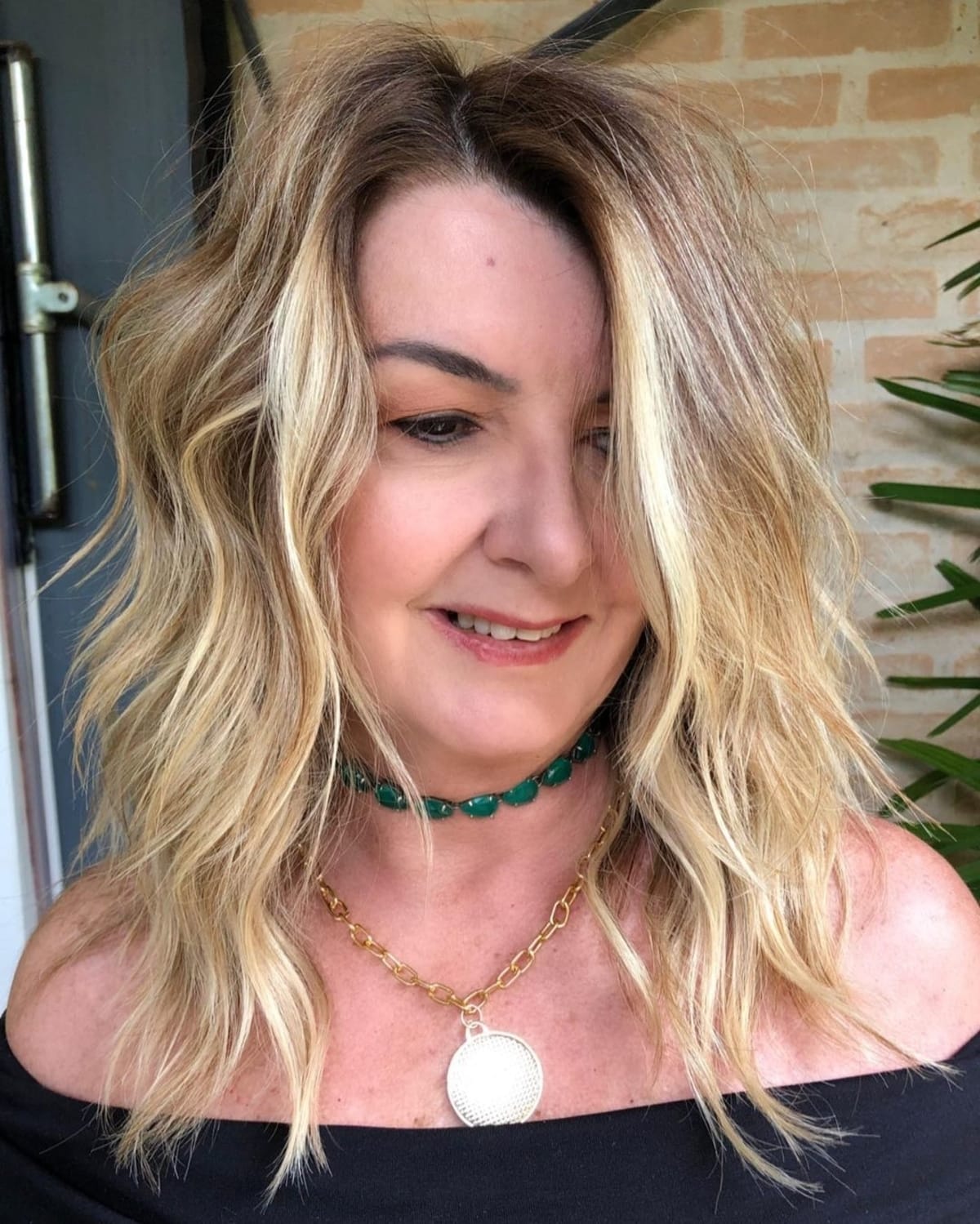 @ka_espacobeleza
A tousled shag for medium hair is great for women who love movement and height. Adding shaggy layers brings width up to the face, which we lose when our hair is long. This can add a more youthful appearance and lift the face.
White Pixie Bob for Women with Thick Hair
@hair_motif
A good haircut for thick hair is the white pixie bob, which is perfect if you're a lady over 50. It's the color that suits your age, and the chop that's easy for you to style. Now, pixie cuts are how you give life to your thick tresses!
Short Salt and Pepper Bob for Women Over 50
@wrighthairco
Short hairstyles for women over 50 like this salt and pepper bob is an eye-catching trend! The contrast looks amazing and will class up your natural greys. If you're a woman who's over 50 and with thick hair, opt for a neck-length graduated cut. The chop lessens the bulkiness of your locks while giving you that younger look.
Short Curly Bob for Women with Thick Hair
@nataliapetcu_
Some short haircuts display sophistication to the fullest! Take this bob hairstyle, for example. It's a short curly bob for thick hairover 50, which works well on your neck-length, dark tresses. The key to its bouncy and fuller-looking finish is to use a sea salt spray when styling your curly hair.
Thick Lob with Side Swept Bangs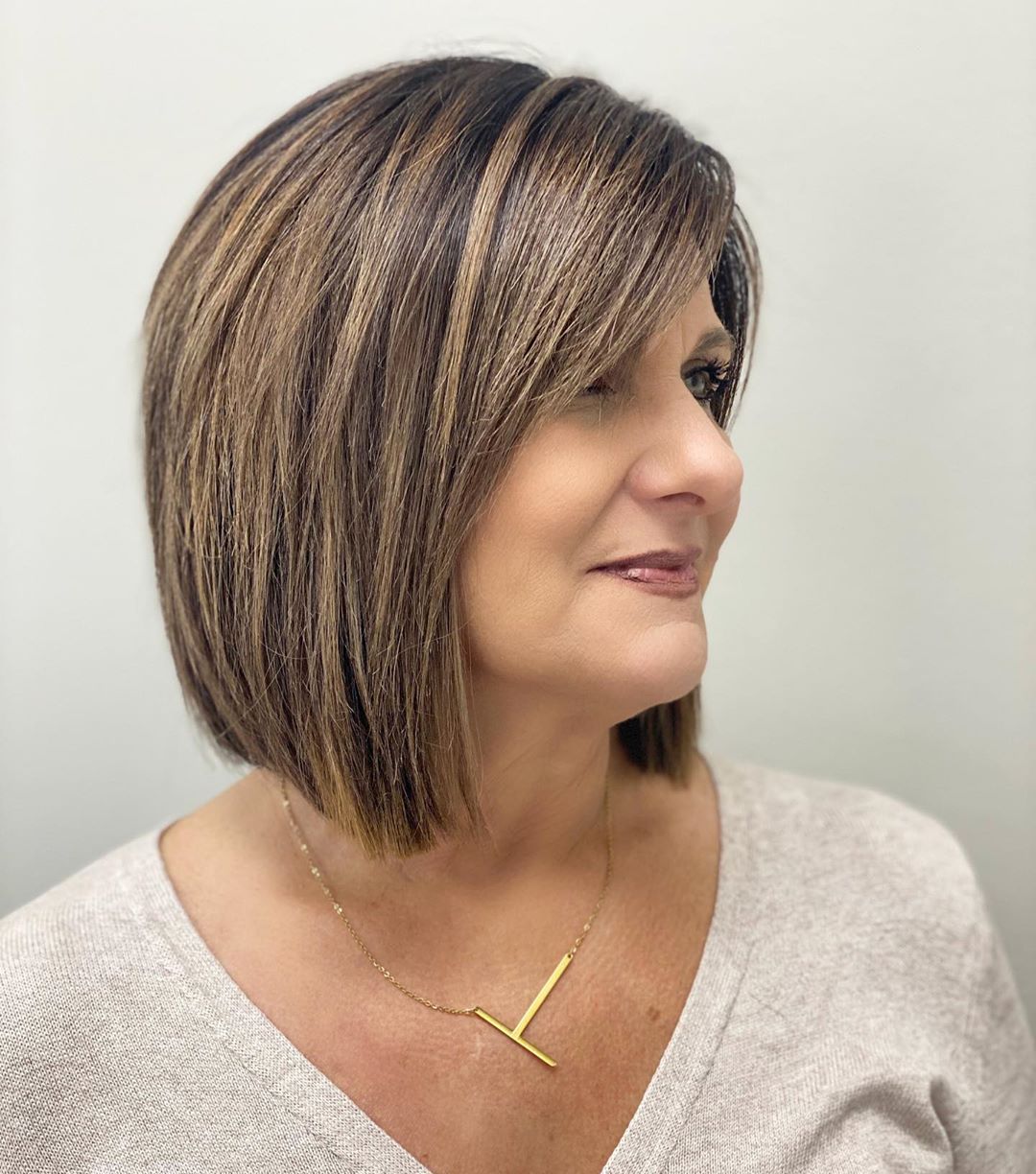 @jleighhair
If you're sick and tired of styling every morning, why don't you try this thick lob with side-swept bangs? Side bangs look simple and stylish on a straight, thick mane. Pops of honey and silver create a dimension, which adds shine and fullness to your locks. With this long bobs trendy color and neck-length chop, sure, you'll want to change your look ASAP!
Blonde Cropped Hairstyle for Thick Hair
@thehairstudiorhyl
An alternative way to achieve a lovely jaw-length style with much-needed volume is here! Freshen up your look by applying enough mousse to this blonde cropped hairstyle. It suits a golden shade of blonde and features wispy bangs for thick hair to offer you a younger-looking payoff.
Choppy Pixie for Older Women with Thick Hair
@hair_by_justine
You gotta love the texture in this gorgeous choppy pixie cut for women with thick hair. Layers add more details to the thick hairstyle while they boost the dimension of these bronde locks. Consider this hairdo when you have straight and thick hair, and you'll look amazing no matter what!
Grey Pixie with Undercut for Women in Their 50's
@hairbyhideki_
If you're considering short haircuts for women over 50, a grey pixie with an undercut, defines sassiness! With the gray hair blending into the dark strands, the entire style happens to be low maintenance. And because the short pixie is trendy and fashionable, a styling routine every day isn't necessary.
Youthful Mid-Length Shag for Thick Hair
@michaela_hairstylist
A youthful voluminous shag, partnered with baby bangs, to frame your face like a total darling! One thing to love about this mid-length cut is that it removes length and weight from your dense, medium-length hair. To benefit you, it also adds texture to dark brown hair, making the curls look very light and gorgeous.
Hairstylist Michaela Perdue of Blacksburg, VA created this soft shag with baby bangs for thick hair. "The texture and top layers add so much movement without sacrificing the length," says Perdue.
Get a good texture spray for styling a shag. "In this picture, a flat iron was used to style, and the curls were broken up with Davines This Is A Dry Texturizer," she explains. "A shag can truly suit all older women, but women with natural texture who want to bring their natural curls to life benefit most."
Taking off the extra weight allows natural curl and wave to have body and volume. A shag can truly be a wash and wear style or one that requires little effort for older women. It even gets better with 2 and 3-day old hair!
Messy Beach Waves for Women with Thick Hair
@kimswannart
Opt for messy beach waves if your thick tresses need a bouncy finish. This textured style with bangs does a better job on a length that falls at the neckline. Spritz on a texturing spray to boost the movement and shine of your dark blonde mane.
This textured, wavy hairstyle was created by hair stylist Kimberly Swann of Savannah, GA. "This style maintains itself along with the help of a shaped and textured cut. Taking care of your hair with good conditioning masks and leave-in conditioners are all firsts on the list," she explains.
Swann recommends you look for a stylist you can best communicate with and has experience in these cutting techniques. "Try All-Nutrient styling products, including the Motion Soft Gel and the Straight Smoothing Cream, mixed, for hold and frizz. Sometimes if more body is needed, add the ELC Bobo volume foam too," she adds.
An important tool also needed to make the most of the body and curls is a diffuser attachment to your blow-drier. For conditioning, a popular hair mask to use after every shampoo is Moroccan Oil Hydrating Mask. How to properly apply these products really matter for this style as well.
Flattering Feathered Lob with Wispy Ends for Older Women
@qtwithabeauty
What a flattering feathered lob with wispy ends that's ideal for women over 50! Give your thick mane new life by getting this hair style, best with a shoulder-grazing chop. Pair it with a highlighted dark blonde shade, and rock that dimensional result. If you're not into subtle highlights, ask your stylist about a balayage or ombre instead.
Layered Short Bob for Thick Hair
@yuvistylist
If you need to revamp your dense mane in a dramatic way, a layered bob is a short hairstyle to consider. This is a layered short bob for thick hair, looking perfect on a stunner around 50 years of age. Throw in some texture to the graduated layers, and you'll have the volume of your dreams. Whether natural or not, a solid golden brown shade will give you wondrous results, highlighting your natural beauty.
Blonde Bob with Bangs for Chin-Length Hair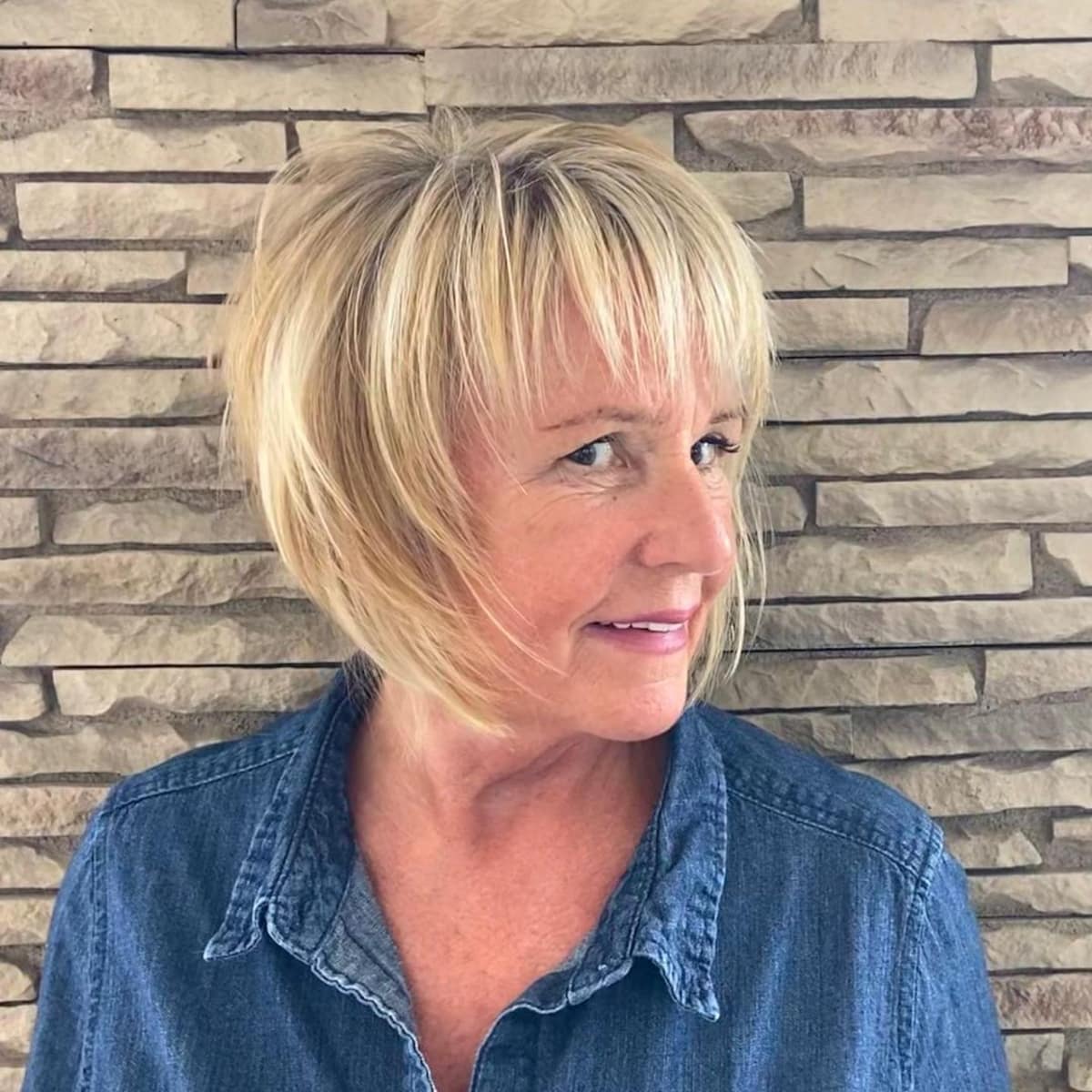 @jeanniejachman
A blonde bob with bangs for chin-length hair looks good with a shag upgrade. Proof? Here's one by stylist and colorist Jeannie Jachman of Michigan.
This haircut is a juxtaposition of structure and movement. "I used scissors to create a clean perimeter and a razor for soft, textured layers," says Jachman.
Thick Straight Long Bob Style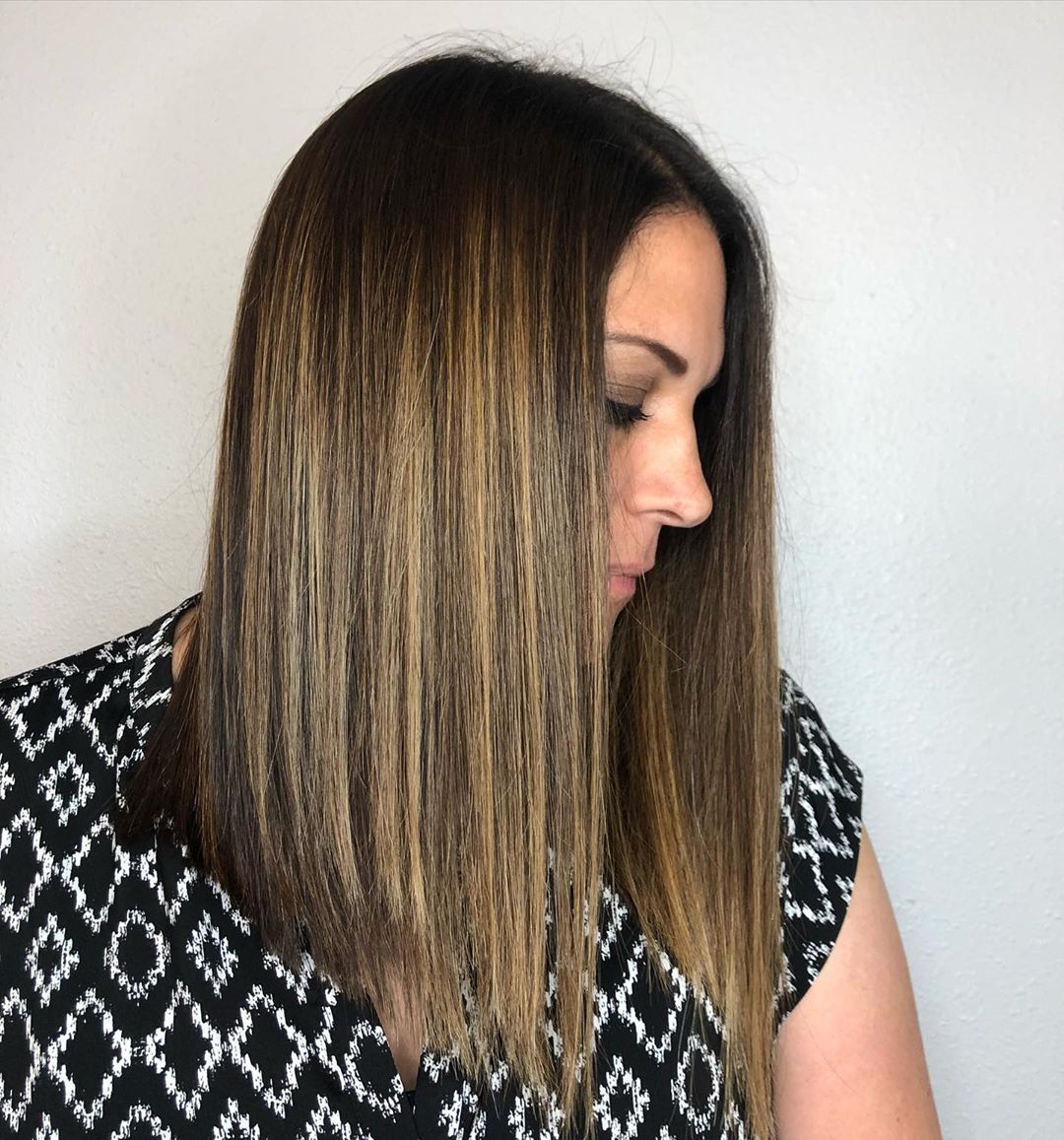 @beautybybrandz
Now, in your 50s, your hair goal must be something that appears iconic. Choose this gorgeous thick, straight long bob for your next revamp. Opt for a long hairstyle that goes beyond shoulders to show off your bronde's dimension even better. A dark root is a great choice to achieve a low-maintenance result.
This thick straight long bob is trendy but mature. It was created by licensed cosmetologist Brandie Rivas of Clearwater, FL. "The lob is a great 'in-between' bob haircut to where it is low maintenance but still versatile enough to style different ways," she says.
Discuss with your stylist how this hairstyle for women over 50 is able to be customized to your long hair texture and daily styling routine. "Whether to make the angle of the bob cut more or less drastic completely depends on how often you are wanting to keep up with the cut. For styling, it is great! A smooth style or beach waves will work perfectly with this straight bob haircut," explains Rivas.
The Perfect Textured Cut for Thicker-Haired Women
@emilypatrickhair
This A-line cut is a very lived-in style, so the texture and styling are everything. It was created by Emily Cornell, a hairstylist in Greensburg, PA. "The hair is mainly cut dry to really shape out the shattered pieces and personalize it. Textured cuts for thick hair like this have the versatility of wearing it straight or with flat iron curls (as shown)," she explains.
This style is ideal for women with fine or thick hair. It's a fun style that is completely current and on-trend. This cut is great for businesswomen, moms, grandmas, and women with active lifestyles.
To achieve this style, Emily suggests you try Evo MacGyver Mousse at your roots for volume. "Eufora Pure Polish is a lightweight gloss that adds shine. When the hair is dry, use Eufora Full Effect to add a ton of volume and texture to those fun pieces. It has silica in it, so it won't leave the hair tacky and can still break down," she adds.
Medium-Length Thick Layers with Bangs
@thesmaavcut
Curl specialist Sherrie Virtue of Montréal, QC created this medium-length to long-layered haircut with bangs for women over 50. "Layering removes some thickness," she explains, "there are shorter layers on top and some framing the face. This cut gives you volume and texture, yet still maintains fullness. This style isn't recommended if your hair is on the finer side."
Long hairstyles like this are easy to maintain. It's versatile, meaning you can wear it straight, curly, or with movement. It's better suited for older women who will be able to spend a bit of time styling their layered cut. You will need at least one styling product to maintain this look. When blow-drying at home, you can turn your head upside down for added volume at the roots. Use hot rollers or simply add product, scrunch, and air dry your long locks.