39 Youthful Hairstyles for Older Women
Modern Shaggy Hairstyle
@saloncentricpartner
A modern shaggy hairstyle, if cut short, makes a classic statement that suits grey-haired older women over 60 the most. Shag haircuts can enhance the volume of thinning hair. The layers add a bulkier effect, so the tresses appear fuller. For a much youthful vibe, wispy bangs can be helpful.
Slightly Angled Bob
@jonngetssnippy
A slightly angled bob, if paired with bangs, radiates a younger-looking hairstyle. It looks classic and flatters women over 50 the most. This hair trend won't go out of style, so give it a try.
Short Cut with Side Part for Women with Glasses
@hairdresse_nina
A short cut with a side part for women with glasses is easy and fun to wear everyday. It takes minimal effort to style if the hair has a naturally wavy texture. This haircut is the perfect option to make thin tresses appear thicker and fuller.
The Round Bob
@sandrareynoldsagency
The round bob haircut has a shape that can soften a square face. It features wispy bangs to add a hint of youthfulness that older women love. To prevent the hair from looking helmet or mushroom-like, ask for minimal layers.
The Youthful Bob for Seniors
@energyhairconoosa
This is the youthful bob for seniors. Chic and glowing—this can brighten your face. The length where it grazes the neck is best for ladies with a rounded face shape. For a softer edge, finish it off with subtle waves.
The Fuss Free Medium Short Cut
@trinnie_hair
The fuss-free medium-short cut works best on straight, fine hair. The result is guaranteed to appear flawless on these types of tresses. This haircut has subtle layers to give hair a bulkier effect and added volume. It looks even more dazzling with a dark-rooted blonde hue.
The Cute Wedge Cut
@ro.hsiqueira
Featuring the cute wedge cut that appears stunning on older ladies! When styled with subtle texture, it looks more radiant with beige blonde highlights. This short haircut also suits ladies with an oval face shape. Wear it and look sophisticated all day long!
The Stacked Bob
@abetterwayattaras
The stacked bob is an appealing option for ladies with thinning hair. This haircut has layers that provide a thicker effect. What's great about stacked bobs is they look even more flattering with bangs. The fringe carries out more movement.
The Choppy Pixie
@__hairbyjessica
The choppy pixie is another hair trend that's made for older women with thin, fine tresses. It has a shorter length to keep its fullness. Add bangs and you won't go wrong. The fringe brings out an edgier, younger feel to it.
The Trendy A-Line Bob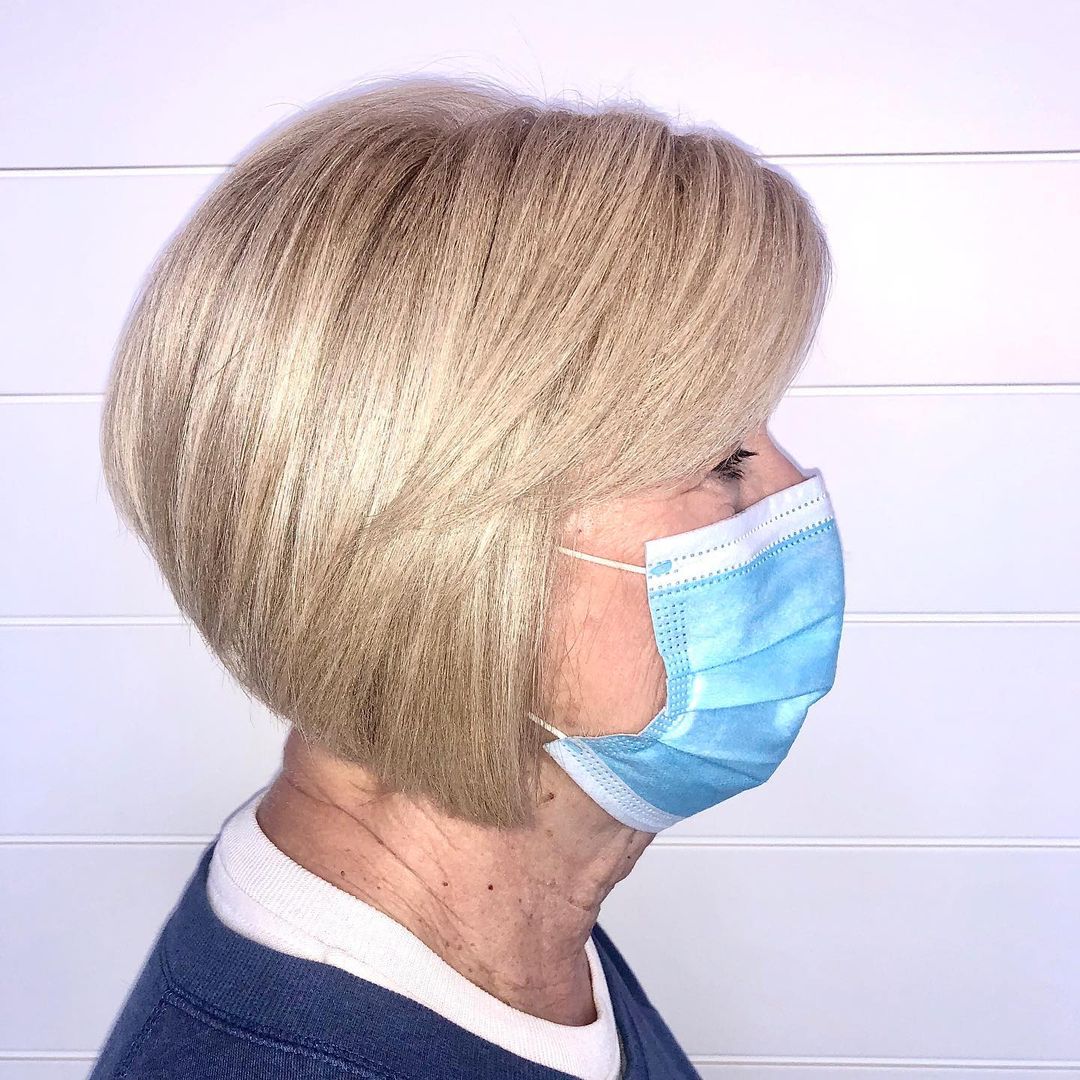 @kerrikultalahairstylist
Here's the trendy A-line bob that senior ladies must go for! The bob is simple yet gorgeous and is easy to manipulate. When aiming for a rounded, sleek style, it works better on straight locks. A tousled style can also be achieved. Just combine a little texture and a mist of salt spray.
The Long Pixie Cut
@betinha_leaohaircut
The long pixie cut is one of the best hair ideas that match natural grays. A haircut such as this can be sassy and glamorous, which mature ladies can pull off the best!
The Classic Short Crop for Women Over 60
@mayzie_mcb
The classic short crop for women over 60 is always sassy. It shows confidence and elegance. Hair like this offers a lovely wash-and-go for older ladies with fine, thin tresses. Style it with texture and allow the locks to appear thicker than they are.
Trendy Choppy Short Hairdo for Women Over 70
@oldushkamodels
This trendy choppy short hairdo for women over 70 is such a vibe! It's super edgy and seems fun to flaunt each day. To achieve the look, tuck some strands behind the ears. That's the style that creates an illusion of an undercut without shaving the sides. Amp up the hair on top with a load of texture for a strong finish. Spritz a flexible hold hairspray, so the style lasts all day.
Texturized Choppy Bob
@robsonstudioliss
This is a texturized choppy bob, and older ladies with fine hair will look attractive with this cut. It's a neck-length cut with subtle layers to carry out more movement and texture to locks. The bangs add a very feminine vibe to it. Such a fringe is always cute but be reminded that it needs heat-styling more often.
The French Bob with Bangs
@camillesdhair
Of course, the French bob with bangs can flatter older women, too! Notice how a wavy texture upgrades the complete look. The movement is so natural, and the texture appears so chic. This bob isn't complete without the fringe. It adds extra spice and youthfulness to the appearance.
Q&A with style creator, Camille Hebert
Hair Stylist @ Hair by Camille in San Diego, CA
How would you describe this?
This is a super cute chocolate, shaggy, French Bob with a peicey fringe. The fringe is longer in the middle and arches over the brow to create a beautiful pop around the eyes. Use all organic color free of Ammonia, PPD, and Resorcinol. It covers grey beautifully and has lots of shine.
What's your best advice?
French Bobs are a timeless, very versatile cut for all ages. They go great with all face shapes and most hair textures. You can add a little Tonik from Cult +King before styling with a round brush. Then finish with Power from hairstory for body and texture.
This hand dries nicely using a little balm and undressed by hairstory, or as a wash and go. You can wear with your natural texture, curly, straight, beachy, piecy or sleek. There are not many limits when it comes to this cut. Looks great, and is a look that never gets old!
The Easy Wash and Wear Cut
@hair_by_rae.m
The easy wash-and-wear cut is probably one of the most loved hair trends by the elders. Any woman with thick tresses can pull it off. This chop has so many layers that make the hair appear weightless. A pixie cut like this may be easy to style, but it demands maintenance. Regular trims are vital to keep it in good shape.
Sassy Spiky Cut
@hairbykellief
Rock a sassy spiky cut and appear striking no matter what! This haircut features a tousled-looking effect that older lovelies can wear the best. For those who have thin hair, this is one of the ideal haircuts to pull off. The texture helps the tresses to have a thicker illusion.
Edgy Asymmetrical Bob
@mustafahairdesign
Yes! This edgy asymmetrical bob is made for older women with naturally white hair. This haircut creates that strong, stunning statement. It frames the face so well, and there's a fringe for an extra fresh vibe. Such a bob is a fantastic cut that suits thin tresses.
Q&A with style creator, Mustafa Mashharawi
Hair Stylist @ Skyline Salon in Kansas City, MO
---
How would you describe this?
This is an edgy textured bob with wispy bangs.
What's your best advice?
This cut is good for women who wear their hair straight or in soft waves. Narrow rounded wispy bangs help lengthen your square shape. Apply leave in conditioner and mousse on the roots if volume is needed. Blow dry using a medium or large round brush and finish with texturizing spray.
Short Feathered Cut
@cabelosfhabioribeiro
This is a short feathered cut that looks right on mature ladies. It works best on straight locks. The feathered layers are a classic way of wearing hair with lots of movement. For a more youthful edge, balayage highlights are a superb and sweet addition.
Beautiful Angled Bob Hairstyle
@chelseasalondayspa
Q&A with style creator, Chelsea Roma
Stylist / Owner @ Chelsea Salon & Day Spa in Niagara Falls, NY
---
How would you describe this look?
It's a short hairstyle, tapered closer at the bottom in the back with lots of feathered layers and texture on top to give it volume and movement. We did a short bangs to change the shape of the cut because when we started the front was as long as the sides.
Any advice for someone considering it?
It's a fun haircut for women over 70 and with a few ways to style it. It could be round brushed, flat ironed for a totally different look, or just blow dried. Add some paste or different products for a cute sexy, piecey, and messy look!
Simple Straight Hair
@salonkarmasc
---
How would you describe this?
This simple straight hair is a fun and sassy wedge cut. It was balayaged with caramel pieces against a chocolate brown for dimension and the texture was created with a razor. I used Wella 6/73 6/ for base and lowlight and toned with Redken shades EQ 7gb 8wg.
What's your best advice?
This is a great short haircut for women over 60 and looking to balance a square or oval face shape. It was styled with Bumble and Bumble thickening spray, thickening contour cream, and a medium round brush. This simple straight hair works best for fine to medium hair types. Coarse or curly hair may require a few more minutes of styling!
Chic Bob for Wavy Hair
@lucindaelleryconsultancy
The chic bob for wavy hair flatters older women the most. This hairstyle gies a dramatic makeover that offers a youthful edge. A chin-length haircut like this complements round, oval, and heart-shaped faces. It would also need a mist of dry shampoo on most days to look great.
Cute Medium Length Cut
@styledbydaniellemaldarelli
A cute medium-length cut like this has a finish that's very youthful and chic. It makes the hair look livelier when jazzed up with waves or curls. This mid-length haircut for women in their 50s also adds extra texture to blonde locks.
Perfect for Round Faces and Glasses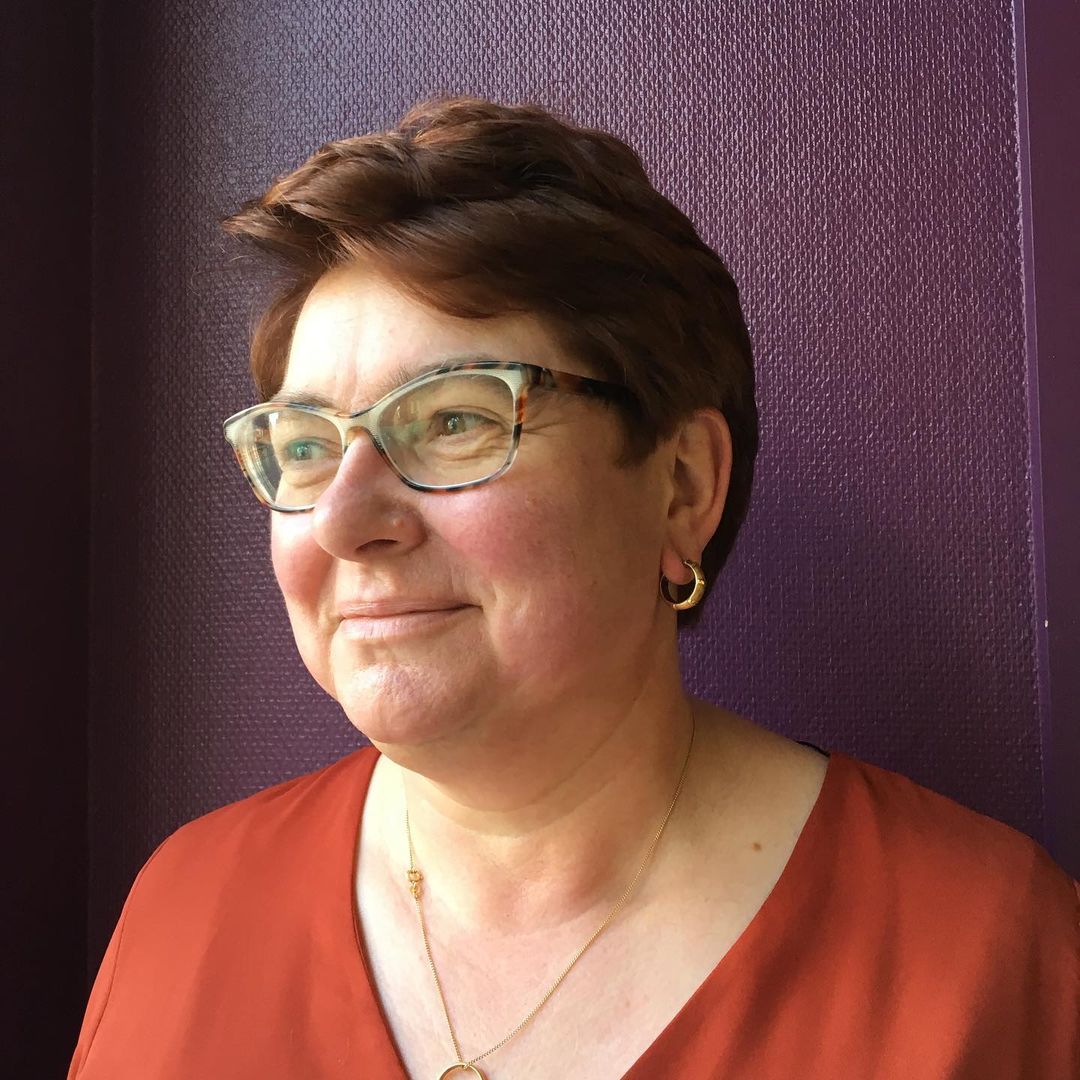 @hairdresse_nina
Perfect for round faces and glasses, this is a short and sweet haircut on wavy hair. This haircut for older women goes well with a soft texture. It has a movement that can complement a round-shaped face. It's also one of those hairstyles for women over 50 with glasses that works on both thin and thick density.
The Layered Haircut
@jackmartincolorist
Q&A with style creator, Jack Martin
Hair Stylist / Colorist @ Jack Martin Salon in Tustin, CA
---
How would you describe this?
This layered haircut is a face framed layered bob, ideal for ladies with thin hair. It's great for oval face shape, which will create a beautiful high cheekbone illusion. It's easy to style with volumizing styling products to create a thicker look.
What's your best advice?
To wear this layered cut you have to have the right face shape. Oval to long shapes work best, it doesn't work with round faces. As for hair texture, it works with straight to wavy hair texture but not extremely curly hair.
Youthful Crop for Short Hair
@inkee_pinkee
Short hairstyles for older women over 50 take advantage of cute pixie cuts like this by styling it with highlights and face-framing layers for a really edgy vibe. The blonde highlights on this short layered pixie give this cut lots of fun and chicness.
Modern Permed Hair
@amandarickmanpurelycurls
Modern permed hair is a timeless style that even senior women can flaunt. The easiest way to incorporate volume into haircuts is to go through the process of perming. This technique aims to give thin hair an illusion of bulkiness. If you want to stay away from flat and lifeless hair, then this fan-favorite look should be on your to-do list! It looks fun to wear, for sure.
Q&A with style creator, Amanda Rickman
Salon Owner / Hair Stylist @ Purelu Curls in Townsfield, QLD
---
How would you describe this?
This modern permed hair is fun, fresh, and easy to manage.
What's your best advice?
Have fun with your curls, try a fringe, and don't be scared to try something new. This style will work with most face shapes & curl types and the layering gives a soft shape.
Find a stylist who is experienced in working with curly hair. You'll want them to teach you exactly how to work with your curls. Use quality products and techniques to replicate the in salon look.
The Classic Bob
@mc_salon
Living for the classic bob? If you're a mature lady who loves a simple yet stylish look, this is perfect! This chin-length haircut appears so flawless on fine, straight hair. Leaving a few pieces swept to the side as bangs are clever. It's the fringe that allows the entire style to have a more modern and fresher finish.
Modern Shaggy Hairstyle
@jayne_edosalon
Shag haircuts with curtain could greatly and charmingly enhance the volume of thinning hair on older women over 60. Add in some highlights and layers for a complete look! Check out more beautiful hairstyles for women over 60.
For Older Women with Long Hair
@austenthomsonhair
Join the grey hair movement with one of these beautiful long hairstyles for older women with grey hair! This proves that any length is possible at any age as long as it's in good condition and taken care of properly. Grays can still look stylish and the right makeup can still take years off. Over 50? Then check out these gorgeous long hairstyles for women in their 50s.
Collarbone-Length Cut for Curly Hair
@chloescissorhandz
A stunning collarbone-length cut for curly hair like this enhances natural texture. It makes the tresses appear fuller and bouncier. Hairstyles for older women with curly hair also do great with bangs. The fringe adds a dash of a younger vibe.
Textured and Layered Cut for Thick Hair
@priscilarodrigueshairstyle
A great textured and layered cut for thick hair aims to appear weightless and bouncy. To do so, short and subtle layers are the key to create that soft volume. This is so classic and easy to style that a mature woman can pull it off with no sweat.
Simple Shoulder Length Bob
@lucindaelleryconsultancy
A simple shoulder-length bob is one of the hairstyles that older ladies with gray hair can enjoy. If wanting to have a solid hair color, paint the locks platinum blonde. The hue works well on natural grays. For everyday styling, give the hair very subtle and soft waves.
Short Layered Bob for Thin Hair
@hair_by_rae.m
Try a short layered bob for thin hair because it's stylish, voluminous, and adds shape to tresses. This layered bob haircut looks flattering on seniors. It only requires little to no styling effort, so it's optimal as a go-to look for most women.
The Short Pixie Cut on Gray Hair
@cabelosfhabioribeiro
The short pixie cut on gray hair is straight-up gorgeous! It's a perfect go-to haircut for older women as it doesn't require much styling. But when it does, a tousled style would be lovely. The end result must be natural-looking.
Layered Mid-Length Cut for Women Over 50
@hairhasdina
Q&A with style creator, Dina Hasanovic
Hair Colorist and Wig Color Specialist @ Mark Garrison Salon in New York, NY
---
How would you describe this?
This layered mid-length cut for women over 50 is low maintenance and ideal for women with busy lives. For styling, use re:mark Finish Line Blow Out Lotion and a medium all-natural boar brush.
What's your best advice?
This haircut is not for a woman who has tight curls, thin hair and frizzy hair. It's more for thick, wavy hair that lays heavy. The layering of the haircut adds height and volume to the hair. This helps if you have hair that tends to sit very heavy on the ends and flat on top. By adding layers to the hair it adds volume and movement through the hair, so it has more shape and grows out well.
The Simple Blunt Cut
@charbergen
Q&A with style creator, Char Bergen
Hairstylist @ Shear Bliss Salon & Day Spa in Morden, MB
---
How would you describe this?
This simple blunt cut is classy, feminine, and chic.
What's your best advice?
This blunt cut is perfect for mature women who are wanting to wear their hair natural white/grey.
The cut is easy for you to style on your own at home as the architecture of the cut shapes itself.  Use a root volumizing product at the scalp for lift and a shine product on the mids and ends. Try Osis+ Session Label Volumizing Root Spray Mousse and Alterna Bamboo Brilliance Cream. They create a flawless, classic look.  Use a Denman brush during the blowdry, too.
<
Chin-Length Cut for Wavy Hair
@madilyntranthamhairstylist
Q&A with style creator, Madilyn Trantham
Hair Stylist @ Haven Salon in Springdale, AR
---
How would you describe this?
This chin-length cut for wavy hair is perfect for older women. Clean up the ends with a blunt, one length bob. Add effortless textured waves using a USoomth curling iron in the size 1 1/2″. Finish with Davines Dry Texture Spray, VOLU Hair Mist, and Blow Dry Primer.
What's your best advice?
This chin-length cut is perfect for all hair types and face shapes. If you're wanting something that is easy to style and maintain then this is the cut for you! Just make sure you have good volume and texture products and the right hot tools and you'll be set!
Choppy Long Bob for Fine Hair
@heatherdouglas721
This is a choppy long bob for fine hair that looks flattering and fresh-looking! It's one of the hairstyles that older women are sure to love. The length falls right at the shoulders to offer versatility. With subtle waves, it appears fuller and fun to wear!