18 Best Black Hair with Red Highlights for Eye-Catching Contrast
Red Peekaboo Highlights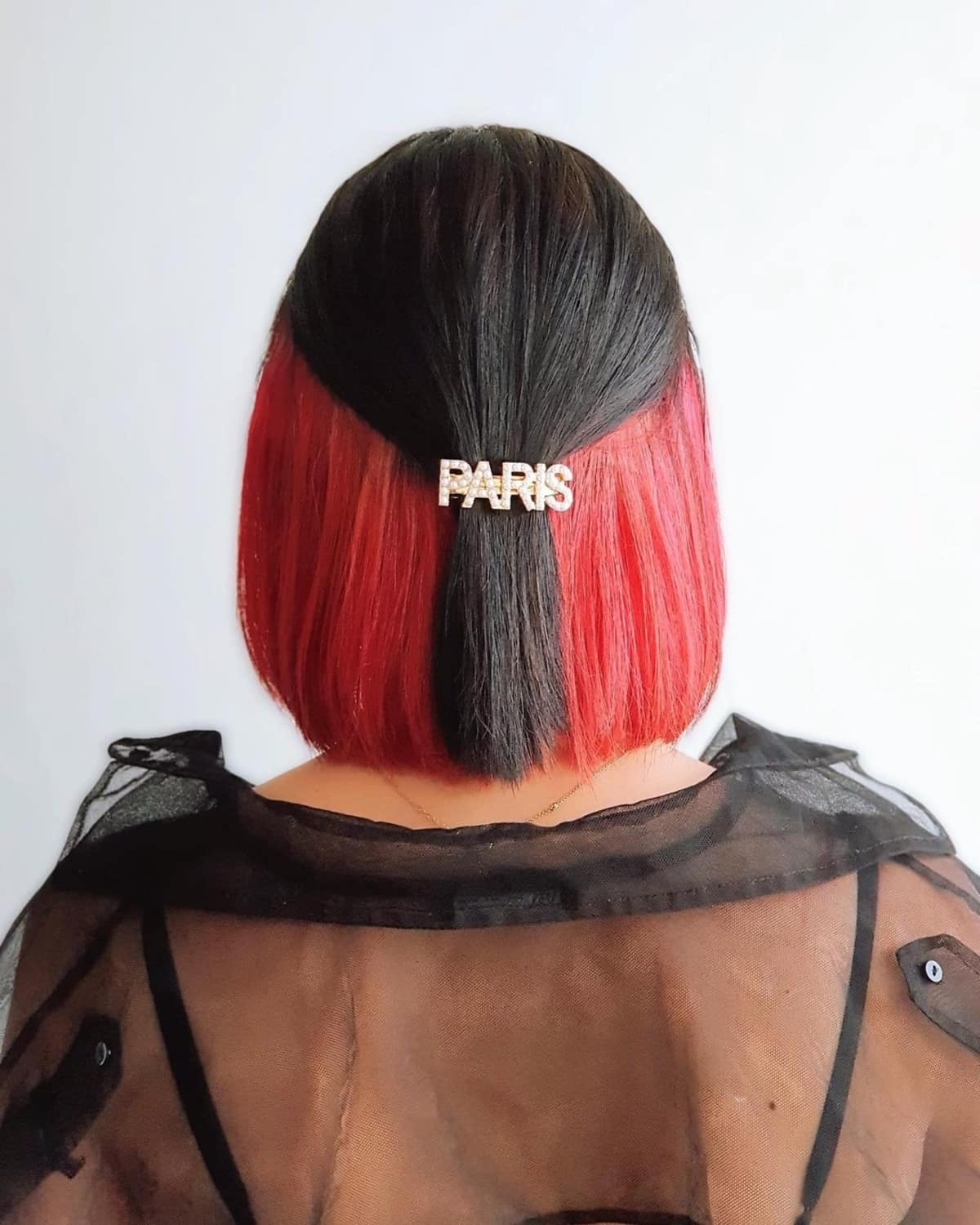 @arelee
A red peekaboo adds a bright, edgy, and colorful pop to subtle dark red hair. Vibrant, cherry red tones stand out beautifully against black hair. If a bold underlayer of red isn't your thing, try adding finely weaved red highlights underneath your hair to shake up your hair color.
Maroon Red on Black Hair

@glam.with.em
Try maroon red on black hair if you want a subtle but beautiful hair transformation. A dark base will blend seamlessly into the maroon red color. Adding warm tones will add dimension and shine to your hair!
Subtle Dark Red Balayage Highlights

@stilettohairstudiovb
Try subtle dark red balayage highlights if you want contrast on your brunette hair. The ribbons of red will add depth and dimension to your locks! Style your hair with waves to show off your new hair hue.
Bright Burgundy Hair Highlights

@vurvesalon
Consider bright burgundy hair highlights if you want to stand out! Highlights of a rich burgundy will pair perfectly with a deep dark base. If you have a warm skin complexion, this hairstyle is perfect for you.
Deep Red on Black Hair

@hairbybrittb
A deep red on black hair is ideal for women with tan skin tones. A deep red balayage on black hair will instantly give a glowing complexion. Try Alchemy by Davines for copper hair to maintain these rich red tones as a home treatment between salon visits.
Mix of Red and Blue Accents on Medium-Length Mane

@locksbylauryn
If ever your medium-length black locks need vibrancy, a mix of red and blue hues can do magic. Not too bright like blonde hair, but the streaks are sure to add liveliness to your look. Highlighted hair like this appears prettier with added volume, so opt for a layered chop, styled with waves.
Dark Burgundy Highlights

@hjl_hairjoylove
Burgundy highlights look beautiful over dark hair. The combination of burgundy and black hair appears vibrant under the sun and looks more subtle indoors. The red color is known to fade out quickly so make sure to use color-safe, sulfate-free products like Simply Organic's hair care products.
Wine Red Highlights for a Dark-Haired Girl

@thebombayhaircompany
Wine red highlights on dark brunette hair are on the cusp of going bold yet still toned down. They work great on skin tones that are both warm and cool. With a naturally dark base, the grow-out will easily be hidden. However, with a lighter base, you will need to do touchups every 6 weeks to keep the red hair color.
Cherry Red Hair Highlights

@kokohairnorthampton
Cherry red hair highlights can make an ombré pop even more. Ask your stylist to use red all over your hair to create a cherry tint over your dark base. This hair dye idea is a fun color you can keep up at home using oVertone haircare products for your weekly or bi-weekly washes.
Copper Highlights on Black Hair Color

@hairbyhannahriggs
Copper red hair highlights give warm brightness to a dark base and are sure to flatter women with brown eyes. Copper is easily the most low-maintenance color in the family of reds. On dark hair, you can do some easy lights or foliage to diffuse the base color and create a seamless grow-out.
Subtle Red Highlights on Short Black Bob Hairstyle

@perthhairblogger_
Black hair with subtle red highlights works beautifully with warmer skin tones. With this type of highlights, you can still maintain professionalism with a hint of fun color. You may still be able to achieve a subtle red with no bleach depending on your natural color level or if your hair has been previously colored or not. And hey, these partial red highlights would look awesome on a short bob cut!
Black Hair with Red Highlights Underneath

@sunnyglamroom
Opt for red highlights on black hair because a red tint underneath can have a beautiful effect yet be somewhat subtle. Getting a peekaboo highlight will help you achieve this. It will require some bleach and tone coloring but overall this hue is low-maintenance.
Black and Bright Red Ombre for Long Hair

@michelb_hairstylist
A black and bright red ombre works great with naturally dark hair. You will more than likely need to bleach out the ends or find a great red high lift meant for dark hair to get those ends bright red. You can use a red-enhancing conditioner or shampoo to keep the vibrancy of the red. If you're naturally lighter or have grey hair, you will need to do root touch-ups.
Ideal On Jet Black Hair

@hair.by.laura.wojcik
Ideal on long jet black hair are red highlights that add an easy-maintenance, fun flair to any woman's look. It's perfect for a virgin mane as it won't need to be lifted to a damaging level.
For these highlights, colorist Laura Wojcik of Pennsylvania did a chunky weaved balayage. "I wanted to create a ribbon-like dimension while leaving most of the dark base there. Using a slight tease, the highlights are feathered up to the roots, leaving the blend seamless," states Wojcik.
Light Red Streaks

@sammmmirae
Light red streaks on dark tresses create a funky and fresh tone, perfect for fearless ladies. Stylist Samantha Bujarski of Ohio is great at creating hair color ideas such as this one.
She notes, "I did a partial highlight with four hair sections for this color. I also did a root touch-up for maximum coverage and a refresh of the existing color throughout the ends."
To maintain her bright red, Bujarski used the Pulp Riots Fireball.
Purple and Red Highlights

@____________han
Purple and red hues are best worn around the face. These colors create a natural blush on the face because they're both warm colors. This colored hair was created using a color melt technique, according to stylist Boonhan Yap of Malaysia.
He notes, "This color is ideal for ladies who have darker hair, as it doesn't require extreme pre-lightening."
Color-care regimens are recommended to boost up the tone's shine. Yap explains, "So, you might have nice and fresh pink hair at the end of the journey."
Auburn Strands on Dark Tresses

@dimension7pdx
Auburn strands on dark hair are low-maintenance that allow for a natural grow-out. Stylist Madeline Qi from Oregon created this reddish shade.
She explains, "I used a freehand balayage technique on natural hair where I fully saturated the ends and teased the top area for a seamless blend. I used framar film to keep the hair insulated until I lifted it to a level 8 to achieve this auburn color."
Red and Blonde on Natural Curls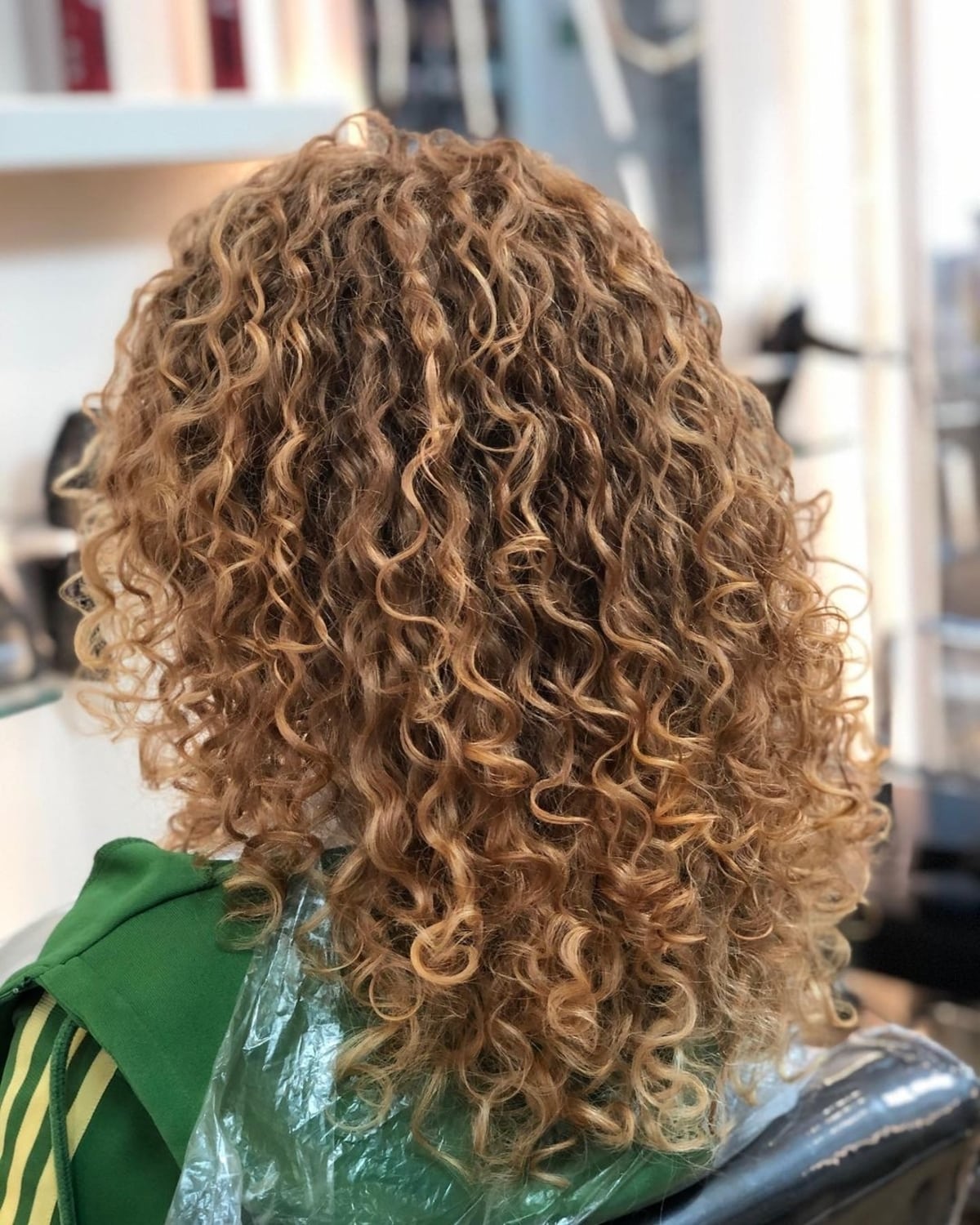 @vickyqueenofcurls
Red and blonde on curly hair are great for women who want to flirt with a luscious copper shade before making a full-on commitment. Consider strawberry blonde as an in-between tone. This tone will enhance tan and pale complexions. To enhance the hue and manage the curls, use a moisturizing mask such as the Olaplex no. 8 as a weekly at-home treatment.