22 Black and Blonde Hair Colors for Edgy Women for 2021
Black and Blonde Highlights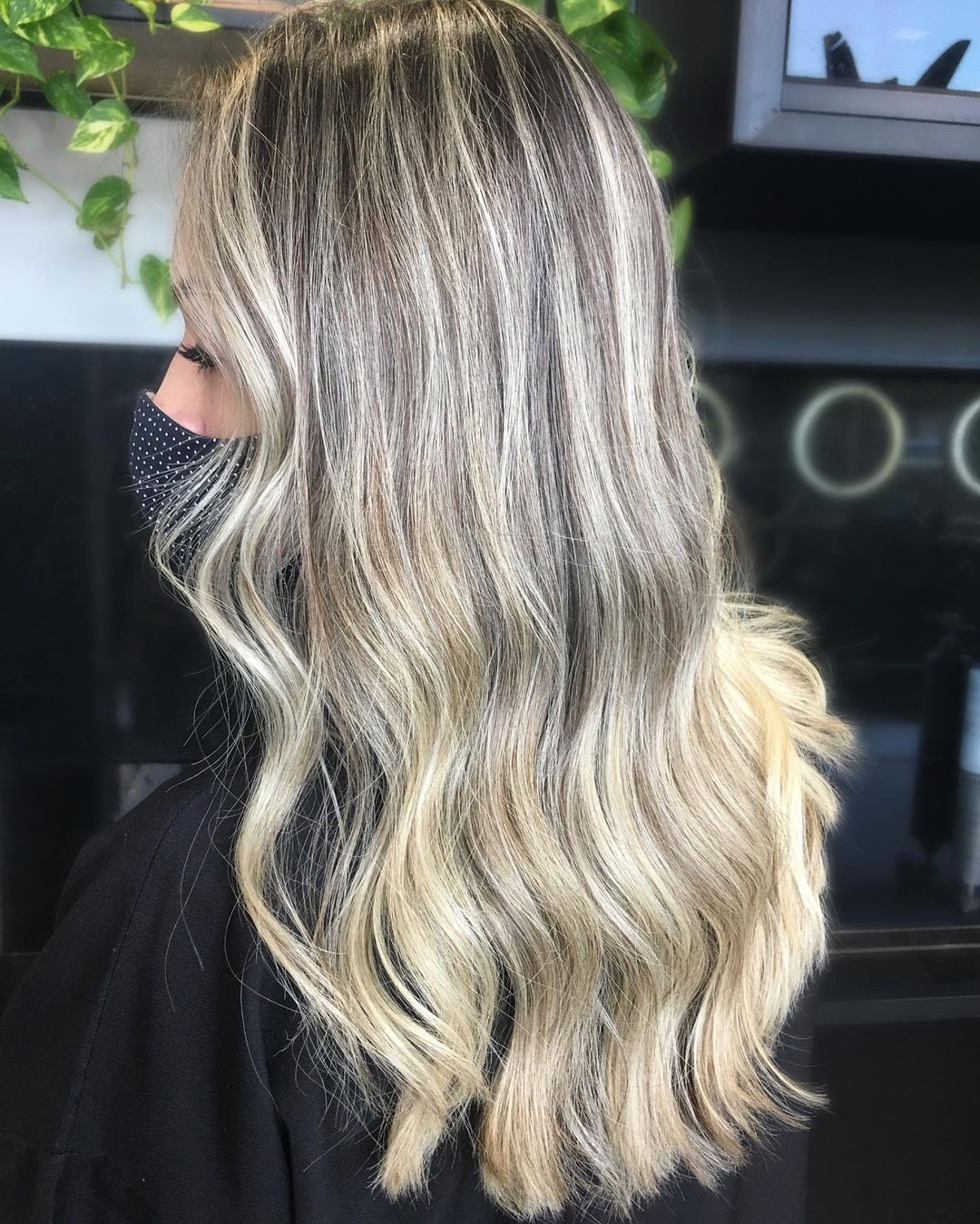 @ana_catini
Mix black and blonde hair highlights for a soft, trendy color that suits longer tresses. The combo of tones brings out a more dimensional illusion, enhancing the natural hair color and its texture. When styling, hot tools can dull the blonde hue, so make sure to use a heat protectant first.
White-Blonde Streaks on Dark Hair

@onurvarlikuafor
White-blonde streaks on dark hair create a lot of depth. Ask for freelights when looking to lighten your dark hair through a color melt.
Textured Black Hair with Blonde Ombre Highlights for African-American Ladies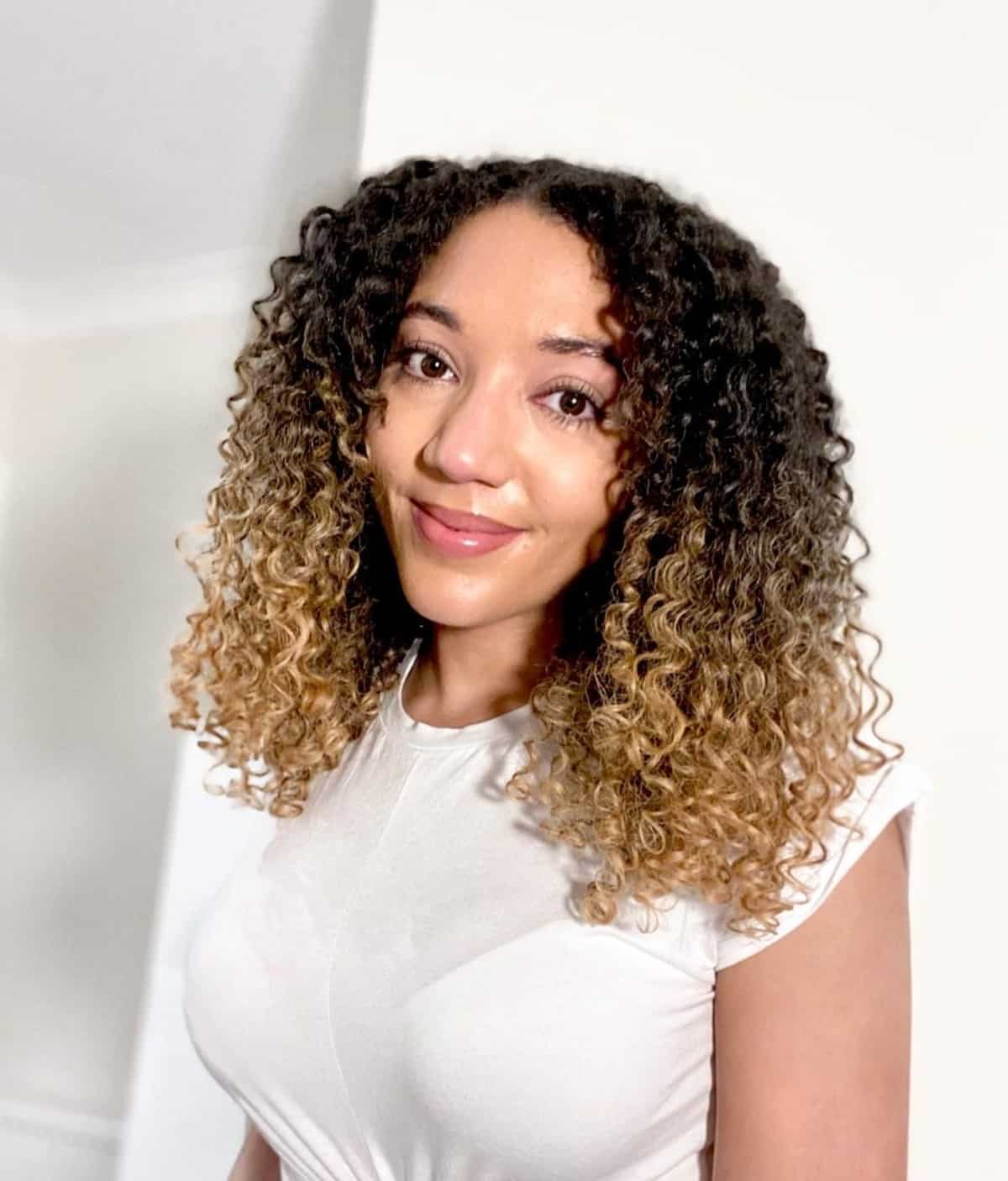 @ukcurlyhair
Textured black hair with blonde ombre highlights looks stunning on African-American ladies. Golden blonde hues framing the face combined with dark brown chestnut tones at the roots will grow out seamlessly. It only requires maintenance every 4-6 months. Adding warm blonde highlights is for women with curly hair texture to add more definition and dimension to the curls.
Black and Burgundy Blonde

@yenmingg
Rock a black and burgundy blonde hue for an added edge. Have your stylist apply burgundy lowlights for dimension. Style it with curls to show off the multi-tonal hues.
Icy Blonde Highlights with Black Hair

@samanthahairstylist
Icy blonde highlights with black hair will illuminate and add dimension to women with a darker base and instantly brighten up any complexion while looking natural at the same time. Invest in products specifically for blonde tresses to keep hair from looking brassy as the toner fades.
Black-Rooted Strawberry Blonde

@beautyby_han_
Black-rooted strawberry blonde works great for women who have naturally dark hair and want to add something lighter to their tresses. To get this color, ask your colorist for a balayage with solid ends and a deep shadow root.
Honey Blonde Highlights on Black Hair

@risahairstylist
Honey blonde highlights on black hair is a warmer tone of blonde that looks more natural on darker hair. For a better dimension, ask for a brighter pop of color!
Medium-Length Blonde Hair with Black Highlights

@alloryje
Medium-length blonde hair with black highlights creates a classy trend that's here to stay forever! When talking about dimension, this is one of the best, for sure. Blondes that feature a warmer tone like this suit olive and golden skin complexions.
Short Black Hair with Blonde Highlights

@stializedhairstudio
After asking for a wavy stacked chop, go in with black with blonde highlights. It definitely takes five years out while keeping a lady's chicness and power. This black hair with blonde highlights also works for a modern sleek style.
Long Black and Blonde Hair

@kristens_chair
Enjoy a fantastical hair day with long locks and a magnificent blonde black hair color. This black and blonde balayage job mimicked natural growth so well.
Black and Gray Ash Blonde Ombre

@xcellent_jessie
This black and ash blonde ombre is what makes you look like you have natural grow-out! Gray hair tones neutralize everything and add to the depth of the black blonde ombre.
Blonde Hair Weave for Pretty Black Women

@bthetrackmaster
The blonde and black weave coloring was done so seamlessly, making bronde hair the new fashion statement. Gorgeous black women will love such full highlights on black hair wigs, for sure!
Blonde and Black Box Braids

@braidsbyneishaa
When it comes to black blonde hairstyles, make the hive proud with this cute and edgy Beyonce-approved hair. With box braids using hair extensions, you can now rock blonde hair with black roots without damaging your hair.
Black and Blonde Faux Locs for Natural Hair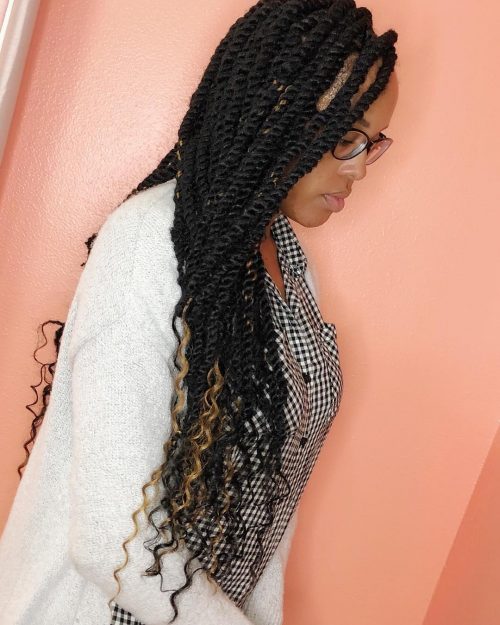 @quita_j
Not only is this black and blonde hairstyle fashionable, but it also serves as protection to your natural hair. Combine sandy-ebony hues for that icing on top. This hair gem will flatter ladies with dark skin tones.
Caramel Blonde Hair Color on a Black to Dark Brown Base

@ambrosiacarey
Ever feel so good with drips of caramel blonde on dark hair? Now, you can achieve your two-toned black and blonde hair goals. What's great about this dyed hair color is it guaranteed to look awesome on a natural dark brown base, too!
Black and Blonde Ombre-Dyed Hair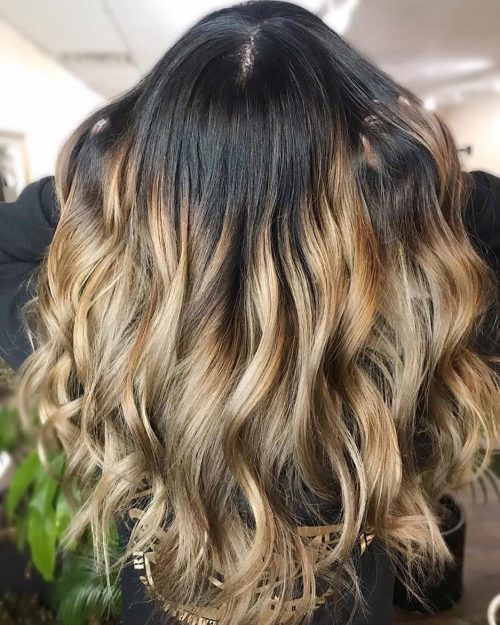 @lindseydoesbalayage
Colorist Lindsey combined these two ravishing colors for a low-maintenance black and blonde ombre hair color. It's great for growing out long hair or making a statement with short hair.
Blonde Hair with Black Underneath

@anhcotran
Put black and blonde on a different level with this kind of mix of blonde hair with black underneath. Icy hair all over then get the stunning dark underneath tips for a surprising change. The combination of colors boosts a fresh, sleek layered bob cut.
Black and Blonde Balayage

@hair.by.karlee
Opposites really attract with a blonde and black balayage combo! The streaks of warm blonde hue plus a wavy texture are sure to add a stunning dimension to darker hair.
Before and After Transformation of Black-Blonde Hair Color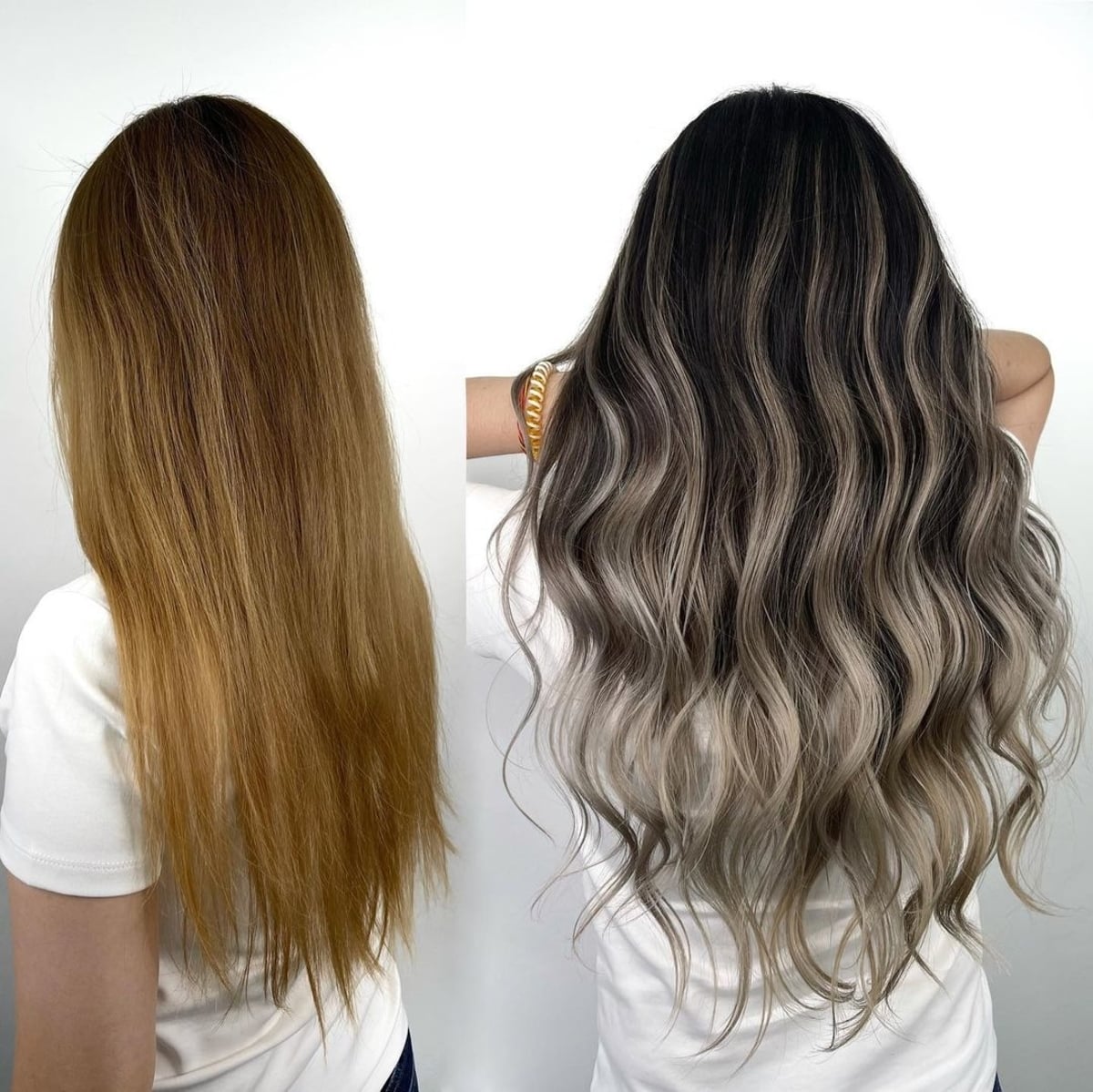 @glenhew
The before and after transformation of black-blonde hair color shows how the dimension breathes life to locks. Hair artist Glen Hew from Malaysia did a balayage with high and lowlights to achieve the look.
Here are a few reasons why you should get a balayage. Hew states, "The color will fade and blend naturally with the new growth on dark natural hair. Balayage is easy to maintain as it looks more natural. It's also less damaging compared to conventional highlights."
Half Black, Half Blonde Hair

@waveeybabyy
Having creative freedom is a must when it comes to achieving a half blonde, half black hair dye like this!
This is a versatile Cruella de Vil long black blonde hair made by stylist Jess Louty of Kennesaw, GA. "Just styling alone can give you majority blonde or black hair, depending on how you wear it. Not to mention how simple it would be to throw a vivid color over the blonde for a completely different style," says Louty.
Consider maintenance with this half and half black blonde hair. Vivid and fun colors come with upkeep. Louty explains, "If you're someone who only likes to be in the salon every 6 months maybe look at a few different options. Color-safe shampoo and conditioner are key. Pair that with a UV and heat protectant leave-in conditioner and you're good to go. Try Joico Luster Lock Spray, too."
Black and Platinum Blonde

@hairbysaiphetkhosa
Achieve this black and platinum blonde color by utilizing a foilayage technique, which creates a high contrast dark to light hair finish with no brassy transition shade. Look creator Sai Phetkhosa of Wisconsin recommends using GuyTang Mydentity color for the best results.
"The problem with the traditional balayage technique is you always end up with a brassy transition shade. It's different with this hair. The black and blonde hues are reminiscent of Storm from X-men, almost like the night storm and lighting," Phetkhosa describes.
These platinum highlights on black hair are ideal for pretty much any age. It's recommended that you visit your colorist every 6 weeks to get toner or gloss to keep your hair color vibrant. This is ideal for medium to thick hair, too. A woman with thin hair is able to achieve similar black and blond hair, but it might be less of a contrast.
Phetkhosa warns, "Thin hair tends to be fragile taking it this light. Always use a professional product like Guy Tang Mydentity Myconfidant securing shampoo and conditioner."
Short Black and Blonde Hairstyle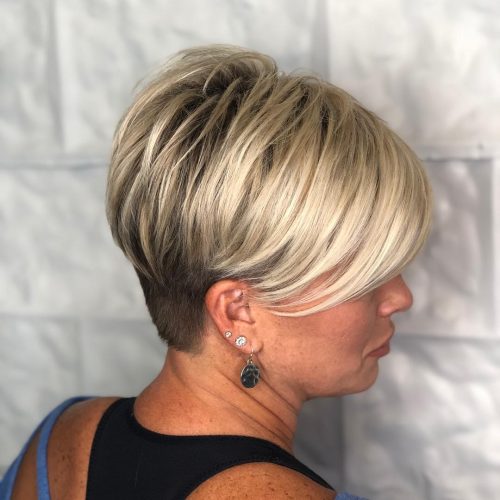 @shorthairatl_justb
This short black with blonde hair by style creator Casey Mims of Duluth, GA is a modern twist to a pixie cut. It keeps more length to the front of the face. "Because this cut is undercut to the recession point, the natural color was exposed. There's a heavy foiling pattern throughout the top of the crown to give it maximum blonde," Mims explains.
Mims also notes that there are so many options for blonde and black hair. "The greatest thing about this is that it can work with most face shapes and most hair types, including curly with a few tweaks. So if you have blacker and blonder hair ideas, go for it," the stylist advises.
Here's a hot tip by Mims—buy a silk pillowcase and you could have an extra day wear out of this style as well, which is tough for short-haired girls.