22 Best Strawberry Blonde Hair Color Ideas (Pictures for 2023)
#1 Delightful Strawberry Blonde Ombré

@stylistcharlottefinck
Here's delightful strawberry blonde ombre hair that's ready to serve a chic, flirty hairstyle! This short hair features a soft and fresh vibe that younger ladies love to wear. To enhance the color's dimension, a wavy texture can be useful. Hairstyles like that need to use hairspray to give it a hold that lasts a day.
#2 Strawberry Peachy Blonde
@hairbyemmil
Strawberry peachy blonde is your go-to hair hue this spring. When consulting with a hairdresser, ask for some highlights all around with brighter ends on the bottom. It's a perfect alternative to doing an all-over bleach and tone. It will also create a soft grow out meaning lesser time at the salon.
#3 Strawberry Blonde Highlights on Light Blonde Hair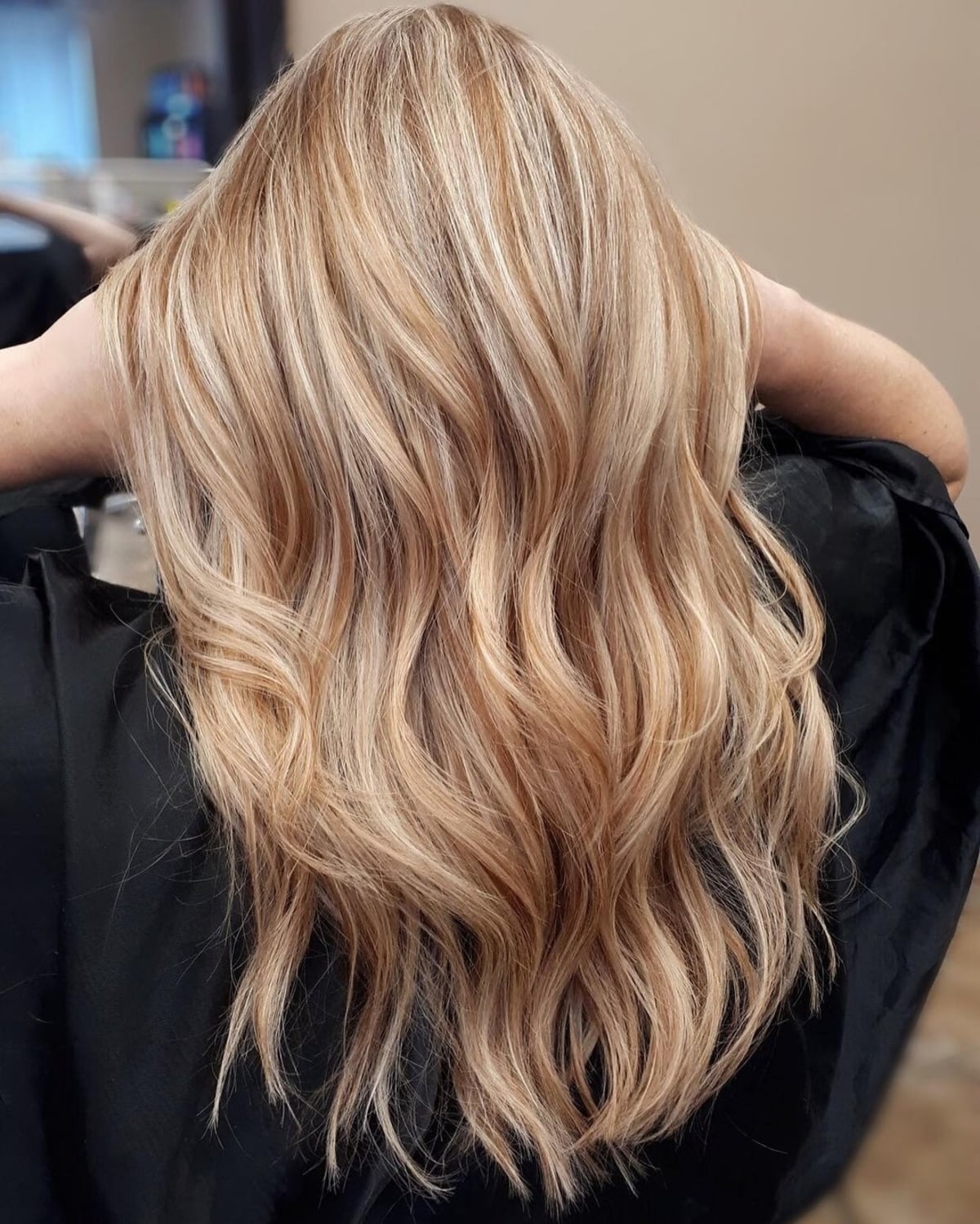 @marianna.at.oraclehairstudio
Putting strawberry lowlights on light blonde hair is a great way to add color variation to a full beach blonde highlight. It helps to give contrast and draws interest directly to the beautiful locks and its dirty blonde roots.
#4 Strawberry Blonde Hair with Blonde Highlights

@kristin_does_hair
Ask for strawberry blonde hair with blonde highlights to give warmth of color against a pale skin tone. The light copper babylights against the blonde hue give a multi-tonal effect that only works if you're already a blonde. Ask your stylist for an all-over color gloss to add the stunning strawberry tone.
#5 Strawberry Blonde Curly Hair

@sarakirstynhair
Pulling off strawberry blonde curly hair is one part. Adding multi-tonal colors will take your appearance to another level. Working with two to three different tones in highlights is very creative. It adds extra depth and definition to your curls.
#6 Strawberry Blonde Hair Dye for Blondes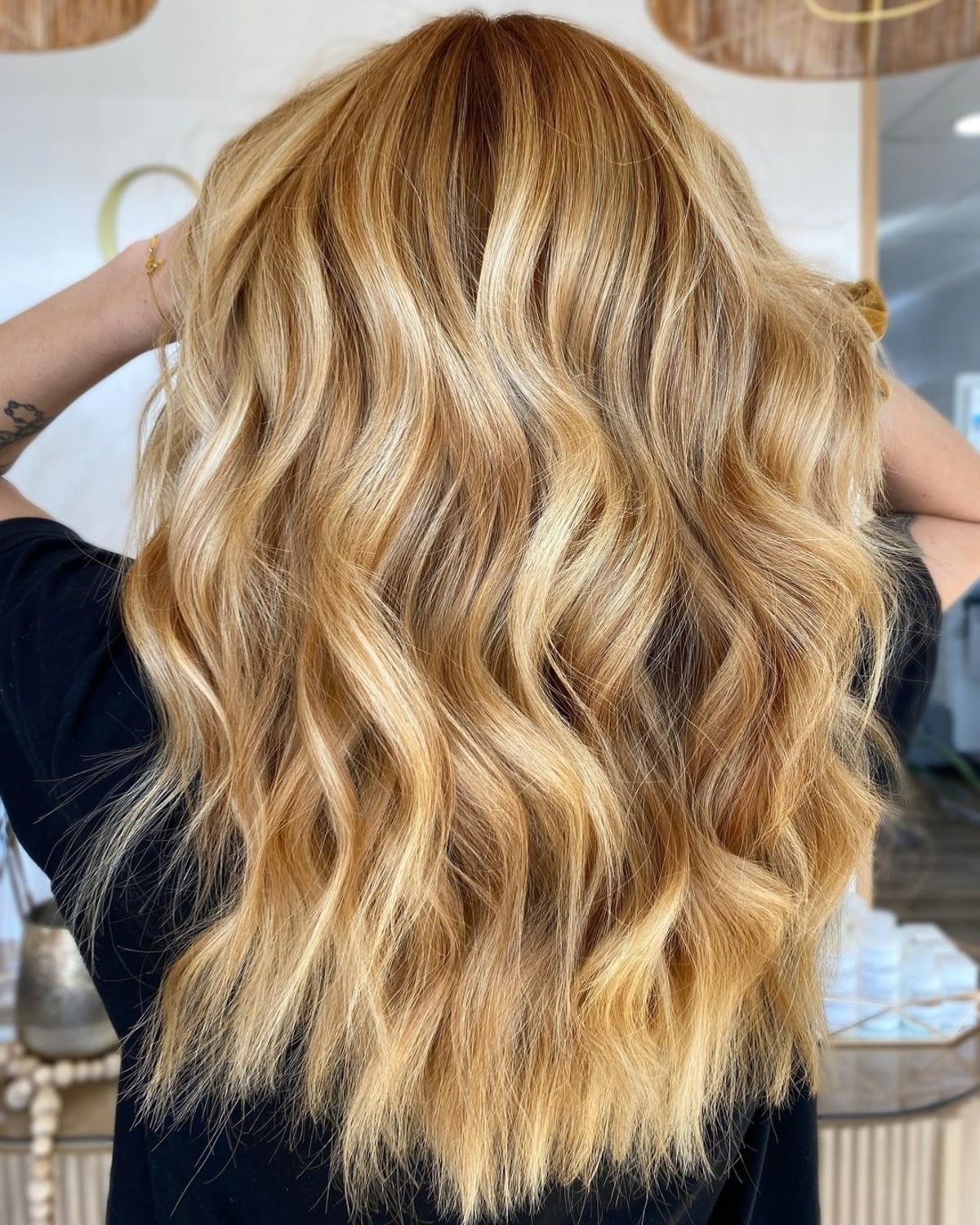 @its.me.mel.dee
The strawberry blonde hair dye for blondes provides warmth and shine to tresses, perfect for the summer season. The honey undertones create a trendy and chic result. What makes this look more dramatic is the waves that accentuate the dimension. The depth at the roots also makes the color pop even brighter!
#7 Sweet Strawberry Reddish Blonde

@ashleytisdale
A sweet strawberry reddish-blonde suits lighter and neutral skin tones the best. It's sure to make the blue eyes pop! The thing about this color that ladies need to understand is that it's high maintenance. It fades quickly under the sun, so wash your strawberry blond mane with purple shampoo to gloss it up.
#8 Warm Strawberry Blonde

@renee.lynch.styles
A warm strawberry blonde shade makes the hair seem healthier. The warm blonde hue appears natural for ladies with a neutral skin complexion and even green eyes! For maintenance, a Davines Alchemic Silver Shampoo is a great product to use. It cancels out the brassy tones from a blonde shade like this.
#9 Dark Blonde Hair with Strawberry Highlights

@taylorhartmann_hair
Dark blonde hair with strawberry highlights offers a rose gold tone that gives off a super girlish vibe. This is perfect for women with a bubbly personality and a glamour taste. Styling the strawberry hair with beach waves is a smart choice. The whole style gives off a modern finish.
#10 Sweet Auburn Strawberry Blonde

@colour.jade
The sweet auburn strawberry blonde on long tresses looks like one fiery hair trend! The dimension in this ginger hair is marvelous, which adds a lot of texture to a wavy hairstyle. Strawberry blond hair like this needs a shine spray or oil to reinforce the gloss. It would look great under the sun!
#11 Natural Golden Strawberry Blonde Hue
@thestrawberryblonder
A natural golden strawberry blonde hue offers warmth and richer tones. The best thing about it is how it can flatter most skin complexions. Another great feature of this hair color is the money piece. It doesn't only brighten the face but gives the style a romantic touch, too!
#12 Cool Pink Strawberry Blonde with Champagne Highlights

@luka_val
A cool pink strawberry blonde with champagne highlights is so soft and flirty! The combination of shades plus a long-length cut creates a romantic hairstyle. It does a great job with fine and thin locks, making this strawberry blonde hair with highlights even more luscious.
#13 Yummy Red Strawberry Blonde With Dark Roots

@thescissorsammurai
The yummy red strawberry blonde with dark roots radiates a trendy, lived-in vibe! This hair color works on a lighter skin tone. This is perfect for ladies who are natural brunettes. It features darker roots, making it low maintenance.
#14 Vibrant Pink and Strawberry Blonde for Curly Hair
@hairromance
What vibrant pink and strawberry blonde for curly hair offers is a "fun glam girl" style. The curls help the color have that movement and texture. Such tresses tend to get dry quicker compared to other hair types. So, a moisturizer would be perfect as it also adds a shine.
#15 Rich Strawberry Blonde with Copper Tones

@georgeeblancoo
A combo of rich strawberry blonde with copper tones has an edgy shade that enhances light skin. It makes a fierce color that most women can pull off, no matter how young or old they are. This shade makes a perfect pairing with a layered haircut. The layers add dimension, for sure.
#16 Lovely Pastel Strawberry Blonde Color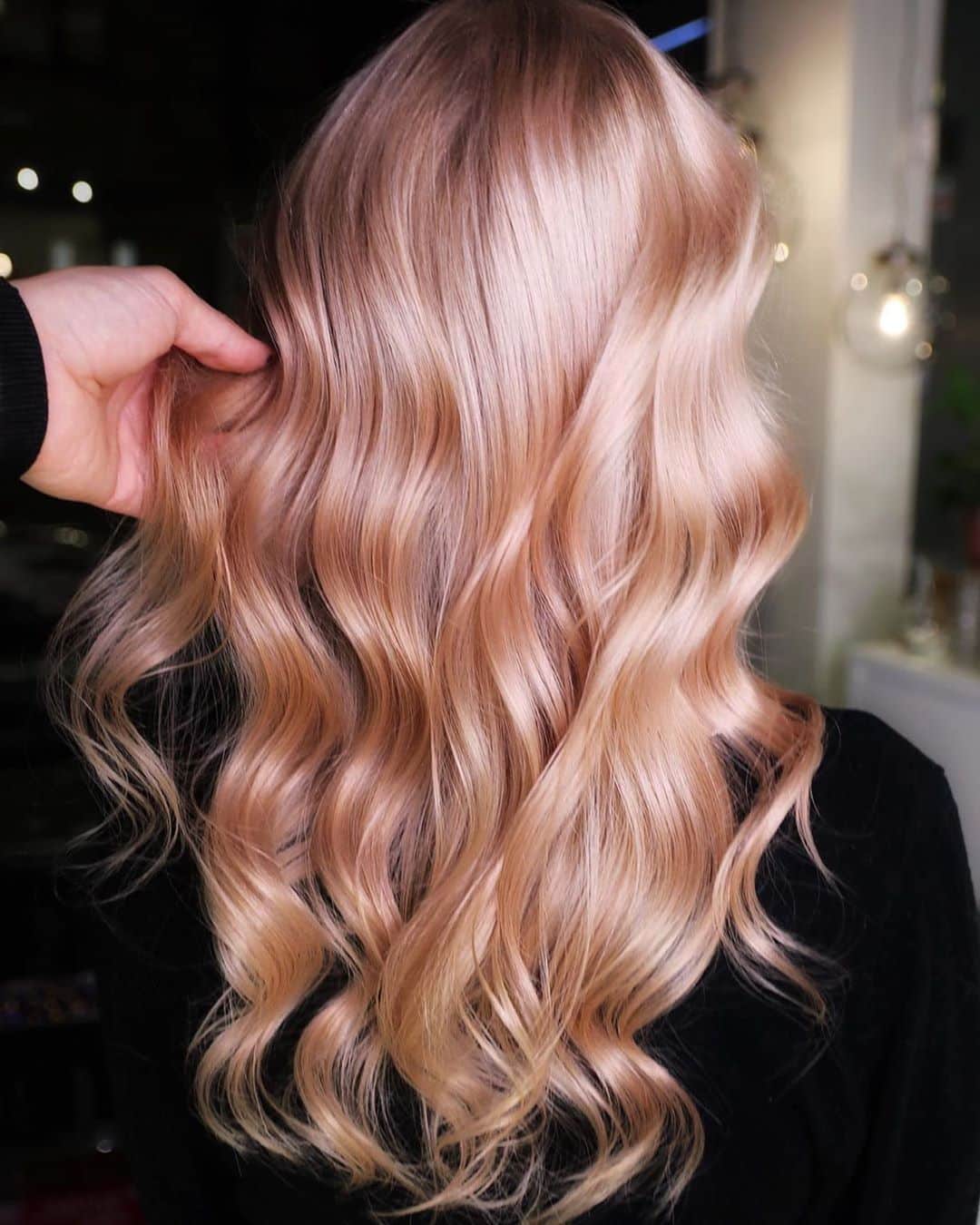 @harriakerberg
A lovely pastel strawberry blonde color like this has a subtle pinkish tone, and it suits fine hair! By jazzing up the locks with waves, the dimension comes alive. If you have naturally black hair and want to pull this off, ask for shadow roots. They are the key to a low-maintenance color.
#17 Light Strawberry Blonde Shade
@evgenikastylist
Light strawberry blonde hair brings out a very feminine vibe. Keeping the roots a little bit darker creates a soft melting effect. This brown and blonde hair color appears stunning on long waves. They add volume, movement, and texture so that the mane won't look dull.
#18 Stunning Brunette Hair with Strawberry Blonde Balayage

@igorkhonin
Stunning brunette hair with strawberry blonde balayage serves up depth and dimension. It's perfect for dense tresses as the combination of colors can break up the thickness. For brown-haired women who want to try blonde for the first time, this is a great choice as it gives brighter ends that are low-maintenance.
#19 Sun-Kissed Strawberry Blonde Hue

@thestrawberryblonder
A sun-kissed strawberry blonde hue displays a more orange-y tone but with a golden finish. This hair color makes any woman look like a natural redhead on the strawberry blonde spectrum. It has depth and dimension that both work great with loose curls.
#20 Delicious Dark Strawberry Blonde Locks
@maeipaint
Delicious dark strawberry blonde locks work best on a thick density. The soft dimension that it offers removes the illusion of thickness. Added waves and texture are perfect for styling hair like this. They can intensify the dimension and the haircut.
#21 Subtle Strawberry Blonde Tint

@colorby_katie
A subtle strawberry blonde tint has a cool tone that complements women with fair skin. This strawberry-dyed hair has a color that isn't too loud, but it sure can catch the eyes. What's great about the shade is it can flaunt on any occasion if worn with the right hairstyle.
#22 Tasty Medium Strawberry Blonde Tones

@colour.jade
Tasty medium strawberry blonde tones on tresses create a radiant, golden effect. The shade is enough to brighten the area around the face. It can be an easy, go-to look for busy ladies when straight. Yet, this beauty can also turn out a chic, glam style when wavy to attend parties.