26 Low-Maintenance Shaggy Haircuts with Bangs for Busy & Trendy Women
Long-Length Shag with Shaggy Bangs

@hairbyashleyfillip
Consider a long-length shag with shaggy bangs if you have thick hair and are looking for a cut with a lot of moment and weight control without sacrificing length. With a heavy blended fringe and bulk removing layers, a long shag haircut is your best option in women's cuts. Round out the look with a professional blowout.
Short Shag for Women Over 60 with Bangs and Glasses

@poshhair101
A short shag for women over 60 with bangs and glasses is an edgy and effortless style. The sides and back hairline are left a little bit longer in most shags with fringe and can be softened out with a feather razor. The fringe as well can be carved with a razor for softness and manageability and swept aside above the eyewear.
Long Shag with an Undercut for Women with Thick Hair

@joannatruminohair
A long shag with an undercut for women with thick hair is a great way to remove bulk and helps the hair lay more smoothly. When adding an undercut to a women's cut, keep in mind it will need upkeep as it grows out.
Shoulder-Length Shag Cut with Textured Ends

@briannehumphreyshair
A shoulder-length shag cut with textured ends gives the hair tons of movement and creates the perfect shape to flatter womens' features in the best light. A shag hairstyle with bangs is both timeless and edgy. Bangs work best for women with large foreheads or women trying to cover up any signs of wrinkles.
Low-Maintenance Shaggy Bob

@lcs.hairdesign
A low-maintenance shaggy bob with bangs is perfect on a girl with a slimmer face shape. A shaggy, curly bob requires lower maintenance and compliments women with heart or oval-shaped faces.
Razored Wash-and-Wear Shag for Fine Hair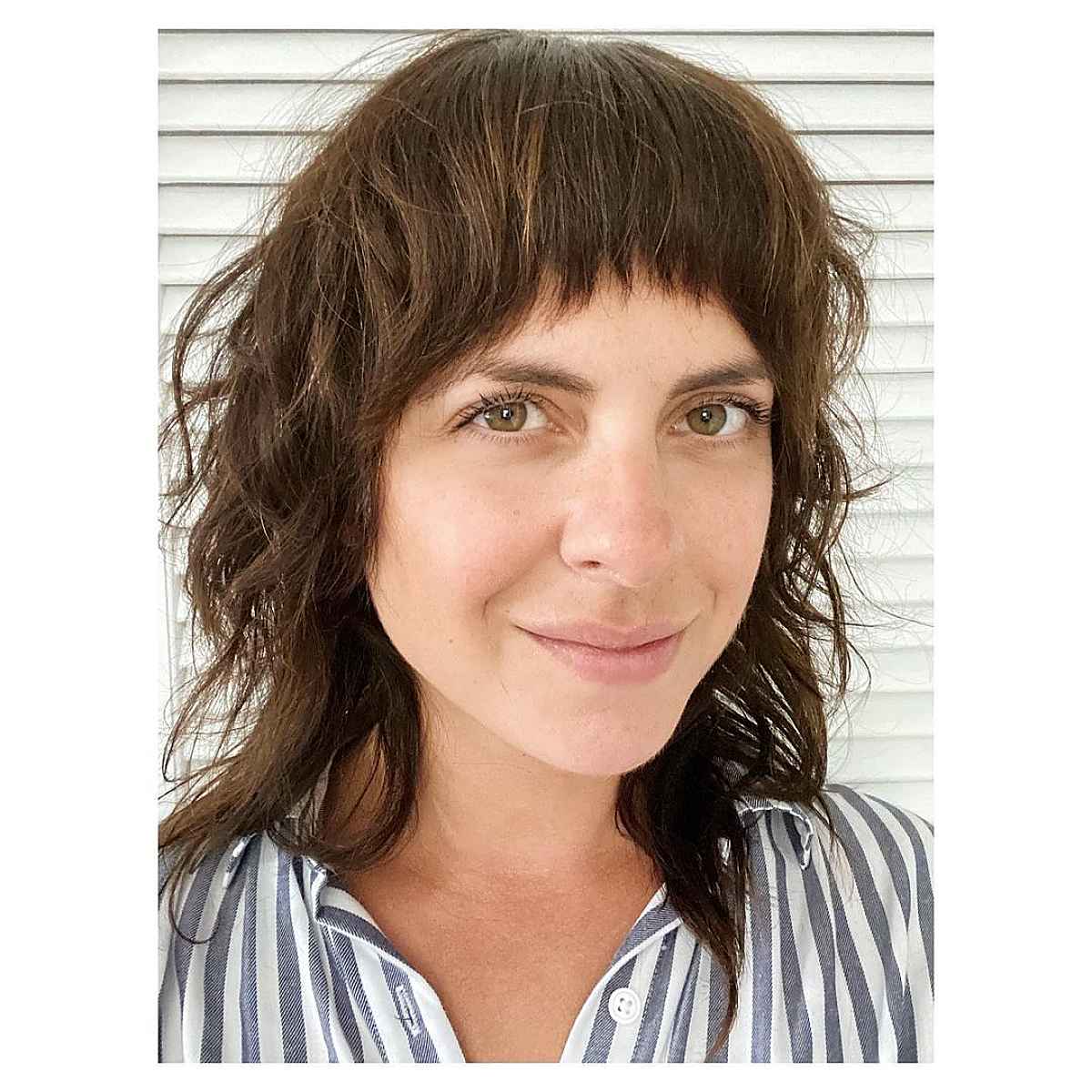 @katiepdxhair
A razored wash-and-wear shag for fine hair gives the hair the texture and volume it lacks. A shaggy low-maintenance hairstyle with bangs works well on women who prefer a haircut with little to no styling needed.
Long Shag with Bangs for Women Over 50

@piatupop
A long shag with bangs for women over 50 gives older women with long hair a style that suits their face. Low-maintenance shags with bangs are perfect on women with natural waves or curls as the shaggy layers help enhance them.
Messy Shag Cut for Older Women who are Low-Maintenance

@marinadoes_hair
A messy shag cut for older women who are low-maintenance is the perfect choice of haircut that's easy and quick to style while needing low upkeep. It works wonders on older women as their hair thins out. A shaggy cut creates an undone, messy finish while maintaining a good shape. Among women's hairstyles, this cut offers the most volume.
Wavy Shag for Low-Maintenance Women

@nadia.cutshair
A wavy shag for low-maintenance women is the perfect choice for a woman wanting shorter hair while maintaining natural waves and curls. Soft curls, cut with a razor and styled with a curl cream, create a messy lived-in finish. Among women's hairstyles, it's the easiest and quickest to style.
Layered Low-Maintenance Shag with Bangs

@_hairbymaddi
Rock a layered low-maintenance shag with bangs. Joan Jett it up with a shaggy low-maintenance haircut with bangs when you tag-team it with dark or black hair color. Cut to enhance natural texture, just add a gel, scrunch, and allow to air dry. Use a wand for added height on top and extra volume throughout with soft waves.
Simple Textured Shag with Curtain Bangs

@emilymbaum
A simple textured shag with curtain bangs is a perfect transition to a full-on shag with thick hair but also works well for women with fine hair. If you want a haircut that doesn't need too much upkeep and styling, a shaggy low-maintenance cut with bangs is what you're looking for.
Medium-Length Shag for Women Over 40

@davidwbullen
A medium-length shag for women over 40 is a perfect way to maintain length while giving the hair a stylish look. Shaggy low-maintenance styles with bangs give hair the bounce it needs, especially around the crown area.
Shaggy Pixie Bob with Bangs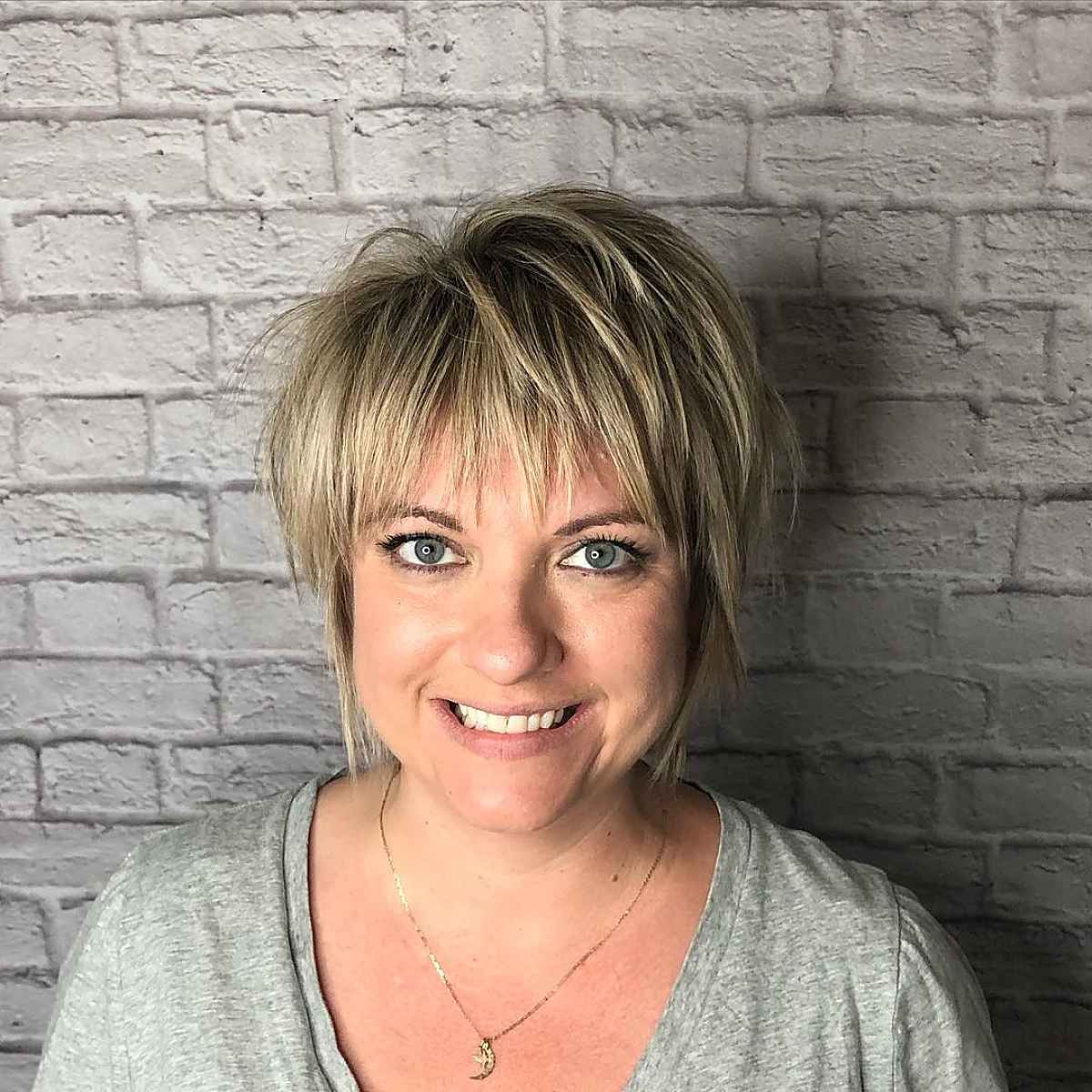 @janelleonthefringe
A shaggy pixie bob with bangs works wonders for women with fine, pin-straight hair. Cutting the hair with a razor creates more texture and dimension, giving the ends a shattered appearance. It's the most stylish among women's haircuts, too.
Medium Shag with Choppy Bangs

@ernestomeneses
A medium shag with choppy bangs is a great way to give volume and movement to a shoulder-length haircut. A shaggy low-maintenance cut with bangs works well for most hair types but is best for women with natural bounce, curls, or waves.
Curly Mullet Shag with Fringe Bangs

@carlycutsmyhair
A curly mullet shag with fringe bangs offers the best results when cut with a straight razor for natural movement and texture. Shaggy low-maintenance hairstyles with bangs suit women who want a lot of framing in the face and prefer little to no styling.
Long Shag with Long Curtain Bangs

@kelceyoverton
A long shag with long curtain bangs is the perfect way to add shape and style to long tresses. Curtain bangs add movement and help frame the face, making a shaggy low-maintenance haircut with bangs perfect for long hair.
Layered Shag Haircut with Bangs for Women Over 30

@classiclois_hairstylist
A layered shag haircut with bangs for women over 30 gives tons of volume and texture. A shaggy low-maintenance style with bangs helps to soften a longer face shape or a large forehead. Thicker fringe requires trims every 3-4 weeks.
Stylish Shag with Middle-Part and Long Bangs

@hairbyashleyfillip
A stylish shag with middle-part and long bangs is sexy and sleek. Adding long layers and long curtain bangs helps to enhance your facial features in the best light while embracing the tons of texture and volume it provides.
Short Shaggy Pixie Cut with Bangs

@judeviola
Stand out in a short shaggy pixie cut with bangs. The sassy cousin of shaggy styles with bangs! The shaggy pixie haircut checks all the cool vibes. It's best tailored for heart, oval, and diamond face shapes. Consider avoiding this cut if you have a rounded or square face shape since this style will enhance that face shape.
Medium-Length Shaggy Bob Haircut

@thecolorgeeksalon
Shorten it up with a medium-length shaggy bob haircut. Not your traditional stacked bob, this slightly longer layered hair will offer you a more modern take on a shaggy style with bangs. Try styling with a flat iron for a smooth finish with a slight bend and styled with a dot of Bed Head Afterparty to remove any flyaways.
Easy Shag Cut with Fringe for Thick Hair

@davidwbullen
Consider an easy shag cut with fringe for thick hair if you're looking for a fun style that will eliminate all your bulky problem areas. A shaggy hairstyle with bangs, when cut with a razor, can make thick blunt hair look soft and wispy. Find a stylist who is experienced in razor cutting to get your customized version of this shaggy cut.
Curly Shag with Curly Bangs

@caylacutshair
Say yes to a curly shag with curly bangs! Keep in mind that a shaggy cut with bangs on curly hair will require a little more styling effort. Products and prep styling are key to turning this style into a low-maintenance haircut. Brands like Cult and King and Oribe have cutting-edge styling products for curly shags.
Easy Mullet Shaggy Cut with Bangs

@knots_by_nina
Rock an easy mullet shaggy cut with bangs if you're desiring an edgy, low-maintenance style. While natural curly or wavy textures will offer more styling ease, other hair types can still rock this look for the lowest maintenance. Try a volumizing mousse and a diffuser to give you that scrunch-and-go style.
Low-Maintenance Shag for Thin Hair

@tyler_the_hairstylist
A low-maintenance shag for thin hair is a great haircut option if you're looking to add the illusion of more volume to your hair. Shaggy cuts with bangs are making a comeback with heavy face-framing, blended curtain bangs, and wispy ends styled away from the face to add width to the hairstyle. If you have thin and fine hair, avoid using a lot of products with this style since this will weigh your look down and can make the hair look even thinner.
Shaggy Hairstyle with Bangs

@hirohair
Opt for a shaggy hairstyle with bangs if you're looking for a women's haircut with easy styling and something that looks great in both up and down styles. For an added bonus, try a blunt-cut fringe to frame in and bring out your eyes.
Low-Maintenance Shaggy Haircut with Bangs

@randa.rivera
Try a low-maintenance shaggy haircut with bangs. If you're thinking of shaggy haircuts with bangs, one thing to consider is your face shape. Where your bangs begin in this style can enhance or neutralize certain facial features. Your stylist can customize the rest of your cut based on your bang starting length.