24 Eye-Catching Undercut Bob Haircuts To Consider
Perfectly Hidden Undercut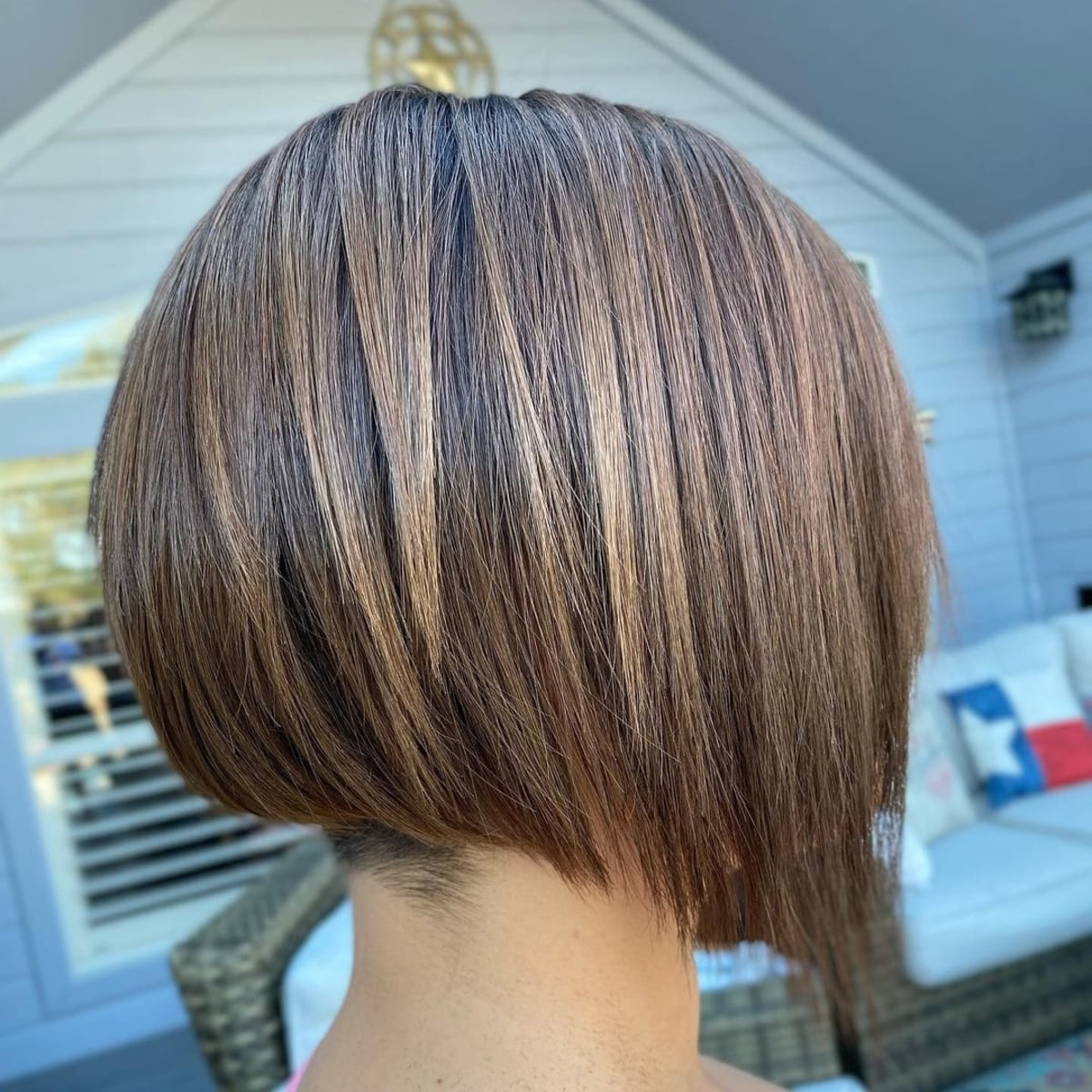 @hairpin_me_down85
A perfectly hidden undercut bob is a low-maintenance haircut that is great for women with thick hair.
"A graduated undercut bob that's shaved underneath used with a #2 guard will help relieve weight, give an edgier look, style easier, and last longer in between cuts," says hairstylist Emily Hamilton of San Antonio, TX.
This nape undercut style is also flattering on round faces. "Leaving a long length with no bangs, or layers in front will actually elongate your face and neck," she adds.
Stacked Bob
@ruivandoomundo
An undercut stacked bob is super trendy. Short but feminine, an undercut with a messy finish is a fun look. Spray wax is a great choice as a styling product.
Shaggy Undercut Bob with Loose Waves
@rodrigocintra
A shaggy undercut bob with loose waves gives a bit of an edge for women who are able to change up their hair. It's disconnected from the long hair. It's also a good way to remove excess weight underneath the hair, especially for bobs. Create loose waves by using a 1" curling iron, and softly brush out. For texture, spritz a little bit of Air Control by Aveda.
3D Undercut Bob with Highlights
@nikitenko_elen_
Contour your face with a 3D undercut bob with highlights and instantly add depth to finer hair. The 3D undercut gives an illusion of more hair as the short bob glides over it. This effect is emphasized by the creamy blonde highlights sitting over the darker base. This creates an impactful 3D effect that streamlines the face.
Undercut Shaggy Bob Cut
@shmoakin_hair
Flaunt an undercut shaggy bob cut to remove weight from thick hair instantly. It's perfect if you love a fashion-forward haircut. There are so many ways to wear an undercut, and some can feel like you're taking a lot of hair away. So first, try one with a subtle area on the underside of the head. It creates an edgy addition to your shaggy bob that has a softer textured look to it.
Undercut A-Line Bob
@hairpin_me_down85
Go for an undercut A-line bob to make your gray hair look fuller instantly. The shaved hairline blends out to the carved-in shape at the nape to enhance the neckline. Short hairstyles like this bob with a hidden undercut also boost the fullness, due to the stacked effect of the graduation. The structured shape should sit in place due to the precision of this cut.
Graduated Bob with Nape Undercut
@tanyusha_younusova
The graduated bob with an undercut creates fullness and weight in the crown that carries out a voluminous style. This kind of graduated and concave chop with a nape fade provides a rounded shape that works well on a fine density. Wear this undercut concave bob and allow the tresses to have that bouncy, healthy finish. From now on, no more limp-looking hair, ladies!
Choppy Undercut Bob
@carmenjayelove
A choppy bob with an undercut is a trendy and chic short hairstyle that has an edgy finish if you're so over with your long hair. With a piece-y and wavy style, this haircut works wonders on thick tresses. The shaved side removes extra weight and bulk from the hair, making it more manageable. Adding a rose gold color makes this wavy undercut bob superb!
Stacked Undercut Bob
@shmoakin_hair
Stacked undercut bobs have shaved back and sides, which do well on thicker hair. This is what Utah-based stylist Sheridan Holyoak proved by creating this haircut.
She explains that the undercut bob back view is slightly stacked to give the hair a great shape. "The interior texturing helps take out weight and add volume without doing lots of layers."
When styling such a shaved bob, Holyoak uses a good leave-in conditioner, blow-dry styler, and volumizer. A heat protectant is her must-have, too!
Side Undercut Bob
@apostoldiana
Try a side undercut bob haircut if your thick hair is unmanageable when short. When the hair is shaved at the sides and even under the baseline of a jaw length bob, this can help remove weight from the hair. This technique avoids too much maintenance when styling. An undercut side bob is also a totally fun way to embrace your edgier side.
Undercut Bob for Curly Hair
@oh_its_m0
An undercut bob for curly hair is an edgy chop that makes the texture seem manageable. NYC dry-cutting artist Moriya Martin is the one behind this bob cut. It works excellent on locks with lots of density!
"It's angled and stacked in the back to create volume and lift in the crown of the head," says Martin. "The shaved side provides a more creative look, and it takes out some bulk in thick naturally curly hair."
This curly undercut bob for naturally curly hair has an angle that's ideal for most face shapes. "Play with the length in the front to fit you best. By leaving the front longer, you'll still be able to tie it back and out of the way for the more active lifestyle," she adds.
When styling, use a lightweight curl cream on wet locks. It can be air-dried or diffused with a blow dryer. Then, apply sea salt spray throughout the strands as the finishing touch to boost the texture.
Long Undercut Bob
@emilyandersonstyling
Feel liberated with a disconnected long undercut bob cut that's radical and feminine all at once. While this blonde bob sits effortlessly on one side, shaving the other side can add an edgy twist to a classic haircut. Discuss with your stylist about booking in-between appointments to maintain undercut hairstyles.
Inverted Undercut Bob
@shmoakin_hair
Tapered ends make the strands of this undercut inverted bob feathered. Add the undercut and you've got loads of interesting things to look at. This undercut layered bob is sure to look more stunning with a bit of texture.
Undercut Pixie Bob
@courtneyxcentrichair
You can now work your way between a bob and an undercut pixie cut with this undercut pixie bob! Having the back and side shaved for a pixie cut is the ultimate edgy look, while the bob with long bangs gives a feminine touch. This pixie bob with a shaved undercut is great for women who hate styling in the morning.
Short Undercut Bob
@miamihairmel
When getting a short undercut bob, you may choose to undercut the temples instead of the nape. Be sure to communicate with your stylist what you would like the bob undercut haircut to do and how short you would like it. Undercuts can be bold or soft.
Undercut Angled Bob
@kazuma_genuine
An undercut angled bob is the edgier version of a classic short haircut that makes a great go-to style. Thanks to the back and side undercut, this chop isn't your typical angled bob. Undercut bob haircuts work best on straight and dense tresses. It's an angled undercut bob that offers the hair a slimmer shape.
Undercut Bob with Bangs
@nayweenie
This ear length undercut bob with bangs was created by hairstylist Nadine Cabins of Montclair, CA. "I did it by adding tons of texture and dropping the length to the bottom of her occipital bone instead of making it straight all the way around," she explains.
Cabins recommends you blow-dry your hair with Bumble and Bumble thickening spray, then spraying Bumble and Bumble surf spray for a lived-in textured look.
"I definitely would recommend this short undercut bob for a variety of hair types but for different reasons," she says. "With thick coarse hair, you're gonna get a lot of texture and volume with this cut but will need to style it daily with a texture spray like Bumble and Bumble surf spray or a pomade."
"For women with fine hair, you're gonna get more movement in the hair, a little more bounce, and body by using an aerosol texture spray like dry spun by Bumble and Bumble," she adds.
Shaved Undercut Bob
@timurbegichevstudio
A shaved undercut bob is easy to wear and it doesn't require much styling. If you have fine hair and want a bob cut, opt for this one. This shaved chop gives locks an illusion of density. To create instant volume, part the hair to the side.
Undercut Bob for Thick Hair
@hirohairstylist
An undercut bob for thick hair is perfect for those wanting to have a short style with less bulk. Shaving below the occipital bone will give you a good amount of weight removal and allow the hair to lay more flat. This cut is a great option for all hair textures as well.
Soft Undercut Bob
@tanyalonghair
This cut is a soft bob undercut with an alternative twist with a back and side undercut. "Undercuts have definitely played a part in recent years, and with some hair being so thick, it helps to remove weight," says stylist Tanya Long of Dorset, UK.
"If a woman wanted this short bob with undercut nape, I would say go for it, but it comes with maintenance which isn't for women who aren't 6-8 weekers," says Long. "The undercut is the main feature, but it needs to be looked after. If you have curly hair, you can achieve this look but you will have to blowdry/smooth the hair to make it look sharp."
Heat protection products will be advised to keep it looking healthy. Long uses Label.m Anti-Frizz Balm to smooth it out, but also keep the humidity at bay.
Asymmetrical Undercut Bob
@apostoldiana
An asymmetrical undercut bob is the style that takes out a lot of weight! To achieve the bob hairstyle, one side must have a jaw-grazing length. Then, tuck the strands behind the ear to show off the shaved part. The opposite side must have a dramatic angle where longer strands reach the neck. This asymmetrical bob with an undercut is perfect for thick tresses.
Hidden Undercut Long Bob Design
@hairbyrubymay
A hidden undercut long bob design allows you never to be worried about trying up short hair ideas again. An undercut lob with shaved design helps remove weight from your hair, resulting in an illusion of thin hair.
This medium length bob with undercut can also make it easier to tie your locks up with shorter styles. If you want something edgy that's easy to disguise, then a shaved undercut long bob with a nape design could be for you.
Graduated Undercut Bob
@nextreme.you
The graduated undercut bob removes bulk from underneath. An undercut bob hairstyle is great for women with thick hair. A smoothing serum should also be used for smoothness and shine.
Undercut Bob for Fine Hair
@de.ja.hue
This undercut bob for fine hair was created by stylist Olivia Arendt of Marietta, GA.
"It works for women of all ages, from girls to older ones. You just need to have a decent amount of thickness and texture to your hair to pull this off," she claims. "The great thing about it is that it works with all different face shapes because you can add volume, height, or remove weight where you need it."
"If your hair is extremely thick, you can remove most of the bulk by undercutting. Then, texturize the remaining hair by slicing and chipping into it, as this adds texture and movement but also removes bulk and thickness," she adds.
Arendt's favorite product to use for styling is a Holographic styling serum called Illuminati.