24 Hottest Shaggy Bob Haircuts to Copy
Shaggy Brunette Bob for Fine Hair
@ashleenormanhair
The best way to complement a long shaggy bob cut for fine hair is by adding bangs and texture. Ask your hairstylist to layer your hair at the tips for volume. (See more bobs for fine hair here). This shaggy lob hairstyle is great for women with short hair.
Shag Tousled Bob with Undercut
@kassy.shak
A shag tousled bob with undercut is edgy, fun, and a great way to remove any unwanted bulk in thick hair. A deep side part and some curls with a texture spray are the perfect set up for that sassy, tousled vibe.
Neck-Length Shaggy Layered Cut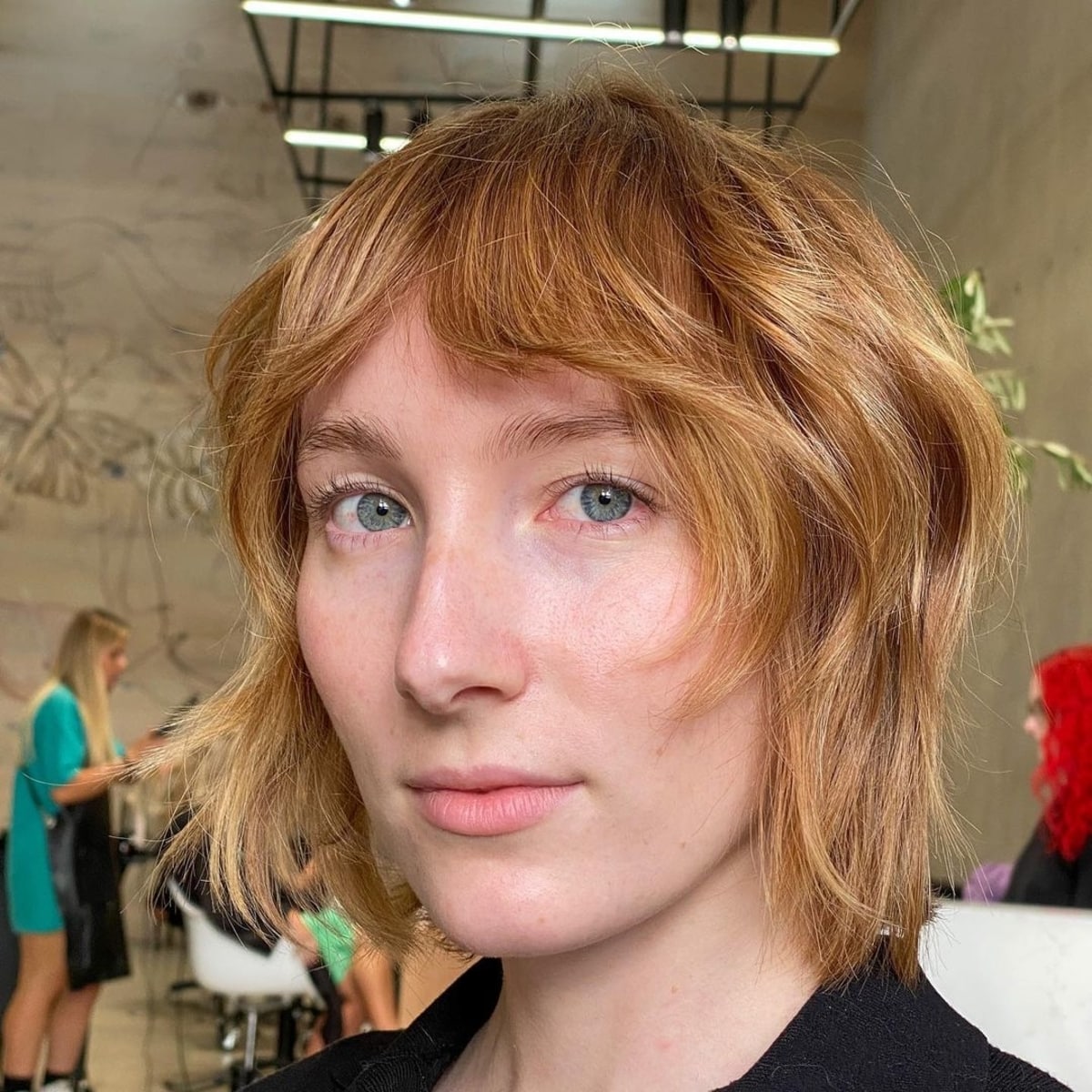 @jaiden_edwardsandco
The neck-length shaggy layered cut can be styled with a leave-in, anti-frizz conditioner. This is to give a better fit for those with straight hair. For curly hair, use a curl activator and dry with a diffuser or air dry naturally.
Shaggy Bob with Wispy Ends for Women Over 70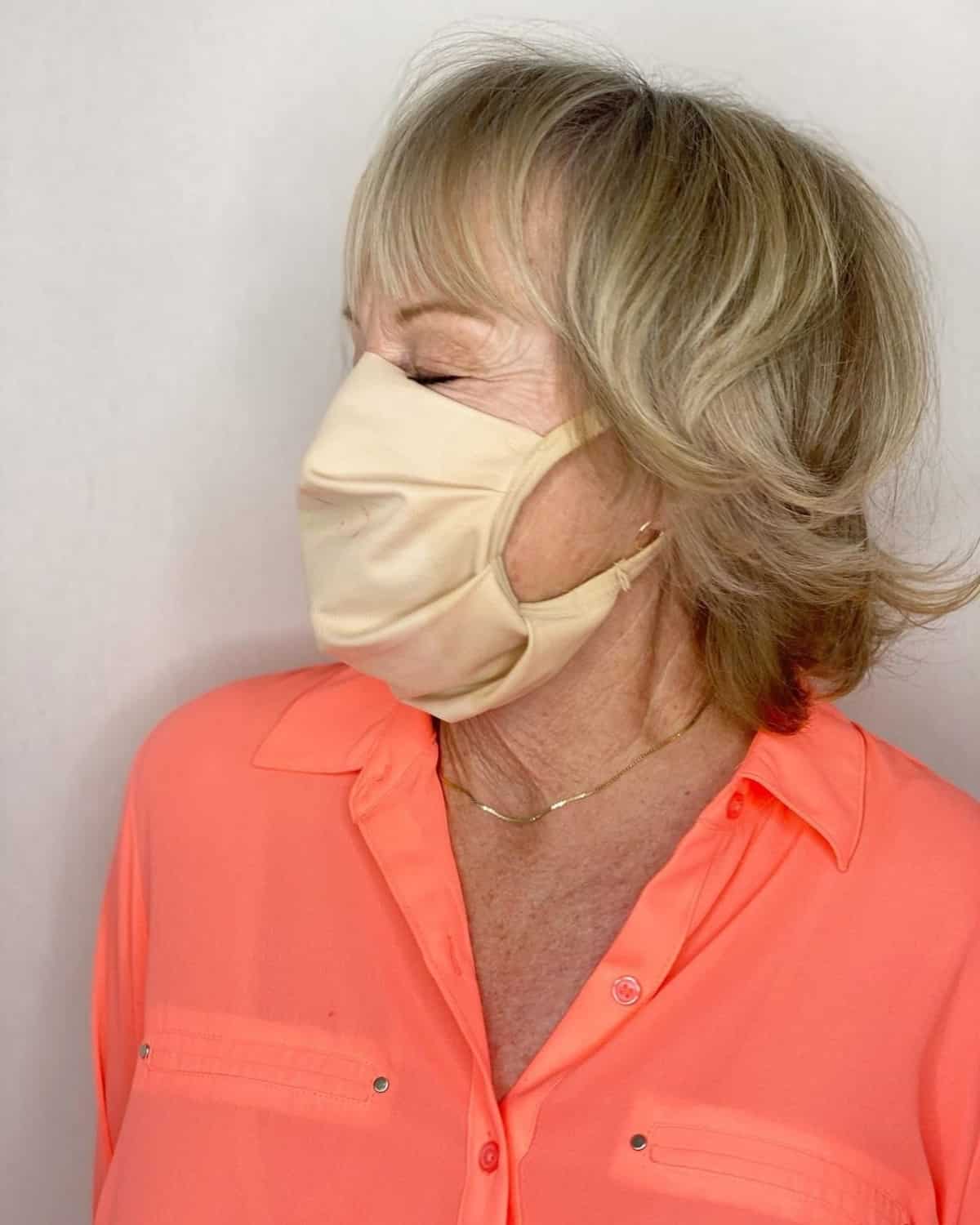 @feveredmoon
Shaggy bob with wispy ends for women over 70 is very on-trend. Softness, texture, movement, and easiness are all benefits of this cut. Styling the hair back opens up the face and is a good way to show off those facial features. Adding in some wispy bangs is another way to personalize a cut to a woman's liking.
The Ideal Shaggy Bob for Dark Brown Curly Hair
@jordanaveryz
The texture of this brown curly shag is up to a maximum, with curls and layers arranged in a disorderly manner. Thin-haired women could really use this trick to boost the body on their head. See more short curly bob hairstyles.
The Shaggy Angled Bob
@jenn.watsonnn
A shaggy angled bob looks best on ladies with round face shapes, as they naturally elongate the face. Angular cut bobs are often achieved with a razor to add choppy ends and extra texture. Angles on a shaggy bob create an illusion of movement and framing.
Short Bob with Shaggy Layers for Thick Hair
@prissyhippiebeautyshop
The best shaggy bob haircut for thick hair features lots of long and short layers to take out some weight. For styling, part it in the middle to elevate the gradual waves that show off your thick mane. Once done, this shaggy hair becomes a guaranteed head-turner!
Inverted Bob Shag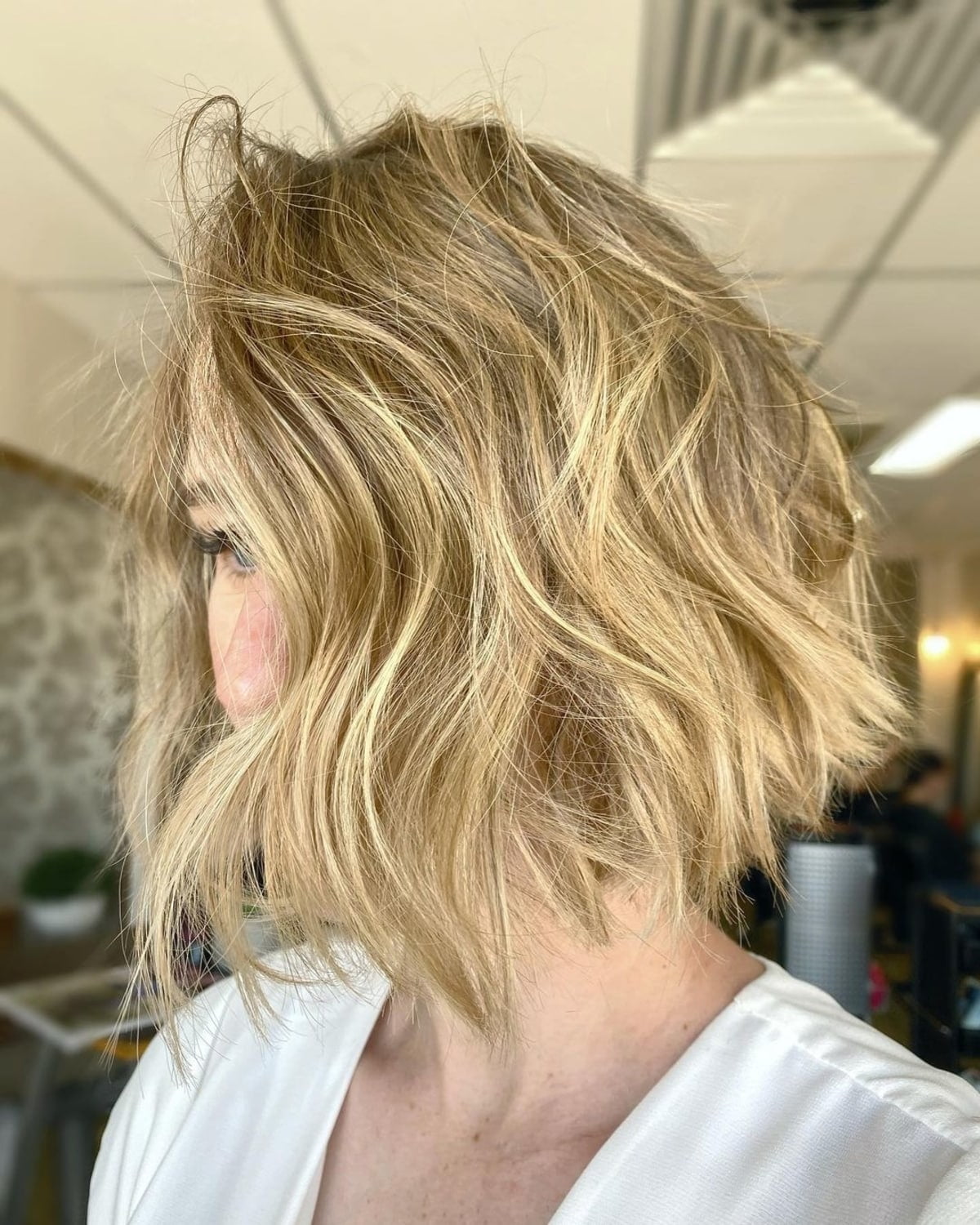 @timpascoe_hair
An inverted bob shag highlights the curls and brings a modern twist to the cut. Try the inverted bob shag if you want to highlight your curls.
Choppy Shaggy Bob Haircut
@michelleelizabeth_scizzors
A shaggy choppy bob is a great way to get a more casual and feathered look. Add a sea salt spray throughout the hair to enhance its new texture. Round face shapes will love a tousled shaggy bob style like this short bob with choppy layers.
The Shag Bob for a Round Face
@wendycuts_hair
The shag bob for a round face works best with chin-length hair. Have your stylist texture the ends with a razor or scissors and add disconnected layers in the crown area. This gives more height through your crown giving an elongated appearance to your face.
The Shaggy Lob Cut with Messy Textured Style
@yannio_0
Long bobs are in right now for any age. Sea salt spray can be used to achieve the beach wave look for this long layered shag. Meanwhile, the messy bangs add subtle texture to your soft facial features. This mid-length shaggy bob is a must-try!
Short Blonde Layered Shaggy Hair
@tylergonskihair
Short blonde layered shaggy hair works well on a natural texture, making it easy to style. It's the best fit for a woman that wants a low-maintenance cut that offers versatility, too.
Short hair enthusiast Tyler Gonski of Illinois created this cut. "I did the point and slide-cutting methods to add texture and remove bulk," Gonski states.
Gray Shaggy Bob for Older Ladies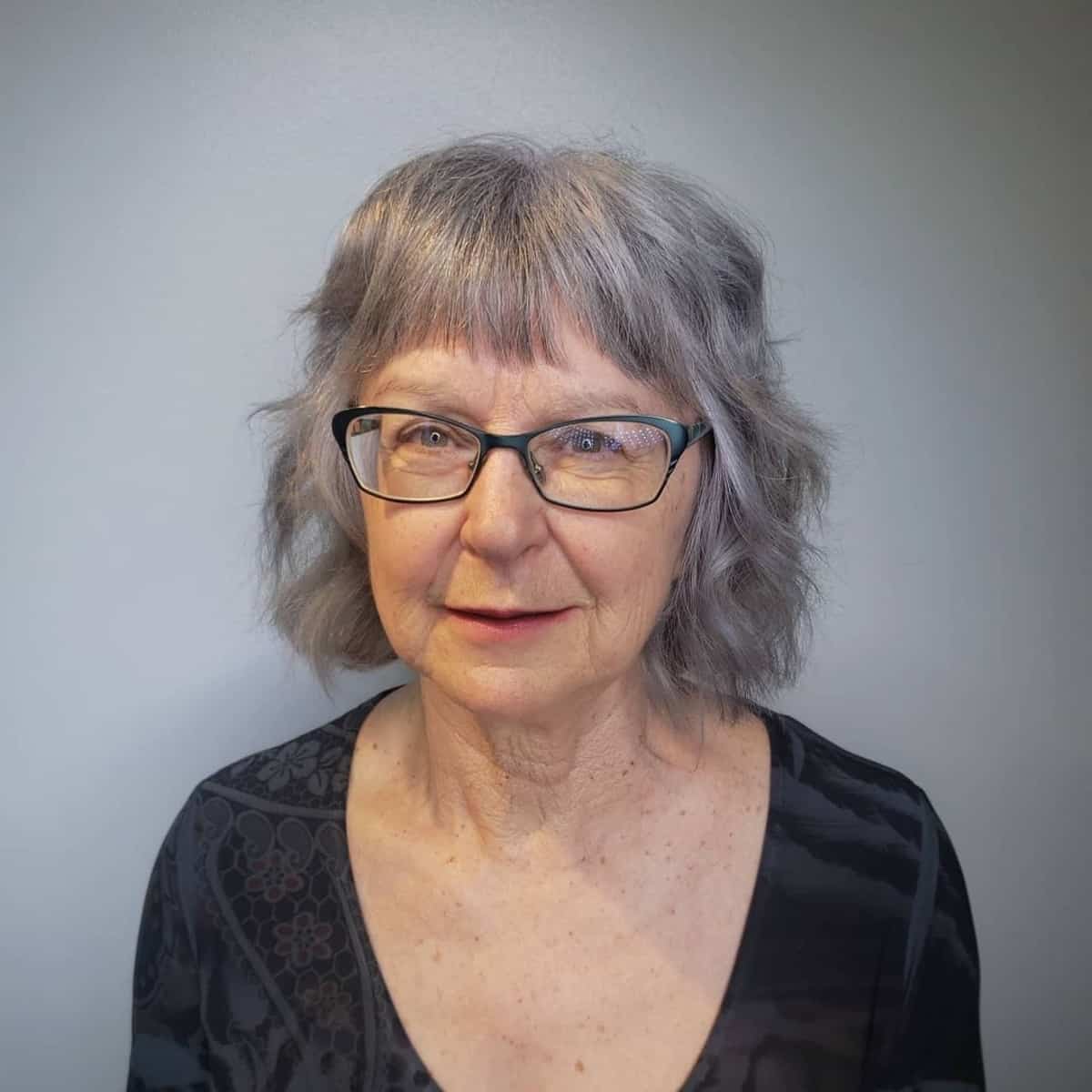 @emkaycollective
A gray shaggy bob for older ladies is a wash-and-wear type of haircut. This look creator Mikhaila Anderson of Canada says it works great on a natural wave or curl pattern.
"Layers were added by using texturing shears," Anderson states, mentioning the chunkers method. "I'd pull the hair in larger sections in 180 degrees and chunk first to the shortest layer. Then, I'd chunk twice – once at mid-length, and again closer to the ends," she explains.
Shaggy and Messy Bob with Ombre
@yurisantoshair
A shaggy and messy bob with ombre is versatile as it looks great with any hair texture—whether wavy or sleek. Stylist Yuri Santos made it modern and practical for ladies who want to go short.
Santos created a straight base with layers to give hair movement, then went with a balayage. For styling, Santos says, "maintain the health of the hair in day use products rich in amino acids, proteins and mainly collagen."
Blonde Shaggy Bob for Women Over 50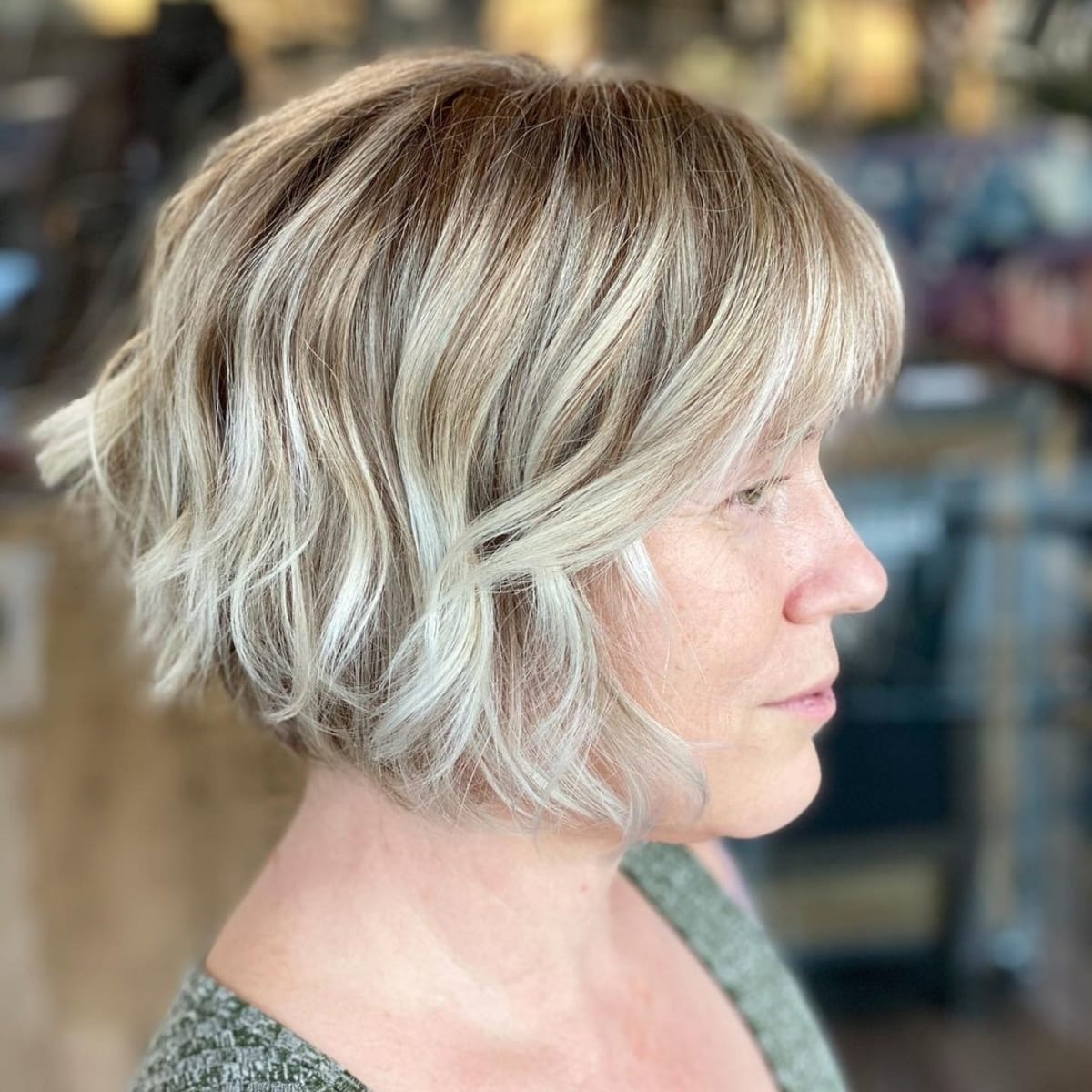 @hairbykayleighelizabeth
The blonde shaggy bob for women over 50 is a customizable cut to match any hair texture and face shape. California-based hairdresser Kayleigh Elizabeth used a combo of techniques for this chop.
She explains, "I used precision haircutting to create a base perimeter. The razor texturizing and shaping techniques create the shaggy curtain bangs and lived-in layers plus the face frame."
Shag Cut on Graduated Bob for Women Over 60
@felix.lynn
A shag cut on graduated bob for women over 60 works on any hair type—it can be thin, medium, or thick, textured hair. Stylist Lynn Felix from Arizona says it'll suit any face shape by customizing the cut.
"I created texture on the ends first, then worked into the layered bob. I did interior texture with Hanzo shears. We're growing the front to create longer bangs to control a widow's peak in the hairline," Felix explains.
Shaggy Wavy Bob with Blunt Bangs
@_simons_
Pair a shaggy wavy bob with blunt bangs and rock messy yet fab-looking hair! Stylist Simona Atzeni of Cagliari, CA created this messy bob for ladies that want a straight, but undefined line.
To achieve this style, Atzeni used a point-cutting technique. "It allows me to give some disconnection and to create very shady and undefined layers," she notes.
The Short Shaggy Bob with Bangs
@timpascoe_hair
The short shaggy bob with bangs is inspired by the French bob cut. The difference is due to the fact that it is a short bob cut into a shag with frayed layers and fringe.
👉See more short shag haircuts.
Long Layered Bob Shag
@candace.ellersick
"This layered shaggy bob hairstyle with loose waves is versatile because, at shoulder-length, you can wear it up or down, and curled or straight. It also features blonde highlights for an added dimension," explains cosmetologist Candace Ellersick of Spokane, WA.
"This is a great haircut for women who want a low-maintenance style," she adds. "You can throw this shaggy wavy bob up if you're not styling that day but also wear it down and put some easy beach waves to dress it up!"
Short and Shaggy Pixie Bob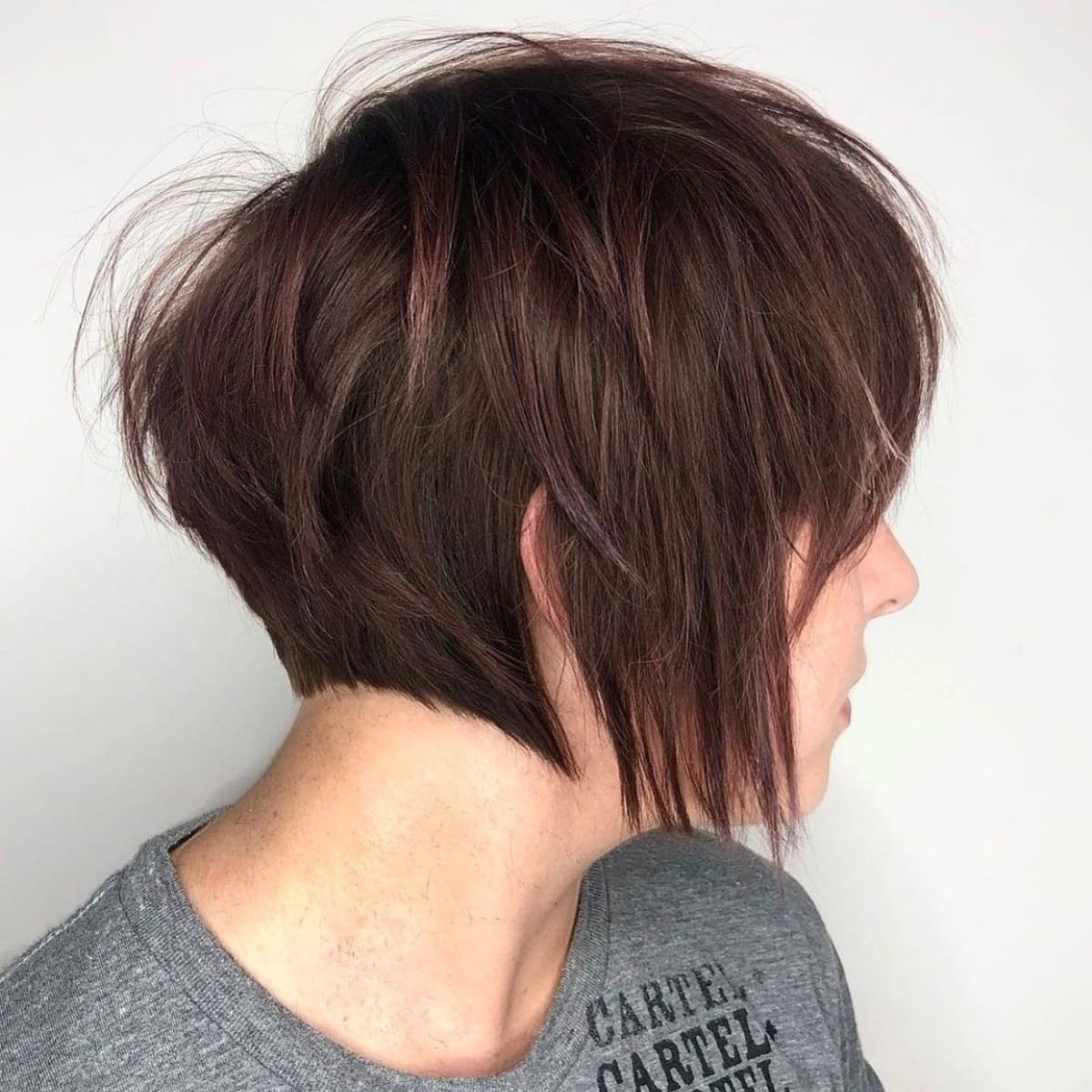 @lindseybridgeshair
Try a short and shaggy pixie bob if you want a modern style. The shaggy pixie gives a structured look to straight hair. This shaggy bob is for women who like practicality without losing style.
The Medium-Length Shag with Soft Waves
@ashleytmariee
This medium-length shaggy bob with defined waves is effortless for the girl who wants to wake up and go. This particular cut was handcrafted by stylist Ashley Marie of Charlotte, NC.
"If you have natural texture, the cut allows for air drying with a spritz of sea salt to enhance the separation in your waves," notes Ashley. "Also, it's the perfect way to grow out that short cut without ever having that awkward length."
If you're considering bangs for your shaggy shoulder-length bob, Ashley encourages you to ask your hairstylist which length/style/shape is right for your face. "It adds that extra flair to a short, simple look. Also, if you have a blonde shade, wash your hair with purple shampoo to keep its tone."
The Mid-Length Shag Bob with Layers and Choppy Ends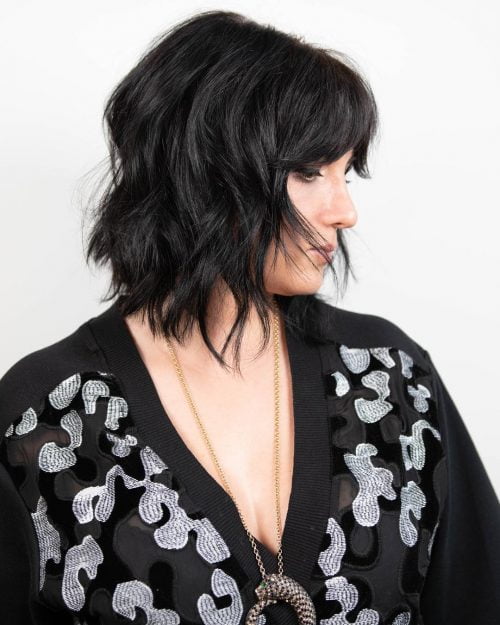 @phatlyzn
The mid-length shag bob haircut is a modern shag with layers, texture, and bangs. This shaggy bob was created by hairdresser Phat Ly of San Jose, CA.
"What I like about this cut is that it has a strong feature out the line of a bob haircut," says Ly. "The layers and texture bring out the modern, edgy, lived-in, and undone look, giving the haircut more young energy and the feel of freedom."
The shaggy bob haircut is all about simplistic and edgy combinations. This cut and style can fit on wavy to straight hair. For fine hair, the layers can add more body and movements and create volume throughout. For short, thicker hair, the inner layers can remove weight, adding more spaces, so the hair can move with lightness and movement.
The Chin-Length Shaggy Bob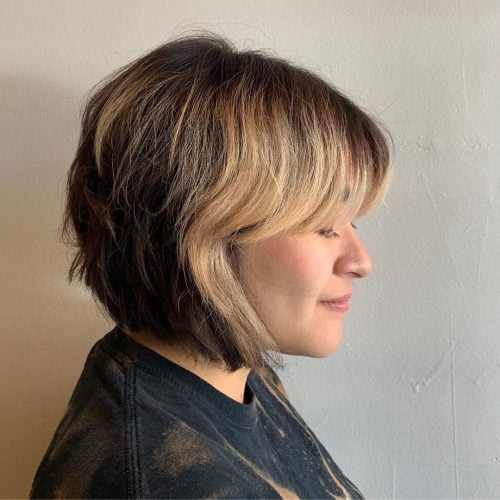 @kreeepykylie
A chin-length shag bob can create styles that provide movement and texture with short layers. This one was created by hairstylist Kylie North of Chicago, IL.
"This short hair cut would be best for women with a higher hair density and some sort of wave or curl pattern," says North. "If you have straighter hair, it would require more styling to give your hair body."
The Shaggy Shoulder-Length Bob on a Copper Balayage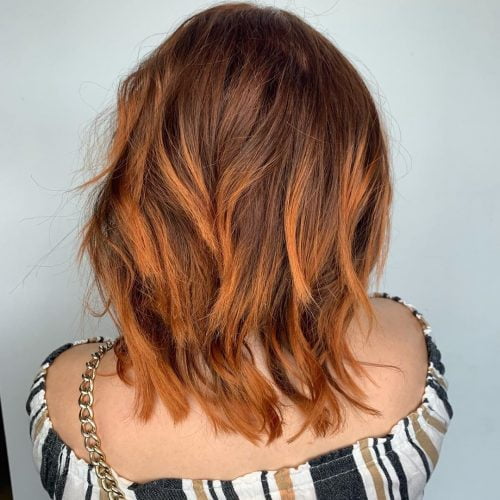 @tythehairguy
"This is a beautiful shoulder-length bob with shaggy layers. My favorite part was formulating the copper balayage I used," notes hairstylist Jason Irwin of Tampa, FL.
Irwin recommends a custom color conditioner to keep reds vibrant or, at minimum, color-safe shampoo and conditioner. "Minimal washing will also help keep the color vibrant. This long bob works best for women with a natural curl, wave, or those who are willing to put in the extra time to style it. If not, then understand it may look a little boxy when worn straight," he explains.