The 21 Best Pixie Cuts for Thick Hair
Black Layered Pixie With Long Bangs
@randa.rivera
This is a short, layered pixie cut with long, side-swept bangs in the front. This is a great pixie with long bangs haircut to have if you have jet black, super thick hair.
Messy Pixie Bob with Tapered Nape
@inmadelope
A messy pixie bob with a tapered nape adds texture and movement to thicker fuller hair. Allowing the hair to be textured not only benefits from removing some of the density, but also creates a messier vibe to the hair. This style doesn't need to be super short through. The back and sides let the hairline be tapered in softly.
Long Blonde Pixie Hair
@ayhanonluel
Choose long blonde pixie hair if you prefer to keep a soft face-framing length to your pixie. Short hair can freshen up your look, but keeping some length on top allows the sides to go short creating an undercut and allowing your length on top to graze the cheekbones.
Platinum Blonde Balayage Pixie with Dark Roots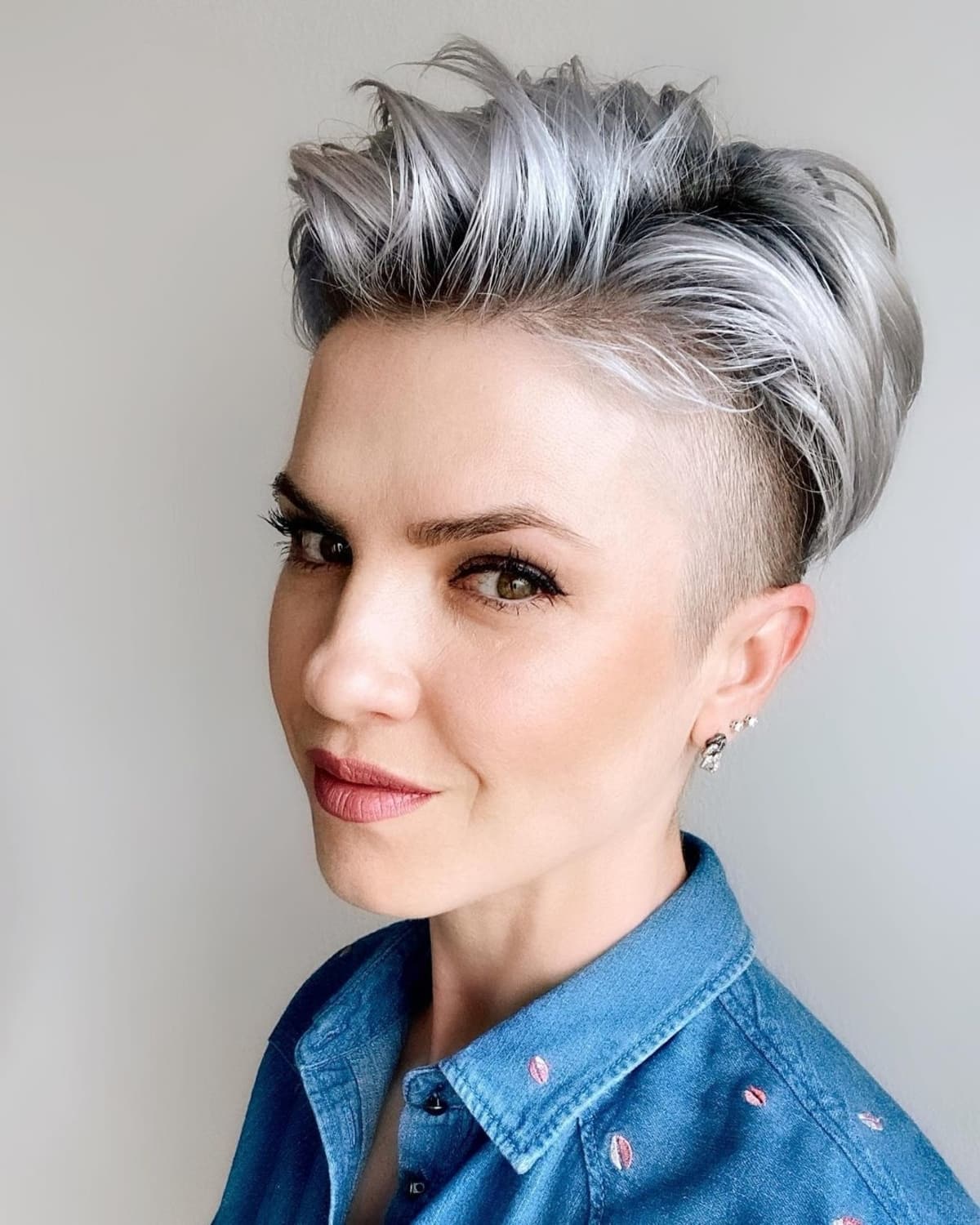 @sonia_rohrbach
Rock a platinum blonde balayage pixie with dark roots to make your thick mane super manageable. Wearing your hair short in a cute pixie eliminates heaviness from the hair and gives you low maintenance styling. Adding a platinum blonde balayage will add depth and texture to your darker roots perfectly suiting your lighter feeling pixie.
Boyish Tapered Pixie Cut
@danidribeiro
Try a boyish tapered pixie cut that is not only versatile in styling but is also easily maintained. The boyish cut is still feminine, elongating the neck, and enhancing the curvature of the head shape. Having some length through the side bangs keeps a feathered feel, which looks stunning when worn sleek or soft.
Textured Feathered Pixie for Thick Hair
@ricardodinis
A textured feathered pixie for thick hair is a great way to embrace your natural texture, allowing a flow of freedom to the natural shape of your hair. The loose feathered texture will look best left a little longer on top, keeping the sides tight, and with structured femininity.
Asymmetrical Pixie
@lysalynn94
A little bit off-center does not hurt anybody. In fact, it saves the day! Simple yet classy asymmetrical pixie cuts for thick hair will soften the face while still keeping structure.
Super Short Pixie for Thick Hair
@hairdesignby_jennifer
A very short pixie cut for thick hair is one of the easiest cuts to maintain for women with thick locks.
Considering adding texture to your low maintenance coils by using sea salt spray for a sophisticated beachy vibe.
Thick Pixie Bob with Medium-to-Long Layers and Side Bangs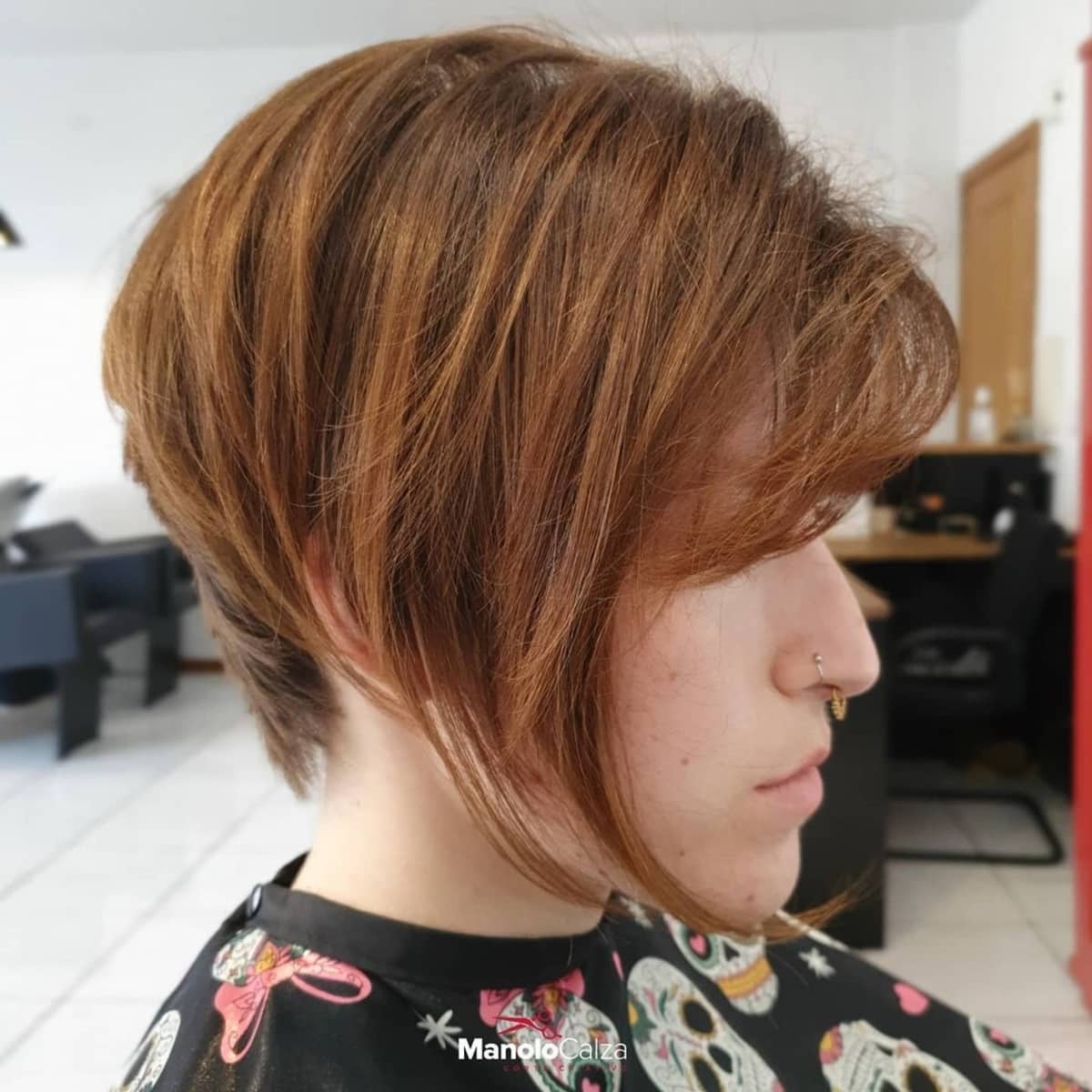 @manolocalza
A thick pixie bob with medium-to-long layers and side bangs is a very trendy look A layered pixie cut is great for thick hair. The undercut and shorter sides remove unwanted bulk.
Choppy Pixie with Bangs
@sophiedalymakeup
A choppy pixie with bangs is a great cut for women's thick, straight hair.
Razor cutting short choppy layers is a wonderful way to thin up those thick locks. This choppy cut would look great with a bit of texture, bringing the hair back to life.
Love this cut? Check out more short pixie cuts with bangs.
Cute Pixie with Nape Undercut for Women Over 50
@jessy.legrantsalon
Cute long pixie cuts for women over 50 with thick hair are heavily layered and sharp. It can also be paired with a nape undercut for an extra edge. This chop gives breeze to the nape of the neck.
Spiky Pixie for Women Over 60
@thehairdresserlisak
A spiky pixie for women over 60 has lots of dimension, direction, and well-placed choppy layers. Pixie cuts for thick, coarse hair is best styled blowdried with a small round brush, then pinching styling gel through the ends with a gentle pulling motion. A pixie cut for women over 60 is one of the trendiest hair styles right now.
Thick Shaggy Pixie
@vainballard
Get the chop and ask for shaggy layers to go. This cool shaggy pixie for thick hair is great for creating volume and framing the face. Such a short hairstyle is a perfect option for ladies who got a girly rocker vibe.
The Long Angled Pixie Bob for Thick Hair
@stevie.hairdo
Give yourself a big chop with this long pixie cut for thick hair.
Growing out a thick pixie cut into a long angled bob is a the most maintenance thing you can do.
Feminine Pixie Cut for Brown Thick Wavy Hair
@plavalaaleshika
A feminine pixie cut for brown thick wavy hair gives joviality. If you want a big change to your thick longer hair, try it shorter. A pixie cut for thick wavy hair has a delicate touch.
Brunette Pixie on Thick Tresses
@timpascoe_hair
A brunette pixie on thick tresses suits oval, heart, or diamond-shaped faces. It also works on smoother textures with medium to fine density. Australia-based stylist Tim Pascoe says it requires less styling as it's designed to work with natural hair texture.
"The haircut was a mixture of scissor and razor techniques," Pascoe shares. "These enhance the disheveled appearance and texture in this pixie cut."
Flattering Textured Pixie for a Round Face
@daniel.hairstylist
This is a modern beautiful pixie haircut for bold women who have style, a round face shape, a short neck, and a lot of thick textured hair on top.
Textured pixie haircuts for thick hair need drying with an ointment and working your hair with your hands to look natural. It combines with all kinds of face and texture hair.
Boyish Undercut Pixie
@shmoakin_hair
A boyish undercut pixie is a dramatic yet great way to remove bulk – allowing thicker hair to look less puffy. The rest of the hair has a gradual transition from short to long where one side gives the style a bob-like appearance. To style a pixie haircut for thick hair, spritz with Texture Tonic by Aveda.
Long Tousled Curly Pixie for Thick Curly Hair
@confidentlyleah
A long tousled curly pixie is the perfect option for thick curly hair. Short layers around the ear and back take bulk away, and the long top gives the pixie cut a great shape. Curly hair is best styled with gel and oil mixed together and air-dried. If you're ready for a change see more pixies for curly hair.
Messy Pixie for Coarse Hair with Highlights
@mila_kryshchykhina
A messy pixie for coarse hair with highlights can create texture and dimension to show off the details. An ideal pixie cut for thick coarse hair is having a gradual transition of short hair, leading up to a longer length around the crown. To style pixies for thick hair, try Aveda Texture Tonic.
A Thick, Edgy Pixie with Side Swept Fringe
@arsentovmasyan_
A thick edgy pixie with side-swept fringe is for women with thick hair. Super chic, this shorter pixie hairstyle can be tucked behind your ears with gel. A cropped pixie style combined with thick strands is a versatile cut, too.