21 Best Light Pink Hair Color Ideas (Pictures for 2023)
Short Light Pink Hair

@honeyhousehair
Here is a trendy way to get a dyed light pink hue for short hair. This shade of petal pink is perfect if you have a very fair or light skin tone.
Pale Pink Hair Dye

@wellahairuki
Pale pink hair dye needs a clean platinum blonde canvas to sit on. The light pastel pink hair color is extremely non-committing and is a perfect option if you want a bit of a change. It suits most skin tones and eye colors. Don't forget to use color-safe shampoos and masks like Olaplex, for instance, that will seal the cuticles and your hair will be healthy, shiny, and soft.
Baby Pink Hair Dye

@ben.wellamcr
Baby pink hair dye is a subtle warm pastel color. It suits fair skin tones better, and for darker skin, a deeper pink is the shade to go to. Almost every hair dye brand has a baby pink color and its variations in their charts. Take for example Wella, which has come up with a take-home mask that moisturizes and nourishes hair and at the same time deposits pigments.
Light Rose Gold Hair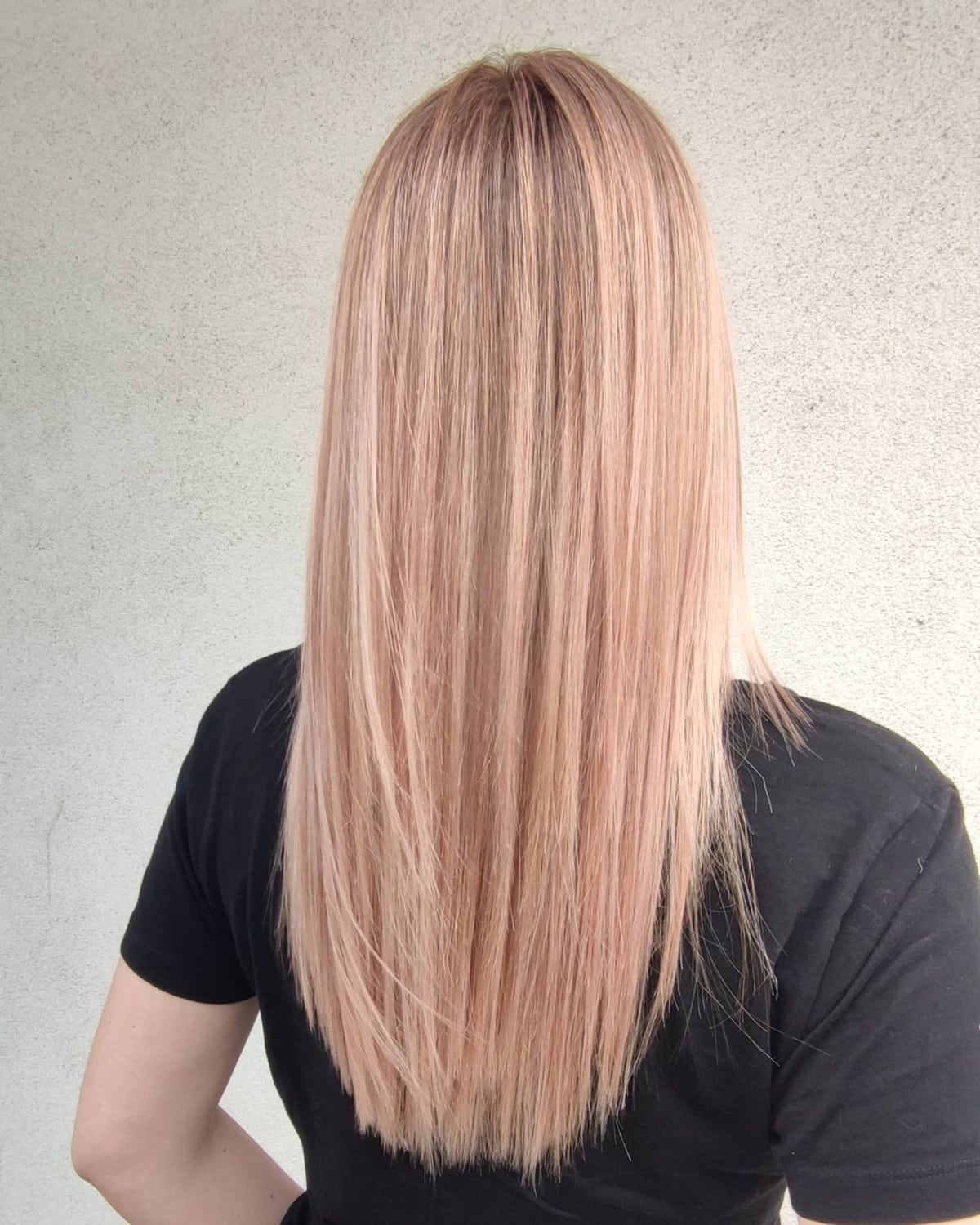 @hairbyinees
Light rose gold hair is the perfect hair color if you're looking to add a dash of pastel pink into your hair. Rose gold hues add brightness and shine to warm up blonde hair. These pale pink tones shimmer in the light and are a subtle way to change up your blonde highlights.
Sunset Pink Hair

@raediantlyyou
Sunset pink hair beams with radiance and vivid coral tones. Bubble gum pink hues blended into peachy, coral colors gives a beautiful ombre of deep pink into light, pastel pink tones. To live this color to the fullest, ask your stylist to make you as blonde as possible, giving you the perfect light canvas to make the sunset pink color vibrant and luminous.
Light Metallic Pink

@beautybyemmihon
Light metallic pink hair combines soft pink tones with cool undertones to give an icy light pink hair color. Metallic pink hues reflect light and are filled with shine and brightness. Women with blonde hair are the perfect canvas for a light metallic pink color. Ask your stylist to use a light pink toner and cool additives to keep the pink looking glowing and shiny.
Peachy Pink Tone

@marina_cr_hairstyle
A peachy pink tone is subtle and elegant. Light peachy pink hair color reflects warm rose hues that look beautiful on fair skin tones. A pastel, peach pink tone is a fun makeover for blondes looking to brighten and revamp their hair color.
Purple to Pink Ombre

@hairbywictoria
A purple to pink ombré is on the border of becoming a unicorn. With a lavender base and candy pink ends you will want to have a naturally level 7+ base and pre-lighten for the easiest process. Darker tones will typically take multiple sessions and a bond protector is always recommended to maintain the hair's integrity.
Light Pink with Brown Roots

@hairby_anabertemes
Make your grow out easier by asking your hair colorist to give you a rooted light pink balayage. Feel free to pair this rose-tinted pink hair with a bob cut for easier styling.
Brown Hair with Light Pink Highlights

@cethestylist
Light pink highlights work well with light brown hair. This is the kind of pink that gives darker hair a radiant hue.
Blonde Hair with Light Pink Highlights

@aaashleee
If you have a natural blonde hair color, then adding bright pink highlights is typically cheaper and faster to do. Looking pretty and chic—these pink-dipped ends would be accentuated even better with a wavy style.
Subtle Light Pink and Blonde Hairstyle

@abrownwillis_hair
If you are a workplace professional, then considering getting subtle light pink highlights.
Very Light Cotton Candy Pink Hair Dye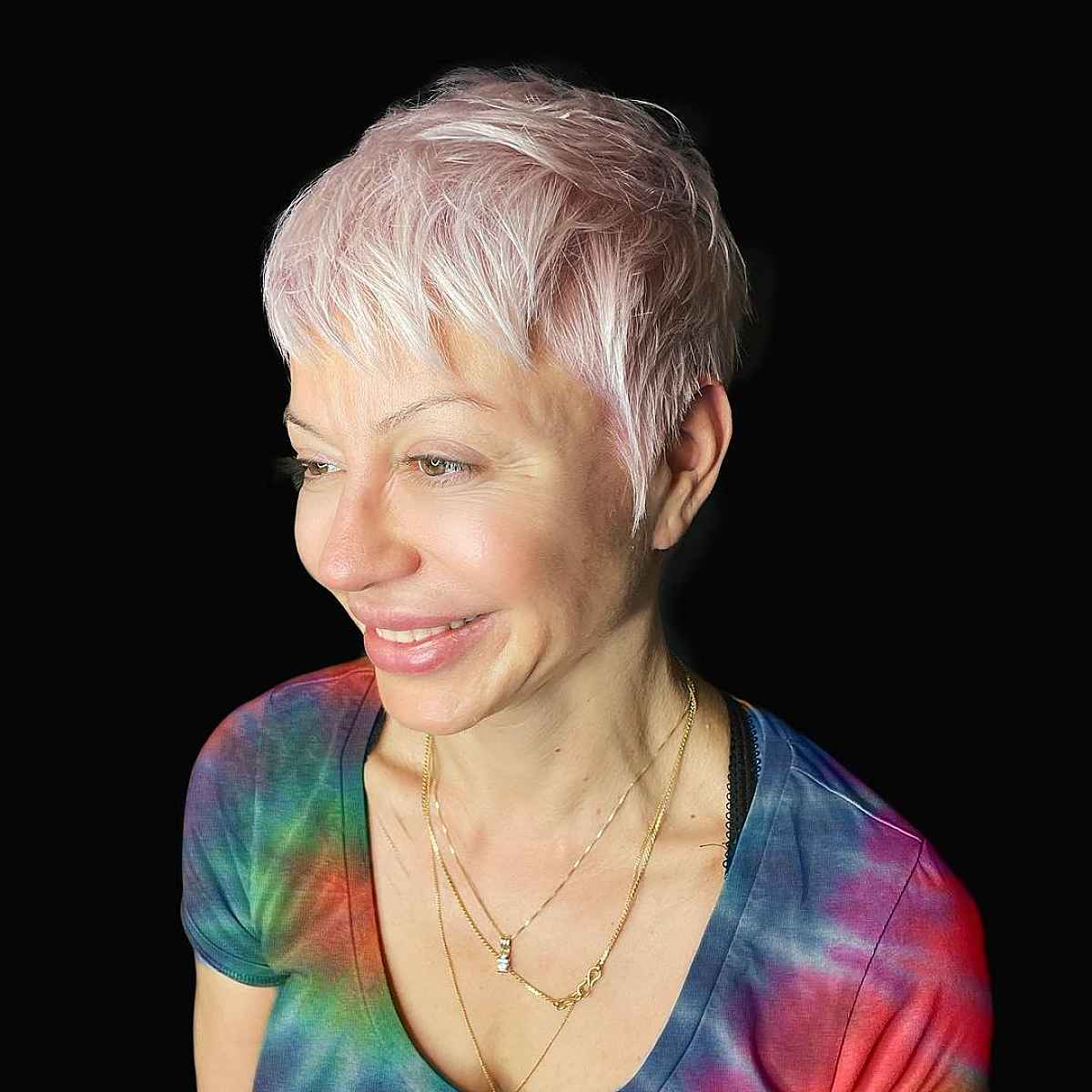 @thairsjordan
You can get a very light cotton candy pink shade as long as you have naturally light hair or you're willing to invest in bleaching your hair first. Combining blush pink hues with bleached hair can get you that beautiful pastel hair.
Dark to Light Pink Ombre

@highvibehair
Light pink ombre hair is a popular choice for fashion-forward millennials.
Faded Light Pink

@hairbylindal
If you want a more subtle look for the summer, consider choosing a faded light pink. Just note that this hue will more easily wash out from time in the pool.
Black and Light Pink
@angelicaguzman101
Adding a light pink color to black hair can be a very strong hair color choice. The hue is perfect for ladies with dark hair that want something fun and extra. Be prepared to invest in more expensive hair products to preserve your color.
Light Pink and Silver Balayage

@shibestylin
Light pink and silver is a trendy hair color combination right now.
Light Pastel Pink Hair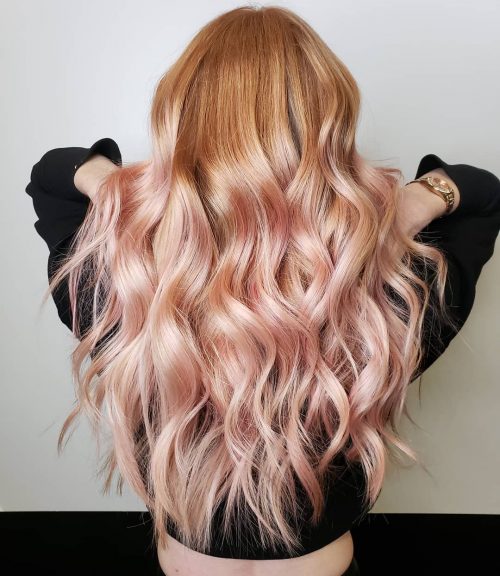 @coveredinhair
If you have a natural strawberry-blonde hair color, then request light pink highlights to create a seamless blend of orange to pink tones. This pastel pink hair would look very stunning on long hair with waves.
Light Bubble Gum Pink

@amandadoesyourhair
A bubble gum pink hair color is a popular choice for teens right now. Coloring the hair pink is sure to offer a chic, flirty style.
Blue to Pink Hair Ombre

@hairculturebynisha
Wearing blue to pink hair ombre is adding a funky element to your style. Stylist Nisha Popat of India teaches us how to achieve this color.
Balayage is the key technique here. Popat explains, "Get the hair pre-lightened (bleached) to a very light blonde. Use blue and ultra purple tones on mid-section from Wella, and on ends, use magenta pink."
Hints of Pink on White Blonde Hair

@queen.of.orange
The hints of pink on white-blonde hair make a statement color without being too extreme. Color specialist Emma Falkensjöof of Sweden tells me how to achieve these tones.
"What we did here is a full bleach. To neutralize the warmth on the hair, we used a toner containing violet pigments. We also added pink pigments to create an iridescent blush feeling," Falkensjöof explains.