21 Coolest Reverse Ombre Hair Color Ideas for 2023
Blonde to Red Ombre

@hairstylist_julialind
Dip dye ombre hair seems to be the rising trend nowadays. What a way to try it than some peach ends on lightly colored hair, don't you think?
Orange Reverse Ombre for Curls

@_love_isinthehair
Orange reverse ombre for curls is the perfect in-between appointment. If you want to give your hair a break from the routine, try out this ombre instead. By adding a darker color to roots it seamlessly blends in the new growth to the brighter ends. This is an easy way to switch things up while still being gentle on the hair.
Blonde to Auburn Ombre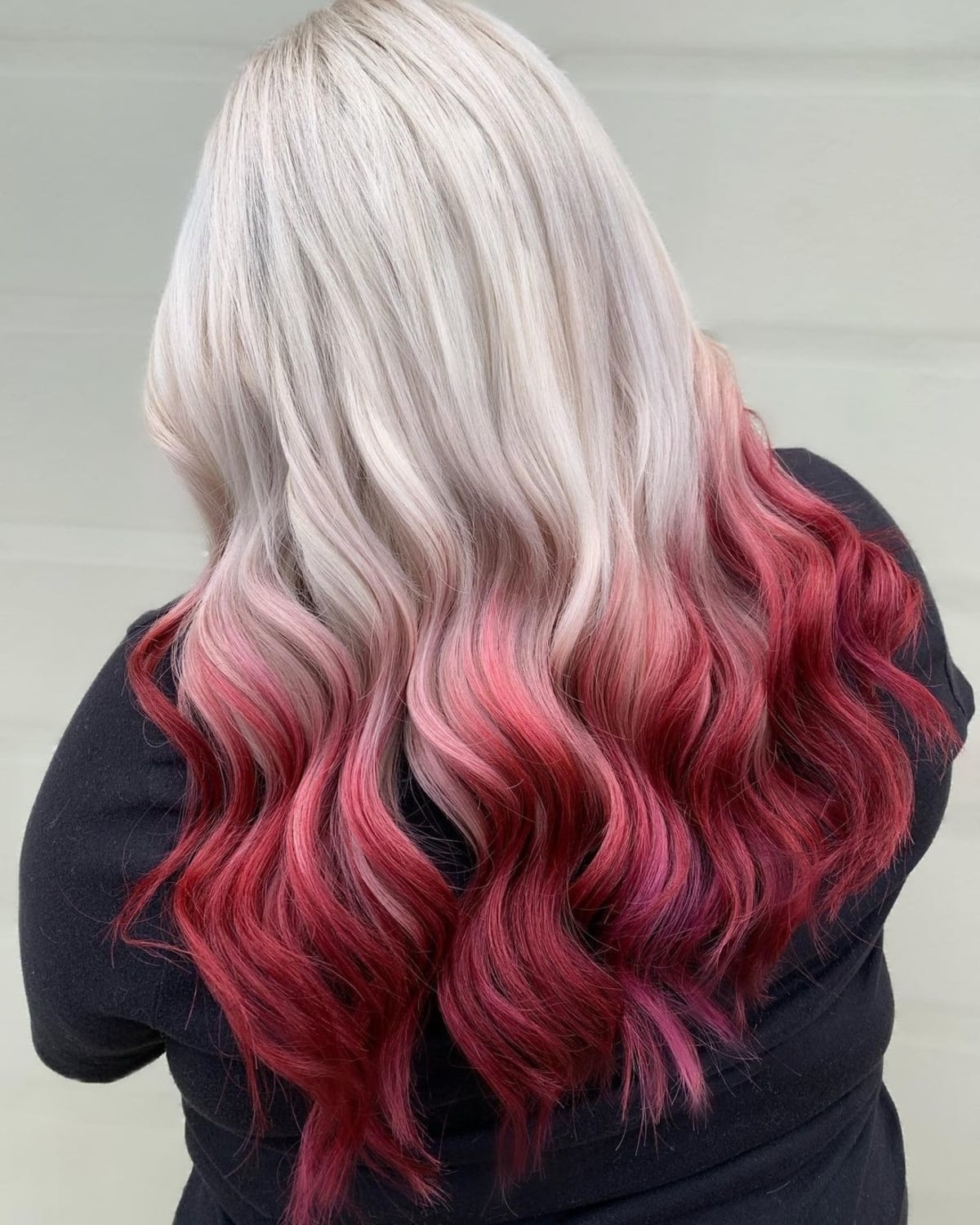 @emily_paints_hair
Consider a head-turning shade such as blonde to auburn ombre where the bottom half transitions into a deep red. Perfect for special events like Halloween and Valentine's Day. Even as the color starts to fade, this hue will still look flattering and seamless.
Pastel Lavender Reverse Ombre

@ame.kirkpatrick
A pastel lavender reverse ombre is great for women who want to experiment with fun colors and look trendy. To maintain this color, use a color-safe shampoo and conditioner such as Davines Minu to minimize hair damage and preserve hair color.
Cool Platinum Blonde to Silver Reverse Ombre

@lively_looks
Go all the way with a lighter hue and a nice bleaching job to achieve this gorgeous cool platinum blonde to silver ombre hair. As damaging as it may be, this reverse ombre will help with the healthy grow out.
Burgundy to Caramel Ombre Hair

@mikemihay
A burnt mahogany or dark burgundy hue to a lighter caramel makes for a sassy ombre when styled with a lot of layers!
Caramel Blonde to Chocolate Brown Reverse Ombre
@honeybeehair_mandy
Caramel blonde and chocolate brown ombre—such a wicked color pair! This coloring job is insane!
Dark Red to Copper Ombre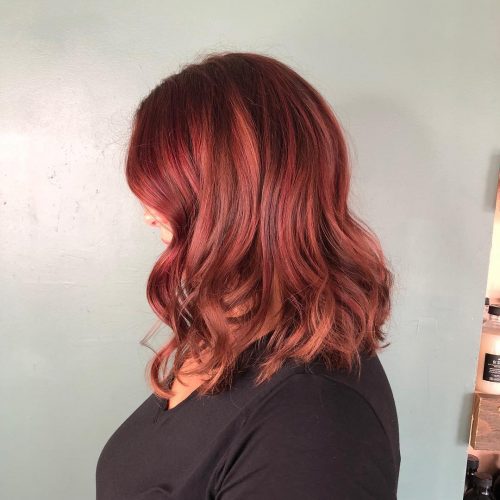 @stylebarclt
Get those light scarlet hair creeping in with this wonderful subtle reverse ombre balayage style.
Dark Purple to Light Purple Ombre on Pixie Cut

@hairlust__
What could make a lengthy pixie with an undercut more extravagant than this purple reverse ombre effect? Having two tones of violet as its color, I suppose!
Brown to Black Ombre Hair

@hairby_meggray
Back to jet black? The right ombre for your long hair may be an unusual color but with the proper balayage, it will turn out as smoking as this.
Red to Black Reverse Ombre

@marmbrister7
Post up with dark hair like this phoenix red ombre blend on ebony tresses.
Light Brown to Dark Brown Ombre

@misscharlottehair
A light brown to dark reverse ombre is sure to create an unusual twist on a very natural color!
Grey to Black Ombre

@ssscoundrel
This reverse ombre hair trend was created by hairstylist Alaina Walker of Denton, TX.
If you are considering this look, Walker says to look into a purple shampoo to keep the hair nice and silvery! "Barcelona by Pulp Riot is one of my favorite purple shampoos to use," she notes.
"I would also definitely recommend using cold water for shampooing and rinsing for two reasons. The black is a semi-permanent color over pre-lifted blonde, so this would fade after each shampoo. Coldwater will help minimize any color running into the rest of the hair," she adds.
Blue to Brunette Ombre

@rycnyc_hair
If you're down for sporting a more androgynous look, opt for a short blue to brunette ombre hair. Stylist Russell Cordeiro of NYC is behind this cut and color.
He says, "make sure you have the personality for it or are willing to get outside your own box. A very thorough consultation is a must. How will you style? How much time are you willing to put into this on a daily basis? If you are going from long to this short, do you want all that attention?"
Ash Blonde Roots to Gray Balayage

@hairbywhos_joni
This is a reverse ombre in soft muted tones. It was created by stylist and colorist Joni Davenport of Portland, OR.
She explains, "since semi-permanent colors were used, it needs to be refreshed every 6 to 8 weeks. I always recommend a gray-silver depositing shampoo to keep the color fresh in-between appointments. Keep those hot tools on low heat, and always use a heat protectant to avoid fading."
Pink Reverse Ombre

@miriahxxhair_
This pink multi-shade reverse ombre was created by stylist Mariah Degraffenried of St. Louis, MO. Her client wanted a color that would show off the highlight and brightness of an anime character.
"We went for a lighter pink at the roots to showcase the light hitting her base and then melting it into a darker but neon bright pink," she explains.
Degraffenried wants you to understand that some colors take time to achieve. "The process can be long but it's worth it to save the integrity of their hair. To maintain the color, buy color-safe and sulfate-free shampoos. It's better to use higher-end products to achieve longevity with the color. Of course, use customized color conditioners!"
Blonde to Purple Ombre

@hairbynivein
This blonde to purple ombre was created by stylist Nivein of Kitchener, ON.
"The process for this look was very simple," she explains. "I used my 100 foil technique, lol! (Because it literally took 100 foils) to lighten her. Basically, it was back-to-back fine slices of foiling. Then we fiberplexed (it's a fiber treatment to maintain the integrity of the hair after lightening)."
She continues, "highlights are added to give extra dimension to the hair. Then blowdried the hair, sectioned the hair starting from the back, then, using my ombre technique, applied the purple color."
Nivein doesn't recommend this ombre if you're an every day washer. "Only because you won't get the longevity of this hair color. Also, keep in mind these colors do stain (not permanently) showers, pillowcases, etc."
In order for the color to stain, the hair needs to be prelightened. The porosity of the hair does play a huge factor. Typically, these colors are not pre-formed without proper consultation. Understanding maintenance and expectation are very important when working with fashion colors.
Shade of Strawberry Blonde to Red

@becky_james_curtis
This shade is a fire red reverse ombré. It was created by hairstylist Rebecca Curtis.
In the formula, Curtis added a couple of drops of Goldwell pure pigments red which amplifies the vibrancy and shine of your hair color.
"Red fades pretty quickly, so to ensure it stays vibrant longer you need to rinse with cooler water," she notes. "Warm water opens the cuticle of the hair causing the red molecule to come out faster, cold water keeps the cuticle closed. "
Women who have lighter hair naturally will not have to lighten the hair first you can just deposit the red. Women who are darker naturally or have a darker color previously on the hair would have to lighten first then deposit the red.
Light to Dark Blonde

@malcolmcleavoncuts
A reverse ombré can be one of the hardest colors to do because sometimes it can be hard to envision darkening the ends of blonde hair.
The color selection is the most important part of this color. Not only the technique you use, but the tones you choose is what will make this look seamless. Opt for the blonde to be complemented by the dark colors, not taken over. So choose a softer warm naked blonde in Mydentity color to melt into the milk chocolate ends.
When considering this look, remember those ends will most likely never be blonde again, so be prepared to cut them off when you're tired of this look.
Red to Brown Color Ombre on Short Hair

@givethemhairbykristi
There's a simplicity to this short hair cut and red-brown ombre. It was created by lead stylist Kristi Richards of Grand Rapids, MI.
"Be prepared to visit your stylist every 4 to 6 weeks," says Richards. "Short hair will save you time with daily styling but will require a little more maintenance to keep everything trimmed and looking polished."
White-Platinum Blonde to Brown Bob

@celyscissors
This white-platinum blonde to brown ombre bob is revolutionary! It's even better for thin-haired women because of the weightier appeal of the reverse ombre with semi-tight curls.