35 Platinum Blonde Hair Colors for All Hot Blondes
Platinum Blonde Hair with Honey Highlights

@hairbytessmarie
Spice up with this summer vibe platinum blonde color! A long wavy honey platinum blonde color is a stunning look if you're up for a glowing and attractive new hairstyle.
Platinum Lavender Blonde

@samleehaircolor119
Consider platinum lavender blonde if you want to have some fun with your blonde. The lavender will keep your platinum icy. You will be the envy of your friends, once your wear this color piece. The fade-out will be gorgeous so you won't have to worry about anything!
Platinum Colored Hair for Older Blondes

@hairstylistjennae
Platinum colored hair for older blondes works great on naturally light hair or someone who has a lighter natural gray base. It doesn't look extreme if you're already going grey as it softens your overall look. It also helps lighten up the appearance of lines and the grow-out is less noticeable.
Platinum with Lowlights

@joselussem
One of the best multidimensional and modern colors is a platinum blonde with lowlights. This hair color works greatest on cool skin tones and looks perfect on long waves to show off the color's variations.
Blonde with Lilac Purple Hues

@pompandproper
Platinum purple hair is the way to go if you're looking for a more fashion-forward look, while still keeping it subtle and professional.
Blonde with Crown Braids

@sydneyannlopezhair
If you have long hair and are attending a more formal event, then try these gorgeous platinum braids that wrap around like a crown.
Bright Platinum Blonde

@hairbykaitlynbrown
A shadow root, bright platinum strands, and blunt cut ends make this platinum blonde look white hot! So, what now? Go to your local hair salon and ask for this color and chop.
Smokey Platinum with Dark Roots

@lisachauvigil
This smokey ash platinum blonde with plum-colored roots was created by hairstylist Lisa Chauvigil of Thornton, CO.
She notes, "I love the deepened roots with such depths and how it blends seamlessly into the platinum blonde."
"With balayage, it gives the woman a high-end look with less maintenance for the up check," says Chauvigil. "The more it grows, the more compliments you will receive."
Icy Platinum Pixie for Older Women

@hair_by__brooke
The icy platinum works with a neutral to warm skin tone. Brooke Spencer, a certified colorist in Mokena, IL says, "if there's too much of a pink undertone or even too much gold in the skin undertone, it could potentially wash it out."
Spencer notes, "sometimes what a guest thinks they want in hair color is not necessarily what will look best on them. I do a skin tone and face shape analysis before we decide on a look."
Platinum Silver

@jeanette_envisions
This platinum silver was created using the full babylight/highlight technique with Schwarzkopf's Blond Me Bond Enforcing 9+ Lightener and 6% Blond Me developer.
Jeanette Alonso, the hairstylist behind this color, describes how she achieved this look.
"After lightening, I root-shadowed with Schwarzkopf's Igora Vibrance 7-1 (also added some low lights with this toner) with lotion developer and toned/glossed with Schwarzkopf's Igora Vibrance 9.5-1 and -11 and gel developer," she explains. "I love using 0-11 for many of my icy silver-toned platinum. It always gives the look an extra ash finish."
Alonso advises women going for a silver or icy platinum to expect high-maintenance upkeep. The expectancy for a touch-up at the salon should be every 6-8 weeks for toner and 8-12 weeks for a lightening touch-up.
Bright Platinum Blonde Highlights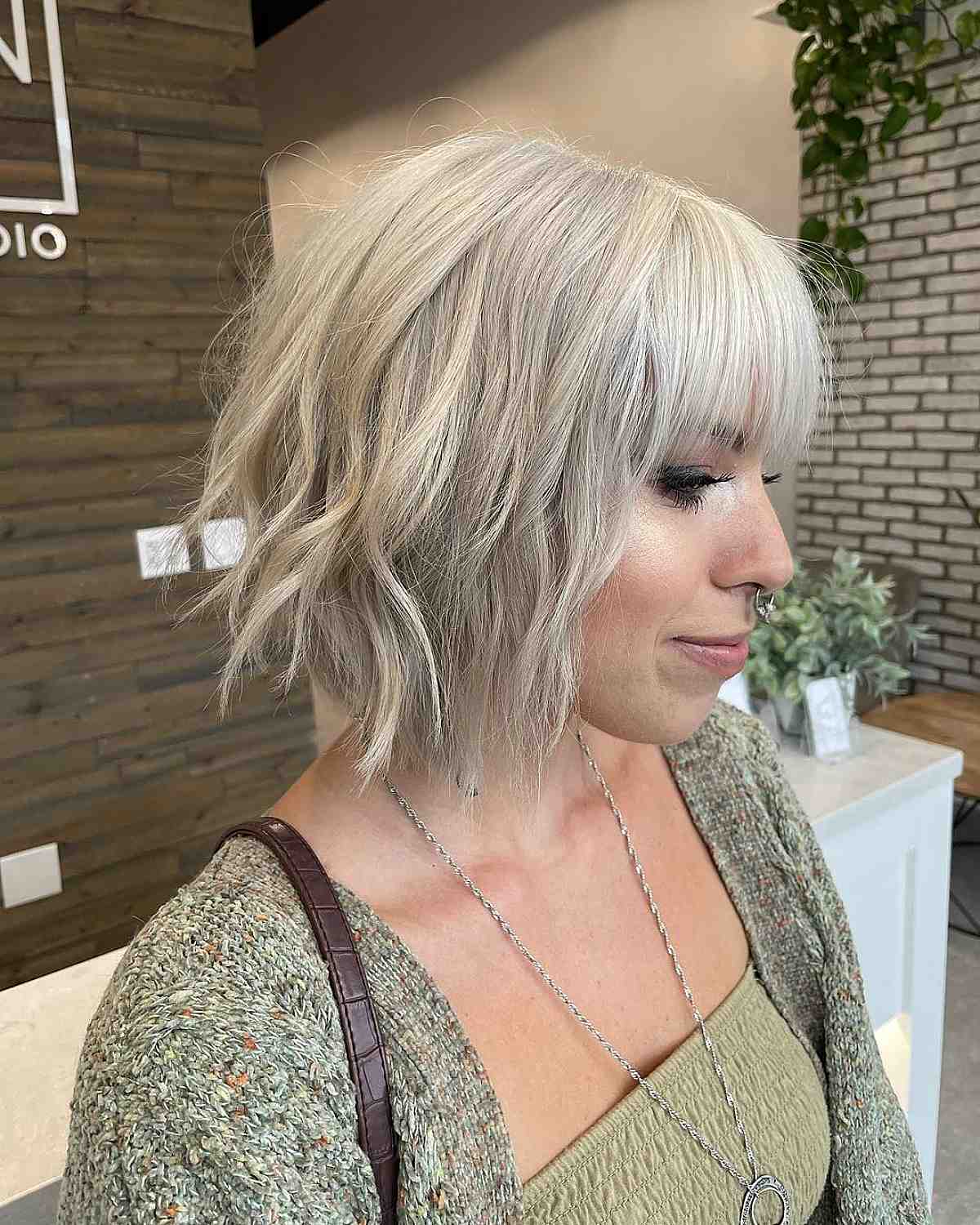 @mwhairstudio.nh
This modern bold icy blonde texturized bob is very low-maintenance. Ask your stylist to give you bangs to frame your face.
Golden Platinum

@hairbynicolereyns
This golden platinum color was created by stylist Nicole Reyns of Auckland, NZ.
"What I love about this look is the color and how gentle the shade of platinum is and how it complements her skin tone," says Reyns.
She adds, "work with your underlying pigments in the hair. If you pull gold or warm tones, stick to those to complement your skin tone and make your eyes pop!"
This look works best if you want a more lived-in platinum look, so you don't have to come in for a touch-up every 4 weeks. Instead, you can come in every 3 months.
Platinum Blonde Cornrows

@mageofhair
These intricate platinum cornrows were created by colorist and braider Diana Lopez of Miami Beach, FL. The color of the hair really brings out the style of the braids and is great for weekends or times when you want to keep the hair away from the face.
"This color definitely requires a lot of care and maintenance, and it can be damaging to the hair if not done correctly," says Lopez. "Touch-ups for the roots are usually done every 4-6 weeks to guarantee great results. I recommend doing it in the 6th week to avoid extreme exposure and removing all the pigment."
Lopez likes to use a bond protector to protect the hair. She adds, "Try Uberliss Bond Treatment because it does not slow down the processing time. Purple shampoo is definitely good to keep yellow tones away. I recommend using Pulp Riot Barcelona Shampoo because it has a lot of pigment but it doesn't dry the hair. It's quinoa-based so it's gentle and nutritive for the hair. Also, use lots of hydration and masks."
Dimensional Platinum Blonde
Lola Prism
This icy dimensional blonde shade was created by stylist Lola Prism of Claremont, CA. She notes, "It's the result of the second session of a color correction, so it's still a work in progress!"
For women considering this look, Prism recommends you find the right stylist that is willing to work with you during the lightening process.
"Hair this color usually isn't achieved in one session unless the hair is already blonde. It's important to remain patient during the lightening process to maintain the health and integrity of your hair."
California Blonde With Dark Roots
This is a dimensional icy blonde with dark roots and bangs.
The most important thing to remember is that this process takes time. You have to be patient! You'll need to understand that the lightening process compromises the health of the hair the more we have to lighten.
How you take care of your hair after this color process is crucial. Sleep with a mask on your hair once a week. Using Oribe Gold Lust Mask and bond multipliers like Olaplex are great ways to keep your hair healthy and bright.
Lived-in Icy Platinum
Maureen Mceachern / Instagram
This lived-in icy blonde was created by salon owner and hairstylist Maureen McEachern of Canada.
She explains, "the blonde is heavy on the bottom and gradually fades off into the root area, giving it a cool shadow root for a really lived-in feel. This look is perfect for the woman who wants to see a lot of blonde but doesn't want the maintenance of heavily highlighted hair."
When requesting this color, McEachern recommends you tell the stylist that you want to see lots of pale ash blonde, but that you want less in the root area. "You'll want the grow-out to be nice and natural-looking in order to require fewer root touch-ups. This color doesn't require as much maintenance as a full head color, but it does require a toner refresh," she adds.
Zero-Elevation Icy Blonde Bob

@hairbyaoifebreenhairb
Achieve a stunning zero-elevation icy blonde bob by going for a full head of fine foils weaved. Created by colorist Aoife Breen from Australia, this is perfect to go short with a platinum hue!
"Having a blonde as bright as this and hair cut this length does require some maintenance," Breen warns. "The color upkeep is every 6-8 weeks. A trim every 4-6 weeks is essential, as well."
Pearly Platinum Blonde

@seolahair
This pearly platinum blonde has the perfect glimmer of color in the sun.
Generally fairer, cooler skin tones will look better with pearly platinum hair than very warm or dark skin tones. However, confidence is the real key to pulling off this look, not your skin tone.
Long & Relaxed Platinum Blonde
Tom Smith / Instagram
This platinum blonde is done on bleached hair, and it looks so relaxed and undone. It was created by head colorist Tom Smith of the UK.
To lighten the hair to this extent, Smith says the hair needs to be strong. "For a Scandinavian blonde, a warmer skin tone is a great match. If the skin tone was cooler and pinker, I would adjust the hairs to be less creamy and icier for a similar vibe."
He adds, "for color, this is a 'global lightener'. The hair is fully bleached out to the scalp and a light, creamy toner was used to achieve the soft and slightly warm shade of palest blonde."
Icy Platinum Pixie
Melissa Kayelle / Instagram
This icy platinum pixie was created by hairstylist Melissa Kayelle of Los Angeles, CA.
"I love good short haircuts on women," she notes. "They're edgy, but can be soft as well. Also, as a lady who has worn a pixie in the past, it's the most liberating of haircuts."
When dealing with a platinum shade, Kayelle says it's really helpful to rotate in or combine, along with your protein moisture system, a toning shampoo or conditioner. "There are quite a few brands that make excellent ones."
"Most women can pull this tone off! My only exception would be if you have a ton of pink pigmentation in your skin. Because this tone of platinum falls between a cool and a warm tone, it becomes neutral. And because it is going to be significantly lighter than most skin tones, it will usually create a beautiful contrast. The trick is to get it truly white," she explains.
Warm Short Platinum

@styled_by_carolynn
This is a warm platinum blonde asymmetrical bob. Asymmetric bobs are a popular style to create because it's the best of both worlds — short in the nape and gradual length in the front.
As far as maintaining the color, deep conditioning is very important and always do hydration treatments to enhance the conditioning process.
A great tip to keep that platinum color from turning brassy over time is a purple-based shampoo and conditioner.
Platinum Highlights on Brown Hair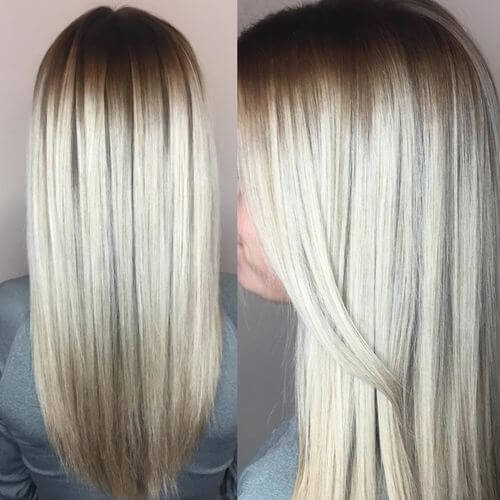 Megan Barden
The best thing about this dark brown to platinum color is the color melt near the top. It was created by hairstylist Megan Barden of Richmond, VA.
She says, "the way the hair blends from her dark base to platinum ends is very hard to accomplish, but as you can see, it really draws your eye to see the dark base pop through with her hand-painted highlights without any harsh lines or spots."
For women considering this color, Barden says that keeping your natural root color can keep maintenance a bit more minimal. "To maintain this color, try Oribe's Bright Blonde product line. You'll also want to see your stylist to refresh your toner for continuous blend and added shine," she adds.
Blonde Wavy Bob Babylights
Whitney Bremer Lafrenz / Instagram
This low-maintenance platinum was created by hairstylist Whitney Lafrenz of Luverne, MN.
"By leaving some of the natural color at the roots and around the face, it works on most medium to light haired clients," she explains. "It's important to be cautious when lightening the hair. Fried blonde hair is just not pretty! A golden blonde or a coppery blonde might be a more suitable option for someone with very dark hair."
Lafrenz recommends you get into the salon every seven to eight weeks to retouch any areas that need lightening and to perform a toning service to keep the color looking platinum. Her at-home maintenance includes using Matrix SoSilver shampoo on a bi-weekly basis, too.
Silver to Platinum for Short Hair
Heather Langlois / Instagram
The is a nice, transitional platinum and silver look. It's perfect for women who are apprehensive about going completely silver and was created by colorist and stylist Heather Langlois of Albuquerque, NM.
For at-home care, Langlois recommends Olaplex treatments and the take-home  #3! "I don't do a platinum service without the add-on of Olaplex. Try the Joico Color Balance purple shampoo. Also, I recommend a good after-shower leave-in treatment."
This is such a light hair color and skin tone does play a big role in how it's going to look. For this color Langlois says a skin tone that is more neutral (not a lot of warmth) works well.
Platinum to Honey Blonde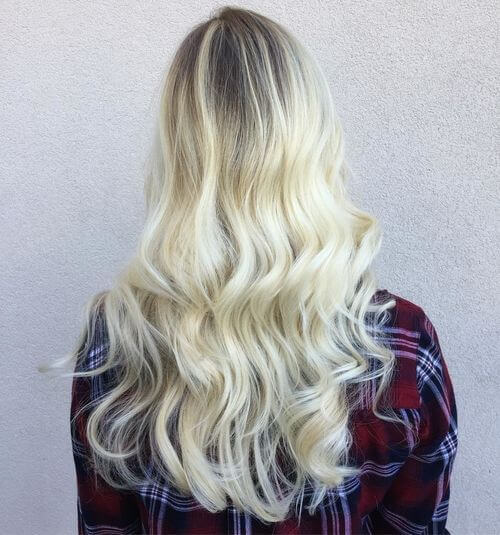 Ashley Chabot / Instagram
This icy winter platinum with soft beach waves was created by hairstylist Ashley Chabot of Clermont, FL.
"I love a variety of products, but my favorite combo to create this look would be Redken Anti Snap before blowdrying, Aveda Air Control hairspray to add texture and hold, then finishing off with a little Global Keratin Serum for shine," says Chabot.
She adds, "I always reach for my Kenra blue-violet base lightener and my Framar brushes while creating a beachy balayage!"
Ashy Platinum Balayage
Astacia Christenson / Instagram
This is an ashy platinum balayage that was created by salon owner and hairstylist Astacia Christenson of Bend, OR.
"I love going against the rules and mixing warms up against cool tones. It has contrast and dimension, yet has a fluid hand-painted feel," she notes.
She adds, "my favorite tip when I balayage a client like this is to do some babylights foiled around the hairline, then hand paint the baby hairs over the foils at the end to get a seamless bright hairline."
Dark Platinum A-Line Bob
Tonya Auclair / Instagram
This rooted A-line platinum bob was cut and colored by hairstylist Tonya Auclair of St. Clair, MI.
To achieve this color, Auclair recommends the Wella Blondor Lightener, as well as L'Oréal Dia Richesse 10.22 toner.
"All skin tones can rock this look because the color has both warm and cool tones," she notes.
Champagne Blonde Waves
Theresa T / Instagram
This icy white blonde with a soft, natural root shadow was created by hair guru Theresa of Edmonton, AB. "I love that it's so blonde, but I would still consider it low-maintenance," she notes.
Theresa recommends a purple shampoo to extend the time between toners and touch-ups. "I used Schwartzkopf Color Freeze. Also, I recommend a repairing conditioner to keep the ends soft and healthy. Biolage Repair Inside is a personal favorite."
She adds, "I used a soft weave balayage technique to create this look. Work one inch from the scalp to preserve the natural root (unless they have gray hair) and tone with a bright, no ammonia toner."
Short Platinum Ash Blonde
Victoria Hebb / Instagram
This short platinum ash blonde hair was created by hairstylist Victoria Hebb of Bourne, MA.
"The short, jawline blunt cut really stands out with the icy blonde," she notes. "I'd say my favorite thing about this look is the icy white hair."
Hebb says to take care of your hair! "Lightening can cause a lot of damage to your hair if it's not maintained properly. That means thermal protectants, sulfate-free shampoos, etc."
Dimensional Blonde Tones
/ @hairbychrissydanielle
This is an icy balayage with platinum and blonde hues. My favorite thing about a balayage is that they grow out has a very sun-kissed effect. It's a low-maintenance hair trend as opposed to an all-over white blonde that would have to be touched up every four weeks.
For at-home care, check out Davines color products. When going through the stages to get to the perfect blonde, it's always important to keep the integrity of the hair.
To recreate this look, depending on your hair's history, know that it will be a process. Embrace the in-between stages and have a stylist you can trust to not push your hair farther than its limits.
Surfer Ashy Blonde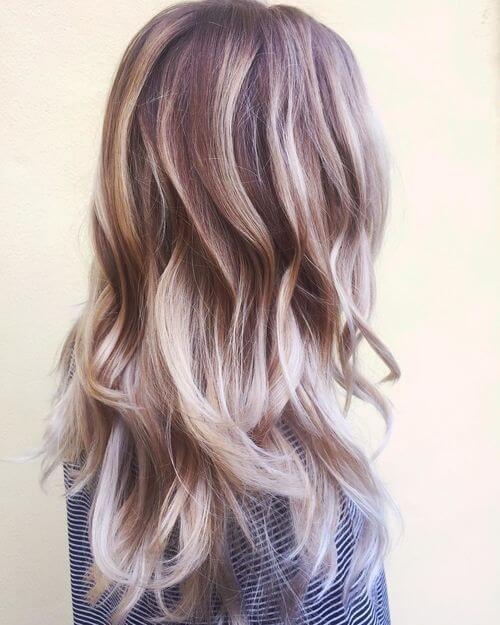 / @saxonhairatx
This surfer ashy blonde color was created by colorist Rachel Saxon. It's bright and blonde without being over-processed.
For products, Saxon is obsessed with Rene Furterer. "They're a French company and all their products are 90-100% natural and pharmaceutical grade organic," she explains. "With this look, I started with the Volumea Mousse to add a base of volume at the roots. I then used their Control Emulsion Styling Cream for frizz control. The finishing touch is the Vegetal Texture Spray."
"I always send my clients home with the Okara Silver Shampoo to use twice a week. For the best results, you should come in every 12 weeks for touch-ups and toning," she adds.
Icy Blonde Pixie for Older Women

@mikel83
This is a fun, textured, icy-colored pixie. It was created by stylist Mikel Ramos of Austin, TX.
"I advise women to pre-book and listen to your stylist's recommendations in regard to when to come back to touch up the color," says Ramos.
Silver With Platinum Streaks
/ @katcarpenter
This silver color with platinum streaks was created by hairstylist Kat Carpenter of Philadelphia, PA.
"I think there is a silver shade for everyone," says Carpenter. "Generally cooler-toned skin best compliments extremely cool-toned hair."
Carpenter encourages you to prepare for an investment and time commitment!
She adds, "ideally, double process blondes should get a retouch every four to six weeks to avoid banding and breakage, but it can take multiple sessions to get this light in the first place."
Dark to Light Platinum Ombre

@headlinesssm
You can get this dark to light platinum ombre with a box dye or go straight to the professionals.
Smokey Platinum Blue Hair with Shadow Roots
/ @thekimmster
This is a smoky blue shadow root with icy blonde. It was created by hairstylist Kimberly Torres of Covina, CA.
"I particularly like this look because it gives dimension to the blonde she has. Additionally, because it can become less maintenance if she were to grow out her natural hair color, it would blend in much easier," she explains.
This hair color is beautiful, but it does require maintenance. You can use a purple shampoo in-between visits to help it from turning too yellow, and get a toner every two months. Add a reconstructive treatmentto your hair regimen to keep the hair healthy.