22 Hottest Mermaid Hair Color Ideas (Pictures for 2021)
Fishtail Braid on Mermaid Hair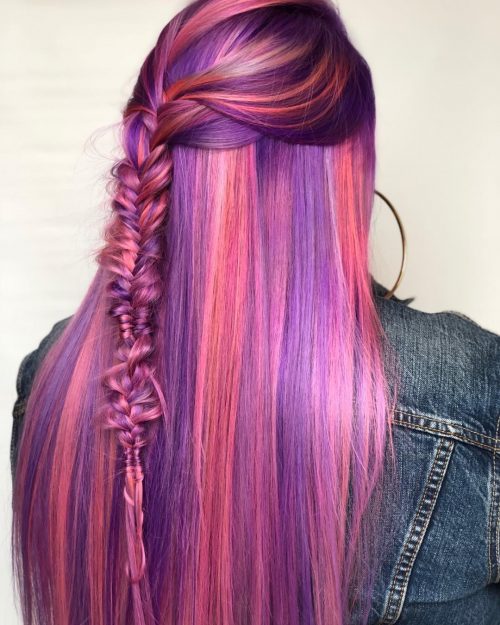 @maryh.ott
Swim back to goodness with the ultimate merpeople hairstyle. Fuschia and magenta hues interlocked into one fishtail to make you an under-the-sea native! Amp this long mermaid hair up with beachy waves to boost the dimension and for an added dramatic effect.
Long Mermaid Hair

@glenhew
Long mermaid hair is a hair color that has teal, purple and blue colors painted in. It's a great option if your hair is very dark naturally and it could only lift to orange-yellow. Teal, dark purple, and deep blue colors will sit great on that canvas. Begin with the green-teal roots and melt into some purple alternating with blue ribbons to achieve this beautiful mermaid hair blend.
Pastel Mermaid Hair

@kayla.blkhrt
The pastel mermaid hair is a gorgeous blend of pastel baby blue with some pastel darker blue ribbons, pastel pale violet, and milky green. Pastel mermaid hair color is only achievable if the hair is bleached to at least a pale yellow canvas. Start with a darker hue of pastel blue at the roots melting it into a lighter baby blue, and then into pastel green, purple and blue ribbons.
Short Mermaid Hair

@pinupjordan
Short mermaid hair is a shoulder-length hairstyle that has blue, teal, green, and purple colors. The roots are colored in a dark blue or deep teal shade and some lighter vibrant green streaks pop in between. Purple and rich blue locks are added to create the mermaid hair. Style in big curls with big barrel thongs to reveal the true beauty of the color.
Mermaid Curls

@taylorrae_hair
Mermaid curls are loose waves that are best to be created with the use of big barbell thongs. This type of curl beautifully complements and completes the mermaid hair color. An aquamarine color melt starts with deep blue through emerald and blue topaz mid-lengths is finished off with vibrant neon green.
Colorful Ombre on Long Mermaid Hair

@_mad.hair_
Dare to go different with a colorful ombre on long mermaid hair. This hue offers a wide array of color options. It gives you the freedom to decide the amount and shade of color you want to add. The final decision lies in you.
Deep Sea Aubergine on Beach Waves

@hairby_kortney
Deep-sea aubergine on beach waves is the dynamic duo for color and style. Deep plum colors are very rich and fun but keep in mind that purples and reds fade the fastest. Be prepared to get your hair colored much more often. Adding in beach waves to a fresh hair hue truly shows the color and all of its dimensions.
Subtle Mauve and Purple Mermaid Hair

@idastyles
Subtle mauve and purple mermaid hair require blending of 2-3 colors. Mauve and purple coloring can be worn straight, curly, long, or short and is a gorgeous way to embrace your inner mermaid dreams yet still be professional-looking.
Unicorn Tones with Mermaid Waves

@marci4lyf_
Unicorn tones with mermaid waves are the perfect color for women who want to try out rainbow tones. To get this look, ask your colorist for a mix of teas lights, highlights, and foilyage.
Blue and Teal Ocean Mermaid Hair

@hairbyclairperez
Mermaid hair now comes in mesmerizing turquoise shades! Definitely seeing those lush seagrass and kelp underwater. If you want mermaid hairstyles, then definitely consider light shades like aqua and turquoise.
Pastel Green Seaweed Mermaid Hair

@maneconcept
One word to describe this pastel green seaweed mermaid hair: mesmerizing! Live out your mermaid hair dreams with a DIY kelp-colored hair that is obviously out of this world!
Mermaid Hair in a Pixie

@rebecca_inthelab
Short-haired girls look great on mermaid tones, too! Get in line for the hottest mix of faded pink and blue mermaid color tones this summer.
Coral Pink Mermaid Hues

@rainbowbritebeauty
Coral peach hues create such a chic mermaid hair color! Get this trend started by wearing this hue with mid-length hair and soft waves.
Colorful Ocean Mermaid Ombre

@taylorrae_hair
A rich combination of blue roots and aquamarine ends makes a luscious mermaid shade as if you're wearing the ocean as your crowning glory! Additionally, mermaid hair done in ombre coloring techniques brings out a unique flair.
Mermaid Pastels All-Over

@lunabelle32
The shades of mermaid pastels all over the hair give a vivid and exciting finish. "It's a great way to express yourself and get tons of compliments," says hairstylist Stephanie Webb of Ohio.
The techniques that Webb used to achieve the look include split color and color melting. As for the upkeep, Webb suggests washing the hair with a sulfate-free shampoo in cold water.
Bold Blue and Purple Mermaid Hair

@_angelenecorder
This is a mermaid hair color with a purple-y sunset hue along with a beautiful blue ocean hue. The style creator, Angelene Corder of Virginia used the color line Pulp Riot to pull off the color combination. She says, "the amazing thing about this is how you can formulate for underlying pigments and still achieve the color for the desired toned."
Her #1 tip for ladies who want to try this hair color is to go into a detailed consultation with the stylist. She states, "You have to talk about your wardrobe, if you wear makeup, and how you style your hair. Furthermore, it's also important to know your face shape to learn how your stylist can section and layout the color, so when you look at it at eye level, you see that contrast."
Pink, Purple, Green and Blue Rainbow Mermaid Hair

@mermaidauthority
This mermaid hair features a variety of colors such as bright pinks, purples, greens, and blues, then rainbow tones at the ends.
"The color choice for the hair was beta fish-inspired," says hair colorist Tori Briggs of Rocky Mount, NC. "The dark blue, light blue, and minty green were chosen as the main colors with sections of pink, purple, and neon green riddled underneath and around the facial frame," she explains.
When trying to achieve a color melt, the goal is to create movement within the hair that would be calming on top then opening into bold pops of color. The dark blue shadow root helps tremendously with how the hair transitions during the grow-out or fade-out stage.
If you want to opt for rainbow mermaid color hair, Briggs wants you to consider your personality and skin tone. "If you're quiet, choose pastels and softer tones for that laidback vibe. And if you're bold, then naturally go with vibrant colors."
Sea Foam Green Mermaid Short Hair

@rachelringwood
This sea foam green mermaid style by stylist and salon owner Rachel Ringwood of Florida is an elegant punk. The transition from a high upkeep regrowth line, aka bleach, and tone with magenta creates more of a low-maintenance, sassy dimensional color.
"For all of your mermaid hair ideas, investing in good products is a game-changer! Use sulfate-free, paraben-free, sodium chloride-free products, less alcohol with styling products, and less heat, as you might melt your color right off," Ringwood warns.
Bright colors have changed the game, and women are becoming more opening minded in different businesses. Art, colors, and self-expression flow so well together, so why not embrace it in all ways!
Wave-Crashing Silver, Blue and Purple Mermaid Hair

@courtgannhair
This blue-purple mermaid hair color features silver highlights to add a lighter shade to the middle, which gives hair a dimensional ombré look! The darker root and the darker end color make the mid area pop a little more!
"Fashion or vivid colors are a commitment," says hair colorist Courtney Alexander of Lebanon, MO.
Low-heat settings on hot tools and a good heat protectant like the Kenra 22 spray before styling are important. Violet tones generally fade fairly well, so these tones aren't as much upkeep as others but prepare to be back in the salon in 6-8 weeks for a retouch.
Deep Blue Sea Mermaid Hair Color

@looksbylaurie
This deep blue sea mermaid's hair is bright and bold! It's got a deep purple root blending down into a beautiful and dimensional blend of topaz shades. A seamless blend was created as the color travels down the strand! It's a statement piece created by a salon owner and stylist Laurie Percoco of Pennsylvania.
To achieve the color, Percoco states, "find a stylist who has developed their own technique with fashion shades to give a killer color melt. Mermaid hairstyles are definitely popping with color. Mermaid's hair is definitely a huge trend that is here to stay!"
Percoco points out that a mermaid hairstyle takes a lot of maintenance, too. At-home care is super important, so ladies need to use a sulfate-free color care shampoo and conditioner.
Light Clear Blue Mermaid Hues

@carrieannaa
These mermaid tresses are that of a clear blue sky, with a couple of wispy clouds.
Made by Virginia-based hairstylist Carrie Withers, this type of color is very high-maintenance and can be damaging if you don't go about it the right way.
Withers suggests going to the salon every 6 weeks. "That makes for an easy and safe regrowth application with lightener. For women with dark hair, don't opt for this type of color. Likewise, for women who want more of the pastel tones, stick with naturally blonde/light brown," she states.
For women wanting something on the blue/green side of the spectrum, Withers warns that it's a little more commitment because the underlying green tones can be pretty difficult to remove.
Green and Blue Lagoon Mermaid Hair

@kaybeglam
This is a half-and-half color melt mermaid hair by licensed cosmetologist Karol Negron of Florida. For this masterpiece, the mermaid green hair color is the main attraction.
"You can see the different shades of blue and mint and then green. Ask your stylist to use Guy Tang MyDentity Mystic Blue, Arctic Blue, and Mint of Steel and from Pulp Riot, and also Absinthe and Area 51 to achieve this color," says Negron.
A color like this looks great on fair skin, but overall, if you have a great personality you can rock pretty much anything!
"Things to keep in mind when doing color like this is that you need to have a level 10 clean canvas," Negron recommends. "Make sure to use a pH bonder to protect the hair from the damage of the lightning process. A good lightener to achieve a perfectly clean canvas is key to have great results," she adds.
These colors take a very long time to achieve, so be ready to spend the day with the hairstylist. Negron also points out that these colors are very expensive, but are so worth a try.