17 Best Hairstyles for Women Over 60 to Look Younger
1. Slimming Cut for a Round Face for Women Over 60
@angstoghair
This short hairstyle works best for women over 60 with rounded faces. This gorgeous bob hairstyle over 60 is a great choice for older ladies looking for a change.
2. Wavy Medium Length Shag
@jayne_edosalon
A medium-length shag is the best haircut for older women in their 60s with wavy hair. It looks flattering with the bangs and would allow someone to appear a decade younger. This chop is most ideal for wavy locks, too. The shag has layers that can enhance the movement of medium hair.
3. Gorgeous Long Hairstyle for Older Women
Credit: Instagram @glam_by_eevie
A long hairstyle with bangs will help hide forehead wrinkles to take several years off the appearance of a woman over 60.
If you're wondering if long hair makes you look older, the answer is yes if you have very fine, thin hair.
As long as you have hair that's thick enough, you can pull it off. For another option, consider adding blonde highlights and long layers for a more modern touch.
4. Sleek Blonde Short Bob for Women in Their 60's
Credit: Instagram @hairbylisagallagher
A short angled bob with layers is the best short haircut for women over 60 year olds. The angle will give you the appearance of longer hair and the layers will add volume to naturally thinning hair.
Short hairstyles can give any 60-year-old woman enough length for styling plus the little side bangs give it a real youthful touch and it's easy maintenance.
5. Choppy Gray Pixie Crop for Older Ladies
Credit: Instagram @barehare_x
A textured crop hairstyle for an elderly lady benefits from choppy layers. It is perfect for women wanting a wash-and-go haircut. This choppy cut is one of the more stylish hairstyles for women over 60 who are looking for inspiration to look younger.
6. Asymmetrical Pixie Cut for Women Over 60
Credit: Instagram @belllbelle
For hair over 60, keep your hair cut short for less upkeep while owning a youthful and brightening mix of colors! This asymmetrical short pixie cut with some brown beige accent pieces is a total refresher for your sixties, older women!
7. Shoulder-Length Long Bob with Bangs for Older Women
Credit: Instagram @jocelynwoodhair
Hey, ladies over sixty! Modern hairstyles for women over 60 include a shoulder-length cut shag.
You can look 10 years younger with a modern shaggy long bob with bangs, which is great for hiding wrinkles on your forehead and exploiting your youthfulness.
Then color your hair with a brunette balayage for a super notable lob! That curtain fringe also adds up to the glam, as it brightens up the face and gives a youthful glow for women who have reached their 60s.
8. Voluminous Cut for Women with Fine Hair
Credit: Instagram @studio106hairsalon
Hairstyles for fine hair over 60 can appear fuller by adding highlights and layers to create more dimension.
This beautiful head of highlights plus some face-framing pieces does a wonderful job looking attractive and hiding hair loss or thinning hair.
9. Chin-Length Hairstyle with Curls for Older Women
Credit: Instagram @hairbyrosalita
Hairstyles for over 60 with bangs create a more revitalizing look. Go short and sexy with blonde highlighted beach waves on a chin-length cut.  Consider adding dark blonde highlights to cover your natural gray hair.
10. Tapered Rounded Bob with Feathered Layers
@grazifariahair
A simple rounded bob looks great on every lovely senior woman over sixty. It's stunning how these feathered layers can grant hairstyles for older ladies over-sixties with better shape and extra volume.
When you have graying hair, you have naturally occurring color variation, that if colored over correctly, can give you the most natural-looking color and dimension without being high maintenance."
Short on time? It is definitely not a wash-and-go style, and depending on your hair texture and thickness, it may take more effort in styling the feathery layers.
11. Wonderful Wedge Haircut for Women Over 60
Credit: Instagram @missevetashery
Wedge haircuts are the perfect haircut if you're a woman in your sixties and want a low maintenance routine for styling! If you want to cut your hair, talk to your stylist about this wedge.
Tashery Rivas, a Cosmetologist at VIVID Salon and Spa in Cleveland, OH created this hairstyle that's ideal for older ladies who can wake up and go for the day.
Her best advice for women in their sixties considering short haircuts like this? "Make sure you are open to change; this haircut requires a volume, and this hair color is a fashion color so use color-safe products to preserve the vibrancy."
12. Edgy Silver Pixie Cut for Thin Hair
@rileyjean_hair
You can rock a simple, edgy silver pixie cut for women over 60 with naturally gray hair. It's definitely not your typical grandma hair.
The pixie haircut in this picture was cut to give a sassy feel. To cover up your white hair, ask your hairdresser to place a few foils of black lowlights as well to add some dimension.
You'll need to take some consideration of the upkeep of this cut. This cut, in particular, can get out of shape on the neck very quickly, so make sure your hairdresser offers neck trims in between haircut appointments.
Keep your natural grey hair, it isn't much upkeep at all. In fact, subtle lowlights and pops of color grow out really well.
Styling this edgy hairstyle for women over 60 is super easy. You can use clay, cream, mousse, volumizing spray, or even pomade.
13. Modern Blunt Bob for Over 60 Straight Hair
Credit: Instagram @staceybrookshair
This is a modern hairdo is a blunt bob crop style for women over 60. It was created by stylist, Stacey Brooks of Randolph's Salon in Clarkston, MI.
Stacey said, "I love the sharp structure of this look and how it contrasts with a few soft pieces of texture for thin hair."
A great haircut for women in their 60s should always play nicely with the color for women advancing in age. "Considering getting seamless dimension with a few smartly placed highlights," she added.
Stacey recommends this short hairstyle for mature ladies with medium to thick hair. Stacey said this is a customizable look. "You can customize this hair style with a fringe or a strong full one length front. Emphasis on full – the less texture and layers through here, the stronger the look."
Stacey said this short style will help balance oval, oblong, diamond, and heart face shapes. But if you don't have those facial shapes? "Hairstyles and haircuts for older women like this one would exaggerate the width of a square, triangle, and round face shapes, which is beautiful for a bold look," she noted.
14. Salt and Peppered Short Stacked Bob
Credit: Instagram @glauco_queiroz
This short stacked bob is one of the more classic hairstyles for ladies over sixty.
"The cut in this photo a versatile gray haircut where you have the choice to activate or not the texture. The graduation was worked according to the cranial structure from the occipital, bringing harmony to a triangular geometric shape," said Glauco Queiroz, the creator and a hair artist at Tramonto Salon in Curitiba, Brasil.
Glauco's best advice? "60 plus women cannot go wrong with this salt and pepper style! Always remember that thermal protection for hair drying and a finisher as an ointment are always needed."
15. Classic Layered Cut with Natural Grey Hair
Credit: Instagram @geraldinejoz
This over 60 hairstyle for grey-haired women is classy and looks styled without looking like helmet, permed hair so to speak.
If you have fine straight hair like Marianne in the picture here, then have your hairstylist "make your texture fuller and thicker with the right products and cutting technique. Her hair is light and airy with lots of fringes, angles, and layers" advised Geraldine Joz. She's a Master Stylist at Zaza Salon in Lincolnshire, IL and created this classic layered cut.
Haircuts for women over 60's with fine hair work better when adding round layers, using a point cutting technique and volume spray and texture sprays on the roots, Geraldine told me.
As for a styling tip? "Fine hair should be blown in an upward motion to give lift. Use round brushes to style your hair for optimal lift," she said. When it comes to short hairstyles for ladies 60s with fine hair, there's plenty of options.
16. Face-Framing Short Haircut with Bangs and Glasses
Credit: Instagram @yorkhair_
This is the perfect short haircut that is made for a 60-year-old woman with glasses.
The hairdo you're looking at was created by hairstylist Sylvia York of Red Dahlia Salon in Senoia, GA. "It is fun and stylish gray haircut. A classic bob will always be my favorite, but putting your own little twist to it makes it even better if you're age is over 60," Sylvia said.
As for adding bangs? "The baby bangs are so fun! I'm a huge fan of bangs. Not only bangs, but it takes a special kind of person passed their 60s to wear baby bangs."
Styling short hair for women in their 60s is very easy if cut correctly. So choose your hairdresser wisely.
The best thing about this short haircut is that it is so customizable and can be worn so many different ways.
Considering keeping your natural color? Here's what Sylvia had to say "The lady in the picture is gray-haired but has ended up using more purple shampoo to enhance her gray color and give it an overall purplish tint. Isn't it fun?"
When considering short hairstyles for women over 60, Sylvia says "Try a bob because it's a great classic haircut that will never go out of style. Young or older women can both wear them. There are so many different bobs out there, so finding the right one depends on how you like to wear your hair."
Bobs are so great because any older ladies over sixty can customize it the way they like to wear their hair.
Here are a few more tips she gave me. "If you want to soften things around your face, bangs are great. Choose a bob with bangs because it has moderate maintenance and should be trimmed every four weeks."
If you are an over 60 hairstyles gal and think you want to get a bob, Sylvia says, "just do it!"
17. Medium Length Hairstyle with Bangs and Layers for Older Women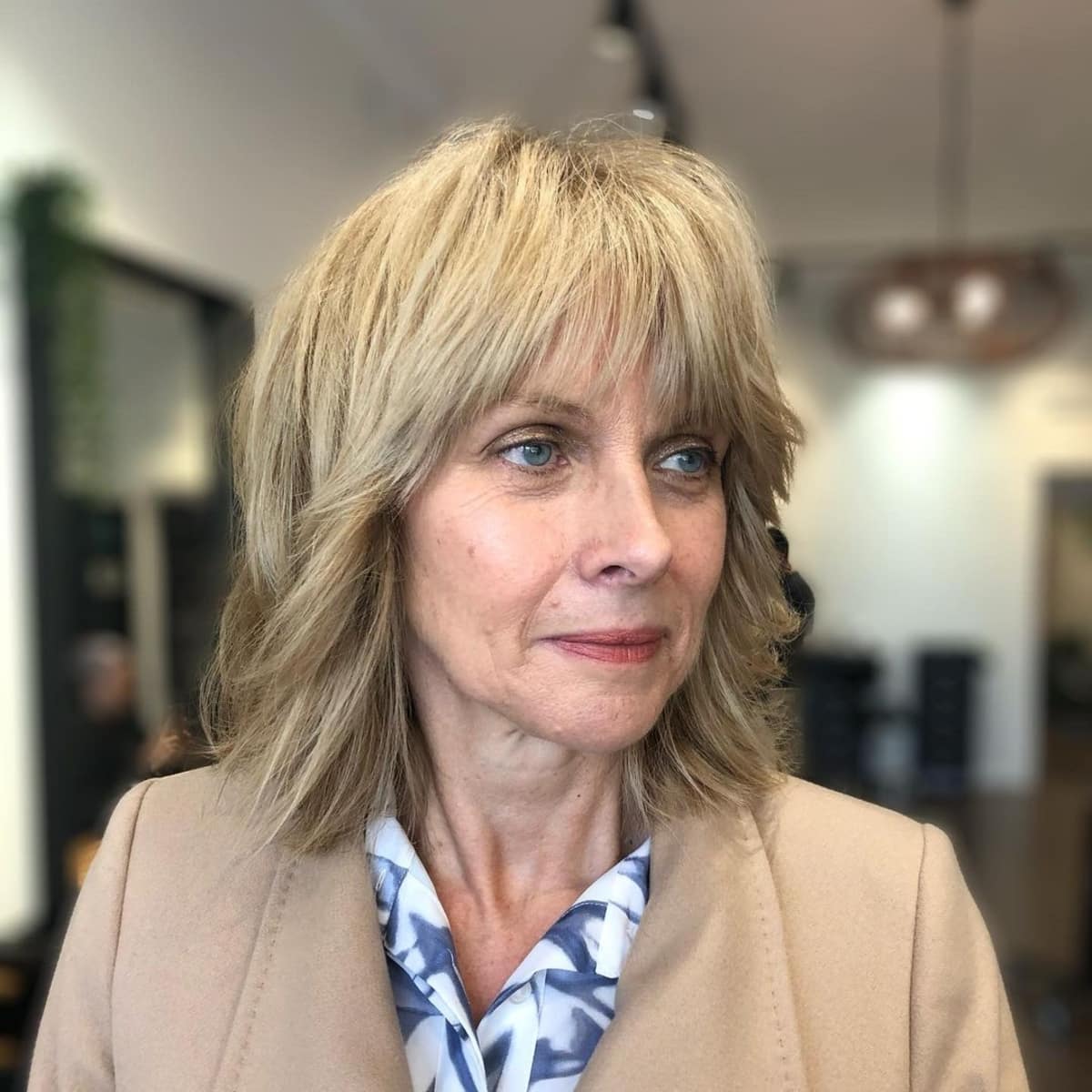 @morati.hairden
Aging 60-year-old women with thin or thinning hair should go for choppy, medium-length layers to create an illusion of thicker, fuller hair. When it comes to medium-length hairstyles for a 60-year-old woman, you have the option of adding bangs to help you look younger. Plus, it will make this perfect hairstyle easier to maintain. Hairstyles for very thin hair over 60 can be low-maintenance. Just be sure to thoroughly talk with your stylist before getting one of these haircuts for women over 60.