26 Best Short Haircuts for Women Over 60 to Look Younger in 2021
Short Textured Pixie Haircut for Older Women Over 60
@pattie_lovettreid
Short hairstyles for older women over 60 don't always have to be boring. This cool pink long pixie with the layers and longer feathered bangs to cover and hide forehead wrinkles will take away the numbers from your age!
Ash Blonde Pixie with Long Bangs for Thin Hair
@brileywow
We are digging this cute short pixie haircut with an ash blonde dimension and long bangs, which are great to hide wrinkles and skin imperfections.
This face-framing short hairstyle for thin hair allows you so much versatility from a textured tousled cropped cut to a polished one!
This flatters women with short hair over 60 by helping them appear younger by adding layers and giving it a messy style to create beach waves.
Short Layered Crop for Ladies Over 60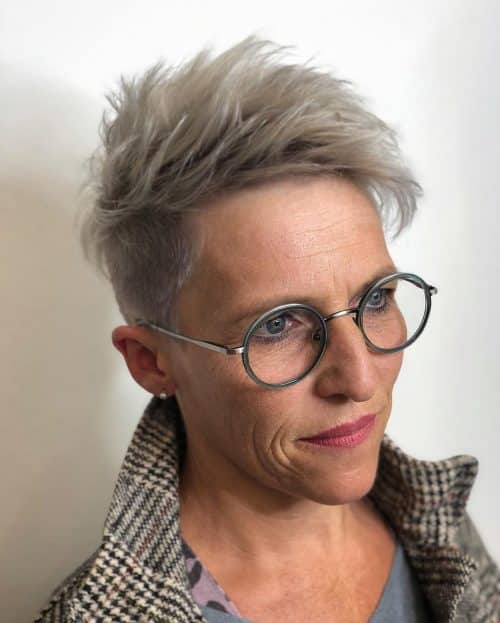 @salonlambertz
This short tapered hairstyle is super sassy!
A really short cut can be proof that you can rock short white hair.
Very short hairstyles for women over 60 with glasses can still be feminine. Try to add more depth and texture to your super short haircut by adding choppy layers around your tapered nape for a spiky look.
Short Shaggy Cut with Choppy Bangs
@classichairparlor
When it comes to short hairstyles for women over 60, short shag hairstyles are still popular! Feel like a '60s babe with this flattering shaggy cut! Add a few layers and an uneven fringe, and you're good to go!
Stunning Short Hairstyle with Wispy Bangs
@hincapiehair
Sassy cuts with blonde highlights can always have so much texture to volumize the hair! Plus, that cute and long side-swept fringe increases the volume for you older women with thinning hair. See more length and cute ideas of youthful hairstyles for women over 60.
Great Hairstyle for Women With Glasses
@mintbeautyboutique
This short hairstyle for older women with glasses will make you proud of your natural grey hair! This fresh bob cut plus a shine product are all you need to sport this stylish crop cut any 60-year-old woman with grey hair can pull off.
Classy Jaw-Length Bob with Long Bangs
@oddly_creative
As your growing older you can spice up your neatly shaped jaw-length bob hair with some highlights.
Add a blonde hue that look great on older ladies with graying hair.
When it comes to the best short haircuts for women over 60, bobs definitely always have to be in the conversation.
Cute Golden Balayage Wavy Bob
@nume_hairdressersbynele
Mature women can add more dimension to a smooth short wavy bob by getting a golden balayage on your natural brown hair! This easy-to-style and current chin-length haircut will help most 60 year old women take a few years off your age.
Hip Inverted Bob on Shorter Gray Hair
@stylinbystef
This is a super trendy short hairstyle for women over 60. This is a beautiful neck-length inverted bob on straight hair paired with a fringe. A bright, short youthful hairstyle like this can work on any face shape. Plus, the angle on this makes this cut look more feminine for women in their 60s.
Marvelous Feathered Pixie Bob with Layers
@bab_davis_hairstylist
Feathery hair with layering can make any short haircuts for 60 year olds look more defined and textured. This classic pixie bob is a short feathered cut for women aged 60 plus is very low maintenance and can add body to your hair.
Sassy Feathered Cut for Short Straight Hair
@oxyjennbeauty
This gorgeous short hair for women over 60 is the perfect feathered bob cut and color combination. Getting a fabulous fall-inspired hair color shades like this can do wonders for seniors! The lowlights and the feathered layers both work together to add depth and sass to aging hair.
Silver Straight Bob Haircut for Fine Hair
@gibsonhairandmakeup
For 60 year old women with fine hair, a precision is what you need if you want to make your salt and pepper short straight hair this gorgeous.
A simple, jaw-length cut with a side part a silver hair color allows these kinds of short hairstyles for fine hair over 60 to minimize time for styling and also maintain your hair easily.
Chic Asymmetrical Bob
@hairbyamychareunsouk
Short haircuts for women over 60 can look younger by adding some highlights. Silver highlights on dark brunette hair looks so sassy, modern and will give you a younger look.
Cutting it asymmetrically as a bob into a tapered cut only makes the whole look really fashionable, and it can be used to frame your face as well to distract from a long face shape.
Gorgeous Gray Bob with Long Side Swept Bangs
@chloewhite232
This gorgeous short style for women over 60 is perfect if you want to keep your natural color.
Go natural and classic with your salt and pepper hairstyle that's easy to style.
With some short cuts you can always add a sassy side-swept bangs to add more youthfulness to your look
This is perfect for women over 60 who are getting older but still working and need a more professional hairstyle.
Stunning Salt and Pepper Graduated Bob
@justimagineusalon
Q&A with style creator, Maria True
Salon Owner / Aveda Artist @ Just Imagine U Salon in Hudson, NY
How would you describe this look?
This is a graduated bob with razored layers. Razor cut short haircuts for women over 60 give flawless lines which allow for easy styling will just fall into place.
Any advice for someone considering it?
This short style works well on all hair types for women in their 60s. But, especially hair that is medium to fine with a slight bend to it. A minimal product, just a bit of Aveda Phomollient and spray shine to really add shimmer to hair when it moves. Flat brush for a straighter look or round brush for more fullness. It looks great on people with a slimmer face and neck. You can really showcase this cut with dimensional highlighting or very dramatic on natural gray hair as you notice on my model.
Classic Golden Blonde Wedge Cut
@felix.lynn
Q&A with style creator, Lynn Felix
Hairstylist @ ETCH Salon in Scottsdale, AZ
---
How would you describe this look?
This golden blonde, classic wedge cut is perfect for older women looking for a short haircut.
A golden blonde cut and color is a versatile, elegant short haircut for thick hair done with rounded graduation to flow with the shape of the head.
This cropped cut can be styled with a round brush to create volume and smoothness at the same time.
Any advice for someone considering it?
This short haircuts is best for women 60 and older with thin hair to make it look thicker and more voluminous as you age.
A short crop style can work on a square jaw, oval face, and also a rectangle shape face. The ease of styling is done mostly with a round brush and a blower because it is done with the hair growth.
Modern Short Layered Cut
@angiem_beauty
Q&A with style creator, Angie Mendoza
Stylist @ Hairology in Rockaway, NJ
---
How would you describe this look?
Classy short hairstyles for women over 60 can still look edgy all at the same time.
The color on this shorter length icy blonde that everybody goes for, without being too dull.
Any advice for someone considering it?
As for the cut, short hair is something you really have to want! Some older women think it's the easy way out, but styling short hair does still take time.
Most importantly, have fun with it! You only live once, do the fun cut. It'll grow back if you go short!
Short hairstyles for women over 60 have to provide a fuller effect as many the hair has thinned for most ladies at this age and adding layers does this perfectly.
Elegant Stacked Bob
@the_carneyyy
Q&A with style creator, Christina Carney
Stylist @ Eden Day Spa and Salon in Clarksville, TN
---
How would you describe this look?
The greatest part of this short stacked bob is the body it gives women in their sixties more shape to the cut!
The color was done previously by another amazing stylist, and I enhanced her short angled bob haircut so it stacked a little more.
Any advice for someone considering it?
This is a great example of adding volume to one of the best short hairstyles for over 60.
Being a woman over 60 with fine hair or thinning hair, this look creates weight and gives an illusion of fullness.
It requires at least blowdrying with a volumizing product (best result upside down) and maybe a small touch of a flat iron for smoothness. Thankfully with a short cut like this, the styling is very quick and minimal.
Voluminous Salt and Pepper Short Bob for a Round Face
@salon_indigo_aveda
Q&A with style creator, Kathy Campbell
Stylist @ Salon Indigo in Fraser, MI
---
How would you describe this look?
The best short haircuts for women over 60 with a round face is a short bob.
When going short, this type of tapered short cut is easy to put together, grows out well on salt and pepper hair, and gives a lift in the crown and a beautiful framing around the face.
Any advice for someone considering it?
This short hairstyle for older women over sixty has the best of both worlds – shortness on the neckline for coolness and height for the crown. The angle along the jawline one this short bob for women over 60 is becoming from a side view.
It's a modern and up to date hairstyle for short hair over 60.
Fabulous Haircut For Curly Hair
@terri.doheny
Q&A with style creator, Terri Doheny
Stylist @ Altered Ego Salon & Spa in Tempe, AZ
---
How would you describe this look?
Curly short haircuts for women over 60 benefits from a Deva Cut like this one. It is a short stacked A-line bob. Transform your gray bob with a pop of funky cobalt blue to enhance natural steel grey tone and bouncy curls.
Any advice for someone considering it?
Whether you're 60 and up or younger, understanding your natural curls can be liberating and empowering.
Educating older women over sixty year old with curly hair with the proper product and technique is key.
Trendy Blunt Cut Blonde Bob Style
@brittanicooper
Q&A with style creator, Brittani Cooper
Owner / Hair Designer @ Martelli Salon & Spa in Bozeman, MT
---
How would you describe this look?
The blunt bob is one of the more classic short haircuts for women over 60.
A short-to-medium haircut can also have an edgy effect, depending on how it's worn. With the bluntness of the cut, follow the jawline either at the jaw or just below depending on the effect/edginess wanted while taking the face shape into consideration.
Any advice for someone considering it?
A short blunt cut bob looks amazing on older women turning 60 and always gets compliments, but keeping it looking good does take some styling. Using a smoothing cream and blow drying straight is great if you have some texture in your hair. I also like to run a flat iron around the perimeter to keep it looking blunt and even.
This cut is easier to style the straighter your hair is, but doing a tousled beachy look with a salt spray can be a sassy alternative if the flat-iron isn't calling your name every day.
With the style of this short cut for hair over 60, round face shapes should definitively take the perimeter below the jawline to help elongate the face.
Keep longer layers in the interior of the cut to add texture and give movement. If you have a lot of thick hair, consider getting an undercut bob. Taking the top layer to short can make it look "stacked" and can take away from the blunt look that we all love.
Flawless Cut for Thick Hair
@tracycroot
A flawless cut for thick hair for women over 60 is the perfect combination. This cut keeps the width around the cheekbones area. The clever layering softens the thick ends to sit in a neat bob shape. Discuss with your stylist the optimal length for your features. To make this a personal cut suited for your face and lifestyle.
Cool Neck Length A-Line Bob
@natty_b_e
Q&A with style creator, Natale Eccher
Stylist @ Hot Sear Salon in El Cajon, CA
---
How would you describe this look?
This is a gorgeous short A-line bob with natural highlights. It's slightly stacked in the back and angled in the front.
If you're a woman over 60 years old with straight hair, this sassy cut is perfect.
The A-line bob is one of the best short haircuts for women over 60 because it can be personalized from person to person, depending on the severity of the angle and the stacked layers.
Any advice for someone considering it?
This cut is great for a sixty year old with a round or oval face shape and great for all age ranges. Straight hair makes for easier styling, blow drying with a smoothing cream and flat ironing to perfect. Some wave or curl adds bounce and texture, so apply a curl cream or mouse to wet hair and scrunch or dry, then curl with a 1″ (or smaller) curling iron.
Sleek Angled Bob with Bangs
@basicbeauty_ylw
The best short hairstyles for women over 60 are chic, yet low maintenance, wash-and-wear look like this short bob with bangs.
Q&A with style creator, Lindsay McFadden
Owner / Stylist @ Basic Beauty in Kelowna, BC
---
How would you describe this look?
The best thing about this short haircut for women over 60 is the dimension and peices it can offer.
I love how versatile a shortened haircut can be. It can be straighten it for a chic look or curl it for low maintenance look. I would describe this brown bob as a look almost all ladies over sixty could pull off.
Any advice for someone considering it?
Remember, styling products are your friend for short hairstyles for women over 65. My go-to product for this look is a serum – Paul Mitchell Super Skinny works great for this. If you're going for the straight look apply a small amount throughout the hair to keep it looking shiny and sleek. If you're curling it or just air drying it for a natural low maintenance look, don't forget to use product to boost volume.
Stylish Blonde Layered Bob with Wispy Bangs
@madhair13
Q&A with style creator, Madilyn Trantham
Stylist @ Tramps Salon and Spa in Fayetteville, AR
---
How would you describe this look?
This short haircut for older women over 60 is a one length bob with short layers and side bangs.
I would recommend a short layered bob for an elderly lady who wants a fun and easy hairstyle to maintain!
What I like to do with this particular haircut and blonde hair color is to part it down the middle before cutting. That way when they style their hair they don't have to worry about parting it in the same spot every time.
When it comes to styling, I use one inch round brush and focus mainly on the top layers pieces and the bangs.
For women 60 and up I recommend highlights with this type of cut to help accentuate the layers if you want to grow out your natural gray hair color.
Any advice for someone considering it?
Make sure you have great styling products and tools when styling short hair over 60.
Use Aveda's Phomollient Styling Foam and the Texture Tonic. Phomollient is a lightweight foam for that fine to medium hair texture that helps give shine and body. The Texture Tonic is great for defining and enhancing natural texture and showing off the layers in the haircut.
If you're in your sixties and need a brush to use for blowouts, any boar bristle round brush gives great tensions and helps smooths out the hair.
This layered bob haircut is an all-around great cut for women over 60 who want to cut their hair short, but not too short.
I usually recommend these types of haircuts for women in their 60s who has a round or oval-shaped face, but talk to your stylist and see what they recommend!
Click here to see different types of haircuts
Edgy Short Pixie Cut with White Hair
@stephanicunninghamhair
Q&A with style creator, Stephani Cunningham
Educator @ True Salon in Marietta, GA
---
How would you describe this look?
This extra short cut is an ear-length edgy layered gray pixie cut with a razor.
The thing I love most about this gray hairstyle is how easy it is to style a tapered pixie. Finger dry and make piecey with pomade.
Any advice for someone considering it?
This short haircut is bold for edgy ladies over 60 with white hair who embrace their age and beauty. You have to own it if you want to cut your hair short with short sides! This style looks best on an oval-shaped face and works with straight or wavy hair.