14 Fantastic Jet Black Hair Color Ideas for Every Skin Tone
Contrasting Jet Black Hair Color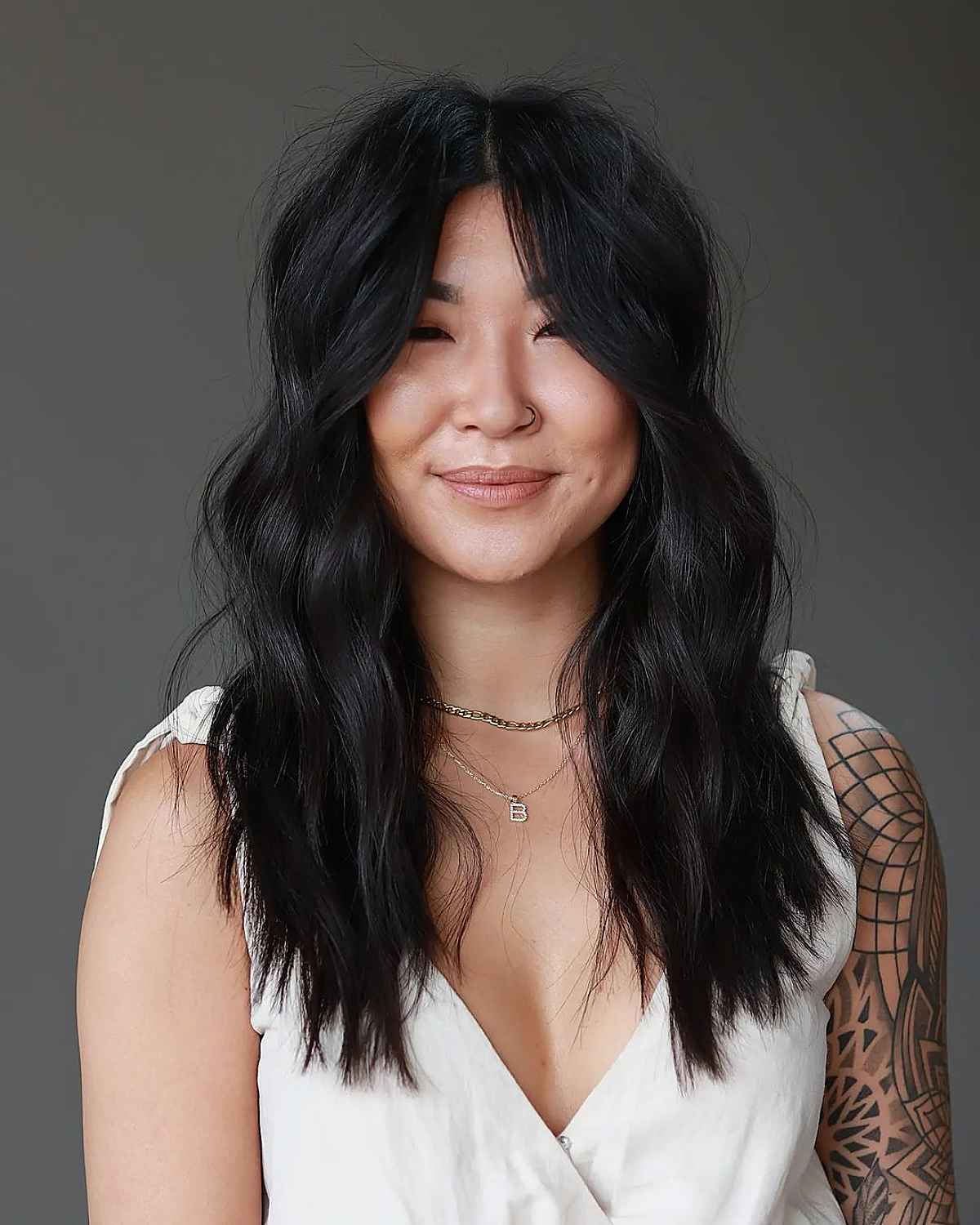 @eastonhair
The long shag cut of this jet black shade is unmatched.
Dark Brown to Jet Black Ombre

@salon_povera
The littlest detail always makes the biggest impression. Slowly dive into the jet black hair coloring trend with the faintest brown to black ombre.
Honey Blonde Highlights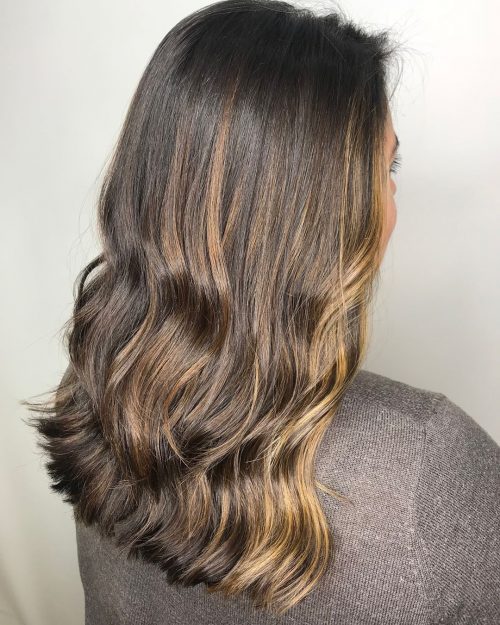 @_hairbykali
Hop on board the highlight train with this natural-looking caramel touch on black hair. Some blonde highlights with jet black hair is an amazing contrast.
Shiny Wavy Hair

@michellespeiran
Nothing can get more authentic than this solid shade of jet black hair. Waves give it more texture for that instant light-reflecting effect.
Lovely Long Straight Hair

@themaneartistry
This jet black hue is as if midnight walked in, presenting its elegance to the world!
Gorgeous on Curly Hair

@karenshair
A doll you are, a doll your hairstyle must be! Look super cute and perky with some mid-parted up jet black curls.
Jet Blue Black Balayage

@hair_bynikki85
The sudden change in color is astonishing but not surprising. These two combos have made midnight blue hair everlasting hair color. With the midnight and jet black hair color, movement in light gives off just the slimest change.
Jet Black to Burgundy Ombre

@tmhairdesign
Ebony to crimson transition is a mood! Those rich jet black tones partnered with soft rolls are made to enhance dark-skin babes.
Beautiful on Brown Skin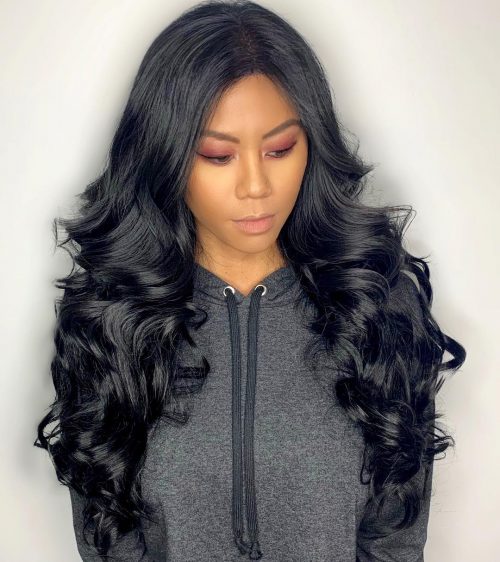 @beautybybreeanne
Q&A with style creator, Breeanne
Color Specialist @ Hair by Breeanne in Las Vegas, NV
How would you describe this look?
This look is voluminous, sultry, and ready for a night out on the town! We colored her with a jet black hair dye shine gloss, then styled her long locks with some bouncy waves.
Any advice for someone considering it?
Go for it! Having a dark solid color is such low maintenance compared to other color options. It's also such a timeless look. Big waves always stay on trend and are so simple to execute. It gives off the look that you're done up, without trying too hard.
Pop with Pink Highlights

@kris_you_up
Q&A with style creator, Cristina Ruso
Suite Owner @ K.Rose Studio in Miami, FL
---
How would you describe this look?
I would describe this as a raspberry balayage melt. It's a dark jet black base at the top, melted into some dark magenta highlights moving from the middle of the hair, down into the ends. I cut the hair according to my client who has a finer texture, gave her a blunt cut, with just a few face-framing layers to give a bit of shape. I waved the hair to finish off the style, using a flat iron.
Any advice for someone considering it?
Use a sulfate-free shampoo to help maintain the magenta color longer. Using a leave-in protectant after washing will also help, as well as trying to go longer in between washes, since each time you wash, the color will fade. Dry shampoo helps to extend the wash. This color is for anyone looking to have a bold and funky color change but wants to keep their natural base and a more subtle grow out.
Jet Black With Highlights

@epstylistiris
Q&A with style creator, Iris Cisneros
Stylist @ The Ivy Hair Salon in El Paso, TX
---
How would you describe this look?
This client came in with jet black hair dye wanting to take off the black color that she has worn for years.
Any advice for someone considering it?
My biggest recommendation when a client comes in wanting to remove her black is it will be a process. I tell my clients to be patient because it is a slow process but worth the end result. I like to start with a highlight and a brown toner.
Usually, the first hit of bleach gives you very orange color. My main concern is to maintain the porosity of their hair at its best. Olaplex is usually my best friend in the hair industry. It saves! With this highlighting process, clients can enjoy the stages of the box dye removal until their final color is achieved. I kept her in a long layered haircut to show off her new color.
With a Blue Tint

@celsostyles
Q&A with style creator, Celso Ramirez
Hairstylist / Barber @ Rosario's Barbering in Vineland, NJ
---
How would you describe this look?
The color is a jet black with a blue undertone/cast. I love the subtlety of it because usually everyone likes to be bright and blonde during the warmer months. Doing this color was a nice change of pace especially since even simple black hair color can be tweaked to give it a bit of visual interest!
As far as the style, I gave my client a nice trim and decided to freshen up her layers and bring them up a bit to give the blowout a more defined and fuller look!
Any advice for someone considering it?
This look is great for someone who likes being dark but still wants a pop of visual interest. It's also perfect for someone who doesn't want a lot of heavy maintenance. My client is a busy mom so this look is great for someone who doesn't have a lot of time to go to the salon.
For products, I used Paul Mitchell skinny serum for lightweight frizz prevention and shine, Kenra platinum blow-dry spray for heat protection and smoothness, and Paul Mitchell dry wax to add a nice light hold to the finish and keep the layers looking nice and defined!
Natural Jet Black

@estrada_liseth
Q&A with style creator, Liseth Estrada
Licensed Cosmetologist @ Aurora's Salon in Baltimore, MD
---
How would you describe this look?
What I love about this look is the length of it that isn't too short nor long. If someone is used to having long hair and wants to make a change, this shoulder length bob would make their haircut functional and stylish. Having a blunt one-length haircut would make your cut sharp, edgy, and trendy.
Any advice for someone considering it?
Going from short to long will be perfect for those people wanting to make their face look longer! Having layers, face frame, or bangs is something you can add to your haircut. Having no layers or minimal layers like this natural jet black hair bob will make your ends look thicker, perfect for thin haired girls out there!
Stunning on Short Hair

@xxivanxx
Q&A with style creator, Ivan Castro
Licensed Hairstylist @ Taylor Rose Studio in Los Angeles, CA
---
How would you describe this look?
To describe this look I'd use the name "angled bob" in jet black hair color. I like this particular cut and color combo because it can be rocked with a solid color yet has enough personality to still stand out.
For this client, I used demi-permanent jet black blue undertones and high gloss for a deep color and healthy shine. Avoid box colors and opt for professional color as box color does not maintain the shine and fades fast. Shower with lukewarm to cold water and always use a color-safe sulfate-free shampoo line to avoid fading.
To style, we blow dried to 100% dry and flat ironed using small sections at a time, all primed with a heat protecting spray.
Any advice for someone considering it?
I like this particular cut because it suits many face shapes. It's great for round faces as it offset the roundness, and it can work for square shapes and oval shapes as well. Key is where the points of the haircut hit your face, jaw or shoulder.
For clients with naturally straight hair, this cut is zero to no maintenance when styling.
If you have a wave or curl in your hair, you can flat iron straight using a heat protecting styling spray or you can get this cut in a curl friendly version. A great way to maintain this cut smooth is with a keratin smoothing treatment done by a licensed professional.
The maintenance needed for this jet black haircut is a trim/shaping about every month and a half to keep the lines of the cut crisp.