15 Face-Slimming Hairstyles for Women Over 50 and Overweight
Face-Framing Highlights on Long Hair
@njmhair
15 Face-Slimming Hairstyles for Women Over 50 and Overweight
Long, healthy hair looks great for larger women in their 50s. Use your favorite 1-2inch curling iron to create a soft wave for the added body. These long hairstyles for overweight over 50 look way better if you finish them off with a light hold hairspray. Keeping the hair soft and bouncy makes one of the most flattering hairstyles for fat faces over 50.
See more long hair ideas
The Long Bob
@saionaraduartemakeup
A long bob cut with side bangs features a very flattering length, even with a double chin. Such hairstyles for older women with round faces allow for easy styling, fewer salon visits, and enough volume so the hair doesn't fall flat. For an added dimension, balayage highlights make an excellent option.
Inverted Cut for Thick Hair
@nacirsomera
Inverted, stacked bobs are exceptional hairstyles for over 50 to look younger. These work great on thick hair. All the layers remove extra weight and give the hair lots of movement. The angle of such A-line bob haircuts can help define the jaw and lift the face which is perfect for ladies over 50. If wanting to cover your white hair, ask for a blonde color.
Face-Framing Cut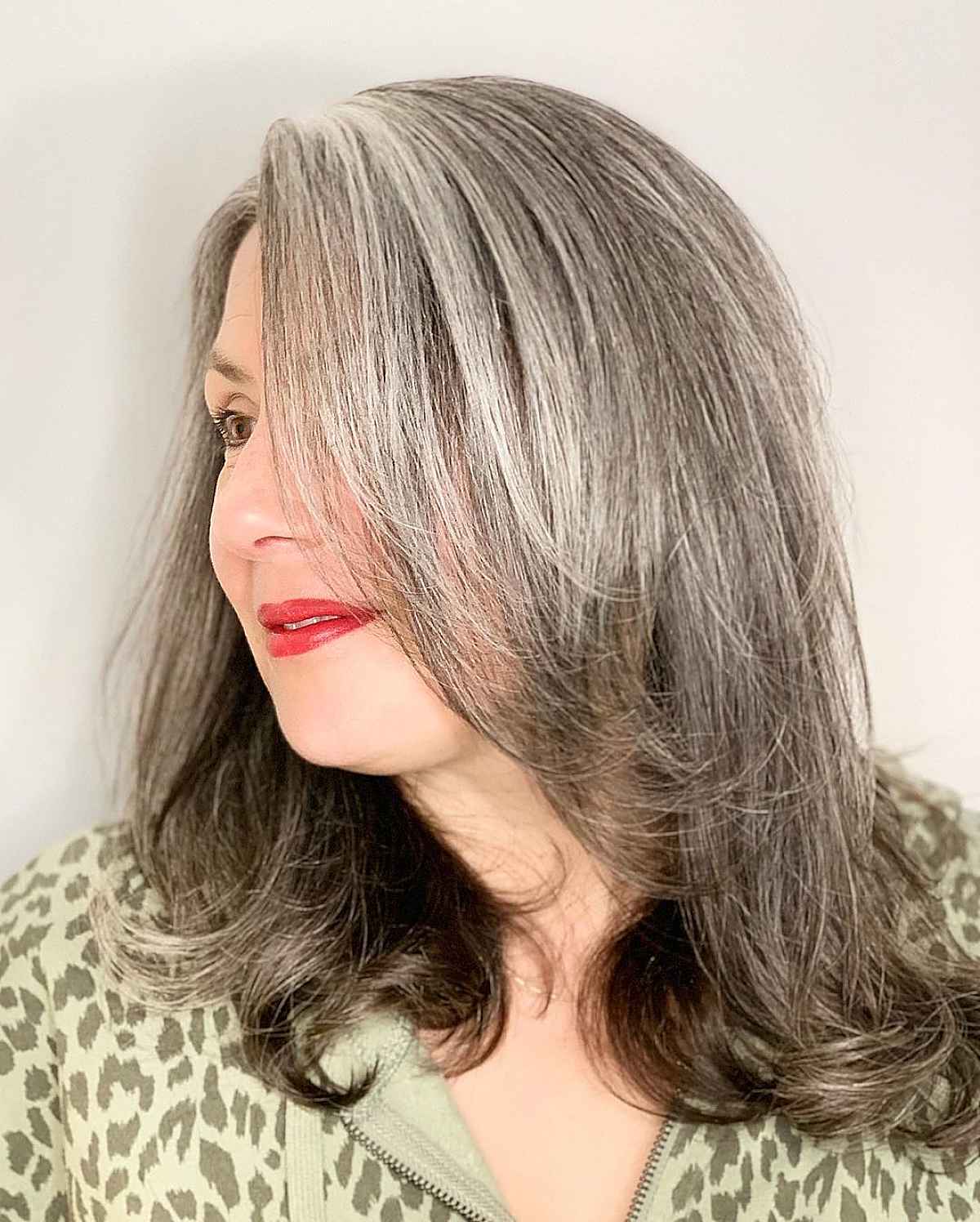 @studio.v.beauty
Women over the age of 50 with grey hair may love a face-framing haircut. Such haircuts for women are easily maintained, perfect for all lengths and face shapes. The most flattering hairstyles for over 50s must have tons of layers, especially ones that vary in length around your face, to provide a face-framing effect.
The Layered Bob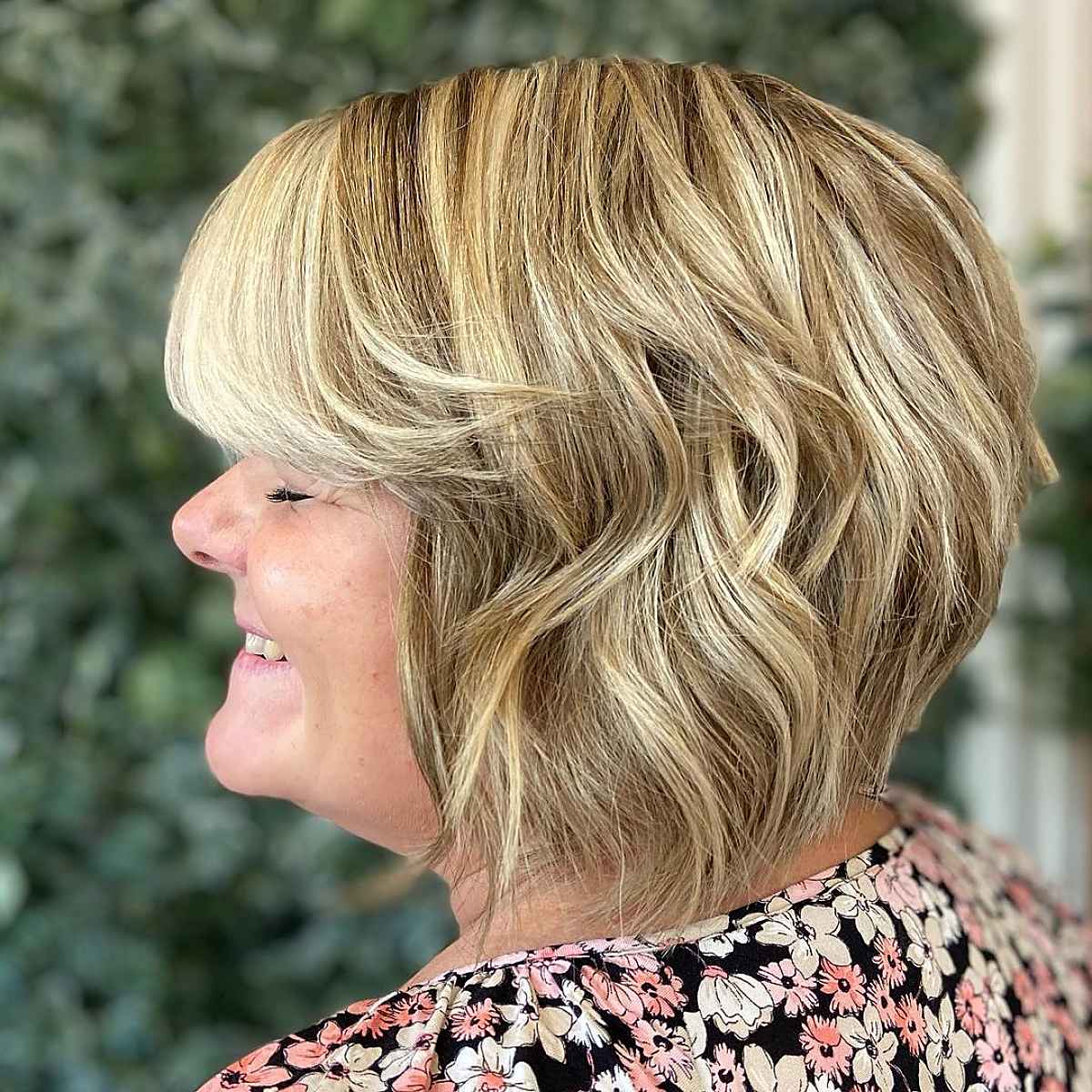 @hayley.salon87
A layered bob is an excellent choice for ladies in their fifties with chubby faces. Adding graduation to the back can also create volume and is perfect for those with dense hair to prevent a bulky or boxy look. The hairstyles for over 50 with a round face can be styled smooth or with some waves for a modern and more casual finish.
See more layered bobs specifically for gals in their 50s
Bob for Women Over 50 with Glasses
@hairby_sylvia_
This is a simple neck-length bob with a fringe that works well for women over 50 with glasses. It's recommended for short haircuts for fine hair and round faces to keep the fringe on or above the brow line so as not to interfere with the glasses, and to accentuate the eye area. Style such a short bob with a flat iron for a sleek and chic finish.
See more flattering bobs for a woman in their fifties
Middle Part for Wavy Hair
@sweetfringebenefits
Consider a middle part on a mid-length shag for naturally wavy hair. This hairdo is very versatile and flattering. It can be worn naturally or blown out for a glamorous, polished finish. Style with a setting spray and a round brush for loads of volume, or air dry with a curl cream for an effortless lived-in look.
Here are more shags that are flattering for ladies in their fifties
Simple Cut for Straight Hair
@magnolia.and.the.moon
For straight hair, try a layered shoulder-length cut, which is one of the best hairstyles for over 50 with a double chin. The length keeps the look from feeling heavy, and layering creates movement and interest in a texture that sometimes falls flat. These layered haircuts are versatile and can be worn up or down. Blow dry or air dry with a texture cream for a lovely effortless look.
Blunt Cut for Thin Hair
@nathaliegfrisor
A blunt bob for thin hair creates the appearance of density. The strong perimeter builds weight in a wispy texture. This cut can be tailored to suit overweight women, so ask your stylist what length would suit your face best.
Face-Framing Cut for a Round Face Shape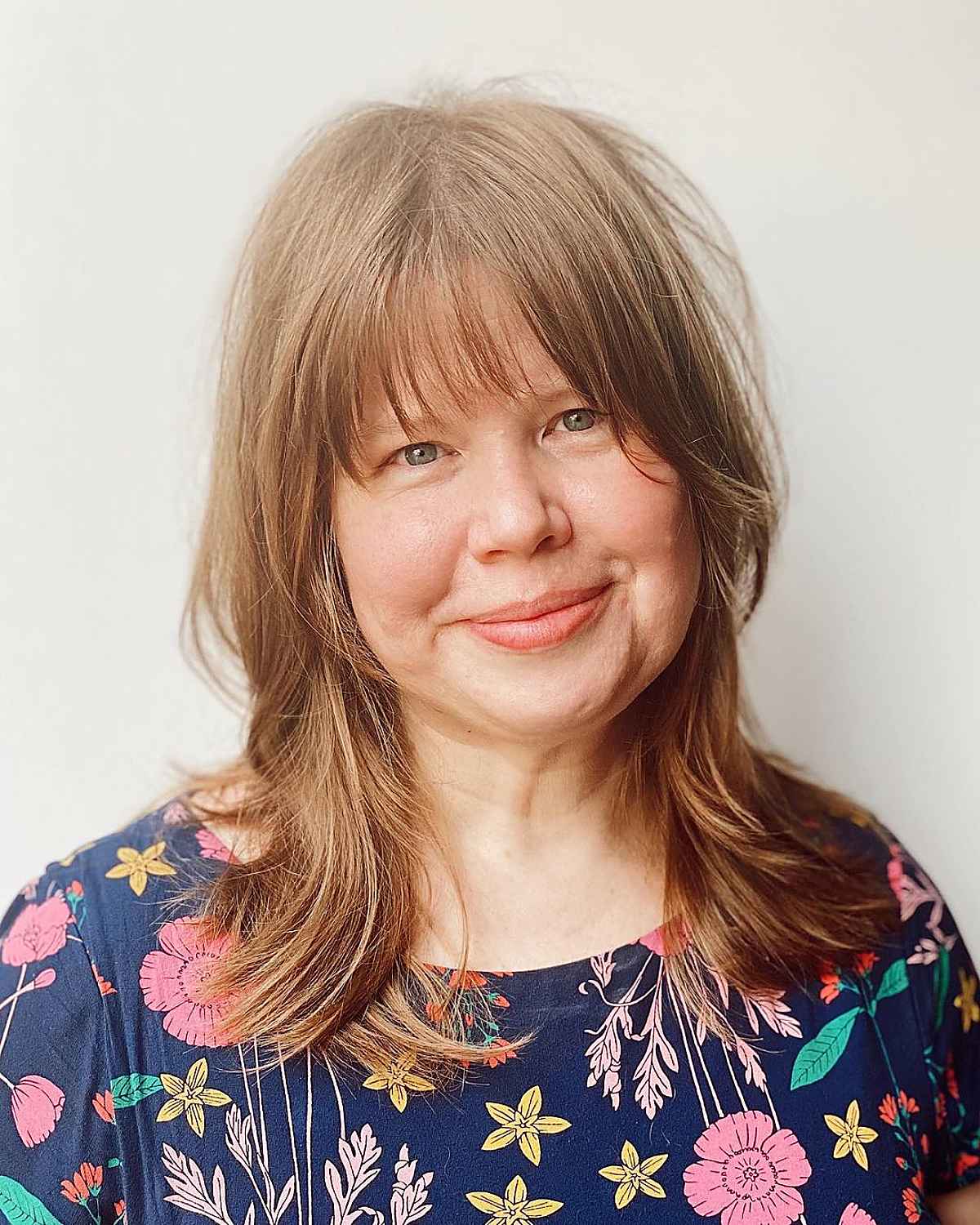 @nakedeyebeauty
Try a medium-length shag with a fringe for a round face shape. A short layered cut is perfect for fifty-year-old women that have fine or thin hair, and a longer fringe leans out a rounder face. Keep the length below the shoulders and frame the face with lots of piece-y texture. Short hairstyles for round faces and thin hair like this require a texturizing spray or a beach spray for a lived-in and effortless finish.
Layered Bob with Bangs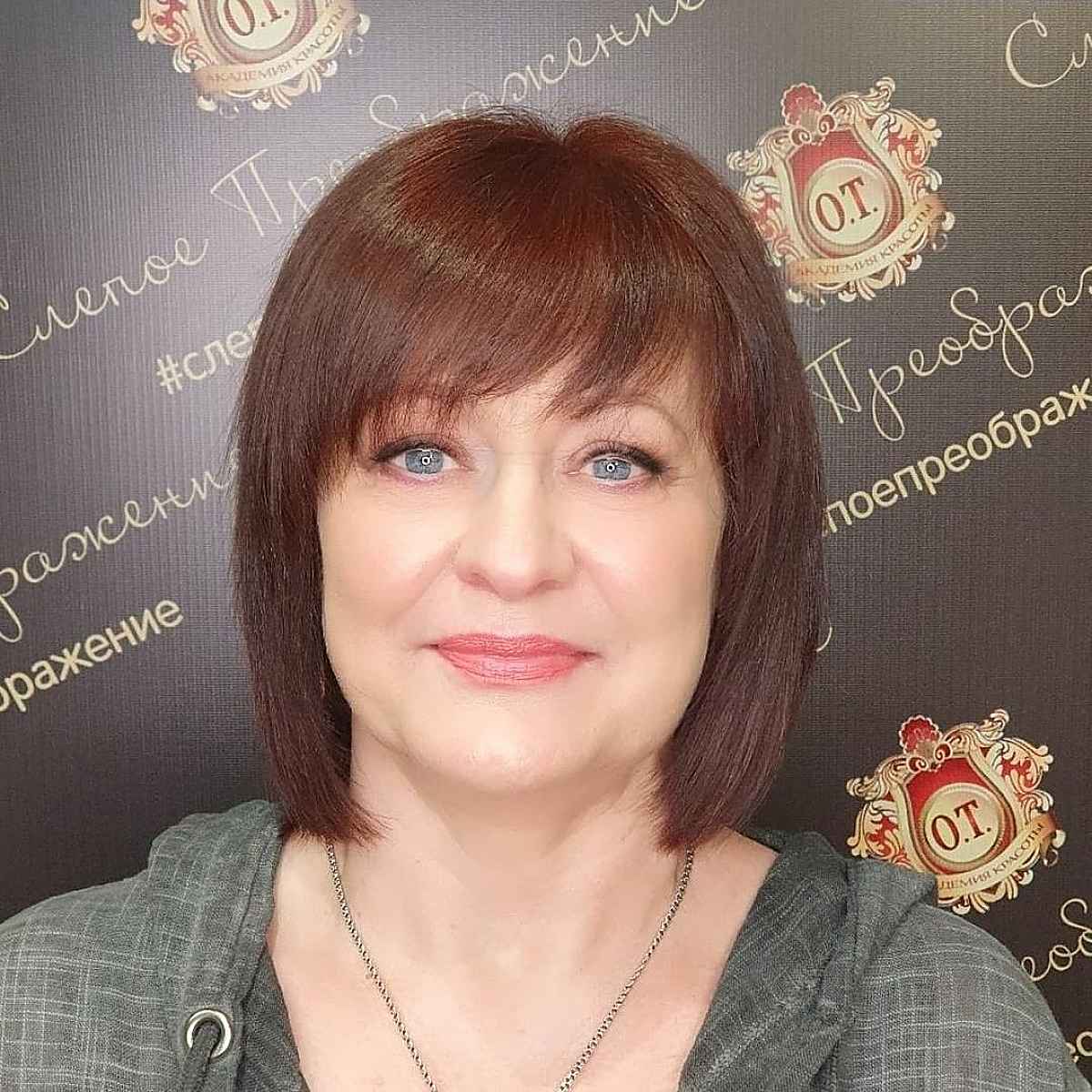 @stilist_o_tarasova
Consider a layered bob with bangs for women over fifty years old. It's youthful and flattering and is one of the best slimming haircuts for chubby faces. Blow dry smooth and go over it with a flat iron for a chic and polished finish.
Layered Shoulder-Length Cut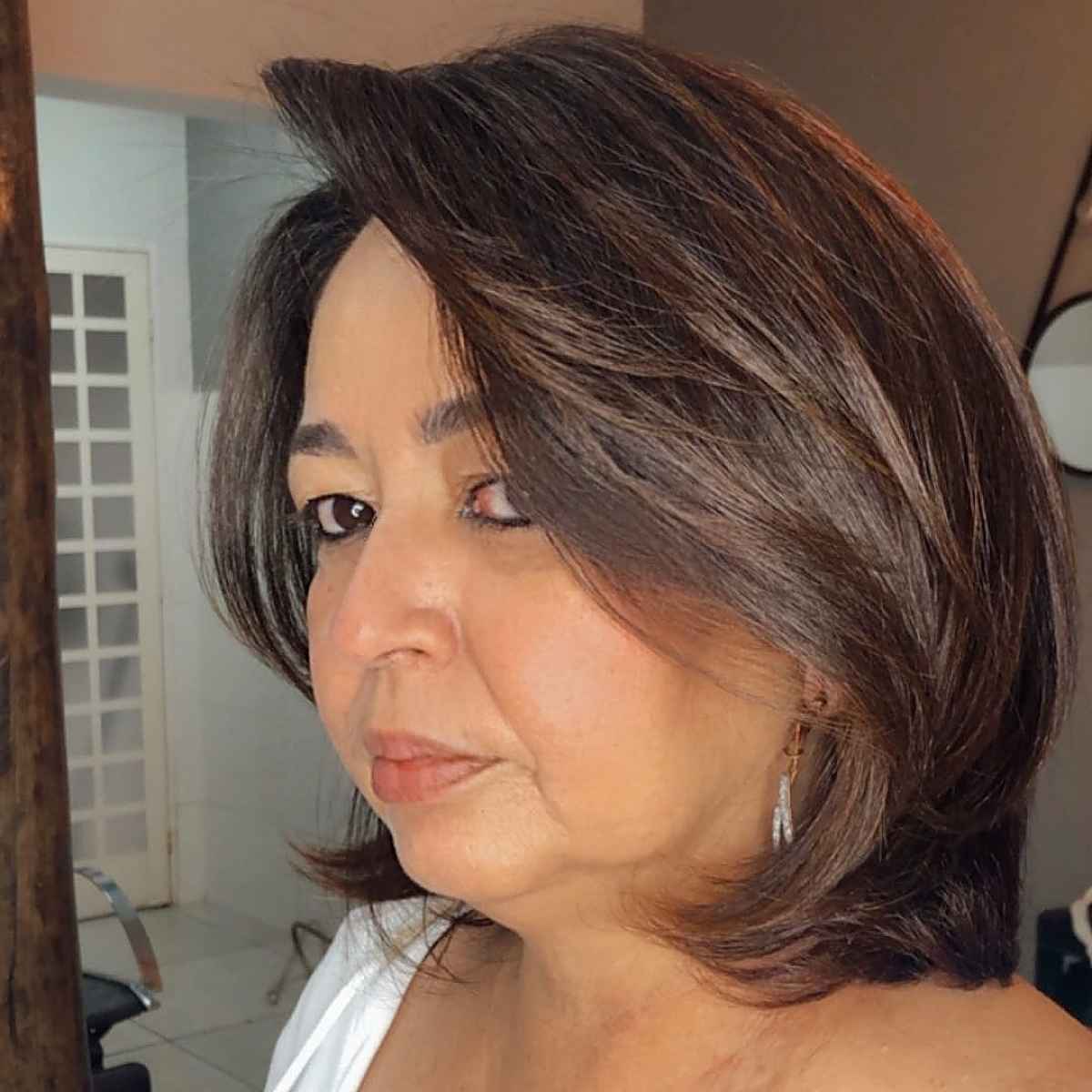 @passoslili
A layered shoulder-length cut is an excellent choice for women over 50 who are obese. It has a face-framing feature that offers a slimming effect. Layered bob hairstyles for over 50 have a length that's versatile and easy to maintain. Blow dry with a round brush and a root volumizing spray.
Flattering for Shoulder-Length Curly Hair
@poppy_curls
A shoulder-length cut is an excellent choice for curly hair. The mid-length is ideal for ladies in their 50s as it looks youthful but still polished. Ask your stylist for some long layers and face-framing pieces to keep the curls from looking too boxy. Air dry or diffuse with a mousse or curl cream to achieve stunning curly hairstyles.
The Long Pixie Bob
@vhairsalon_
If you are considering going shorter, try a long pixie bob with side-swept bangs. Women past their fifties often experience thinning hair and changing of its texture. This pixie cut offers a low-maintenance shape that promotes volume and easy styling. Remember that short cuts require more frequent salon visits to keep them looking their best, so factor that in if budget is a concern.
The Medium-Length Shag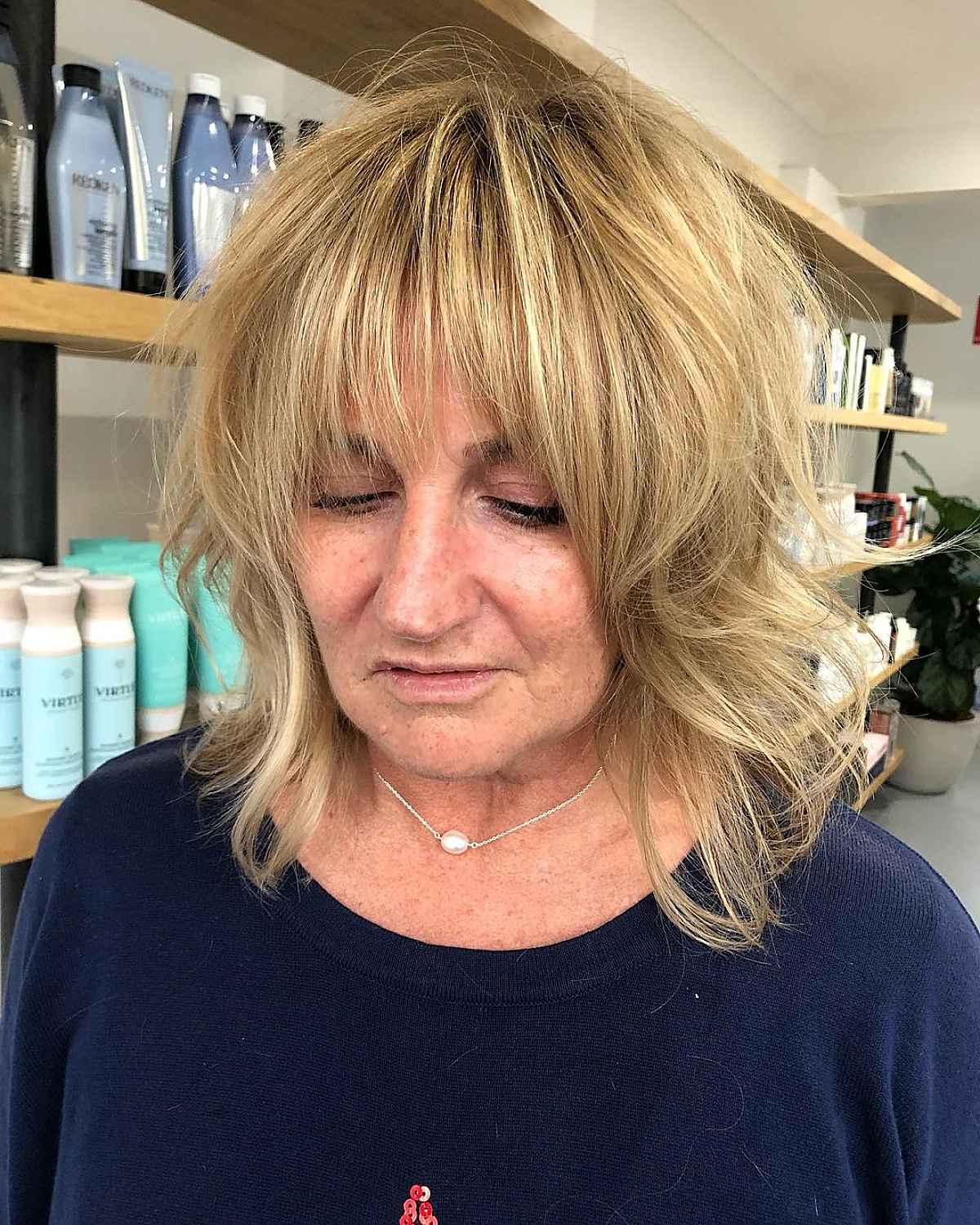 @alisha_mortensen
A medium-length shag is very trendy right now and it's an ideal shape for women in their 50s. The layering adds a volume to any hair texture and the fringe adds softness around the face. This medium hair looks youthful and stylish! To achieve fabulous medium-length hairstyles for over 50 and overweight, blow dry with a styling spray and a round brush, and finish with a dry texturizing spray for the perfect undone style.
See more medium-length cuts for ladies in their 50s!